Finding the right products to clean your home isn't always easy, especially when you are also trying to reduce waste. Learning how to clean your home without plastic starts with the right tools. like Grove Collaborative*. Check out these awesome, affordable and convenient ideas for moving beyond plastic!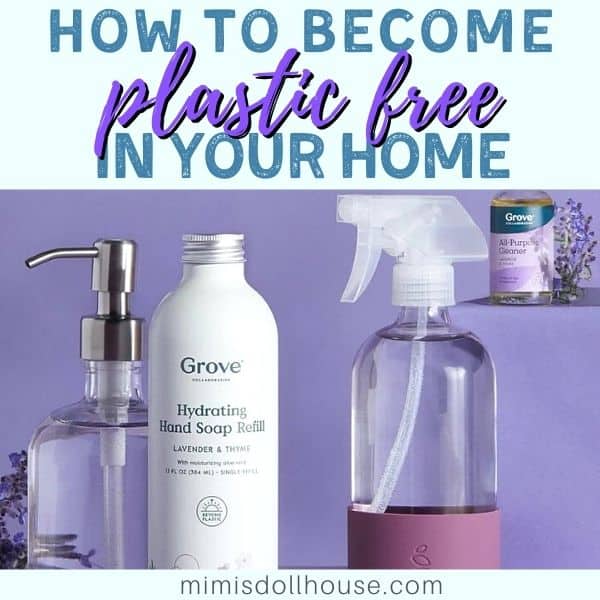 I'm excited to share my favorite plastic free cleaning supplies with you and ways we love to use them to keep our home clean without all the waste. Have you tried Grove Collaborative?
By giving Grove a shot, you can receive a Free Grove Glass Concentrates set with your first purchase.
What is Grove?
Grove is a company based on the belief that safer, environment-friendly products shouldn't be difficult to find and use. With this in mind, they have developed a flexible monthly shipment that will deliver your favorite products to your door each month.
They even have some of their very own (and absolutely fabulous) products you can add to your order!
All the products Grove carries are considered non-toxic, effective, sustainable, and cruelty-free.
Who is Grove for?
Grove is perfect for busy moms. It's such a relieve to not have to worry about have great products to keep my home clean and my children safe. With Grove, I can chose the best and then sit back and let them come to me. So every time my toddler spills her milk all over the floor, I have kid-safe products on hand to clean it up.
Grove is also great for the environmentally conscious. Getting rid of waste in your home is just smart. You won't regret the switch to glass and silicone. Not only does this reduce trash and waste, but it saves money too!
Make the switch to natural with your cleaning concentrates set! Free with your first purchase of $30+
How will Grove help me to become plastic free?
Grove offers fantastic products to help you eliminate plastic. From their wonderful smelling, powerful cleaning concentrates to their reusable food bags…you will LOVE every product you get from Grove.
Here are some of our favorite plastic free items from Grove:
Grove Foaming Hand Soap Refill
Reusable Glass Dish Soap dispenser
Stasher Reusable Silicone Bags
My kids love helping with cleaning and using these items everyday. Grove for the mom-win!
How to get started with Grove and receive free products
Would you like to give Grove a try and start off with some free goodies?
Receive a Grove Glass Sustainability Concentrates Set for FREE with your 1st purchase of $30+
Free set includes… Grove Glass Spray Bottle with a Silicone Sleeve Grove Cleaning Concentrates, APC single Grove Cleaning Concentrates, glass single Grove Walnut Scrubber Sponges (set of 2), Free Shipping & VIP Trial.
After your first Grove order you will have personalized, scheduled Grove shipments, so you'll never run out of the products you love.
Grove defaults to ship monthly, but the frequency and products in each order are completely up to you! You can also change the items in your order, skip a month and add additional orders anytime you need!
READY TO GET STARTED? HERE'S HOW IT WORKS:
Sign up for Grove Collaborative here. You will receive the Grove Glass Sustainability Concentrates Set for free when you sign up! (Existing customers will receive free Grove walnut scrubber sponges.)
To receive this offer, your order needs to be a minimum of $30. Choose the combination of products and scents you love and receive your first box within a few days.
You made it! Click Finish & Pay and place your order.
If you love these products, please pin this image to your cleaning Pinterest board:
Conclusion for Going Plastic Free with Grove:
If you are looking for a great way to clean your home without plastic…you will definitely want to check out Grove. These great plastic free cleaning options are sure to make your cleaning experience easier, environmentally safer and so much more convenient!
Related posts for Grove Delivery:
Thank you for reading my Grove Collaborative review!
*This post was sponsored by Grove Collaborative. The opinions are completely my own based on my experience.*