Printable Straw Toppers in cute designs your kids will love.
Whether you are throwing a party or just jazzing up a fun Sunday afternoon fizzy drink, straw toppers are a sure fire way to bring a smile to your little one's face. These cute straw toppers and easy (and free) and come in adorable designs and themes.
Summer is in full swing and the birthday bashes and pool parties are just beginning. Whether you are throwing a royal soiree, a monster bash, or a wild party for your little animals, keep your guests hydrated this summer with these printable straw toppers from Shari's Berries.
Keeping kids hydrated can be a challenge. Make it fun with these toppers! Choose from monsters, animals, fruits, desserts, and even silly mouths.
No matter what theme you choose, try adding these straws to your parties this summer! Your little one and all their friends will be glad you did.
How to use Straw Toppers
Print and cut these adorable straw toppers for a cute themed drink:
Materials Needed to assemble straw toppers:
Straw Topper Instructions:
Print template.

Choose a thick card stock for best results.

Cut out the template.

Use a pair of scissors or a craft knife to cut out the animals.

Assemble straws.

Once the toppers are cut out, glue animals to the straw.

Position the arms.

After the animal is secure, wrap the arms around the straw and glue or tape them down.
Here are the adorable designs and links to download the files and get drinking:
Animal Straw Toppers
Animal parties are all the rage! I mean what kid doesn't want a fun little fox on his straw…right? Aren't these adorable?? I think the bear is my favorite!
Here are some animal themed party ideas to get your creative juices flowing:
Monster Straw Toppers
Monster parties are some of the most fun parties you can throw. This theme is perfect for that wonderful age of crazy "monster-ific" toddlerhood. These monster toppers would be perfect for a little adorable monster's drink of choice.
Here are some monster sized monster themed party ideasfor you:
Silly Mouth Straw Toppers
Ok…who's ready for some silly mouths and maybe some fun mustache party ideas? If you love yourself some Tom Sellick or maybe just like cute kissy lips…these are the toppers for you!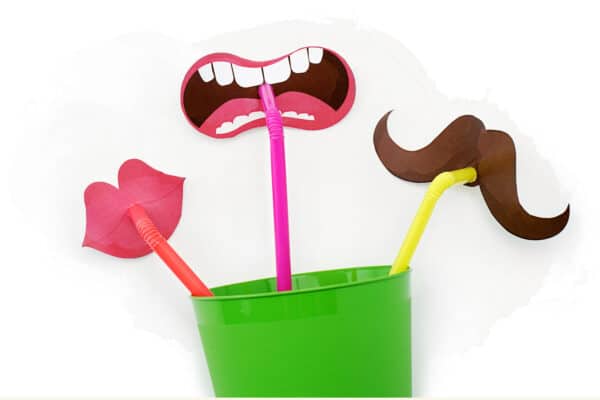 Here are some mustache and silly mouth party ideas:
Summer Fruit Straw Toppers
Do you love tutti fruity party ideas? Are you sitting there thinking you'd love to take a big juicy bite of watermelon? How about some fun fruit themed straw toppers?
Here are some juicy fruit themed party ideas:
Dessert Straw Toppers
You scream, I Scream, we all scream for Popsicles Straw Toppers! These fun dessert themed toppers are perfect for a summer party!
Here are some more party dessert ideas:
Conclusion for Fun Themed Straw Toppers for Summer:
Why drink a boring drink with a regular old straw, when you can dress your straw up with these fun and FREE printable straw toppers?


If you love these toppers, please pin this image to your Summer Pinterest Board!
Thank you for reading about these fun Printable Straw Toppers!