Monster Party: Monster Birthday Party Ideas and Desserts.  I'm sharing some absolutely amazing Monster party ideas.  I love the monster theme and how creative you can be with it.  These monster birthday party ideas are perfect for a boy or a girl and are sure to make for a "Roar-some" time.
Looking for more monster party treats? Also check out this monster party, this monster birthday party, and this monster bash!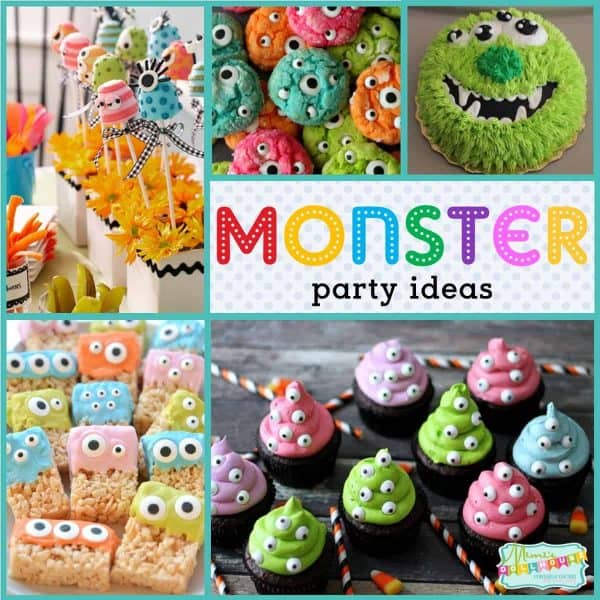 So…I'm a nicknamer.  I nick name everything and everybody.  Especially my kids.  My husband shakes his head from time to time and wonders aloud why we spent sooooooo much time choosing the perfect names for our kids just so I could never use them.  I can't explain it. I'm just a nicknamer.
Throwing a MONSTER PARTY?
☑️ These Monster Party Supplies are the perfect set to get your party planning headed in the right direction!
Lately, my littlest one has been given a new moniker… Monster.  I have been trying to talk the stubborn little miss into a Monster Themed 3rd birthday for weeks.  Time will tell.
In honor of copious amounts of time spent looking at monster ideas on pinterest and my obsession with a monster party and also how super popular monster parties are right now, I have compiled a list of my favorite monster birthday party ideas…check them out:
So not only are these rice krispie monsters seriously the cutest things ever…but they are super, super simple to make.  My favorite kind of party treat!!!  Go…make these…now!!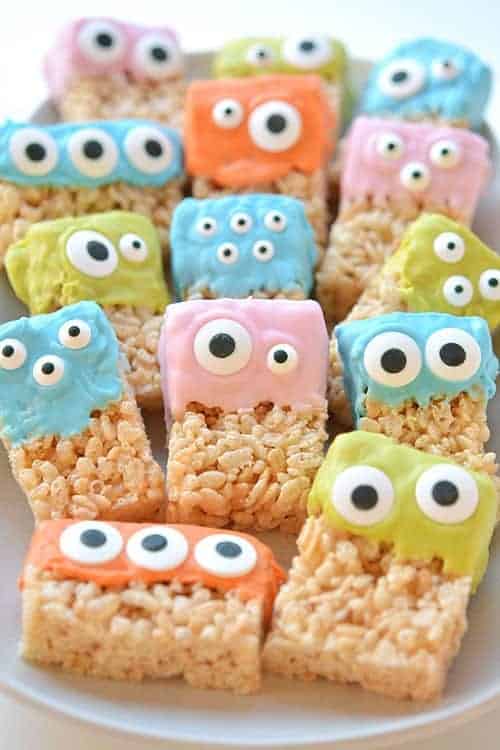 There is nothing quite so fun as a photo booth.  Am I right, or am I right?  These fun monster mouth photo props are easy to print and cut and make for the perfect opportunity to capture moments from your party.  This is where the guests show their wacky personalities.  Awesome monster birthday party ideas!!
Isn't this a super fun monster cake?  I love the "furry" frosting and the mismatched eyes!  Super duper cute!  I just can't get enough of the monstery teeth!!!
These are great cookies if you are looking to purchase cookies.  I love splurging on cookies…so much less pressure to let someone who is a pro at cookie decorating to do them for you!  These are adorable monster cookies!!
Here is a great photo booth idea.  Pair these fun photo booth with the monster mouths and let your party guests go nuts! I love the fur trim and the friendly monsters inside.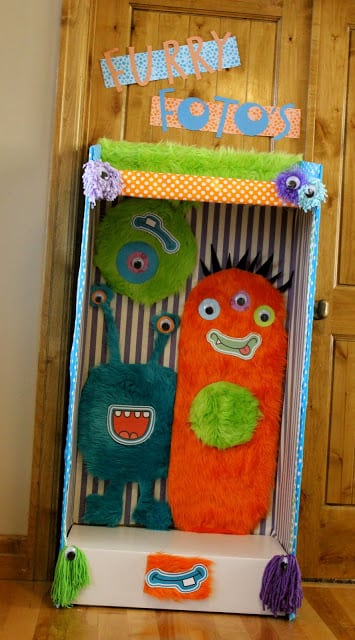 Monster Cupcakes from Life with the Crust Cut Off
Oh my cuteness!  I think I love these cupcakes most of all. They are so adorably cute…they are almost scary cute!  These easy to make monster cupcakes are perfect for a monster birthday party (or even Halloween) and they can be made in any color…just add candy eyes!!! Winning!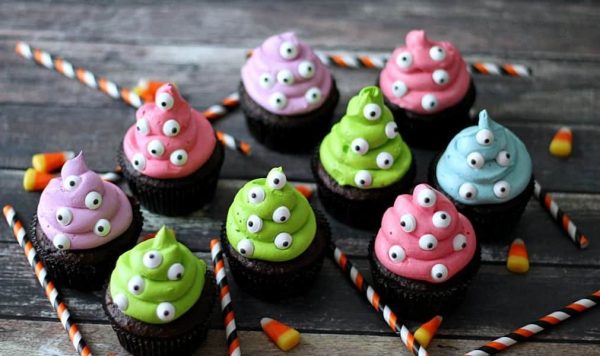 Looking for an easy way to decorate your monster birthday party.  Grab some paper lanterns (solid or patterned) and glue on the monster printable eyes and mouths and you have super clever hanging monsters!  So fun!!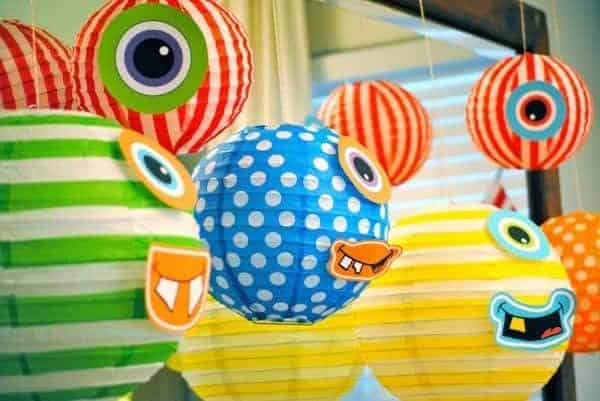 I love, love, love mini cookies.  They are super fun to put in glass jars on party tables (see mermaid party for ideas).  These cute little monster party mini cookies are fun and clever and if you have never tried Sweet Art Sweets cookies…trust me, they are yummy!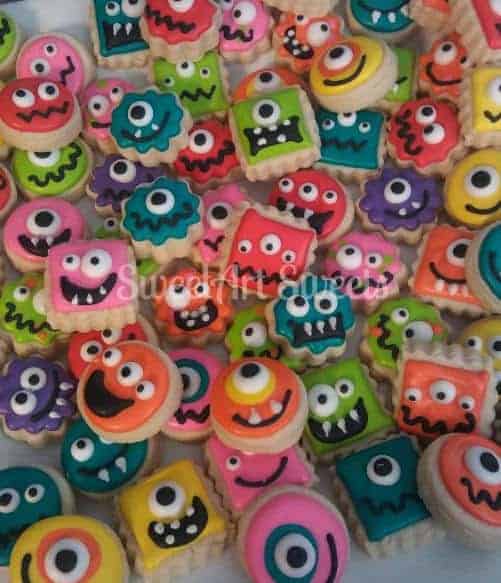 These fun and clever monster brownie pops are absolute perfection.  Baked in a small muffin tin and covered in various colors and cut shaped of fondant.  How can you NOT love these colorful monsters??
More candy eyes to love…these monster party cookies are so adorable and absolute perfection for a monster birthday party.  I love the bright colors and the different sized eyes.  So stinking cute!!!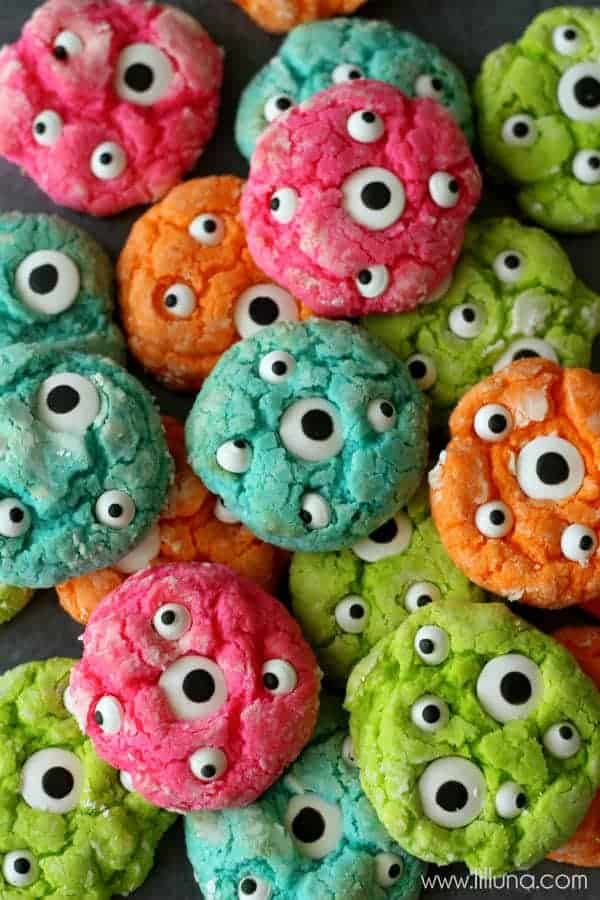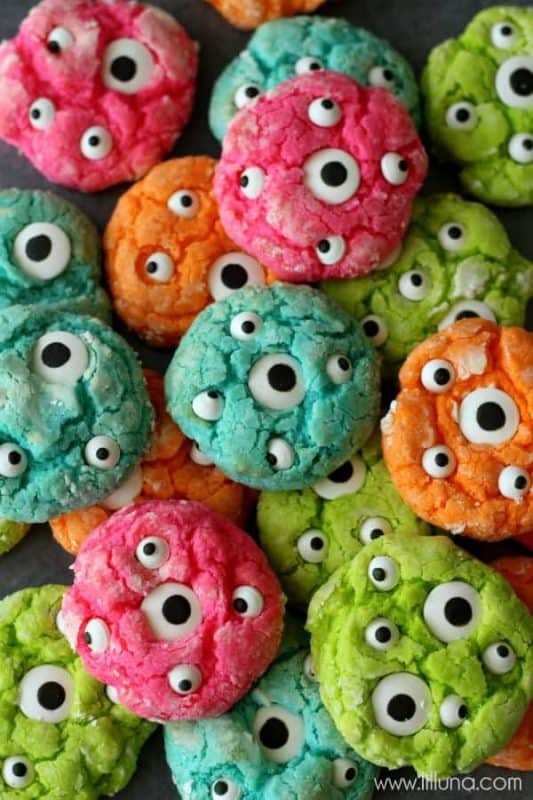 I hope you loved these monster birthday party ideas as much as I did!! Looking for more monster party treats? Also check out this monster party, this monster birthday party, and this monster bash!
Here are some helpful links for throwing a monster party:
Wanna throw a monster party?
I also have  designed some super fun and bright colored Monster Party printables that are available for purchase in the shop: