Pretty pink Minnie Mouse ideas for a fun birthday!
Minnie Mouse Party Time! Here is a fun twist on the classic Minnie Mouse birthday with some black and white and pretty pink! There is nothing quite like hot pink and Minnie Mouse!
Looking for more Minnie Mouse party ideas? Be sure to check out this these Minnie parties, these Mickey Mouse parties, this Mickey Mouse birthday party, and these Mickey Mouse party ideas.
Also check out these Mickey Mouse food ideas, this Mickey Mouse hat tutorial and this Mickey Mouse treat bag tutorial.
Hey Everybody…Hope you all had a great weekend. We've been battling sick in my house the last couple weeks and today is the first day everything is back to normal. It's crazy how much longer EVERYTHING takes when you (or your kids, or heaven forbid your husband) are sick.
Throwing a MINNIE MOUSE BIRTHDAY PARTY?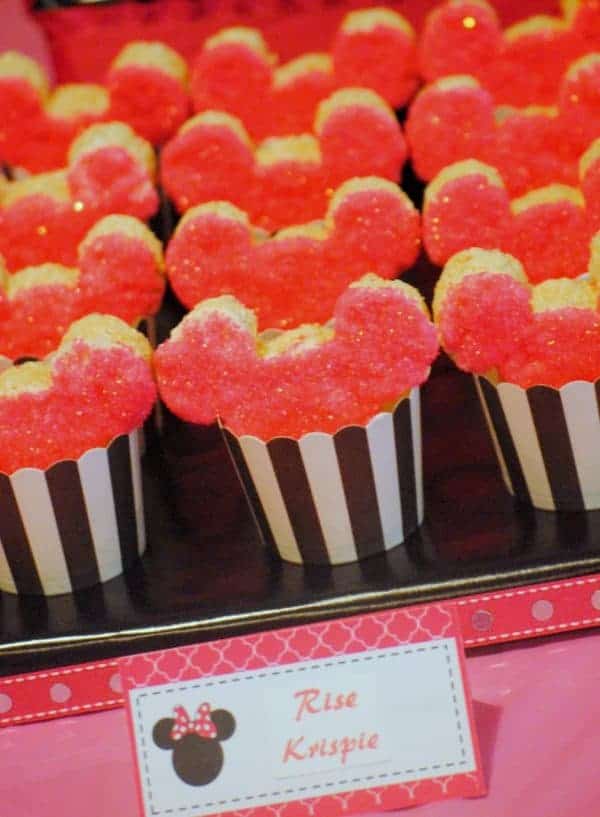 Sickness does have its upside, though. Lots of television!! Whenever I am sick, I seem to get caught up on all my shows. My two year old daughter seems to agree with me too. She was laid out on the couch with her puke bowl and a sippy cup of Gatorade croaking "Mickey Mouse…watch Mickey Mouse…"
Pathetic, yes. Adorable, absolutely.
Today I have a party to share for another little girl obsessed with the Mouse.
This fabulous Modern Minnie Mouse birthday was styled by the ever talented Karolina of Karo's Fun Land. She is one of my fave party girls. She is super creative and totally sweet.
This particular party was styled for little Emma Kate (love the name) for her first birthday. The patterns were fun black and white stripes and hot pink quatrefoil.
It's gorgeous. Check out all the details:
Adorable, right. The super cute Minnie head on the back drop was made using overlapping black circles. This gives the edge a nice scalloped feel. Too, too cute.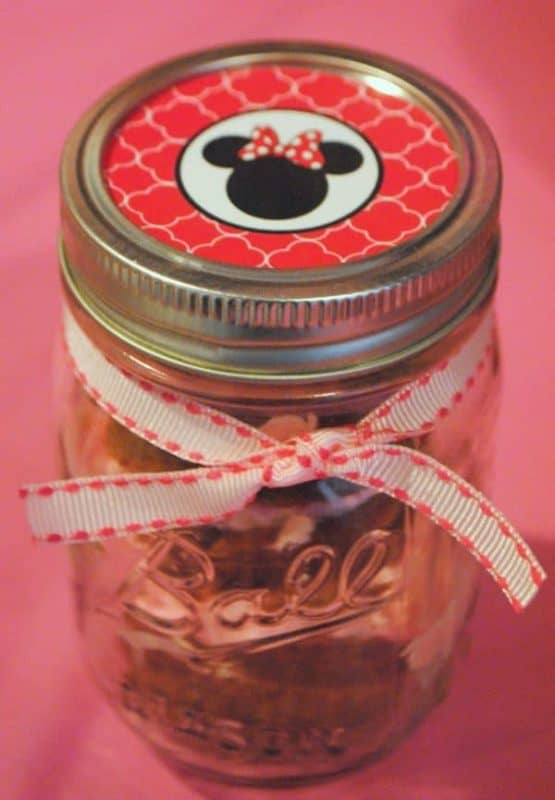 The favor tags were placed on black gable boxes The crayon tags were glued to the front of individual boxes of crayons. I love the 2″ circles on the top of the Minnie Mouse cake pops. Cute!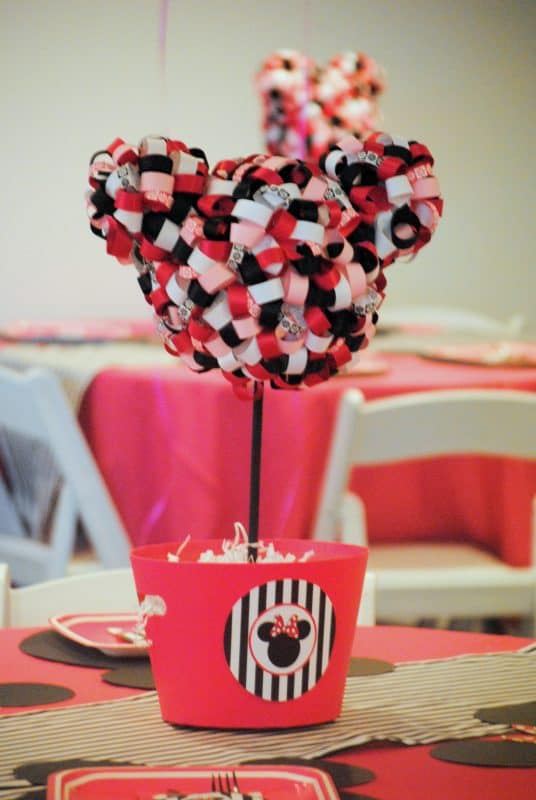 Oh my…I love the centerpieces!!!
The glass bottles were wrapped with paper doilies and water bottle labels. Absolutely lovely. I think that is my FAVORITE detail of the whole party!!
Or perhaps it is this cake from CMNY Cakes!!! It's perfection…serious perfection!!
What an AMAZING party. I love it….LOVE IT. Thanks to Karo and Happy Birthday little Emma!!!
Here are some helpful links for throwing a Pink Minnie Mouse Party:
If you love this party, pin this image to your Minnie Mouse Pinterest board:
RELATED POSTS FOR Pink MINNIE MOUSE birthday IDEAS:
THANK YOU FOR READING about OUR MINNIE MOUSE Ideas!