Celebrate your birthday with a some adorable Minnie Mouse ideas!
Minnie Mouse Birthday Party Theme: 10 Stylish Minnie Mouse Parties. Does your little sweetheart love Minnie Mouse? Is a Minnie Mouse party theme right up your alley? There is nothing quite like a Minnie Mouse Party. We have some Mouska-tasic Minnie Mouse parties to share.
Looking for more Minnie Mouse party ideas? Be sure to check out this Minnie Mouse birthday party, these Mickey Mouse parties, this Mickey Mouse birthday party, and these Mickey Mouse party ideas.
Also check out these Mickey Mouse food ideas, this Mickey Mouse hat tutorial and this Mickey Mouse treat bag tutorial.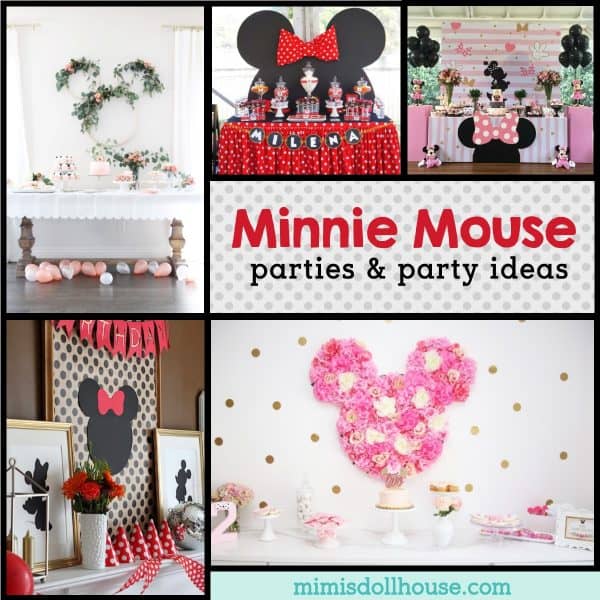 Sometimes the best party theme is the one that makes your little one smile. If your girls are anything like mine, Minnie Mouse is a sure bet for a big smile!!! There are so many amazing ideas for a Minnie Mouse party theme from classic Minnie Mouse to Modern Minnie Mouse.
Whether you love pink polkadots, red polkadots or just want to do something super unique with flowers…these Minnie Mouse parties are sure to inspire a fantastic, stylish Minnie's Bow-tique for your little miss. There are also lots of great Minnie Mouse 1st birthday party ideas.
Throwing a MINNIE MOUSE BIRTHDAY PARTY?
Such a sweet theme for a little girl!
Check out all the adorable parties…
Minnie Mouse Birthday Parties
Minnie Mouse Birthday from Jenny Cookies
This classic Minnie Mouse party is full of adorable and creative Minnie Mouse themed treats and goodies. So cute! Wonderful Minnie Mouse party decorations!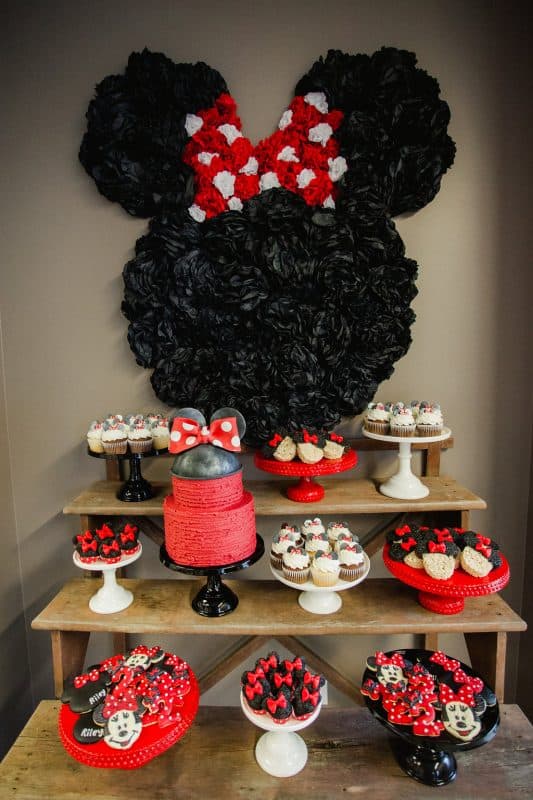 Minnie Mouse Floral Tea Party from 12th and White
I am in love with the clean simplicity of this party. The floral Minnie Mouse ears are perfect!!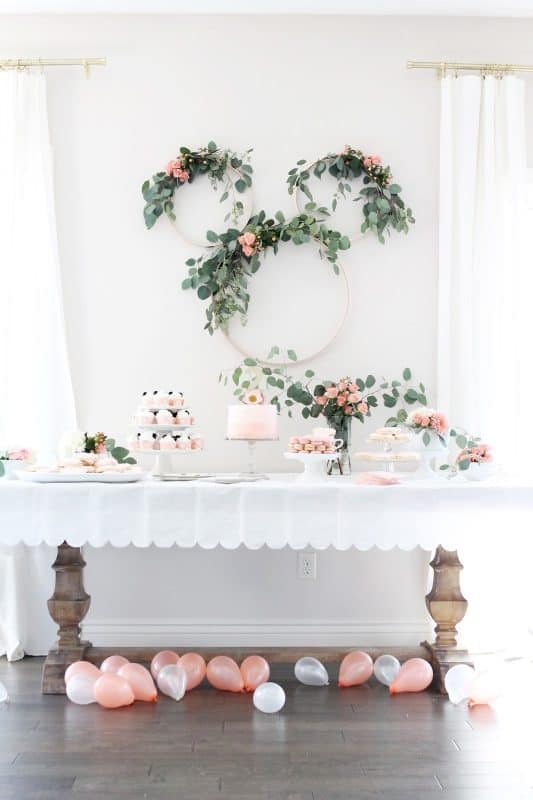 Minnie Mouse Birthday from Dwellings by Devore
Here is a fun and easy take on a Classic Minnie Mouse party theme. I love the colors and the silhouettes…they make perfect Minnie Mouse party decorations!
Minnie Mouse Garden Party from Kara's Party Ideas
If you are feeling like a little floral would just make your party perfect..then look no further than this beautiful Minnie Mouse birthday garden party. Perfection! This is one of my favorite Minnie Mouse 1st birthday party ideas.
Modern Minnie Mouse Party from Karo's Funland
Here is a fun and modern Minnie Mouse birthday party with fun pinks! Don't you just love the bow on that cake??
Minnie Mouse Party from Pinterest
I adore the black silhouette Minnie Mouse on this party table backdrop. The pink stripes are fun too!!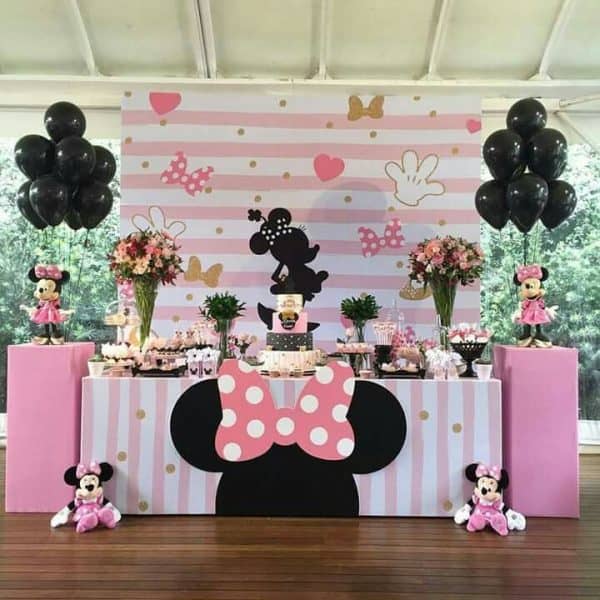 Minnie Mouse 2nd Birthday from The Celebration Stylist
Here is a fun and girly floral Minnie Mouse party. The soft pinks and golds are perfection!!
Minnie Mouse Soiree from We Heart Parties
Oh, Two-dles! This soft pink and black and white Minnie Mouse party is gorgeous. I love how understated the decor is.
Minnie Mouse Party from Kara's Party
Here is a fun classic Minnie Mouse party set up. The large Minnie Mouse head as a backdrop to the dessert table is so clever and a great way to highlight a fun Minnie Mouse candy buffet!!

Minnie Mouse Tableware + Supplies
Getting started with a Minnie Mouse party is made so much simpler by starting with a tableware set or a decorations set. These will help you keep your party themed without having to search for a bunch of different materials. This is also super budget friendly!
Here are some helpful links for throwing a Minnie Mouse party:
I also have a sweet Mickey and Minnie Mouse client styled party to share. This party was styled by Madyson's mom, Amanda.
Here's what Amanda had to say about the party:
"We celebrated Madyson's 2nd birthday at our house. We had a candy and sweets buffet that was a big hit. I got so many compliments on the cupcake toppers too- they fit perfectly on my cupcake tower.
I made Minnie & Mickey centerpieces which came out adorable and were the perfect table decoration! I also made hair bows for the girls and clipped them on to the bag topper (which I shrunk down to about 50%) as party favors. All in all it was a fun day-even our dog had fun!
Thanks for helping me make my daughter's party a big success! Everyone was impressed with my decorations and I couldn't have made them look as good as they did without your help! I would definitely recommend your website to everyone!"
I love the Minnie centerpieces…These can be achieved very easily with two small and one medium Styrofoam balls, black spray paint and toothpicks or small sticks. Spray paint the balls black, let dry and then stick together with toothpicks…Easy Peasy!!!
I'm also a big fan of the cupcake towers and holders…its a cute and easy alternative to a traditional birthday cake, allows creativity with toppers, and gives your guests a variety of flavor options, which is usually not the case with cake:)
Here's the birthday girl…looks like she had a great time!!! If you are looking for a cute Minnie Mouse dress be sure to check out these Minnie Mouse dress options!
And the bow favors…very Minnie's Bow-tique!!! That dog with the Minnie ears totally cracks me up. Thank you for sharing your party with us, Amanda…Happy Birthday Madyson!!!
If you love these Minnie Mouse party theme ideas…please pin this image to your Minnie Mouse Pinterest board to save for later:
RELATED POSTS FOR Minnie Mouse BIRTHDAY PARTY IDEAS:
THANK YOU FOR READING OUR Minnie Mouse Parties!