Amazing and unique Mickey Mouse Birthdays you will love!
Trending Mickey Mouse Birthday Parties. Let's celebrate your birthday Mickey Mouse style with some amazing and modern Mickey Mouse birthday ideas. Whether you want a monochromatic Mickey Mouse party or a traditional Mickey Mouse birthday celebration…these parties are sure to inspire.
Who's the leader of the club that throws awesome parties? Mickey Mouse of course. A Mickey Mouse birthday party is classic. It's such a great theme and it's a favorite of many all over the world.
Throwing a MICKEY MOUSE THEMED PARTY?
The three circle head silhouette is instantly recognizable and makes for a great way to decorate a birthday party. Mickey Mouse is a great theme for a little one's birthday party, it is a great first birthday theme and also perfect for a second birthday (think "Oh Two-dles!!").
Planning a Mickey Mouse party can be easy and fun. Choose a color scheme, classic red/black/yellow or the super popular monochromatic black and white are great options. Use items like Mickey Mouse shaped cookie cutters to create shaped treats from cookies to fruit.
Keep the decor simple for a classic, uncluttered feel! Here are some Mouskatastic Mickey Mouse parties to inspire your creative juices.
Mickey Mouse Parties
Steamboat Willie Classic Mickey Mouse Party from Pretty Plain Janes
So I'm a sucker for the old black and white Mickey! I love Steamboat Willie and think this spin on a classic is genius!!! So adorable!!
Vintage Mickey and Minnie Mouse Party from Kara's Party Ideas
How adorable is this vintage Mickey party? It's adorable for a birthday party (this would be perfection for twins!!!) or even as a Valentine's day party. Precious!!
Modern Mickey Mouse Party from Sips with Sue
Here is a sweet Monochromatic Mickey Mouse party. I love these fun cookies. There is so much that can be done with the Monochromatic birthday style. So trendy!!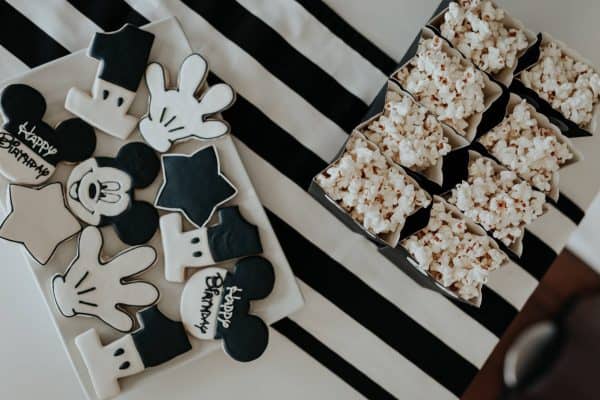 Mickey Mouse Party from Love the Day
Another adorable classic Mickey Mouse party. The pops of yellow and red really help to make this party stand out!!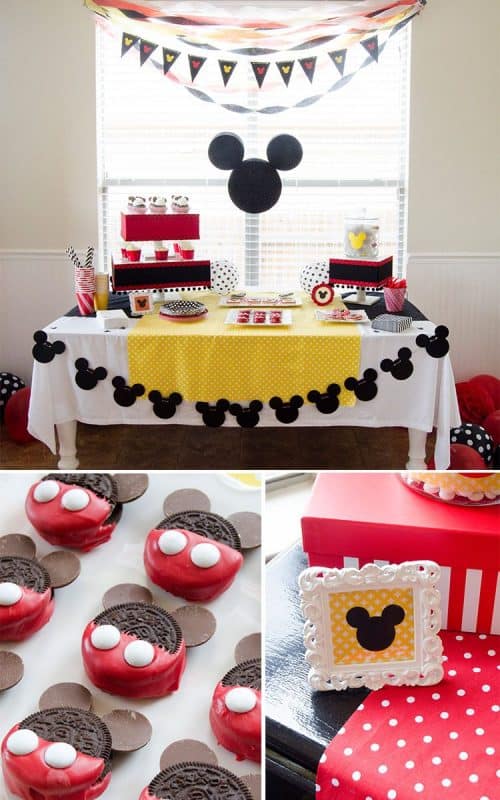 Classic Mickey Mouse Party from Kara's Party Ideas
This is probably my favorite Mickey Mouse color scheme. I love the black and white with pops of red. It really helps to make this party stand out and give it a fun Mickey Mouse birthday vibe!
Modern Monochromatic Mickey Mouse Party from Life Lutzurious
Parties do not have to be crazy and over the top. This fun black and white Mickey Mouse party is simple and sweet. Fun ears and sweet treats are all you need to have a killer party!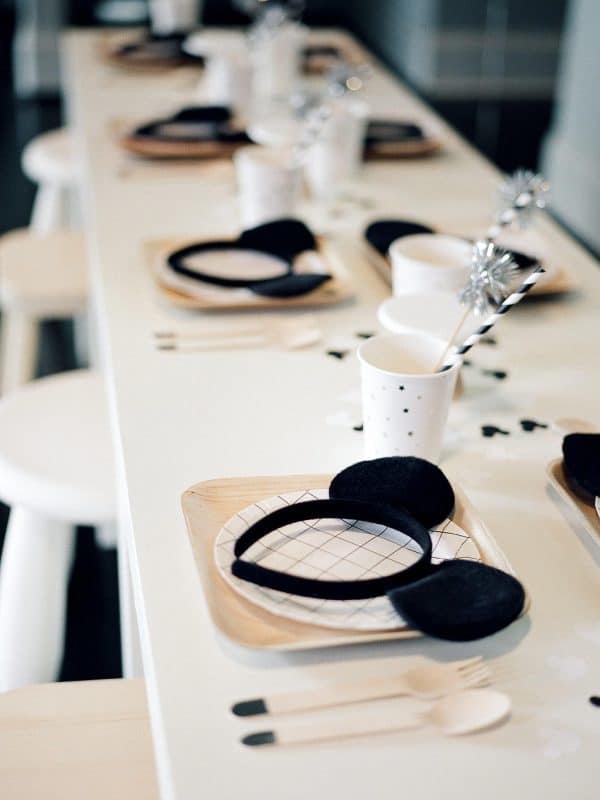 Monochromatic Mickey Mouse Party from Rose City Style Guide
Loving the Monochromatic Mickey Mouse theme? Here is another gorgeous Mickey Mouse party full of fun and festive black and white treats and decor to share and enjoy. Perfect for a first birthday party for a boy.
Classic Mickey Mouse Party from Kara's Party Ideas
This rustic Mickey Mouse party is full of chalkboards and creative ideas to inspire. This party would definitely be a great bash for a sweet little kiddo! There are tons of clever and crafty ideas in this party and it is definitely a must see!!
Here are some helpful links for throwing a Mickey Mouse party:
Looking for more Minnie Mouse party ideas? Be sure to check out this Minnie Mouse birthday party, these Minnie Mouse parties, this Mickey Mouse birthday party, and these Mickey Mouse party ideas.
Also check out these Mickey Mouse food ideas, this Mickey Mouse hat tutorial and this Mickey Mouse treat bag tutorial.
If you love these Mickey Mouse birthday parties…pin this image to your birthday Pinterest board:
RELATED POSTS FOR Mickey MOUSE PARTY IDEAS:
THANK YOU FOR READING OUR Mickey MOUSE PARTIES!