Monster Party: It's a Monster Birthday Bash. Long for some super cute ideas for a monster birthday party? Want a way to celebrate your little monster in style? I have a monster-rific party to share today.  Be sure to check out all our Monster Parties ideas and inspiration.
I LOVE cute monsters.  It might be my favorite party theme, ever….besides princess, and trains, and cute little forest animals:)  This super fun and oh-so bright monster party was styled by my sweet friend Karolina from Karo's Funland.  She is so wickedly talented.  I am always excited to see how she pulls together a party and this one is one of my favorites! Check it out…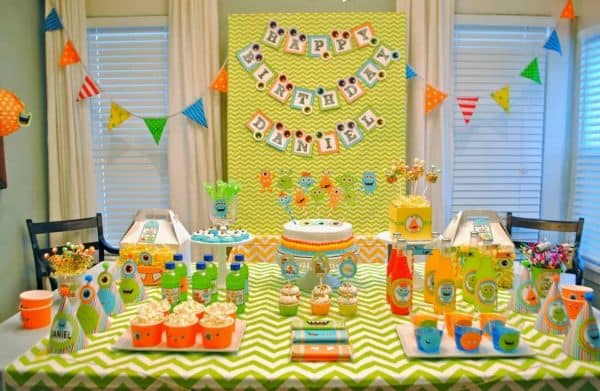 The mouth and eye cut outs on the paper lanterns is such a great idea…I love it!!
One of the best things about a monster party is that you can take just about anything and add some eyes to it (or in some cases, just one eye) and make it a monster!!  Look at these monster rock candy sticks and monster chocolate covered oreos with their cute little eyes…
These cute marshmallow pops are super easy…  Karo said "These marshmallow pops were so easy and fun to make…   I actually made them the day before with my boys..   To make them  simply place a marshmallow on a lollipop stick and dip it into white melted candy.  Before the candy hardens add the sprinkles, and 2 toothpicks on each side.  Then cut the gumdrops in half and glue the candy eyes with melted candy. Finally attach the gumdrop eyes to each toothpick and whala.."
I love the monster jello cups too.  Adorable!!  I love the idea of pre-portioning out things like jello…it's so much easier to serve and makes for a neat table!
I told you it was adorable!! Fantastic job as usual, Karo! Happy Birthday Daniel…I hope you had a Monster-tastic Day!!  (Yeah, I'm just making up words over here today!!)
Wanna throw a Monster Party?
The Printable Monster Collection is available in my shop: