Pirate Party: Yo Ho Ho…Pirate Party Food Ideas. Throwing a Pirate Party for your little buccaneers? Here are some Swashbuckling and yo-ho yummy pirate party food ideas.
When it comes to throwing parties, some themes are just seriously so much fun!  Pirates, it's one of them!!  There are soooo many really awesome pirate party ideas out there.  One of the first children's parties I ever styled was a pirate theme.  Unfortunately, I didn't think to photo-document the whole event (rookie mistake!!)  Fortunately, I totally did throw another pirate party recently, that I will completely be sharing soon!!
Today, I've put together some awesome pirate party food ideas.  It is easy to be amazingly creative with pirate food.  Check it out…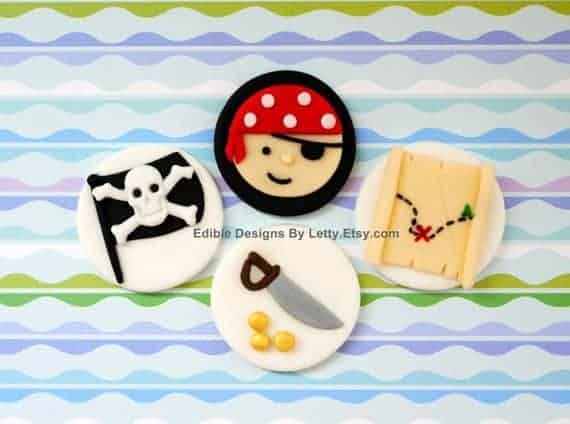 These fondant cupcake toppers are not only super cute, but super easy yo use.  I love fondant toppers because they look amazing and give your treats that little extra something!  Also there are so many amazing fondant ladies out there, you don't have to be a pro yourself to party like one!!!  The little map, totally my favorite!  Love it!!
These cookies are adorable and super yummy!!  SweetArts Sweets is one of the best Cookie Bakers out there!  Always impressive!! (She made these adorable princess cookies for my daughter's princess party.)  These little bite sized cookies are a great addition to your little buccaneer bash!
I love the details on these Yo-Ho-Hoogies!  (Sorry, that pun was just too easy!) The map wrapping is clever and also very practical. I love taking regular food and dressing it up in the right way for your theme. This also helps balance out all the sweets!
I have also compiled a pinterest board full of pirate party food ideas.  Hope you enjoy!!
Wanna throw a pirate party?
The Printable Pirate Party Collection is available for purchase in my shop.