Pirate Party Desserts + Food Ideas
Pirate Party: Yo Ho Ho…Pirate Party Food Ideas. Throwing a Pirate Party for your little buccaneers? Here are some Swashbuckling and yo-ho yummy pirate party food ideas. Nothing says hoist your anchors and set sail for a party adventure quite like a delicious assortment of pirate food and desserts.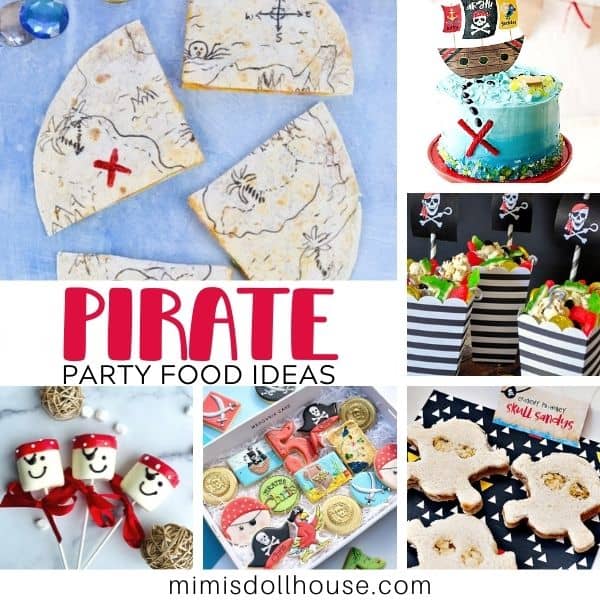 When it comes to throwing parties, some themes are just seriously so much fun! Pirates, it's one of them!! There are soooo many really awesome pirate party ideas out there.
One of the first children's parties I ever styled was a pirate theme. Unfortunately, I didn't think to photo-document the whole event (rookie mistake!!)
Fortunately, I totally did throw another pirate party recently, that I will completely be sharing soon!!
Today, I've put together some awesome pirate party food ideas. It is easy to be amazingly creative with pirate food. Check it out…
Pirate Cakes
Cakes are a great centerpiece for any party. Let's check out these amazing pirate cake options:
Pirate Cake from HWTM
This is simply adorable. The toppers are so fun as well.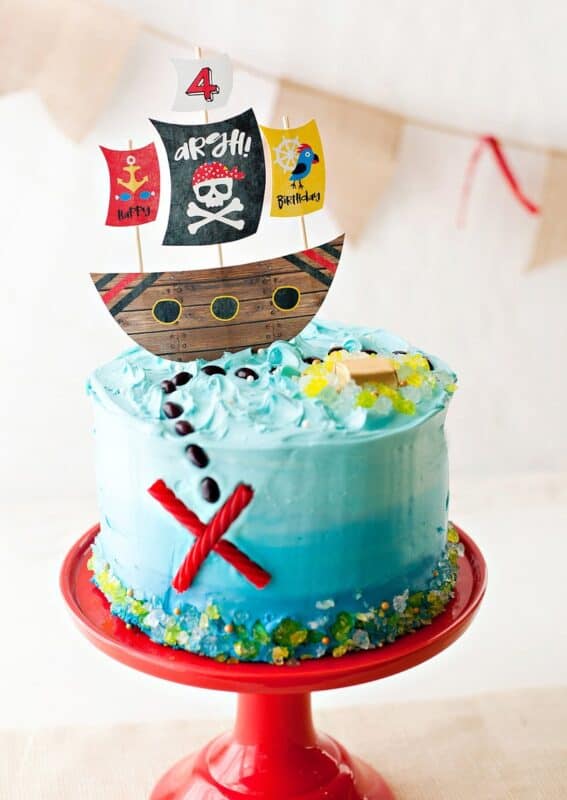 Pirate Cake from Rose Bakes
Here's a cute cake to DIY with fondant.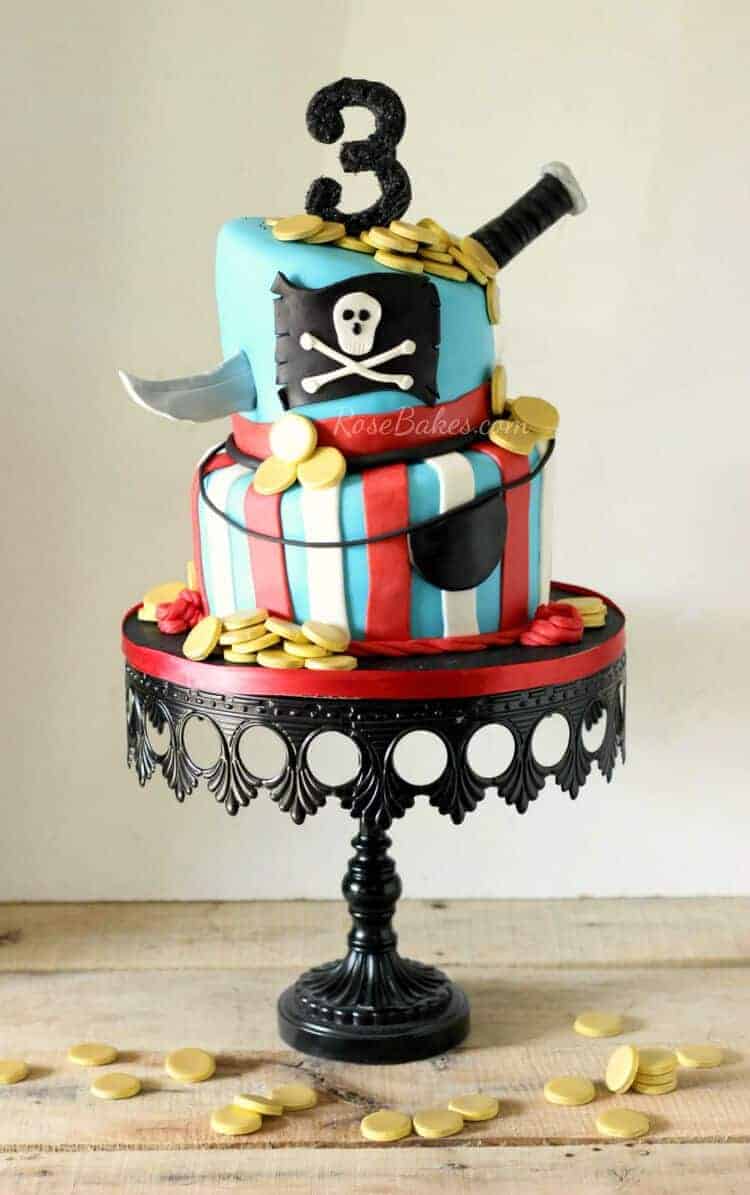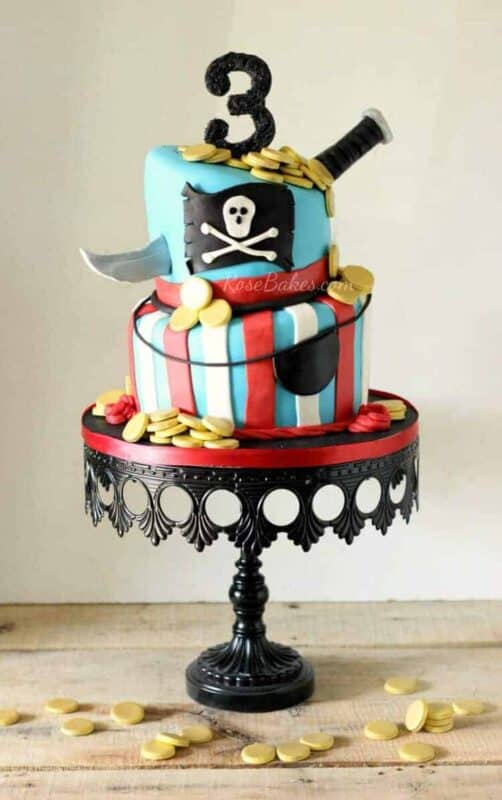 Treasure Map Cake from Good To
Treasure Maps are a great theme for a pirate party cake.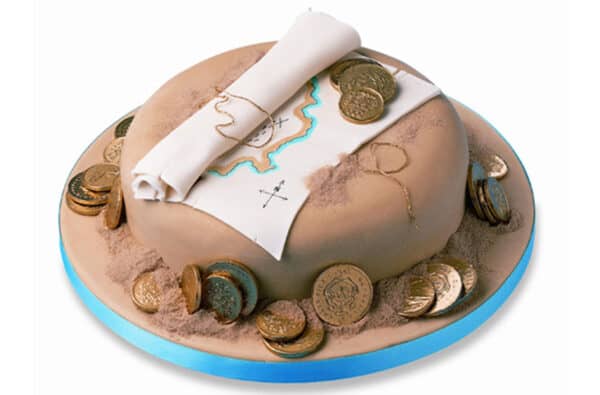 Pirate Cake from Cake Central
Here's a cute little pirate cake! Love the little face!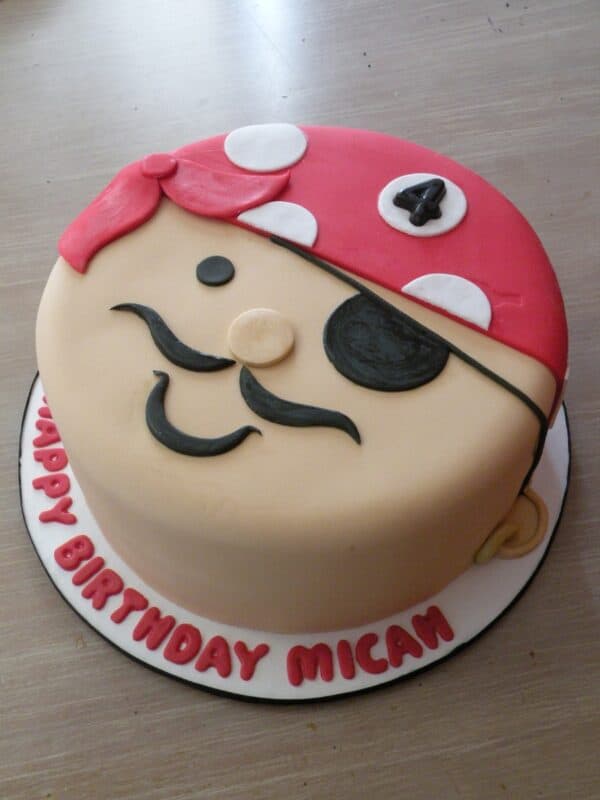 Pirate Treasure Map Cake from HWTM
And of course, another adorable treasure map themed cake idea.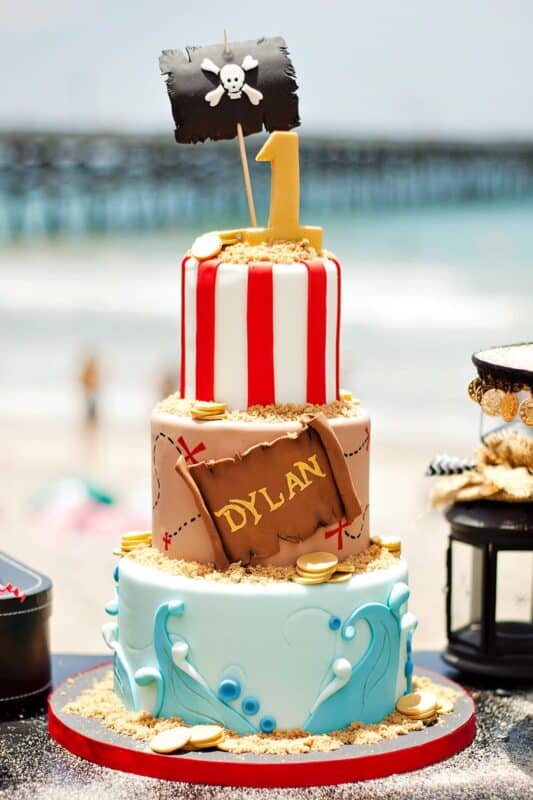 Pirate Cookies
Custom cookies are also a great way to jazz up a pirate party. These ideas range from simple DIY to "hire a baker"…but you will love them all!
Octopus Pirate Cookies from Andre Cookies
This pirate octopus is fantastic. Such a cute idea.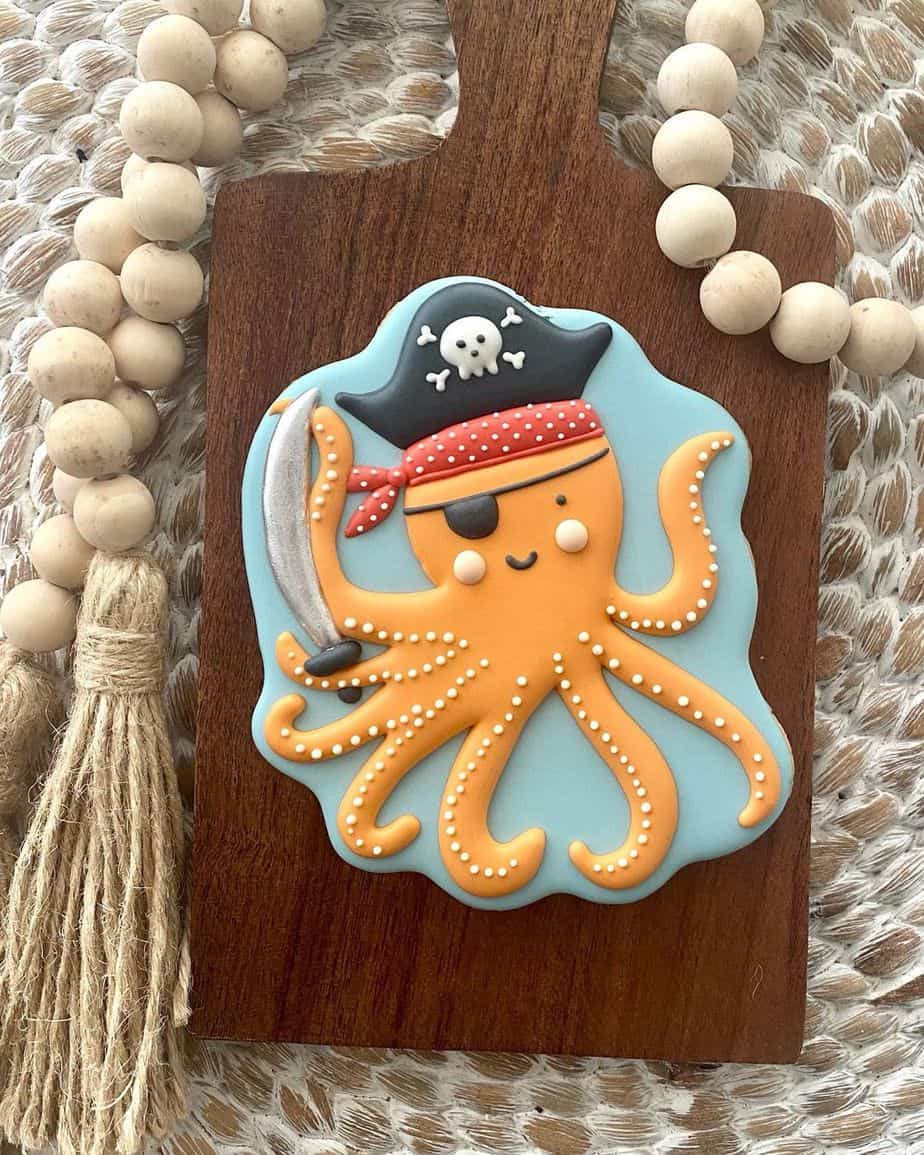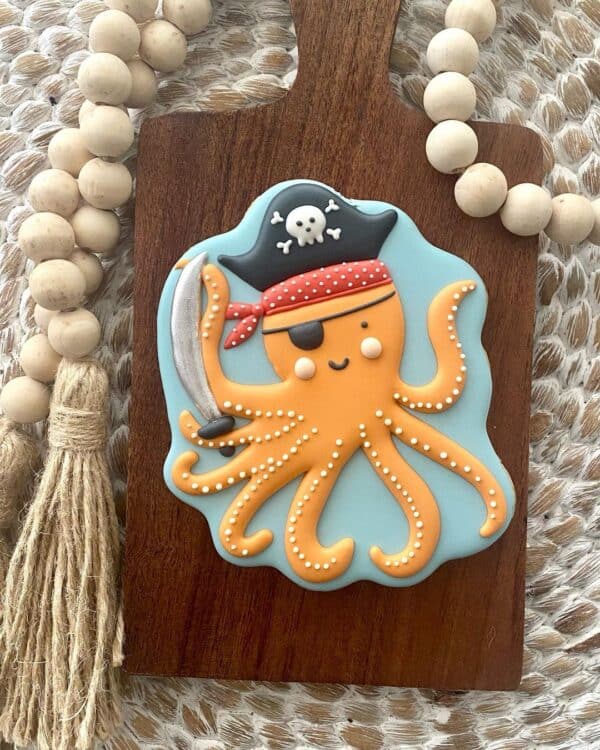 Gold Coin Cookies from Bee Sweet Cookies
Here is a great cookie cutter for a simple DIY cookie option.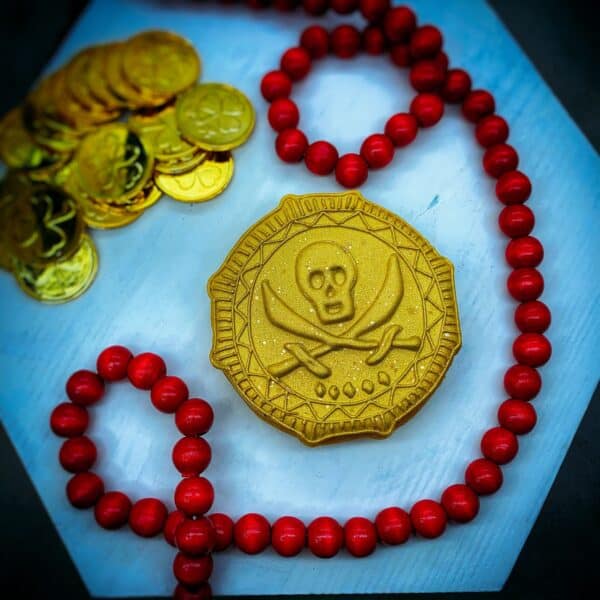 Pirate Cookies from Medovik
These custom cookies are absolutely gorgeous. That treasure map…simply perfection.
Mini Pirate Sugar Cookies by SweetArts Sweets
These cookies are adorable and super yummy!! SweetArts Sweets is one of the best Cookie Bakers out there! Always impressive!! (She made these adorable princess cookies for my daughter's princess party.) These little bite sized cookies are a great addition to your little buccaneer bash!
Pirate Cookies from Sweet Setups
Here is another mazing pirate cookie idea. Love the gold coins!
Pirate Cookies from Iced to Perfection
These cookies might be my favorite. It's definitely a great day to be a pirate.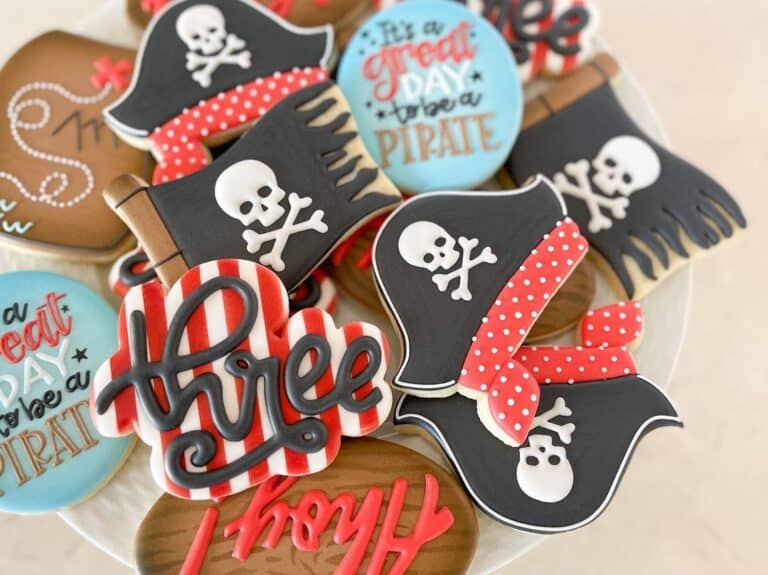 Pirate Desserts
Aside from cookies and cakes, there are tons of other pirate themed desserts. Let's check them out…
Neverland Pirate Popcorn from The Love Nerds
This popcorn is adorable. So…much….fun!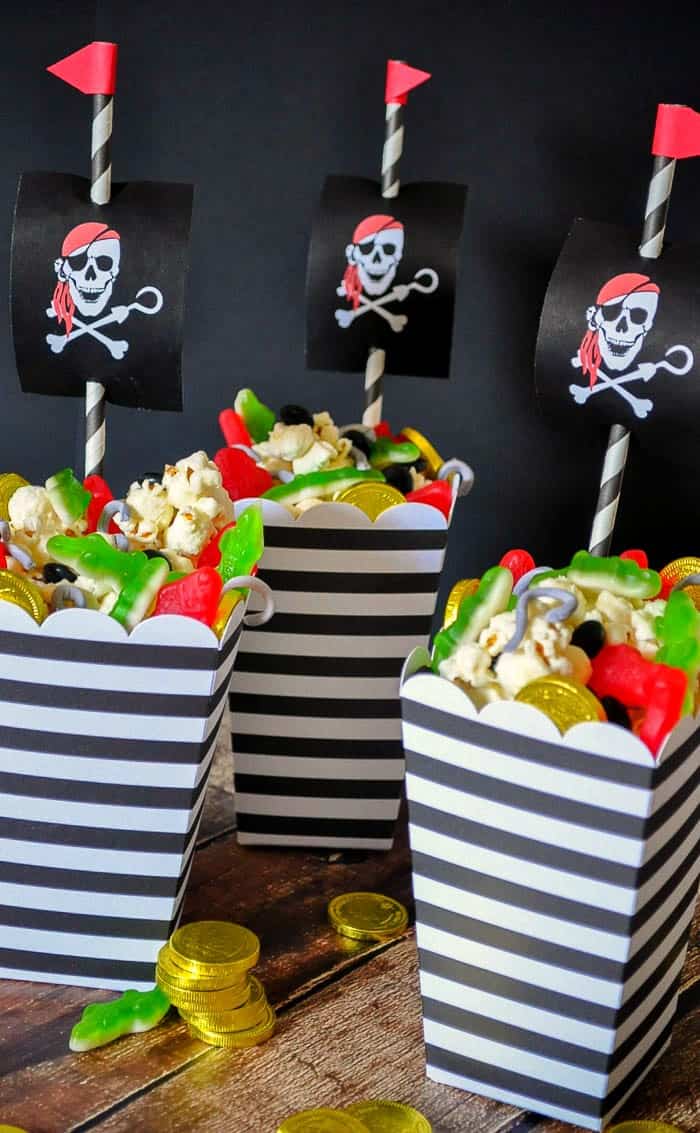 Pirate Marshmallows from Chocolates Unlimited
These are cute and simple pirate treats. Who doesn't love marshmallows?
Buttered Rum Cupcakes from Adventures in Cooking
Here's a little cupcake treat for the grown ups to love. Buttered rum? Yes please!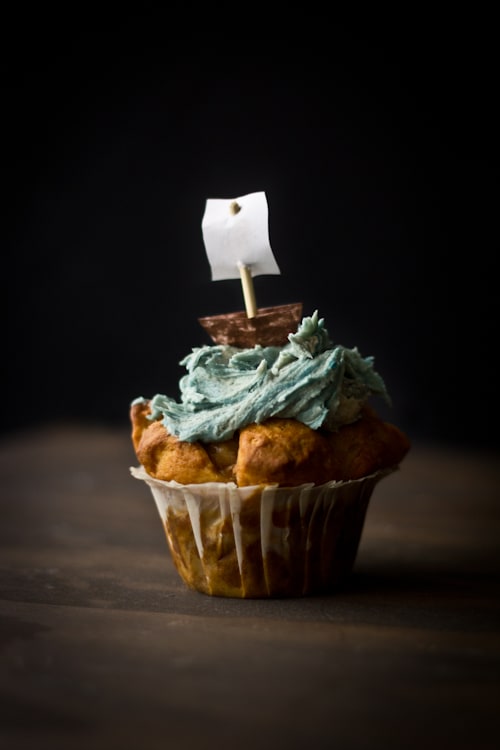 Pirate Fondant Cupcake Toppers by Edible Designs by Letty
These fondant cupcake toppers are not only super cute, but super easy yo use. I love fondant toppers because they look amazing and give your treats that little extra something! Also there are so many amazing fondant ladies out there, you don't have to be a pro yourself to party like one!!! The little map, totally my favorite! Love it!!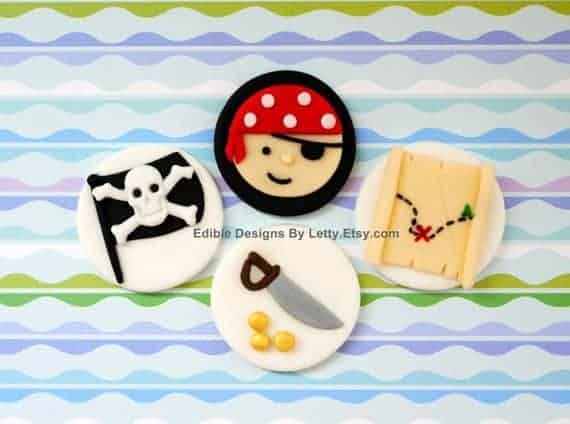 Pirate Cupcakes from Tangerine Paper
Here's a fun way to turn simple cupcakes into pirate masterpieces!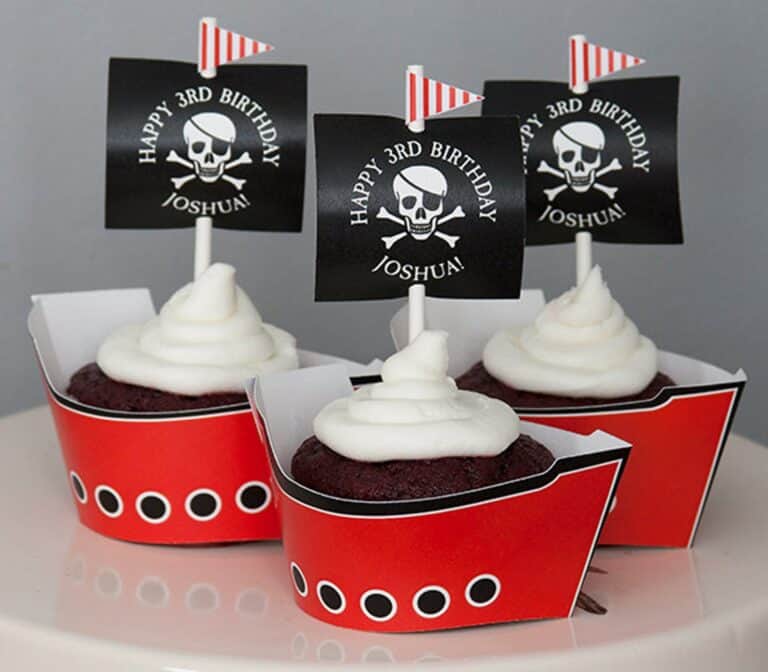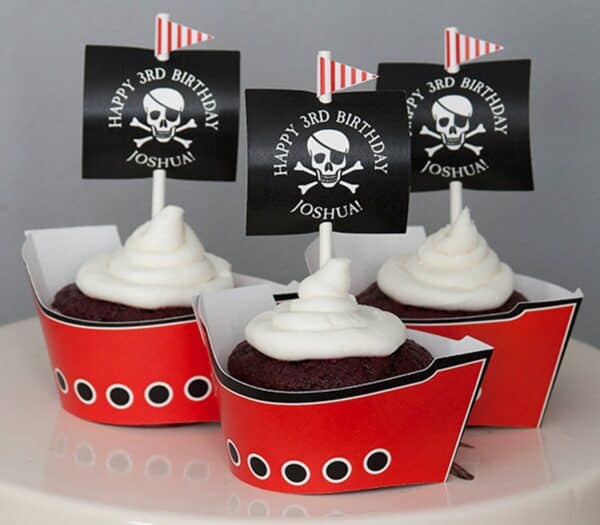 Pirate Fondant Cake Toppers from Seasonably Adorned
Love to bake, but can't handle fondant? Grab these cute toppers and turn any homemade (or store bought) cake into a pirate themed masterpiece. Easy peasy!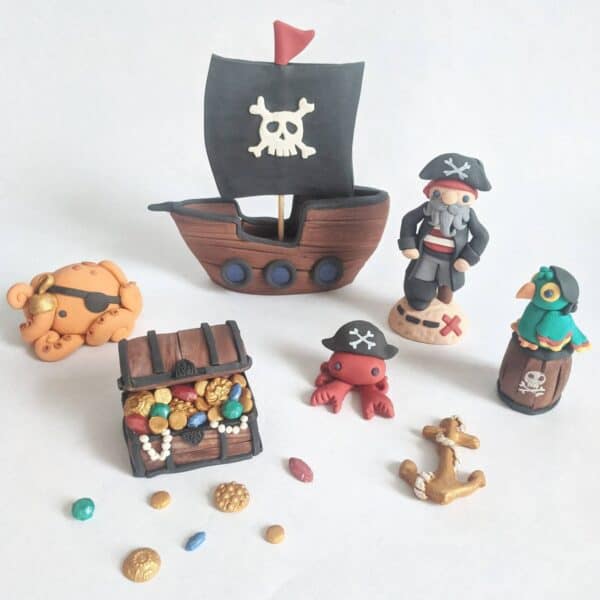 Pirate Cupcakes from Fun365
Here is another simple cupcake dress up!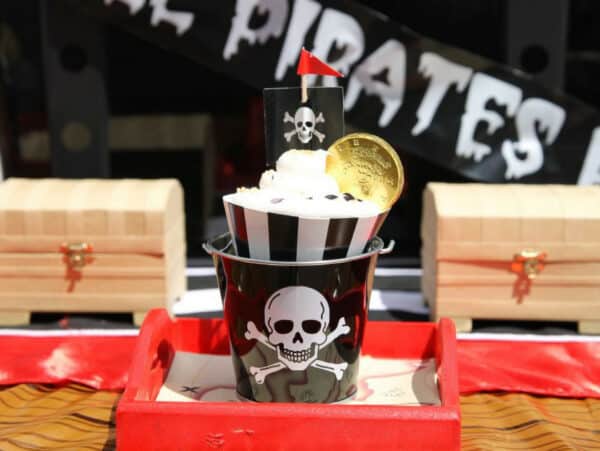 Pirate Rice Krispies from Lady and the Blog
Rice Krispie treasure chests for the win!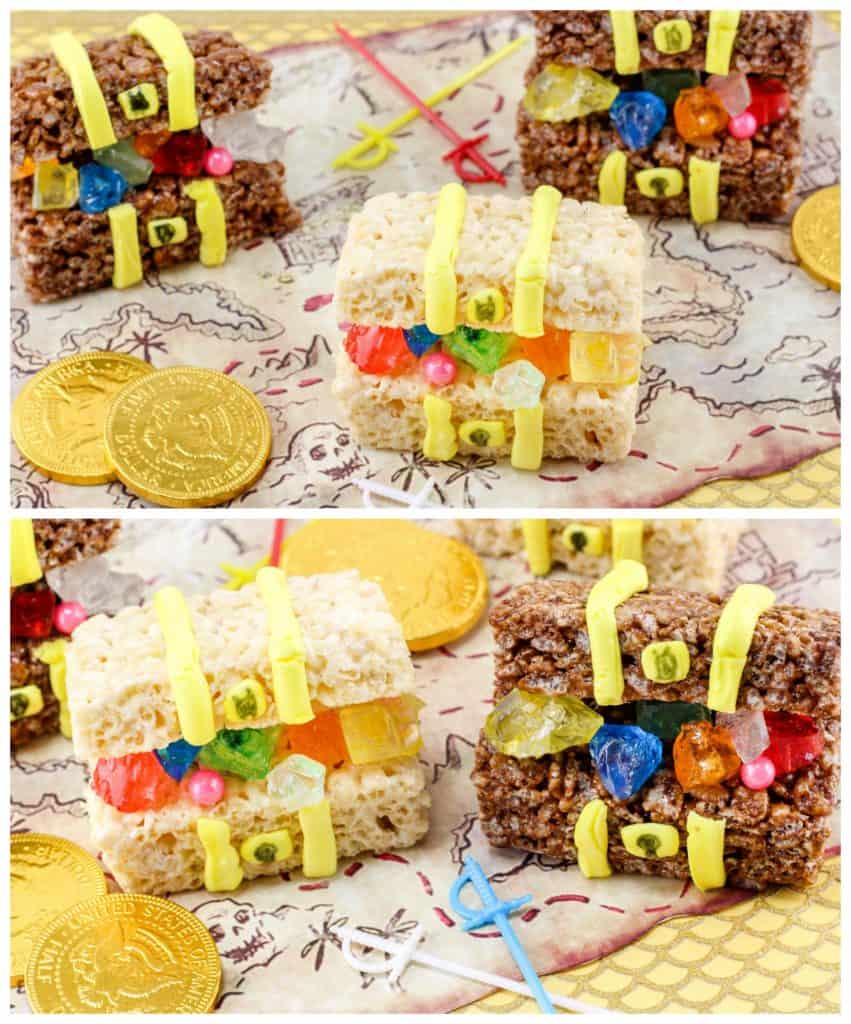 Pirate Party Food
If you are looking for some non-sweet options. We have you covered on that as well.
You can dress up simple fingers foods with some pirate flair.
Check out these simple Pirate Finger Foods:
Cannonballs: Cheese Balls/Cheetos Balls
Pirate Gold: Cheese sticks/Squares
Sea Dogs: Pigs in a Blanket or Hot Dogs
Catch of the Day: Goldfish crackers
Pirate Ships: Deviled Eggs
Pirate Swords: Veggie or fruit kebobs
Dead Man's Fingers: Chicken Fingers
Gold Coins: Chocolate Coins
Here are some more fantastic options:
Treasure Map Quesadilla from Eats Amazing
This might be the best pirate food idea ever. So simple, yet so perfect!
Skull Sandwiches from HWTM
Cute and crunchy skull sandwiches!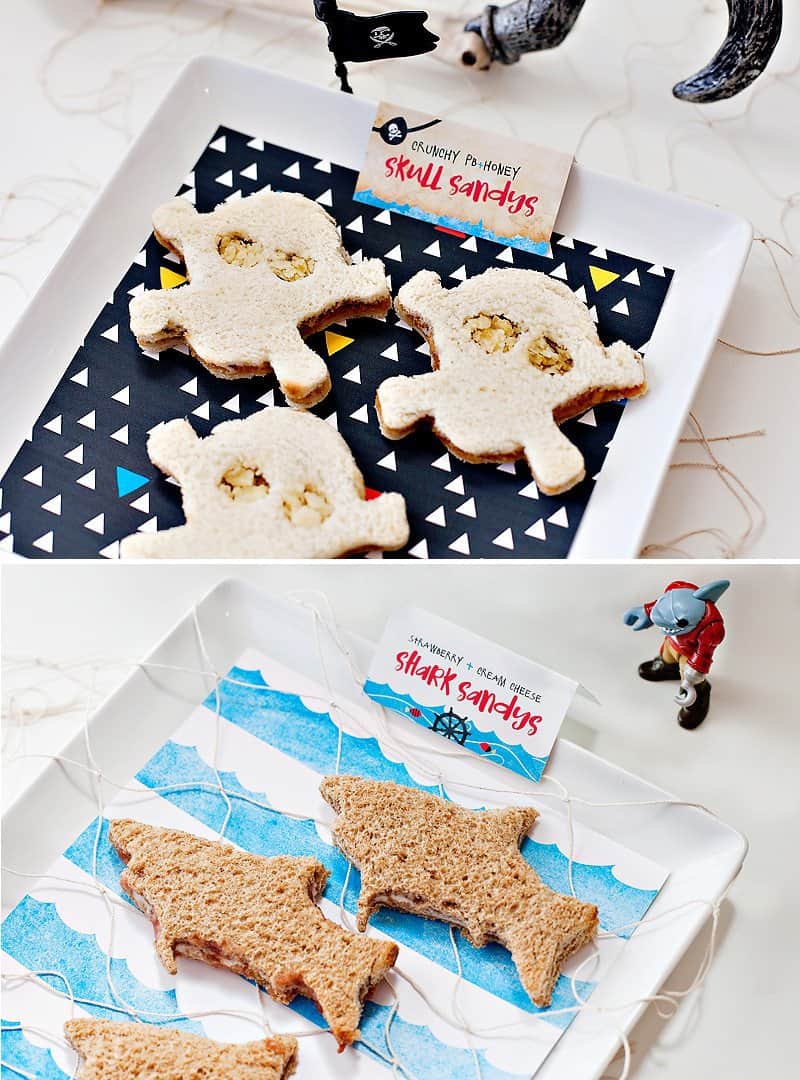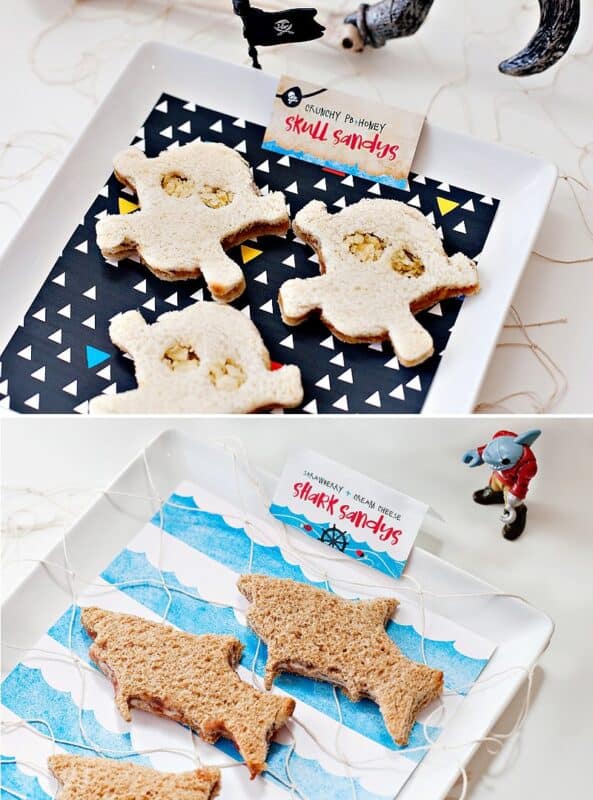 Pirate Sandwiches by Kate's Creative Space
I love the details on these Yo-Ho-Hoogies! (Sorry, that pun was just too easy!) The map wrapping is clever and also very practical. I love taking regular food and dressing it up in the right way for your theme. This also helps balance out all the sweets!

Pirate Bananas from Fun365
Dress up some cute bananas like little pirates. If you have a bandana and a banana…you have a pirate!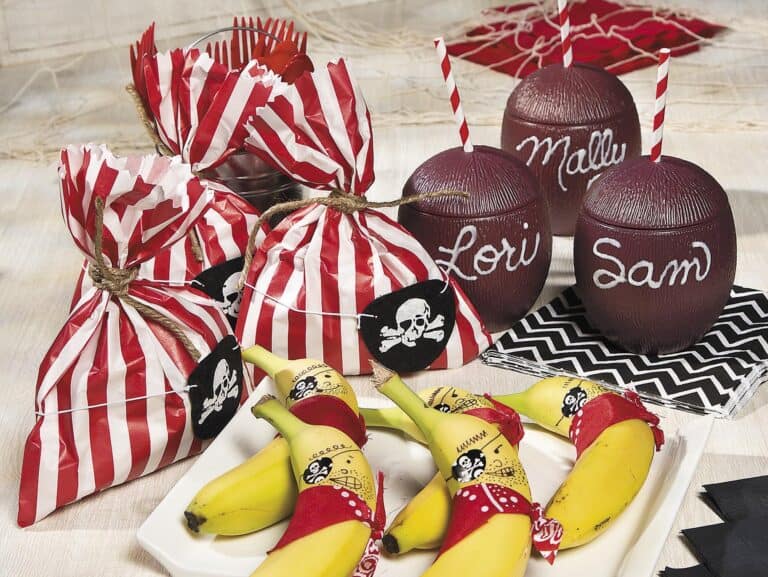 Pirate Party Tableware
Here are some awesome and super simple to use pirate party supplies to help you set up your party:
Pirate Party Tableware from Target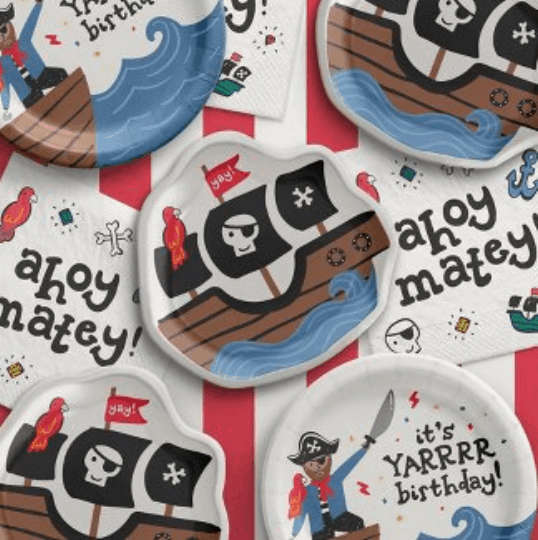 Pirate's Map Party Tableware from Target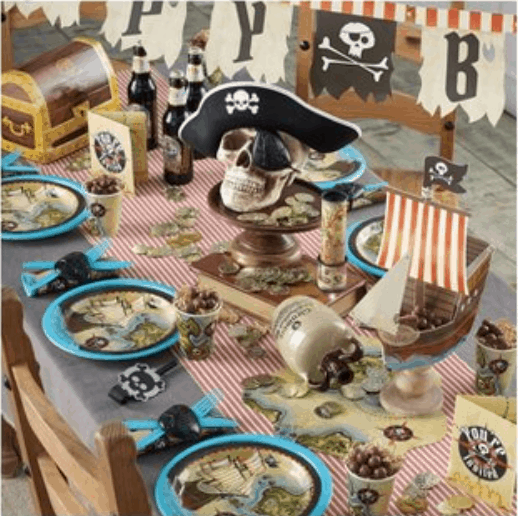 Pirate Party Tableware from Oriental Trading

Pirate Plates from Meri Meri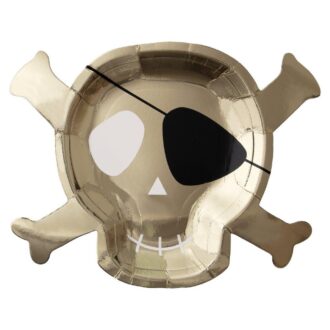 Wanna throw a Pirate Party?
The Printable Pirate Party Collection is available for purchase in my shop.
Here are some helpful links for planning a pirate party:
Conclusion for Pirate Desserts + Food Ideas:
These adorable and swashbuckling pirate food and dessert ideas are perfect for a pirate themed party. From simple to complex, I know you will find the perfect treats for your party in this list!
If you love these ideas, please pin this image to your birthday Pinterest Board: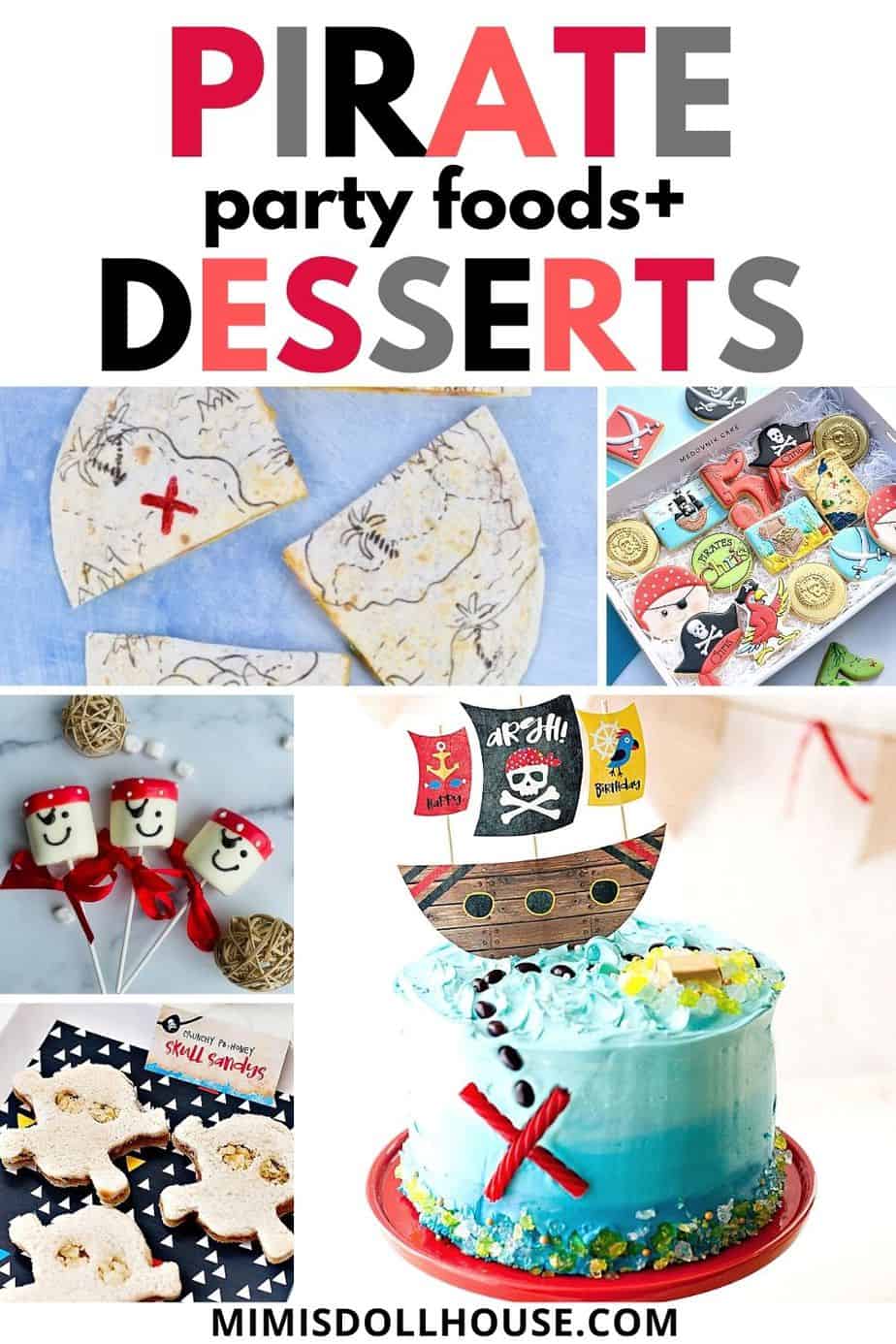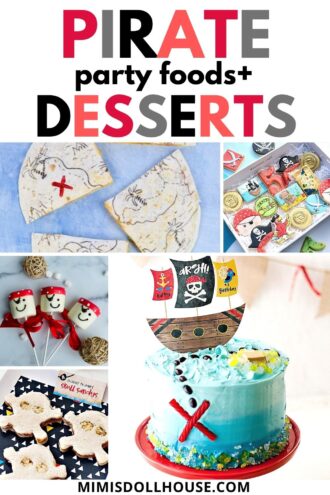 Related posts for Pirate themed food and dessert ideas:
Thank you for reading our Pirate Cakes, Cookies + Food ideas!