Pirate Party: Set sail with Pirate Party Game Ideas!! Looking for some pirate party game ideas? Here are some fun and festive activities for your little buccaneer. Need more pirate party inspiration? Check out this pirate party and these pirate food ideas.
What's a pirate party without some exciting and swashbuckling games? Sometimes the activities are the best place in a party to showcase your creativity while still entertaining your kiddos. I love creating themed games and activities for a party, like these pirate party game ideas.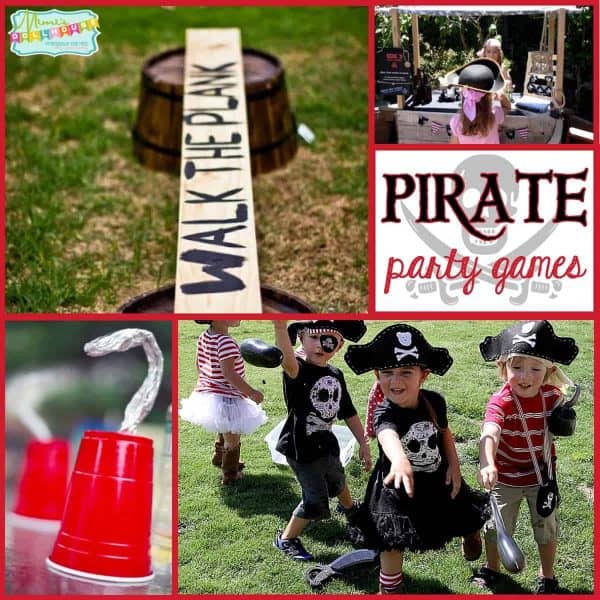 If your little buccaneers are anything like mine, they already know a whole bunch about how a pirate party should go down. My little pirate princesses LOVE Jake and the Neverland pirates (especially Captain Hook, believe it or not) and are experts in all the pirate lingo. This makes pirate party games, that much more fun because they really get into the action and take it to a different level of swashbuckling! Here are some ideas to get you sailing…
Throwing a PIRATE PARTY?
☑️ These Pirate Party Decorations are the perfect way to get your party planning headed in the right direction!
Treasure Hunt
One sure fire activity that are guaranteed to be fun is of course, a treasure hunt… This one is pretty easy. You just need a map, draw your own out on parchment paper and using easy to identify landmarks around your party area for some fun and hide a treasure chest for them to find….the more you can have your little pirate band running around (and burning energy/sugar high) searching for their treasure…the better! Even throw in some fun pirate-y clues along the way from good ol' Davy Jones!! Fill the treasure chest with shareable goodies or party favors and watch those little cuties smile!
Cannonball Fight
Another awesome pirate activity is a cannonball fight (aka throwing black water balloons at one another). This is super economical and super fun…especially if it's a warm day:)
This adorable and easy pirate game is sure to be a hit. I love how rustic this set-up looks. Remember, pirates aren't neat and tidy…they have rough edges and NEVER match:)
This party is full of great ideas…including this sure winner. Set up a pirate treasure dig and shop. When the little mateys find their treasure, they can trade it in for some awesome loot. Love it!!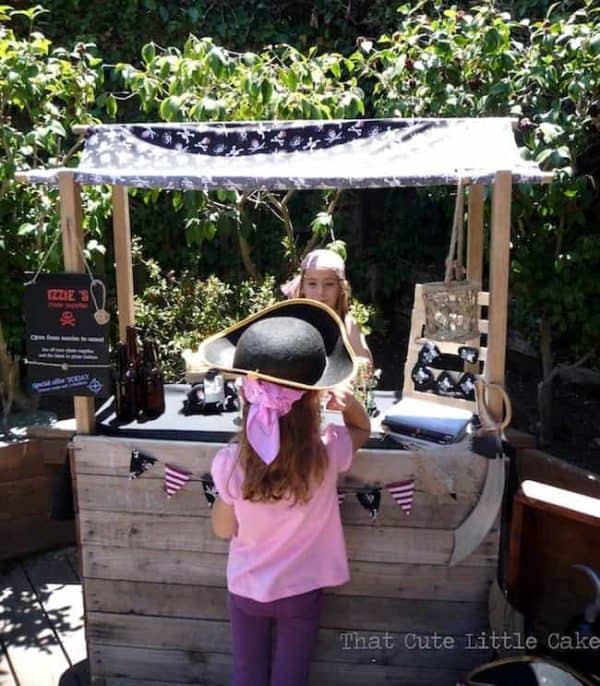 Here's a quick and easy way to get your little guys and gals into the pirate mood. Make them some fun solo cup Pirate Hooks.
Need more pirate party inspiration? Check out this pirate party and these pirate food ideas.
Wanna throw a Pirate Party?
The Printable Pirate Party Collection is available for purchase in my shop.