Construction Party: Caution, this party is Under Construction. Whip out the Tool box and let's get to work building a Construction Party! For more party inspiration, be sure to check out my other Construction Party Ideas and Features.
How cute is this construction party? I love the idea of a construction party. It's honestly one of my favorite themes for a little boy. What's really cool about throwing a construction party is that there are so many different ways you can twist it. You can focus on the tools, you can focus on the huge trucks. you can really get into the dirt aspect. It really makes it easy to personalize the party to you little guys favorite aspects. That's my favorite part…when the party really emphasizes the personality and preferences of the child.
This party was styled for Turner's second birthday. Check out the details…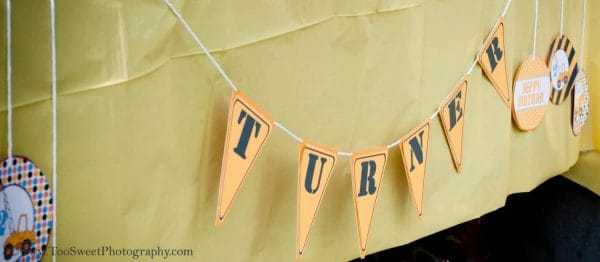 I love the little shirt too. You can order the same Construction T-shirt from Heather Rodgers Designs. And isn't Turner such a little cutie pie?? I think so.
Another of my favorite construction party ideas is the napkin wrapped silverware, or "tools"…love it. So clever:)
There are so many awesome ideas for throwing a construction party. Be sure to check out our other construction party ideas and this super cute construction party for tons of inspiration.
Here are some helpful links for throwing a Construction party:
Wanna throw a Construction Party?
The printable Construction Party Collection is available in my shop: