Ideas for a Bowling party your Tween or Teen will love!
Get ready for a great time with some fun and playful bowling party ideas. Bowling is a great focus for a tween or teen party and can easily be styled to be "cool"! There are so many fun ways to turn a simple bowling alley birthday bash into an EPIC party. Ready to roll a strike?
Tweens…sometimes its like they are a confusing ball of crazy, right? They aren't "little" anymore, yet they aren't big yet! Figuring out how throw a birthday party for your tween can definitely be a challenge.
That's why a theme like bowling is so great. It's fun and busy and let's kids be cool while still acting like, well…kids!
Throwing a BOWLING THEMED PARTY?
☑️ This
Bowling Party Kit
is the perfect set to get your party planning headed in the right direction!
Ready to explore some fun ways to throw a bowling themed birthday?
Bowling Party Ideas
I have some of my favorite ideas to share. At the end of the post, I also have a fun bowling party feature using my bowling printables (which you can grab at the bottom of the post also!)
Bowling Party Decorations
The hottest trend in bowling is a Retro vibe. Throwback colors and designs that feel like a simpler time. If retro isn't your vibe though, focusing on the laser light neon style modern bowling would also make a crazy fun bowling party.
Here is some inspiration for setting up your bowling decor!
Retro Boy's Bowling Party from Spaceships and Laserbeams
This Retro style Bowling birthday is amazing. It's full of awesome ways to create a fun environment for a fantastic party.
Bowling Party Table on Catch My Party
This party is especially fantastic because it uses simple, budget friendly ideas to create an awesome party! This could so easily be set up in a bowling alley as an amazing party!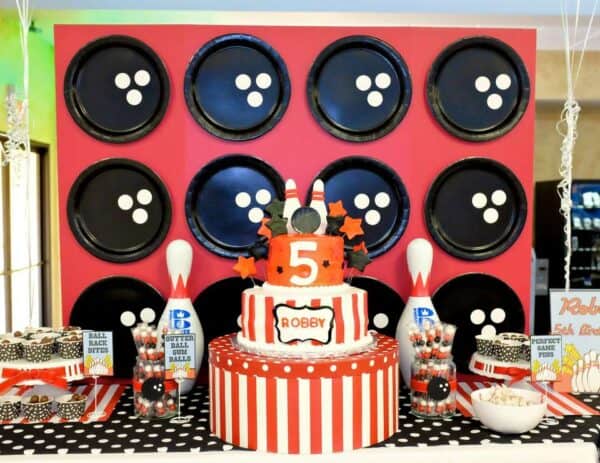 Bowling Party from Mimi's Dollhouse
This fun set-up is also an easy and fabulous inside the bowling alley party. Using real pins to accent the table! Awesome. (More photos of this party at the bottom of the post!)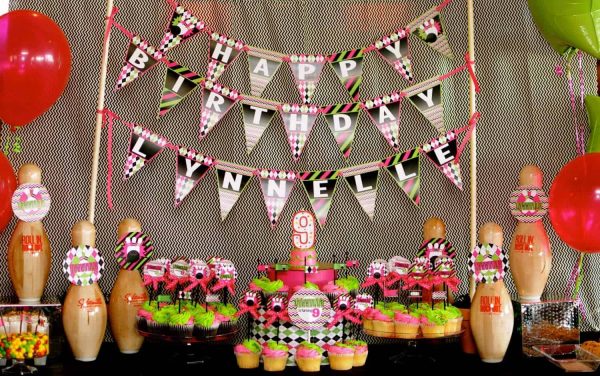 Bowling Party Favors
If you are setting up a fun party, you need some fun, creative favors for a bowling party. Check out these clever ideas:
Bowling Pin Bottles from Chickabug
This is a super clever and totally reusable. You can grab bowling pin bottles here and fill them with treats or candy!
Bowling Awards on Catch My Party
Here is a fun spin on favors for a bowling party. Why not give awards to your little bowlers. Make fun ribbons and give little gifts as trophies! Awesome!
Bowling Pin Favors on Kara's Party Ideas
Here is another fillable option for bowling favors. You can grab bowling pin candy bottles here and fill them with tasty treats or gumballs!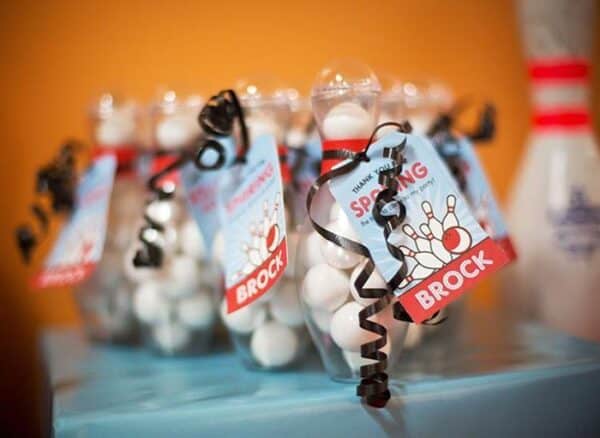 Bowling Party Food
Ok…let's talk food! You can't have an amazing party (especially for hungry tweens) without some fun food ideas. For a bowling party, clearly you should serve some classic bowling alley food. Think pizza, nachos, etc.
You can also have some adorable super themed sweets, like these:
Bowling Cake from NL Sweets
This fun bowling cake is super clever. I love the fondant bowling lane on top! Adorable!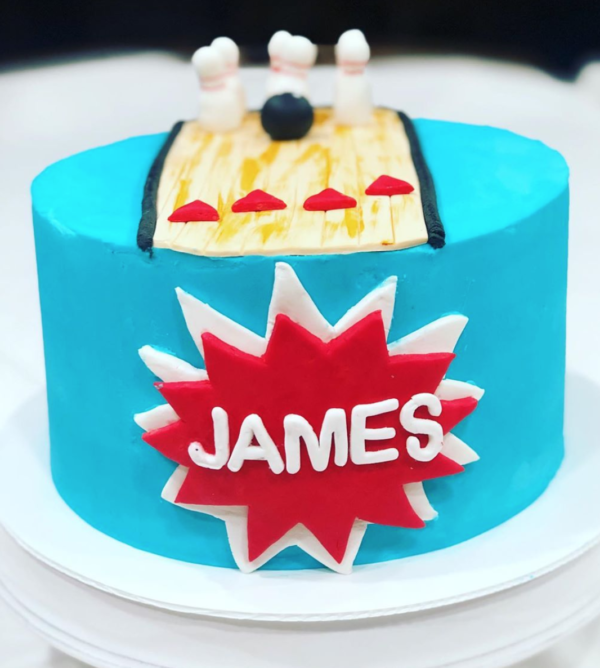 Bowling Pin Rice Krispies Treats on Catch My Party
If you want an easy and inexpensive treat…make some bowling pin shaped Rice Krispies Treats with a simple bowling pin cookie cutter.
Bowling Cookies from Moxxie Creations
These bowling themed cookies are GORGEOUS! I love the colors and the retro feel they have. Perfection.
Bowling Cake and Cupcake Tower on Catch My Party
This awesome bowling tower of sweetness would be the perfect centerpiece for a bowling dessert table!
Fondant Bowling Cupcake Toppers from Les Pop Sweets
These fondant cupcake toppers would be the perfect addition to simple homemade or store bought cupcakes. They are cute, well made and perfectly on point!
Bowling Cake from Cake House
I love this soft colored cake. It would make such a great accent for a tween girl's birthday party.
Bowling Cookies from Sweets Shop Design
Here are some more absolutely adorable cookies. Aren't they fun? I love all the colors. These would be fabulous for a black light bowling party!
Bowling Party Supplies
Here are some ideas for supplies for a bowling birthday party. Little details often make SUCH a difference in the overall feel of a party. Check them out:
Bowling Cupcake Toppers from Bling Bliss Banners
Here are super easy cupcake toppers that can take simple homemade or store bought cupcakes and turn them into themed perfection!
Bowling Photo Booth Props from Surprise Inc.
Ok…if you have a party with funky tweens…you MUST have photos. Grab some simple printable photo booth props to help inspire some goofy pictures!
Bowling Cake Topper from Tickled Glitzy
Here is a super fun and simple cake topper to take a regular simple cake and give it a fabulous bowling feel!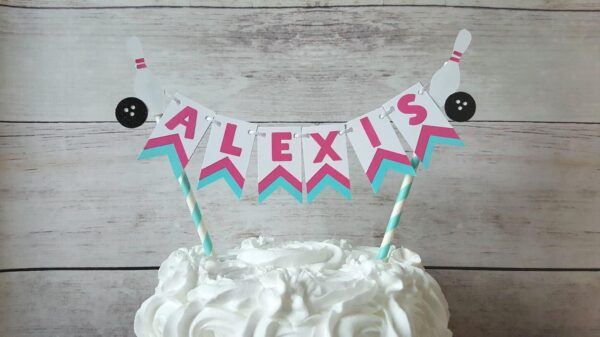 Bowling Plates and Napkins
You definitely need some fun tableware to help serve your little bowlers their delicious treats. Grabbing a set that is ready to go, definitely helps. Here are a couple of options you will love:
Bowling Tableware from Amazon
Bowling Party Supplies from Big Dot of Happiness
Bowling Party Feature
Did you know that we have bowling printables? They come in pink or blue! You can grab them at the bottom of this post. Here is a fun party that was styled by a client using our printables!
It is this love of my favorite sport to try to play…I have a fun bowling party to share along with some amazing bowling party ideas you will definitely want to consider for your tween's birthday!
So I am not athletic at all… AT. ALL.
We're not even talking last one picked in P.E. class non-athletic.
We're talking…pretended to be sick EVERY DAY of PE class in 8th grade and the teacher played along so I didn't hurt anybody non-athletic.
Seriously….I earned my participation points each day by staying as far away from the ball as possible.
Sad, I know. My hubby on the other hand is crazy good at sports. It doesn't even matter what sport or who he's playing….he ALWAYS wins.
Thankfully, my children seem to have taken after him, at least for now…. So how do we manage to do anything when he is sooo good and I am scary bad?
We bowl…oh yeah, it's true. I can actually throw a bowling ball and hit pins!
Granted I don't hit that many of them, but I do manage to keep it out of the gutter without the bumper pads.
You know you're impressed.
Conclusion for Perfect for Tweens Bowling Party Ideas:
Looking for a fun party for pre-teens and teenagers? Consider throwing a bowling party. This party idea can easily be done at a local bowling alley and is full of fun and easy to DIY ideas to have an awesome bowling themed party your kiddos will love.
Here are some helpful links for throwing a bowling party:
If you love these bowling party ideas, please pin this image to your party Pinterest Board:
Wanna throw a bowling party?
The Printable Bowling Party Decorations are available for purchase in my shop in both pink and blue!
Related posts for Bowling Birthday Party:
Thank you for reading my bowling birthday ideas!