Emoji Desserts + Food Ideas
Those cute little emojis are not just great at expressing your emotions…they also make adorable desserts! You will love making and tasting these fun emoji food ideas. From poop emojis to heart eyes…these emoji treats are far from meh!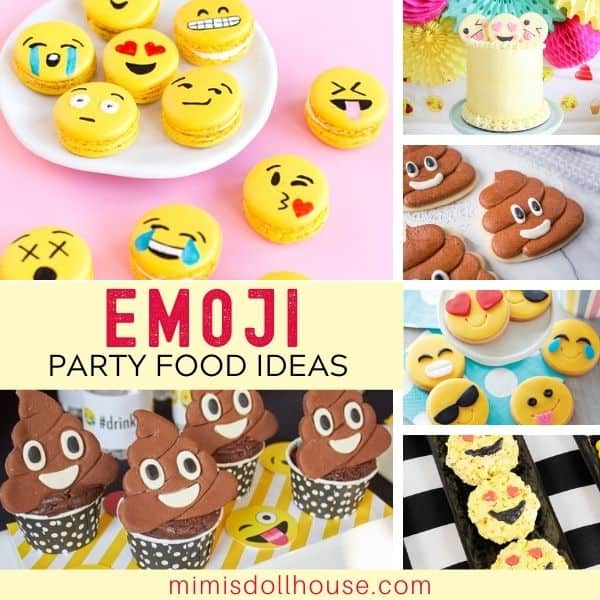 Emojis are such fun little expressive things. Not only do they make texting easier…they are kinda adorable. So adorable they make an AMAZING party theme!
Throwing an EMOJI PARTY?
☑️ These Emoji Party Supplies
are the perfect way to get your party planning headed in the right direction!
Emojis are particularly a fun theme for tweens and older kids. It's a great party theme once your kids outgrow the character parties!!
RELATED: DIY Emoji Cookies + Oreo Pops
Emoji Food Ideas
One of the best parts of party planning is definitely the awesome food ideas. Emoji food ideas are super adorable and particularly awesome because they are so simple. It is fairly easy to have a variety of treats with a range of emotions displayed because the design is so simple and easy to recreate.
Let's check out these fun options…
Emoji Healthy Snacks
Healthy snacks are sometimes the hardest to keep on theme. With an emoji theme you can serve some of the following ideas:
Heart Eyes (Strawberries cut in a heart shape)
Cheese and cracker emojis (Ritz crackers and cheese circles with faces)
Emoji Oranges (draw faces on madarin oranges)
Emoji Pizza (faces made with toppings)
Emoji fruit cups
Emoji fruit or veggie trays (make by arranging the the food to make a face)
You can also serve food like bacon or avocado that represents some of the more popular food emojis.
Emoji Cakes
Of course…the most fun emoji food ideas will definitely be the desserts. Here are some fantastic emoji cake ideas:
Emoji Cake from Fun365
This fun cake is topped with cute emoji cookies. This is a great way to stretch your desserts. By using your cookies as cake toppers, you save time baking and still have a fabulous cake!
Emoji Cakes from Sugar Hero
Here are some emoji cakes that would be perfect and easy for a party. So cute!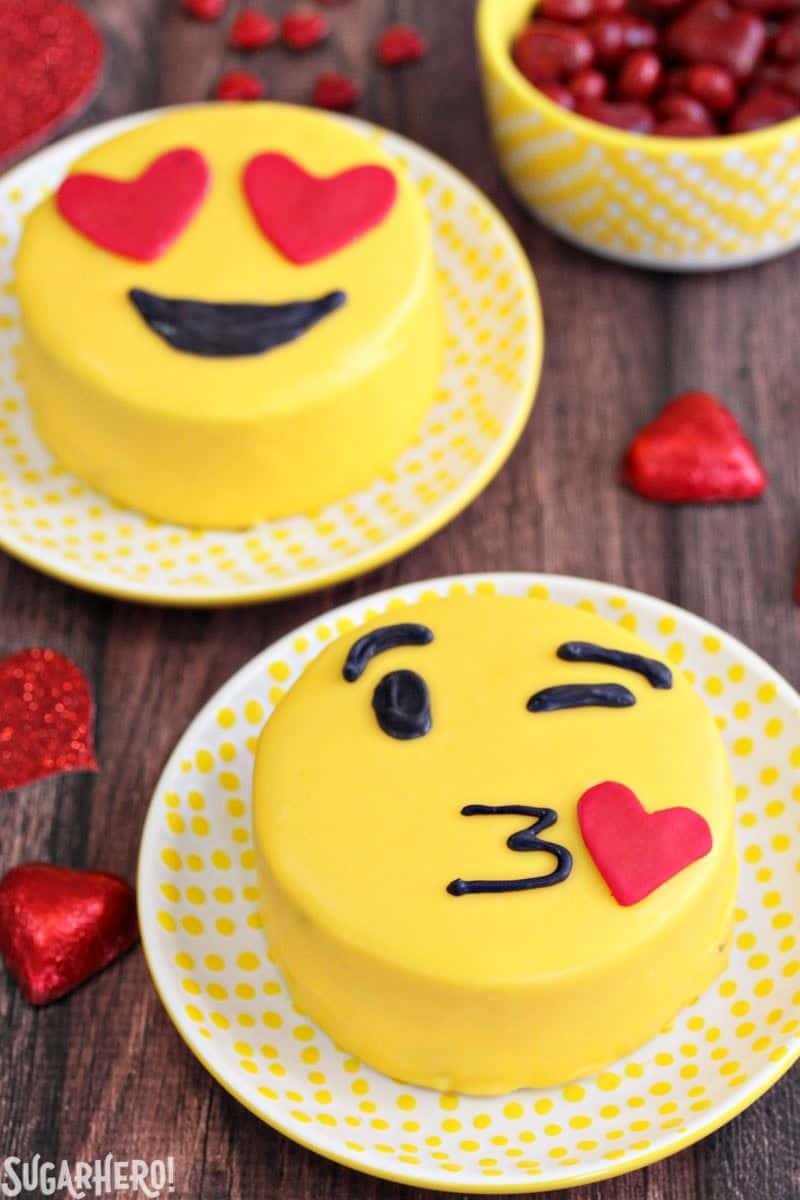 Emoji Party Cake from A Subtle Revelry
Fun paper toppers are also awesome options for an emoji themed cake. This is a great way to jazz up a simple store bought or homemade cake!
Emoji Cake from Cakes by Mafer
Here is a fun and colorful emoji cake. Not everything has to be yellow!!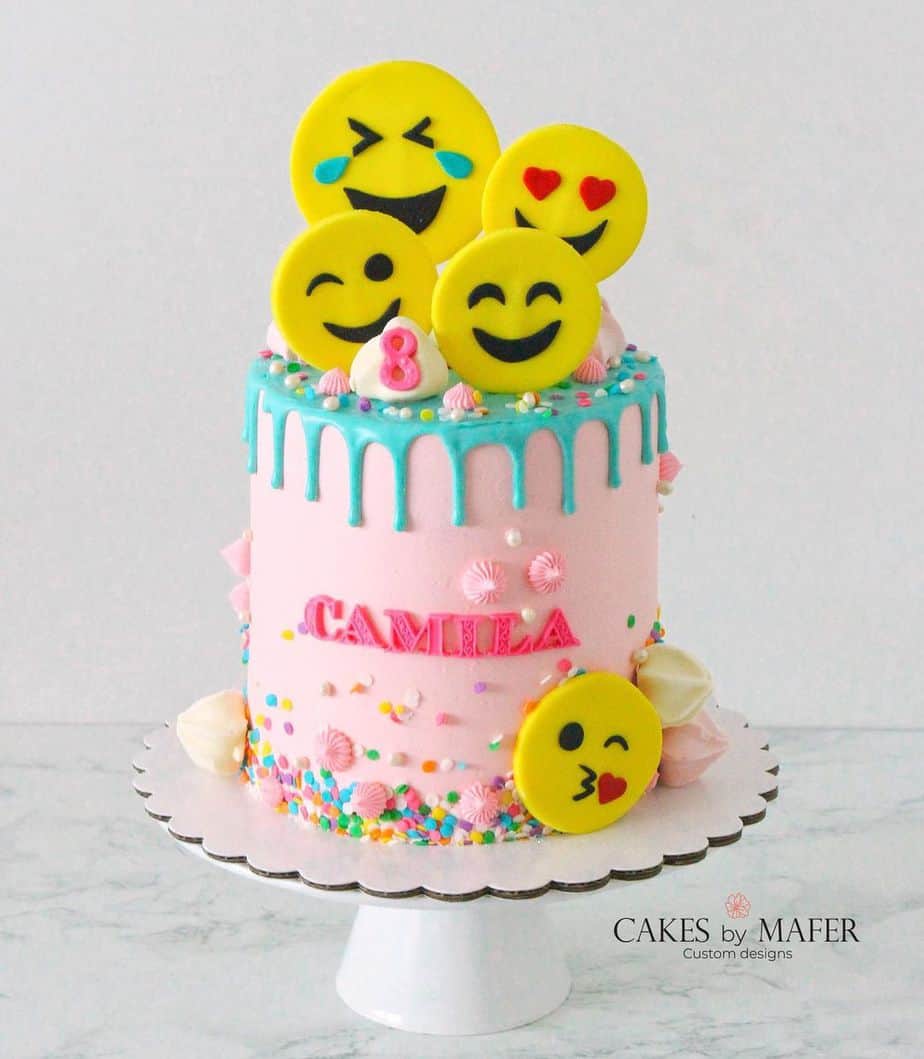 Emoji Cookies
Let's take a look at some adorable cookies that would be fun on and off the top of a birthday cake!
Paint Your Own Emoji Cookies via Project Nursery
Here is a cute party idea. How about some cookies your guests can color in themselves? Creative, right?
Poop Emoji Cookies from South Street Cookies
How adorable are these little poop emoji cookies? I never would have thought I'd think poop was so cute! These are simple and yummy looking!!!
Emoji Cookies from TS Cookies
Here are some fun and super adorable cookie options. I just love all the expressions!!
Emoji Oreos from Kara's Party Ideas
Emojis were just made for candy covered Oreos! And those little bows just add something special to the mix!
Emoji Cookies from Wilton
Here is a simple DIY cookie idea you can recreate for your party! Adorable, right!!
Emoji Cookies from Baked By Michaela
Here is another fun batch of expressions. The mind blown emoji is my favorite. Which one is yours?
Emoji Cookies from Mimi's Dollhouse
This is a SUPER simple tutorial I whipped up with my kiddos. If my 10 year old can master these fun expressions…you can totally make these too!
Poop Emoji Oreos from Chocolates Unlimited
Poop emoji Oreos for the win. These are sure and clever…I love the faces!
Emoji Cookies from Nary's Kitchen
Mini cookies are always a hit at parties. They are great for filling mason jars or giving away as favors. So fun and expressive!
Emoji Cupcakes
Cupcakes are another fantastic option for party food since they are already pre-portioned individual sized cakes. Easy to make and customize…Cupcakes are a party staple for good reason. Let's take a look at how to customize them for an emoji theme…
Poop Emoji Cupcakes from Amy's Party Ideas
Poop emojis and chocolate cupcakes are pretty much made for each other. These fondant topped cupcakes look DELICIOUS!
Emoji Fondant Cupcake toppers from Wedding Cakes Shop
Simple Emoji fondant toppers can turn simple homemade or store bought cupcakes into a perfectly themed treats. These are perfect!
Poop Emoji Cake Pops from Kara's Party Ideas
Here is another fun idea for poop emoji cupcakes. Using the frosting as the poop emoji is simple and grossly delicious!
Emoji Desserts
Of course there are tons of other desserts that can be made for an Emoji party…no need limit yourself to the ordinary options.
Emoji Popcorn Balls from Michelle's Party Plan It
Popcorn balls make fantastic emojis. Love the cute candy heart eyes too!
Emoji Bark from Rebecca Propes
This colorful and fun bark with cute emoji faces is a great party treat. This is adorable and would surely be a party favorite!
Poop Emoji Cake Pops from Blissfully Chaotic Desserts
Poop on a stick? Delicious cake pops are also a great way to highlight that fun little emoji favorite!
Emoji Macarons from Studio DIY
These macarons are absolutely adorable. The faces are perfectly done and these are a great idea for a party treat!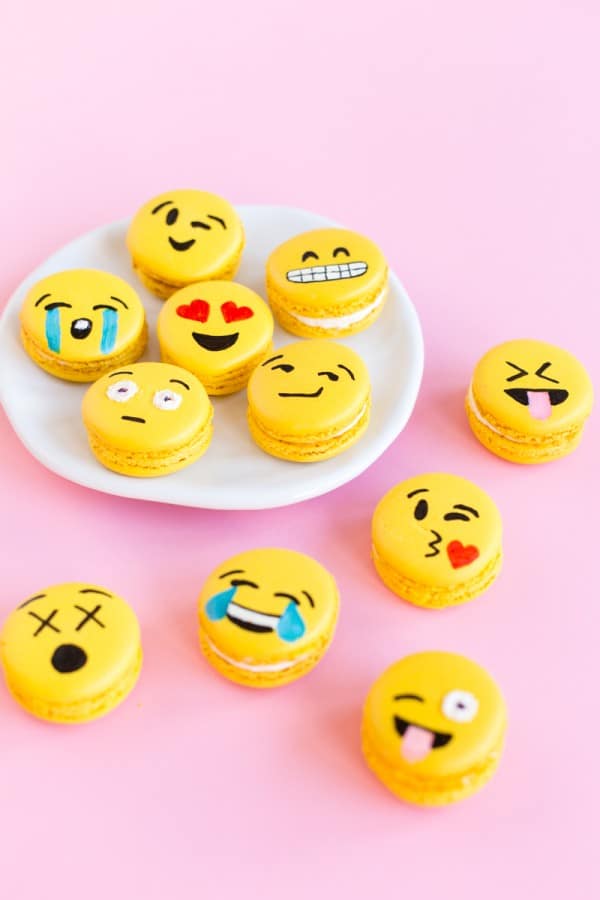 Poop Emoji Brownies from Living Locurto
Poop emojis can also be made with yummy brownies. What a fun variation on regular brownies!
Emoji Sprinkles from I Am Creations
These sprinkles are super versatile and could be added to any number of party treats for an adorable dessert option that is instantly on theme. These are particularly great for dressing up simple homemade or store bought cupcakes!
Emoji Cake Pops from The Cake Ballerina
These cake pops are a clever way to highlight all those fun little expressions. Cake pops are honestly such a great party treat because they are perfect little delicious bites of cake…who wouldn't want that?
Coordinating Emoji Party Supplies
Getting started with a fun set of party tableware or supplies is a great way to plan your party. Here are some of the best options:
Emoji Party Supplies from Oriental Trading

Emoji Partyware from Daydream Society
Emoji Tableware from Amazon
Here are some helpful links for planning an emoji birthday party:
Conclusion for Emoji birthday food ideas:
If you have a tween or kiddos who loves emojis…or even if you just love emojis yourself, these emoji party desserts are a great way to celebrate a birthday. From fun cupcakes to adorable cookies, you will love creating these cute treats for your kiddo's big day!
If you love these ideas, please pin this image to your birthday Pinterest Board:
Related posts for Emoji Food Ideas for kids:
Thank you for reading my food ideas for an Emoji Party for a kid's birthday!