Emoji Party Ideas for Tweens!
Are you looking for a heart eye emoji kind of party theme? If you have a pre-teen or teen who LOVES emojis, why not throw an emoji themed birthday bash? These awesome emoji party decorations and emoji party supplies are sure to take your party from meh to wow!
Emoji parties are a super fun way to plan a not too little, not too big party that is perfect for pre-teens, tweens and teens. It has all the fun of a bright character party, without being babyish. Plus, of course…those emoji expressions are just too, too fun.
Throwing an EMOJI PARTY?
☑️ These Emoji Party Supplies
are the perfect way to get your party planning headed in the right direction!
Another benefit of an emoji party is that recreating those fun expressions for your party is actually super simple! Possibilities are honestly ENDLESS! Let's check out some amazing ideas to get you inspired!
RELATED: DIY Emoji Cookies + Oreo Pops
Emoji Party Ideas
When it comes to setting up an emoji party, you can really use construction paper or card stock to add emoji faces to basically ANYTHING round and yellow. Yellow paper plates, yellow balloons, yellow fans and yellow lanterns are all great options!
Emoji Party Theme
When creating a birthday with an emoji party theme, you can definitely play up the yellow. but also some of the other emoji colors (light blue, red, black). Another fun idea is to incorporate other emojis into the design. You can have poop emojis or some of the more popular food emojis as well.
RELATED: 21 Emoji Food Ideas for Parties You'll Heart
Emoji Party Decorations
Let's look at some super cute emoji party ideas for setting up a fun and festive emoji themed party. These ideas are definitely going to be crowd pleaser.
Emoji Party from Project Nursery
How adorable is this design? Fun emojis and cute colors! The cake topper is adorable too!
Express Yourself Emoji Party from Oh Happy Day
These emoji balloons make an adorable backdrop! Some fun and festive!
Emoji Party Table from Fun365
Here is a fun twist on an emoji themed party that is adorable for girls. The fun pink and teal definitely make that yellow pop!
Emoji Party from Rebecca Propes
Here is another simple and girly emoji party idea. Streamers in fun colors can definitely jazz up a simple white wall for a great dessert table backdrop.
Emoji Paper Lantern from The Suburban Mom
These yellow lanterns make adorable decorations with fun card stock emoji faces on them. Easy, inexpensive and cute!
Emoji Wreath from Aww Sam
Leftover Christmas Ornaments? Grab some yellow spray paint and a sharpie and you can have an instant and unique wreath for your party.
Emoji Party from Kara's Party Ideas
This emoji party is perfect for a tween. Bright colors and fun emoji faces make such great decorations.
Emoji Party from Michelle's Party Plan It
Use some inexpensive yellow plates for a simple and fun party backdrop. Easy and cute!
Emoticon Birthday Party from Kristen Duke
Here is an adorable party table idea for serving up all those fun emoji treats you are definitely going to make!
Emoji Birthday from Ideas and Lifestyle
Here is a fun idea for decorating a pool party gondola or picnic shelter. Fun and shady!
Emoji Party Table from Celebrate Everyday With Me
Here is a super cute emoji picnic idea. I love the red fans behind those emoji faces!
Emoji Party Supplies
Here are some great ideas for an emoji party that will take your fun to the next level! Check out the adorableness of it all!
Emoji Photo Booth from At Home with Natalie
Fringy backdrop and fun emoji photo props…yep!
Emoji Party Table from Design Eat Repeat
Jello hearts and cookie mouths can take a simple party plate and turn it into an emoji place setting your guests will love!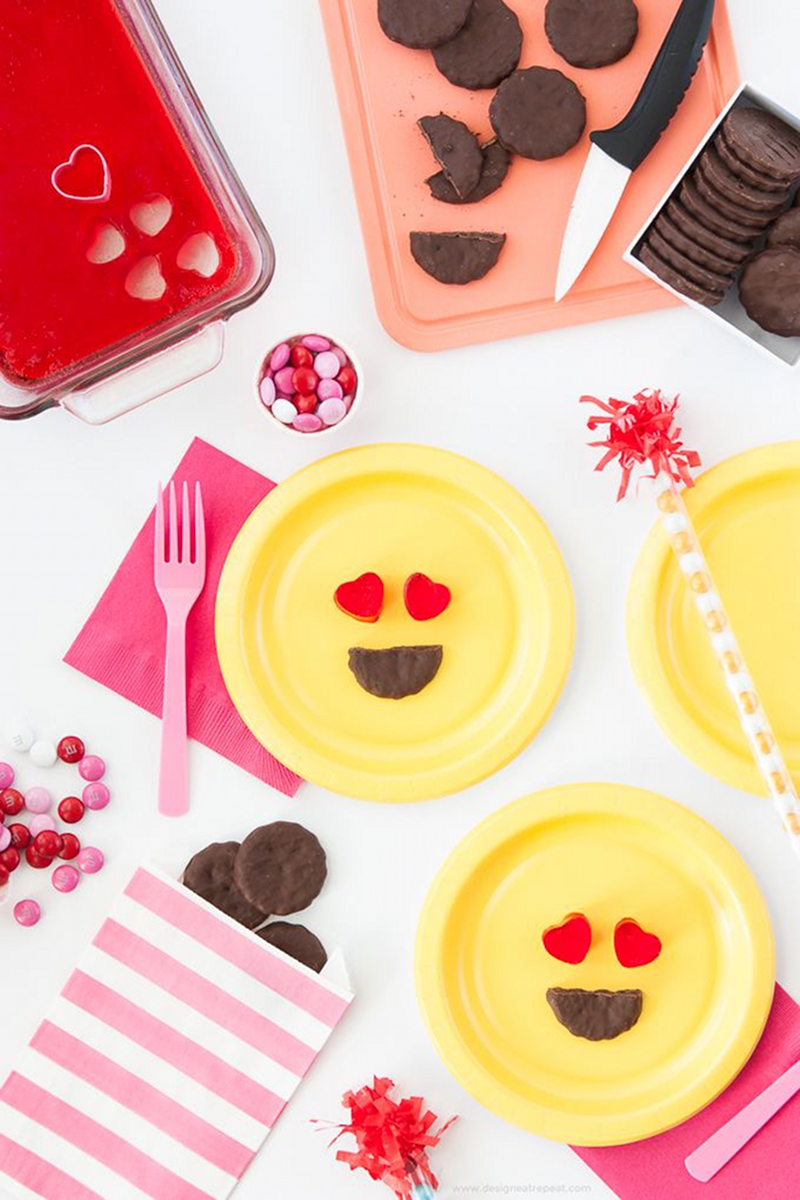 Emoji Party Balloons from Bird's Party
Grab some cut outs and dress up some emoji balloons. Easy peasy!
Emoji Cups from My Party Story
How cute are these emoji cups? Fun designs for everyone to enjoy!
Emoji Party Table Runner from Style with Nancy
This is a great party table for all your little guests to enjoy their treats and activities on!
Emoji Candles from En Fete
Here are some adorable emoji candles for a fun birthday cake!
Emoji Favors
It wouldn't be a party without some festive favors. Here are some unique and easy ideas for emoji party gifts!
Mini Poop Emoji Piñatas from Fringe Darling
Mini poop piñatas are a fun way to give your little guests some birthday candy and treats. Filled with candy or confetti..it will be a crown pleaser!
Emoji Favor Bags from Party of Eight Designs
Here are some fun and simple gift bags…too, too cute. These can be filled with a plethora of party items for a great goodie bag.
Emoji Zipper Pouch from See Kate Sew
Feeling crafty? These fun little zip pouches are an adorable party favor that would be simple to make and definitely fun to give!
Poop Emoji Pencils from Paging Supermom
Here is another unique and cute party favor idea. Poop emojis make great pencils!
Emoji Slime Favors from Fun365
Ok, let's be real…what kid doesn't like a little slime? These slime jars would be great favors!
Emoji Printables
Printables make great additions to party set-up and decor. Here are some awesome downloadable options for a party!
Emoji Bingo from Create Craft Love
Emoji Invitation from Awesome Designs 2000
Emoji Printable Party from Printable Studio 505
Coordinating Emoji Party Supplies
Getting started with a fun set of party tableware or supplies is a great way to plan your party. Here are some of the best options:
Emoji Party Supplies from Oriental Trading

Emoji Partyware from Daydream Society
Emoji Tableware from Amazon
Here are some helpful links for planning an emoji birthday party:
Conclusion for Emoji birthday ideas:
If you are planning an emoji bash…these emoji party ideas are killer! From simple and inexpensive to over the top and glorious, you will for sure find amazing inspiration for your party in these ideas!
If you love these ideas, please pin this image to your birthday Pinterest Board:
Related posts for Emoji Party Ideas for kids:
Thank you for reading my ideas for an Emoji Party for a kid's birthday!