Celebrate your next birthday with a Max and Ruby Party
If you have a little one who LOVES Max & Ruby, celebrate his birthday this year with some funny bunny cookies and simple Max and Ruby birthday decorations. With bright bold colors and a simple tutorial…you will be setting up the party of your little ones dreams in no time!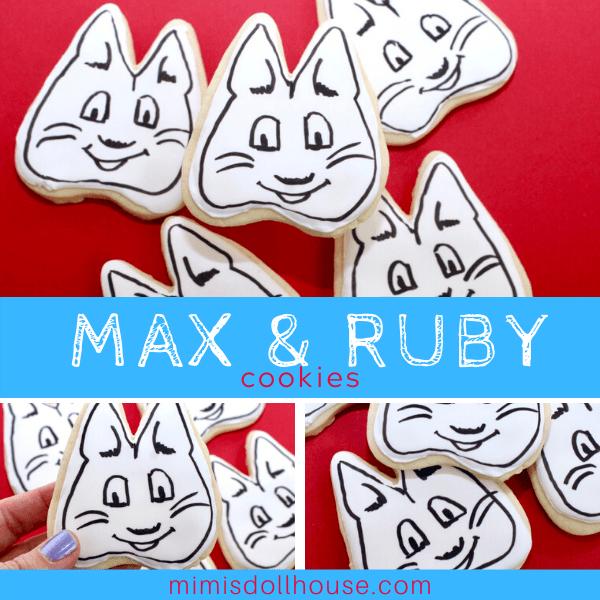 If you haven't seen Max & Ruby on Nick Jr., it's a fun show about energetic sibling bunnies named Ruby and Max. Based on the Max & Ruby books, its a great little show that your kids will love! If you are already well versed in all things Max and Ruby…enjoy these easy birthday party ideas!
Throwing a MAX & RUBY THEMED PARTY?
☑️ This
Max & Ruby Party Kit
is the perfect set to get your party planning headed in the right direction!
How to throw a Max and Ruby Birthday
Fortunately, finding the right tools to style a Max & Ruby party does not have to be hard! Prime Party has already done all the heavy lifting by creating this awesome collection of coordinating decorations, table ware and more.
Included in this collection, which can be bought in packs or as separate items, based on your need and budget is everything from plates and napkins to giant cardboard cutouts of the characters your little ones can pose for pictures with! So much fun!
Ideas for a Max and Ruby party
Setting up a Max and Ruby Party is simple, choose some sweet and some healthy party food: fresh fruit, simple cupcakes, and maybe some colored punch (add a little food coloring to this AMAZING Lemonade punch for a simple and delicious drink!)
And then of course, make some of these easy Max cookies…tutorial below!!
The Max and Ruby Party Ware and Decorations have everything you could need to set up the adorable display! If you want to add some additional color, grab a red, white and blue decorations assortment and you are set!!
Prime Party even has Max and Ruby FREE Printable Activity Sheets you can download. How's that for an easy party activity?
Also…check out these Bunny themed craft ideas for more inspiration on activities and games you can have your little ones enjoy. Don't forget…you can ALWAYS play pin the tail on the bunny! That Giant Max Cutout would be perfect for that!!
Max and Ruby Cookies Tutorial: STEP by STEP
Alright…now for the yummy bunny cookies! These cookies are REALLY, REALLY simple. If you are new to royal icing, these are a great place to start. You can also use rolled fondant to achieve the same look if the though of icing makes you panic!!
Materials:
Step 1:
Prepare the cookie dough per the recipe. Once the cookies are ready to cut, roll the dough out to 1/4 inch thick. I find that thicker cookies actually bake the best and are the most tasty.
Use the tooth cookie cutter to shape the dough. Place the cut cookies on parchment paper on a cookie sheet. Bake per recipe.
Suggestion: Be careful not to over-bake the cookies…pull them out of the oven BEFORE they start to brown.
Let cookies cool and transfer to parchment covered counter or rack. Do not decorate until cookies are completely cool. It is best to bake the cookies the day before you decorate them.
Step 2:
If using royal icing (if using fondant, skip to step 4):
Prepare the royal icing. You will only be using white icing, so no food coloring needed! Hooray!
The icing should be 15 second icing that is easy to pipe for a border and fill in the cookie.
Put the coupler and tip or just tip into the piping bag and fill with icing.
Tip: I put my icing onto plastic wrap and twist the wrap up until I have a tail to push through the bottom of the piping bag. I then cut the tail and attach the tip to my coupler. This saves time and mess!!
Step 3:
Outline the cookies with white icing.
Fill the center of the cookie with white and using a toothpick, rub out any imperfections in the icing. Allow the icing to dry.
Step 4:
If using Fondant (skip this step if using royal icing):
Roll out the white fondant to about 1/4 inch thick. Cut using the tooth cookie cutters. Allow to sit for 5-10 minutes to stiffen slightly. Place on top of the cookies. I used a little bit of frosting to help the fondant stick, but if the underneath side of the fondant is still soft, it will stick with a few drops of water.
Allow the fondant to fully harden on the cookie.
Step 5:
Using the black food marker, draw Max's face onto the cookies. If the marker seems to catch or sink while drawing, your icing/fondant is not fully dry…allow more time to fully harden.
Tip: When drawing on royal icing, remember to be gentle and not press too hard so you don't break the icing!
Your cookies are now ready to eat and enjoy!!
Looking for more ideas for a Max and Ruby Party?
Don't forget to check out all the fun activities, resources and supplies available from Prime Party. These will get you going in the right direction!
If you want more colorful desserts and treats ideas, since this Max and Ruby party is red, white, and blue, borrow some inspiration from Patriotic Desserts.
Conclusion for Max and Ruby Cookies:
Using Max and Ruby Party Decor, you can create an unforgettable Max and Ruby Birthday experience. These super simple cookies will be a delicious and fun addition to your party and will be sure to make your little one smile!!
Here are some helpful links for throwing a Max and Ruby Party:
If you love these cookies, please pin this image to your Birthday Pinterest Board:
Related posts for Max and Ruby Cookies:
Thank you for reading my Max and Ruby Cookie Recipe!