Hello Kitty Party: Sweet Kitty Treats. Nothing says Hello Kitty like some sweet kitty treats. Today I'm sharing some oh so yummy and super cute Hello kitty Party treats. Be sure to also check out all our Hello Kitty Party Ideas.
Ok…so I think Hello Kitty must have some sort of magical powers. Seriously. I have NEVER purchased a single Hello Kitty item for my daughter. Nothing, nada, zip. No pencil cases, no stuffed dolls, no t-shirts, no tennis shoes. Nothing. They are not watching any Hello Kitty television shows (I'm not even sure if these exist). Realistically speaking, there is no reason why she should even know who this pretty little kitty is…yet she is OBSESSED. She loves Hello Kitty. She asks for Hello Kitty stuff ALL THE TIME. My explanation for this is that Hello Kitty must be magic. She has hypnotized my little miss with her cute little kitty whiskers and pretty little bows. Yep, that's gotta be it.
Honestly, how can I blame her though? She is a really cute little kitty!
Do you have a little Hello Kitty lover? Thinking about throwing a Hello Kitty Party? Well I've got some GORGEOUS party treat ideas for you…Check it out:)
These cupcakes are so cute. I love the subtlety of the cupcakes with the little pink bow. Some of my favorite party ideas are like this. You don't have to have the character's face always…sometimes these little subtle details are so much sweeter!!

I love these cookies…these are perfection. They would be a perfect touch to any Hello Kitty party.

Another adorable way to dress up your cupcake. I love Edible Designs by Letty. She makes adorable fondant and these are no exception!! Too cute!

These cake pops almost look too yummy to eat! Adorable. I'm a huge fan of cake pops and it seems they are always the first sweet I run out of at parties, so I guess you all agree that they are awesome too!!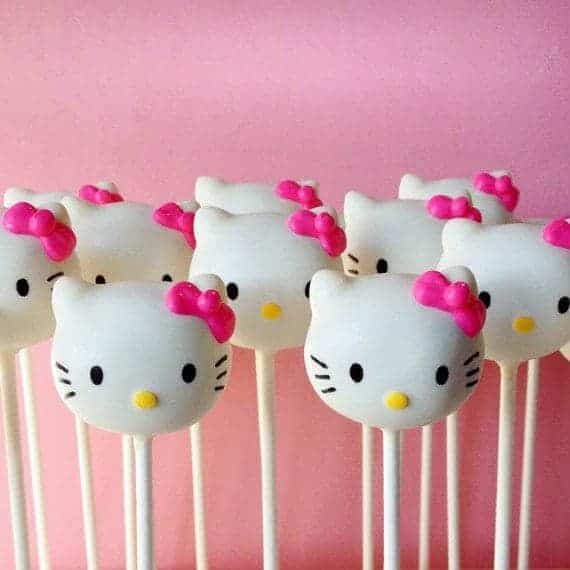 Aren't these Hello Kitty Macarons adorable? So sweet. These would be the perfect addition to any Hello Kitty Party. I am totally in love with Macarons right now…and these are perfect.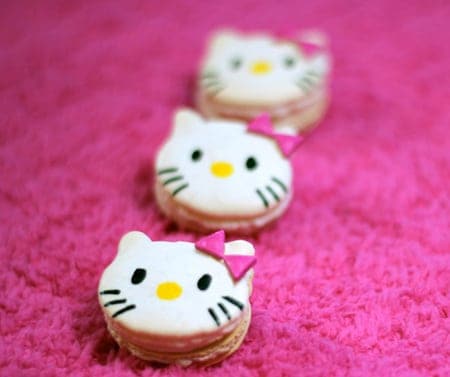 I have also compiled a Pinterest board full of Hello Kitty Party Ideas.
Wanna throw a Hello Kitty Party?
The Printable Hello Kitty Party Collection is available for purchase in my shop: