Hello Kitty Party: Hailey's Hello Kitty Birthday. Looking for some fun Hello Kitty Party Ideas? This fun party has awesome Hello Kitty decorations and ideas for a Hello Kitty birthday! Be sure to check out all of our Hello Kitty Party Ideas!
I am super excited to share this adorable Hello Kitty party styled by a client Diana for her daughter, Hailey. I am in love with how great everything looks…Here is what Diana had to say about her party:
"We did hello kitty shaped Peanut butter and jelly sandwiches and the kids made Candy Sushi (using rice crispies, Swedish fish and fruit roll ups) I WISH I had a good picture of it, they were SO CUTE!
I used
Bakerella's
tutorial for the Hello Kitty cake pops and I cut the water bottle labels and put them on the front of the takeout boxes to give them a more personalized feeling."Looks like Hailey had a blast…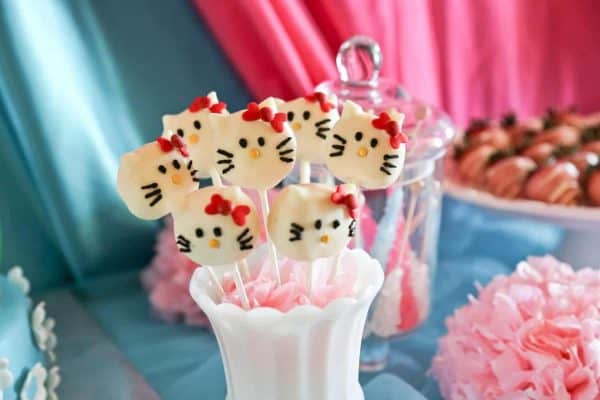 Check out the adorable cake pops…This table display is fantastic…I especially love the kitty cutouts on the plates.She used the matching patterned paper to cover these pretty centerpieces…
I love how every detail matches…even the table cloth is the same teal blue stripes and the printables…
This is one of my favorite parts of the party…Diana took the water bottle labels and cut them to fit the front of the pink take out boxes. These look super cute and are so unique. One of the things I love most about printable party decorations is how versatile they are. While a printable might be intended as one thing, there are sooo many possibilities of ways to creatively use them!!Pink chocolate covered strawberries….yummy!!Here is another shot of the adorable cake pops!!! They almost look too good to eat:)
Hello Kitty marshmallow pops…And of course, the adorable face painting…what a great touch!!Amazing job, Diana!!! Love every detail…
If you love this Hello Kitty party…pin this image to your birthday party Pinterest board:
What to throw a Hello Kitty Party? Here are some helpful links: