Hello Kitty Party Ideas for a Girl's birthday!
Hello Kitty Party: Hailey's Hello Kitty Birthday. Looking for some fun Hello Kitty Party Ideas? We have two super cute Hello Kitty parties to share today that I know you will love!
This fun party has awesome Hello Kitty decorations and ideas for a Hello Kitty birthday! Be sure to check out all of our Hello Kitty Party Ideas!
I am super excited to share this adorable Hello Kitty party styled by a client Diana for her daughter, Hailey. I am in love with how great everything looks…Here is what Diana had to say about her party:
"We did hello kitty shaped Peanut butter and jelly sandwiches and the kids made Candy Sushi (using rice krispies, Swedish fish and fruit roll ups) I WISH I had a good picture of it, they were SO CUTE!
I used
Bakerella's
tutorial for the Hello Kitty cake pops and I cut the water bottle labels and put them on the front of the takeout boxes to give them a more personalized feeling."Looks like Hailey had a blast…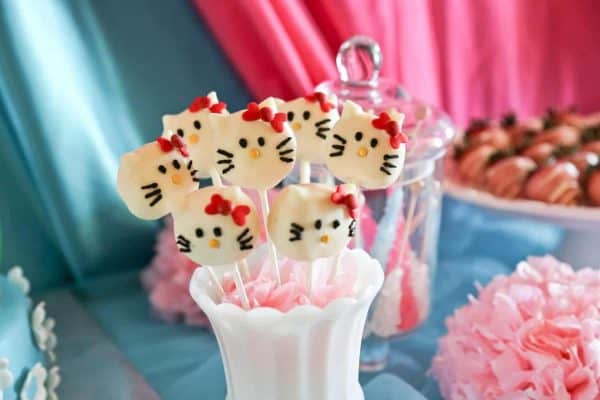 Check out the adorable cake pops…This table display is fantastic…I especially love the kitty cutouts on the plates.She used the matching patterned paper to cover these pretty centerpieces…
I love how every detail matches…even the table cloth is the same teal blue stripes and the printables…
This is one of my favorite parts of the party…Diana took the water bottle labels and cut them to fit the front of the pink take out boxes. These look super cute and are so unique. One of the things I love most about printable party decorations is how versatile they are. While a printable might be intended as one thing, there are sooo many possibilities of ways to creatively use them!!Pink chocolate covered strawberries….yummy!!Here is another shot of the adorable cake pops!!! They almost look too good to eat:)
Hello Kitty marshmallow pops…And of course, the adorable face painting…what a great touch!!Amazing job, Diana!!! Love every detail…
If you love this Hello Kitty party…pin this image to your birthday party Pinterest board:
Ready for another amazing Hello Kitty Party?
Hello Kitty Party Decorations: Abigail's Purr-fect Party. Have a little girl who loves Hello Kitty? Today I'm sharing a cute party with sweet Hello Kitty party decorations and some tips and ideas for throwing a Hello Kitty party! Be sure to check out this adorable
Hello Kitty Party
, this
Nerd Hello Kitty party
and all our
Hello Kitty party ideas
!
This party was styled by Jamie for her daughter Abigail using Red Hello Kitty Party decorations. This is my favorite color variation of this party…very classic Hello Kitty, but with a sweet and sassy twist:)
Here's what Jamie had to say about her party:
"Abigail requested a Hello Kitty themed 6th birthday party so I was on a mission to give her the best one I could. Everyone loved how you incorporated her name and age onto the printable's which gives it such a personal touch."
When throwing a party themed with a character like Hello Kitty…it's easy to find small items like stickers and cupcake toppers to showcase the character and then use fun colored fabrics and wrapping paper to coordinate with the party.
It is definitely not necessary to have the characters on every item or every decoration. Sometimes, a fun red and white polka dot tablecloth really helps to make a party pop!!
Jamie made these adorable Hello Kitty Cake Pops…this is one of my favorite ways to showcase a character…through adorable cake pops or cookies.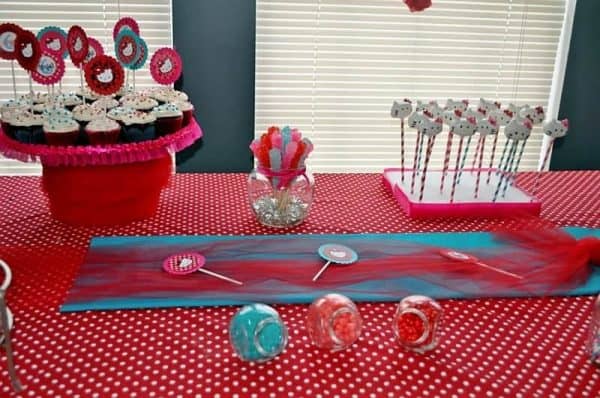 This is definitely a way to impress your guests! (and if you aren't skilled at making them on your own…there are plenty of talented bakers on Etsy to help you out!!)
Here's the birthday girl….Happy 6th Birthday, Abigail!!
Here are some helpful links for throwing the perfect Hello Kitty party:
Be sure to check out all of our Hello Kitty Party Ideas!
RELATED POSTS FOR a Hello Kitty Birthday PARTY:
Thank you for reading my Hello Kitty Birthday Party Ideas!