Ideas for planning a Moana Party
A Moana party theme is one of the cutest and most popular themes for summer. If you blast the Moana soundtrack on repeat and have a summer birthday…why not celebrate with Maui, Moana and the gang? These Moana party supplies and ideas are perfect for planning a Moana birthday party!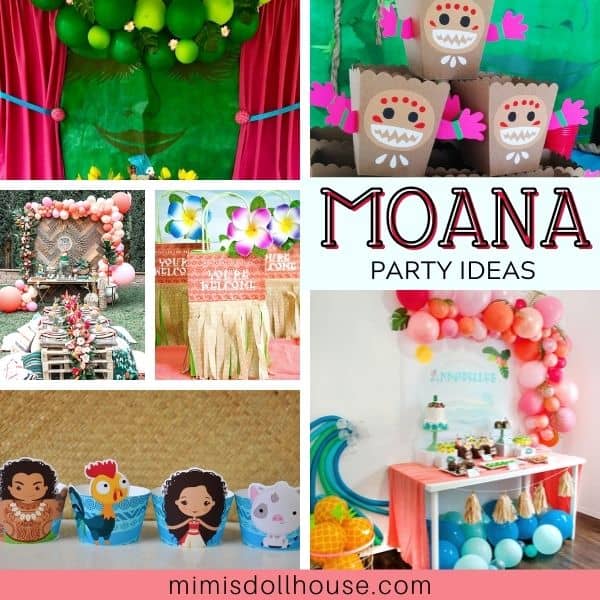 Ok..who doesn't love Moana? Not only is it such a fun movie with great music and an uplifting story…it's also full of amazing characters you can't help but love!
Throwing a MOANA THEMED PARTY?
☑️ This
Moana Party Kit
is the perfect set to get your party planning headed in the right direction!
From the power of Maui to the hilarity of Hei Hei…there are so many elements of this story you can draw on for inspiration for your birthday party.
Moana Party Ideas
If you are thinking about planning a Moana birthday party, you need some super awesome party ideas. Here are some of the most fantastic Moana party decorations, supplies, favors and more.
Trust me…you will love these ideas! Let's take a look…
RELATED: 30+ Moana Cakes, Cookies + Desserts
Moana Party Decorations
Ok, let's start with the decorations. From dessert table backdrops to centerpieces and balloons, these ideas are fabulous!
Gorgeous Moana Party from Dress Me Blonde
These party is just GOREGOUS. The details. That wood wall is one of the best things I've seen and the balloon garland just pops! Pun intended!!
Chic Moana Birthday Party via Kara's Party Ideas
Here is another fantastic balloon garland idea. Balloons can bring so much texture and color to a party backdrop! Also, bonus…they cover up other stuff on the wall if you are styling your party in your home!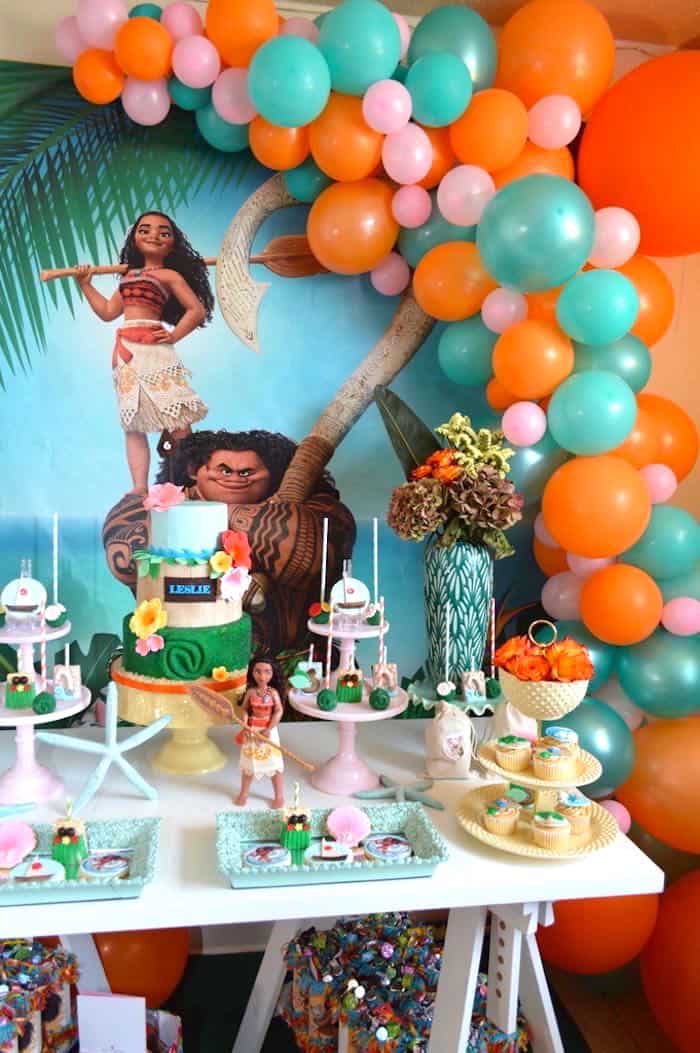 Te Fiti Backdrop from Party Ace
Here is an adorable Te Fiti backdrop. With fun and subtle details…it's such a beautiful way to decorate a Moana dessert table!
Girly Playful Moana Party from Project Nursery
The colors in this party are so cute. The use of bright white to off set the colors makes for such a beautiful party design!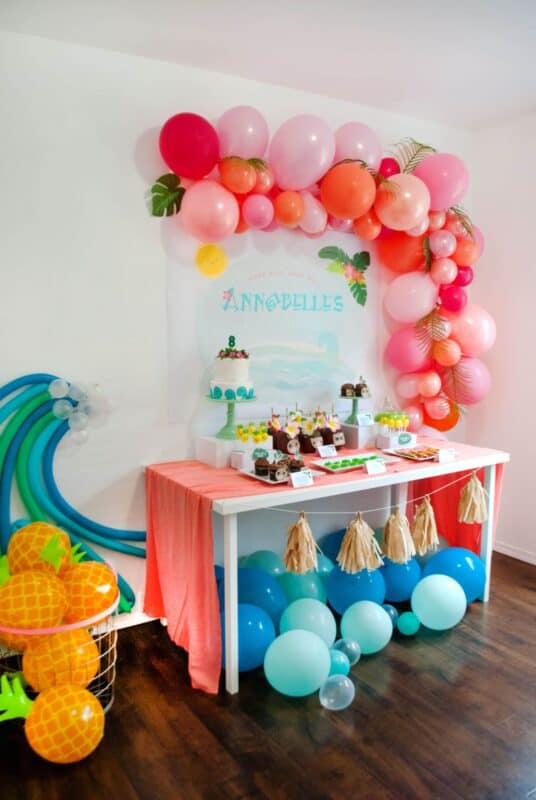 Hawaiian Flowers from Catching Color Flies
Here are some awesome Hawaiian paper flowers that can accent your party tables or make a great photo backdrop!
Te Fiti Backdrop from Catch My Party
Another GORGEOUS Te Fiti backdrop. The green balloons really make this design!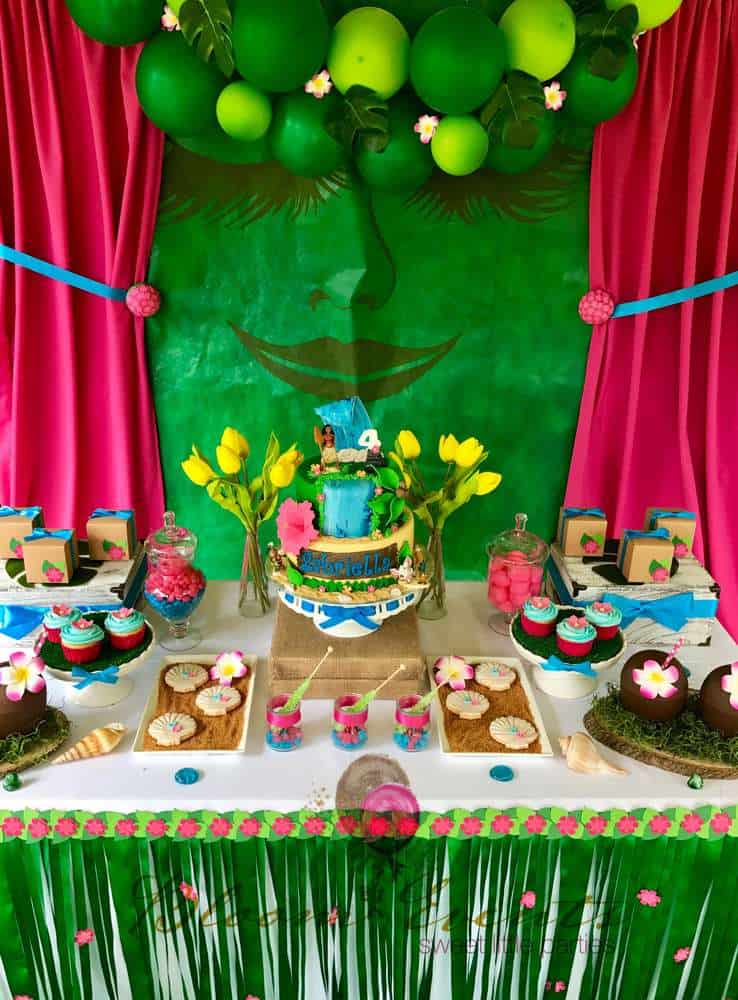 Simple Moana Party from Craftiness is not Optional
Here is a simple and playful design that is very girly. Love it and love that grass skirt table cloth!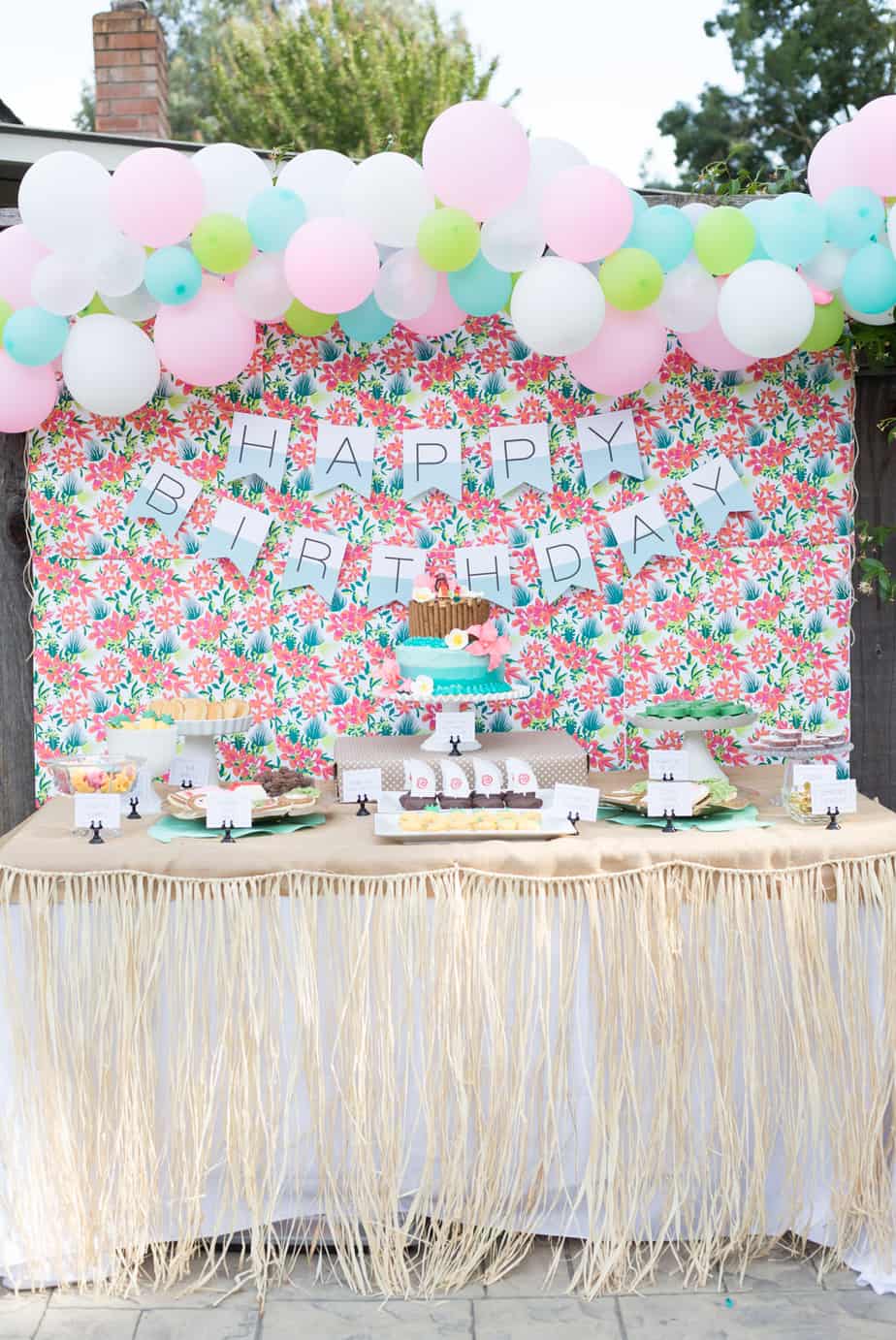 Classy Moana Party via Kara's Party Ideas
This Moana party design is so classy and beautiful. I love how it captures nature throughout!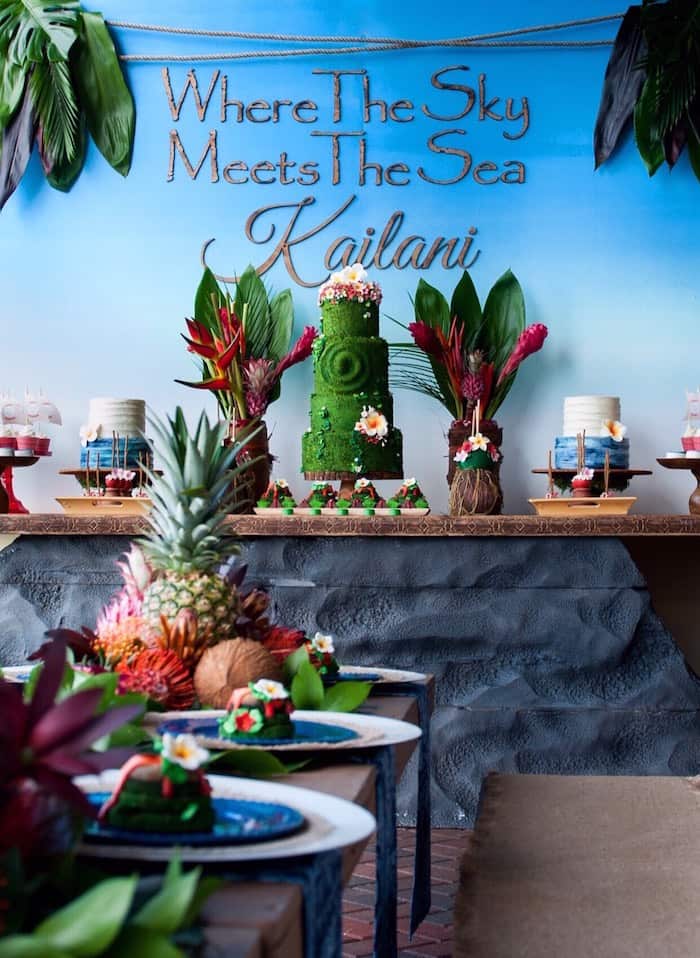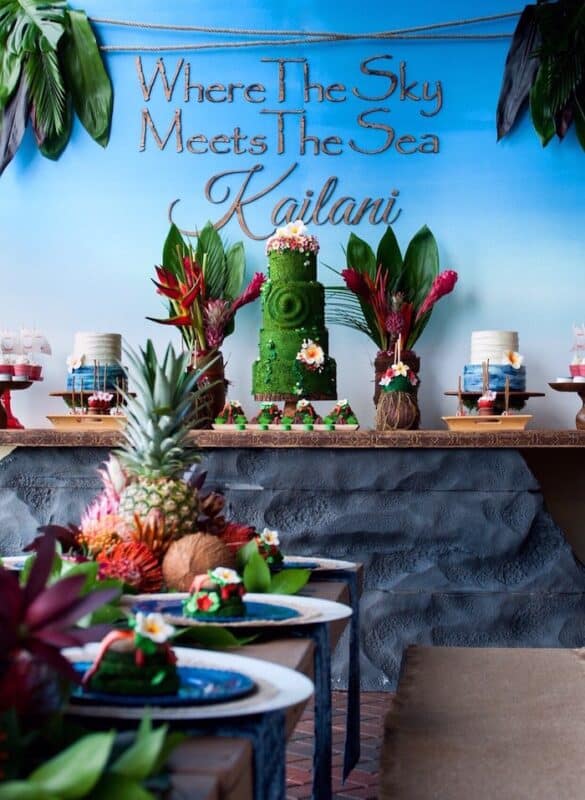 Simple Moana Party Table from Crafting Awesomenessity
Here is another simple, yet beautiful design. How fun!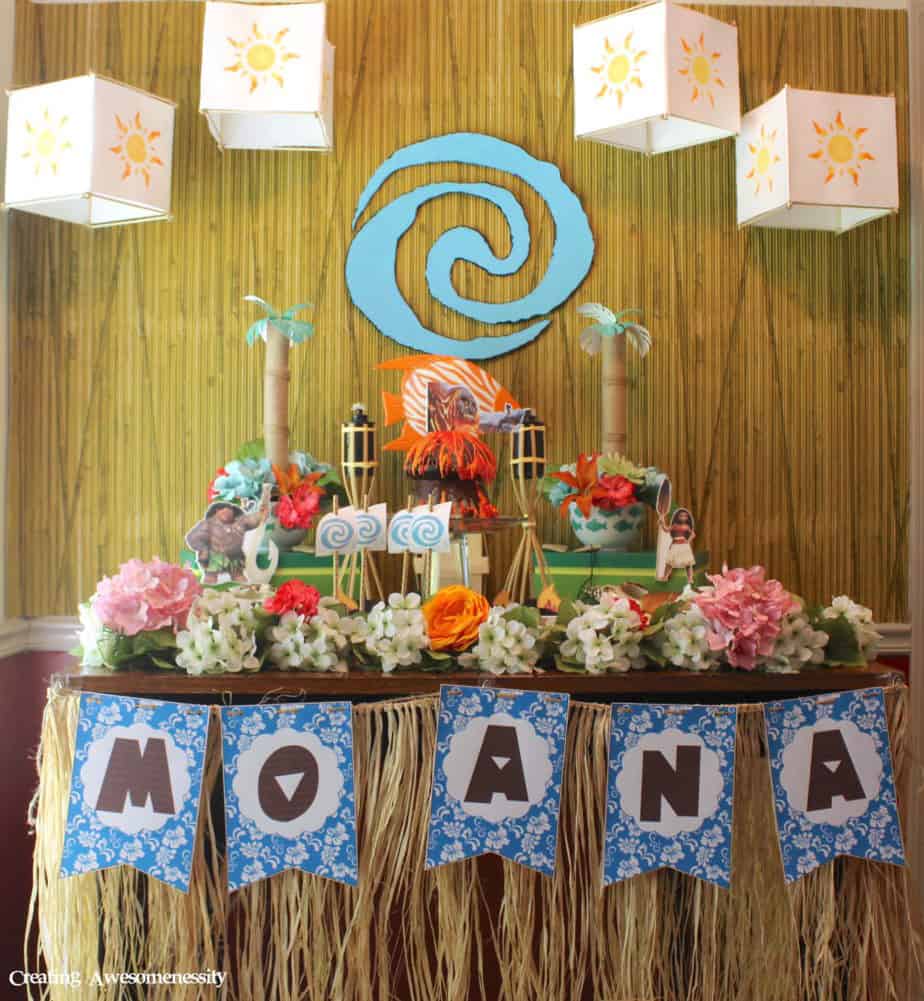 Moana Party Supplies
Here are some of the Moana themed party supplies that can really help take your party to the next level. Once you have that overall design planned, these items can help you to keep the theme throughout the whole party and add amazing details!!
Kakamora Coconut Cups from Itsy Belle
Ummm…adorable, right! These printable faces can be used or other items too if you really want to highlight those little Kakamoras!
Moana Piñata from Hello Piñatas
Let's face it…kid's love a piñata. This baby Moana piñata is adroable!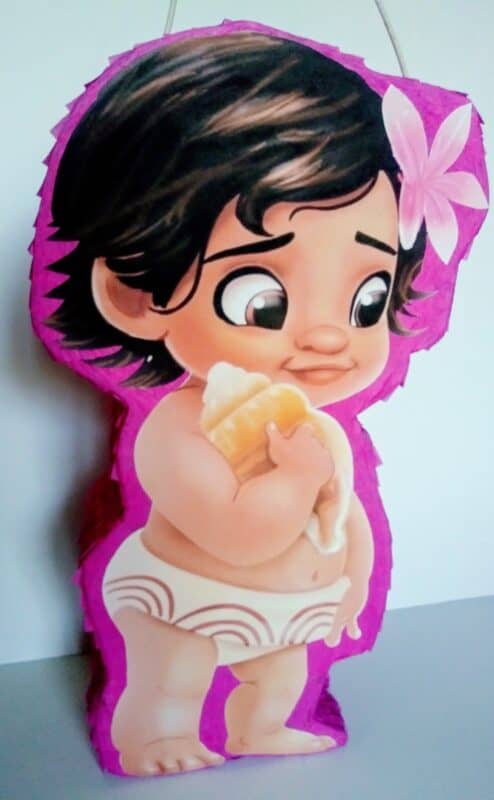 Moana Crown from Little Blue Olive
Here is a great first birthday idea. Dress up your little Moana in style with this sweet little crown!
Moana Favor Boat from Glitter Ink
Favor boats, boats for holding popcorn while you watch Moana, display boats for dessert table treats…the possibilities with these cute sail boats are endless!
Maui Favor Bags from Itsy Belle
Ummm…you're welcome for this adorable idea! How cute are these favor bags?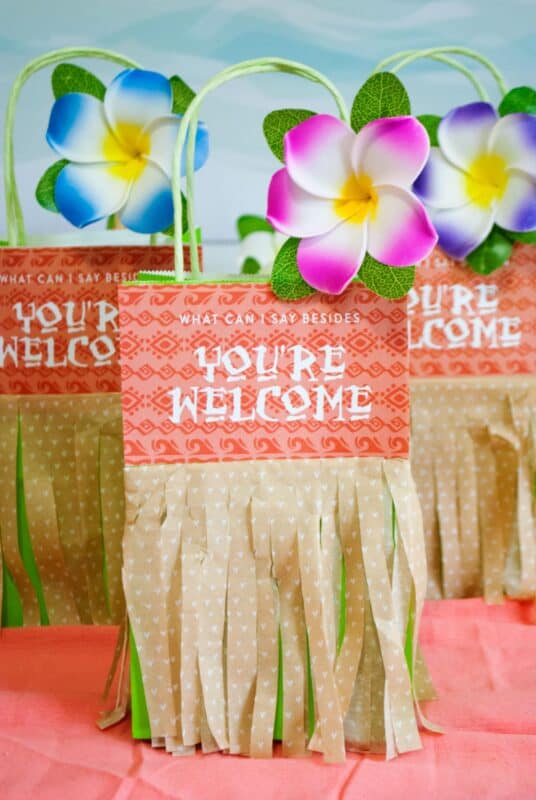 Kakamora Favor Boxes from Party Ace
Here is another fun Kakakmora favor idea. Love these little kraft boxes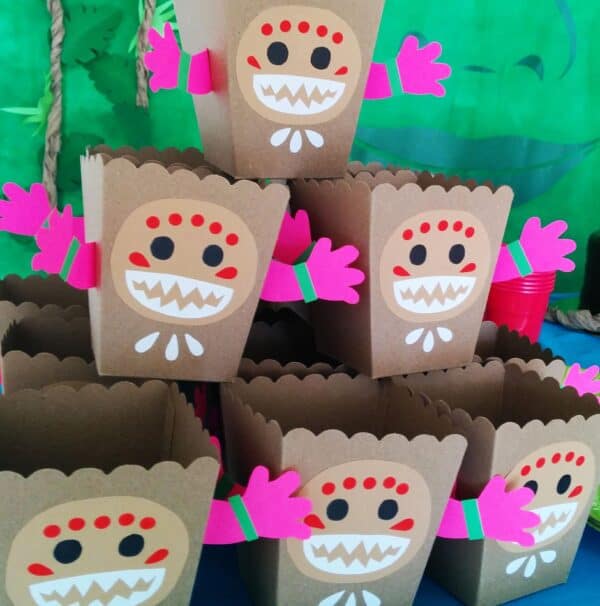 Moana Banner from Once Upon a Party
If you are throwing a first birthday, this is the perfect high chair banner! So cute!
Moana Cupcake Wrappers from Glitter Ink
Are these not the cutest Moana cupcakes wrappers EVER? These are perfect for dressing up simple cupcakes you bake at home or buy from the store.
Moana Party Tableware
Getting your party planning off the the right start can be so much easier with a fun set off themed partyware. This makes it so much easier because it allows you to get matching items and often is very budget friendly.
Here are some awesome options:
Moana Tableware from Oriental Trading

Tropical Partyware from Daydream Society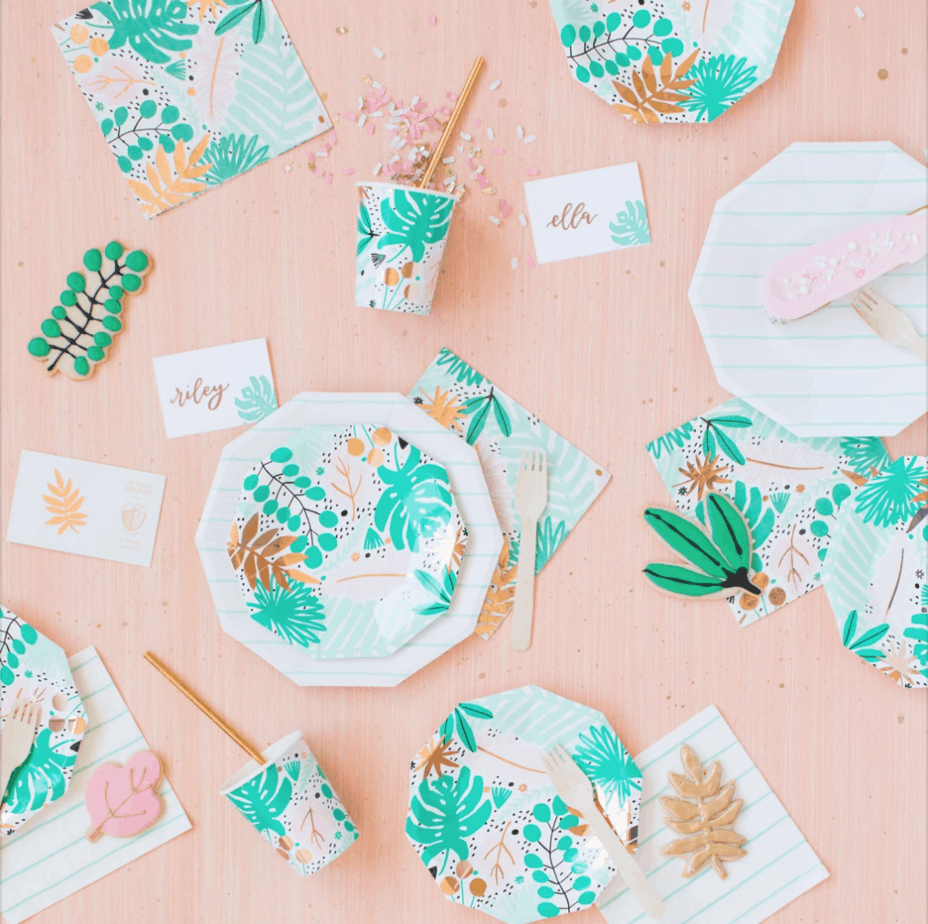 Moana Tableware from Amazon
Moana Party Set
from
Amazon
Moana Printables
If you are looking for some amazing printables to help personalize your party…here are some great options:
Moana Party Printables from Charm Bits
Moana Food Labels from Printabelle
Moana Happy Birthday Banner from Kimberly J Designs
Moana Food Cards from Styling the Moment
Here are some helpful links for planning a Moana party:
Conclusion for Moana birthday ideas:
If you are looking to plan a Moana party, these amazing decorations and supplies ideas are sure to get you going in the right direction. With fun balloon garlands, plenty of character themed ideas and lots of color…you will love these ideas!
If you love these ideas, please pin this image to your birthday Pinterest Board: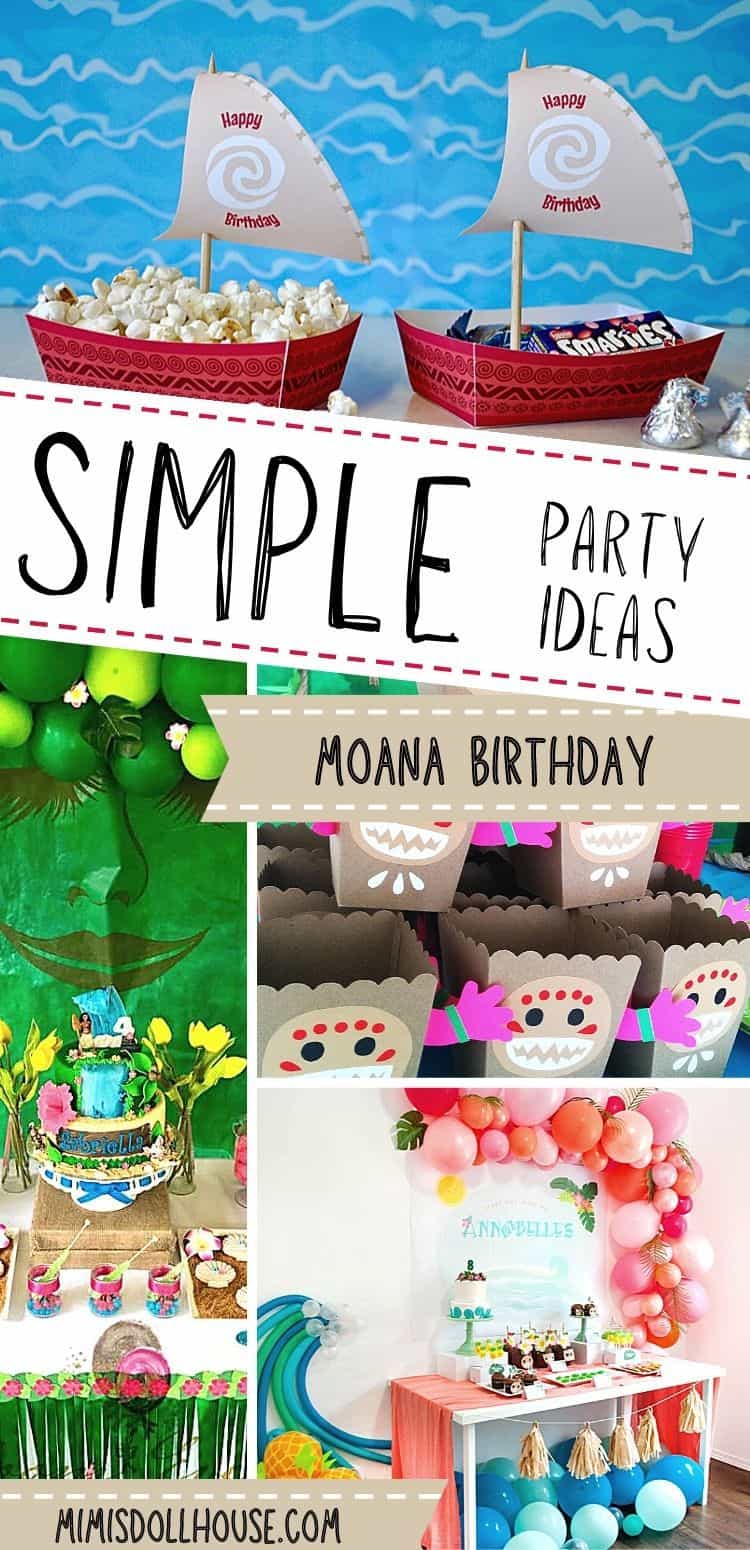 Related posts for Moana parties:
Thank you for reading my Moana Party ideas!