Cupcakes and DIY Decorations for an Ice Cream Party
Planning a fun summertime ice cream party is a great way to celebrate a birthday, summer break, graduation or even just a summertime playdate. These simple ice cream party ideas are sure to get your party planning off in the right direction.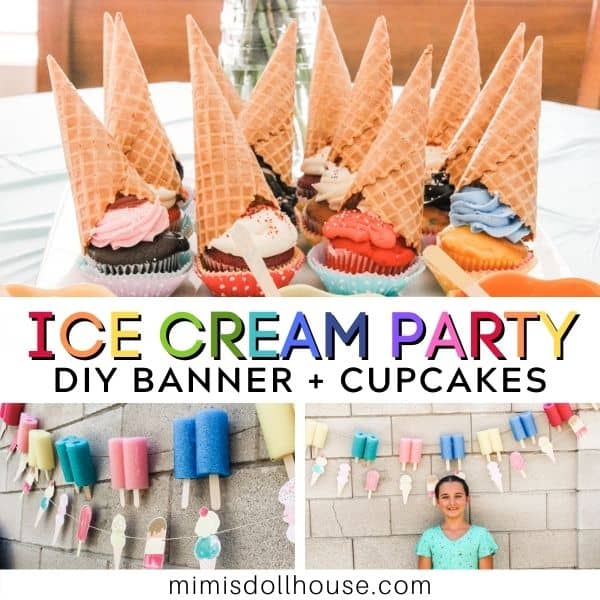 There is nothing quite so delicious and adorable as a good ice cream party. If you want a fun theme for a pool party or an easy party theme with built in activities, having an ice cream social is the way to go…
Throwing an ICE CREAM THEMED PARTY?
☑️ This Ice Cream Party Kit is the perfect set to get your party planning headed in the right direction!
Setting up an ice cream theme is super easy. With a few strategic decorations and some simple food options, you can turn any party into an ice cream party.
Ideas for an Ice Cream Party
One great option for an ice cream party is a set up an ice cream bar. You can grab several flavors of ice cream and a plethora of toppings and sauces and let the party guests decorate and then devour their very own ice cream treats. Easy peasy!

RELATED: How to Throw a Cool Ice Cream Party
Ideas for a using Ice Cream Cupcakes
Another super easy ice cream party treat idea is ice cream cone cupcakes. These are delicious ways to serve up bite sized cake and still stay on point with the theme.

Adorable…right? Dressing up your cupcakes is simple with some fun and colorful cupcake wrappers. Perfection!
Ice Cream Cupcakes Tutorial: STEP by STEP
Baking and serving ice cream cupcakes is so easy…check out the easy tutorial…

Step 1:
Bake some cupcakes! I love this easy chocolate cupcakes recipe (It's moist and never fails!) You can also check out these amazing cupcake recipes if you want to do an assortment of flavors and colors! Another simple trick is to bake white cupcakes and color them with food coloring to create all the different "flavors".
Step 2:
Frost the cupcakes. Using the food coloring, color your frosting in several different shades. The frosting will be the "ice cream" on your cupcakes, so different colors and even sauces and toppings on the frosting are perfect ways to make the cupcakes look like upside down ice cream cones.
Step 3:
Place an upside down waffle cone on top of the cupcakes. This will make the the cupcakes look like some one turned an ice cream cone over on a cupcake. It's fun and silly, but super cute for an ice cream theme!

Ideas for a using an Ice Cream Banner
Another easy craft idea for an ice cream party, is a fun popsicle themed banner. This tutorial is easy and inexpensive. This is great for a photo backdrop or decor for behind a party table. It's also great for just decorating any area around the party that needs a little color.

Ice Cream Banner Tutorial: STEP by STEP
Let's check out how to make this super, super simple popsicle garland…

Step 1:
You will need a few colors of simple pool noodles. You can pick any colors you feel best compliment your party decor.
Step 2:
Cut the pool noodles into 4-6″ pieces. Hot glue them together in sets of 2. Next hot glue large popsicle sticks (or tongue depressors) into the bottom of the pool noodles as shown.
Step 3:
Using a needle and twine, string the "popsicles" with the twine to make the garland. Super easy and super adorable!

Looking for more ideas for Ice Cream Parties?
Planning an ice cream party does not have to be crazy expensive or crazy complicated. If you are look for more ideas to make your ice cream party amazing…don't forget to check out these amazing Ice Cream party ideas!
Coordinating Ice Cream Party Supplies
Starting your party planning off right with some simple coordinating decorations and tableware is a great way to really have your party planning not be complicated and expensive.
Ice Cream Tableware from Amazon
This ice cream themed party tableware is perfection. I love the soft colors and the sprinkle pattern. This would perfectly compliment so many ice cream scoop party designs.
I scream for this perfect for summer set!!
Ice Cream Supplies from Meri Meri
These gorgeous ice cream themed party supplies with ice cream cone shaped plates are perfection! You will love the creativity and your guests will be impressed with the adorable quality!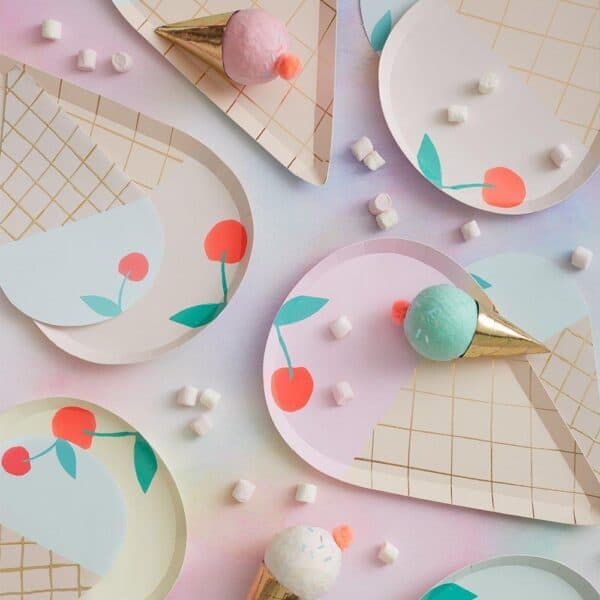 Ice Cream Shoppe Party Invitations from Mimi's Dollhouse
Do you love an old fashioned Ice Cream Shoppe? I am crazy about all things vintage, so this pastel design was super fun to design.
I also have matching printable ice cream decorations which make party set-up a snap and tie all your food and decorations together.
You can take a look at (and purchase) the printable package and printable invitation at the bottom of this post.
Want to throw an Ice Cream Party?
Check out the awesome party printable package here. You can also order just the invitation as an additional option.
The Printable Ice Cream Shoppe Party Decorations are available in my shop:
Here are some helpful links for an ice cream themed party:
Conclusion for DIY Ice Cream Banner and Ice Cream Cone Cupcakes:
There are many fun ways to throw an ice cream party. These ideas are simple and inexpensive. You will love these fun ways to really start getting your party going in the right direction. This easy banner and these delicious cupcakes are perfect for a fun party!
If you love this tutorial, please pin this image to your birthday Pinterest board:
Related posts for Ice Cream Cone Cupcakes and Banner:
Thank you for reading my DIY Ice Cream party ideas!