Delicious ideas for a summer barbecue
Summer BBQ Recipes, anyone? Nothing says summer like a delicious bbq meal! Whether you are entertaining or just cooking for your family…these amazing recipes for summer barbecuing are just what you need to party tonight!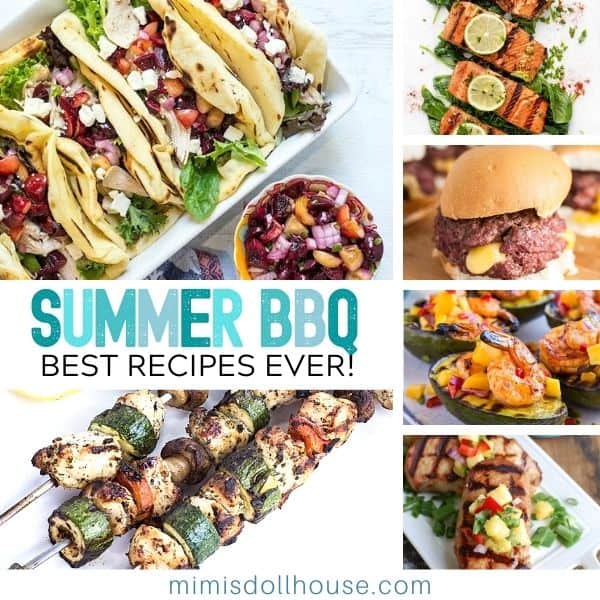 From chicken to veggies to even fruit…there are so many scrumptious and clever things to grill up for summer and spring. I don't know about you, but once that weather starts to warm up…I am ALL about the grill.
Here are some of the tastiest barbecue recipes you will ever try…
Delicious BBQ Recipes for Summer
Starting off your grilling experience right, starts with the right tools! You also need to make sure you have a good, consistent grill to use. Whether you are grilling at home or away from home, like camping or a park…having a reliable grill makes s world of difference in the way your recipes turn out.
Here are some of my favorite grill options:
Alright…enough technical stuff…let's get to the food!!
Seafood BBQ Recipes
Seafood is an absolute must for warm weather bbq. Not only is is so very yummy…but it's healthy! From citrus to cocktail sauce, there are so many ways to dress up some good seafood.
This delicious Mexican Shrimp Cocktail recipe is a perfect summer appetizer, especially when served with grilled shrimp.
This cedar plank salmon recipe is one of the easiest salmon recipes I've made! It gets its sweet and smoky flavor from a delicious grilled salmon rub made with brown sugar, smoked paprika, salt, and freshly ground black pepper…
When its time to grill up deliciousness, try my easy to make marinade and add layers of flavor to your grilled salmon. This dish will make salmon lovers out of even the pickiest eaters
An outdoor grilled salmon that is quick and easy to make yet healthy and so delicious. It is served with a tropical Caribbean salsa!
Teriyaki grilled pineapple shrimp skewers – a FAST and EASY finger food appetizer with great ASIAN flavors. Can be served as appetizer or alongside rice as side dish.
Delicious stuffed grilled avocados are a wonderful and easy option for grilling a healthy dish!
Pork BBQ Recipes
Let's face it…Pork was just made for the grill! Whether you are going traditional with ribs or mixing it up with some to die for tenderloin…you will LOVE these pork barbecue options.
Maple Glazed Ribs are incredibly flavorful. Tender, juicy and delicious baby back ribs are a great meal to prepare on the grill to feed a hungry crowd.
A little spicy and a little sweet, this recipe for Chipotle-Honey Barbecue Ribs is mouthwatering delicious! These are best when grilled, but can also be made in the oven when firing up the grill isn't a possibility.
There's nothing better than tender, spicy, baby back ribs that fall off the bone and create amazing holiday memories, especially when combined with a hickory bourbon BBQ sauce and grilled peaches.
These little Bacon Halloumi Bites are SO simple to make and very quick to disappear! With that beautifully squeaky halloumi wrapped up in sultry salty bacon, little hints of black pepper & tangy chives, you're not gonna go far wrong are you?!
It's the perfect time to fire up the grill for this deliciously spicy Tex Mex Grilled Pork Tenderloin. Cool it off and serve it over a healthy tomato corn salsa of grilled corn, tomatoes, avocado & cilantro. Dinner never tasted so good!
Bacon wrapped ribs are easy and delicious. Slice the ribs, wrap them in bacon and toss them on the BBQ!
Grilled Pork Tenderloin is a simple, delicious, and economical summer meal. It's tender, juicy and flavourful with just the right amount of char, and it comes together in about 20 minutes.
Grilled Hawaiian Pork Chops make a flavorful and easy summer meal that the whole family will love. Pork chops are marinated in a Hawaiian sauce, grilled to perfection and topped with a sweet pineapple salsa.
Grilled Vegetable Recipes
From sides to meat free main dishes…these options are not to be passed over. Potatoes, corn, mushrooms…oh my! Check out these BBQ Veggies!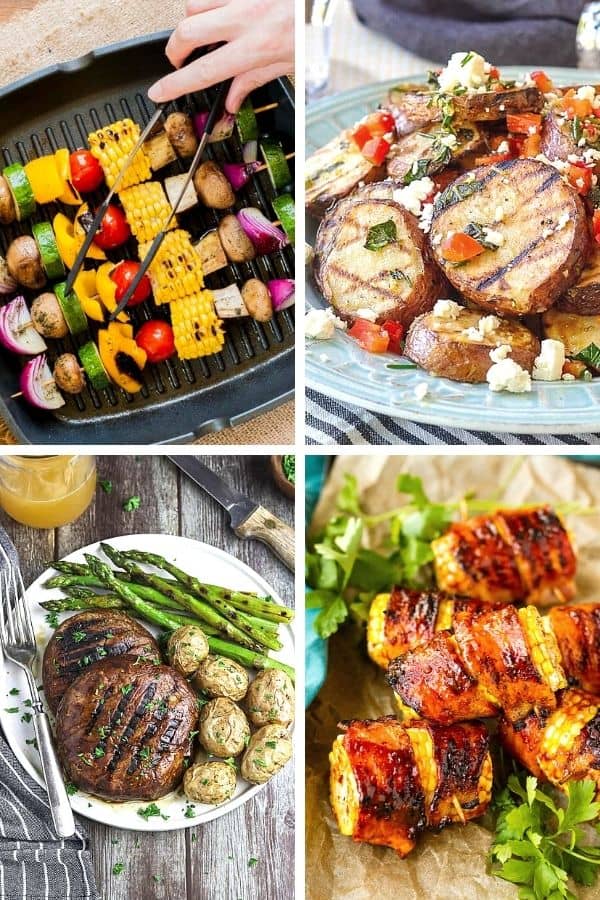 This Grilled Vegetable Marinade with lemon and thyme is the perfect marinade and basting sauce for summer! It's also Paleo, Keto, low-carb and Whole30 compliant!
These Grilled Portobello Mushroom Steaks are perfect for indoor or outdoor grilling. It's an easy recipe that takes less than 30 minutes from start to finish. Just marinate, grill and enjoy!
Fire up the grill because you won't want to miss this flavorful summertime favorite. This Grilled Corn Salad is colorful, refreshing and satisfying.
Does it get any better than bacon + corn + a sweet & spicy honey chipotle glaze? This bacon wrapped corn is THE recipe that all your guests will be asking for after your next cookout!
No BBQ or summer party should be complete without some kind of halloumi dish and these Vegetable and Halloumi Kebabs are our favorite way to serve them.
When you need a bit more green in your life, and are looking for a crunchy and vibrant side dish, then make our delicious Broccoli Salad. Bite sized pieces of broccoli, cranberries and almonds all brought together with a light and zesty dressing.
Perfectly Grilled Corn on the Cob is very juicy and pairs so well with creamy vegan avocado dill dressing. Easy and impressive recipe for your summer barbecue!
This easy Greek Orzo Salad is perfect for picnics, potlucks, BBQs and get togethers. Whenever you need an easy and healthy side dish, that is guaranteed to disappear first, make this gorgeous Greek orzo salad!
Veggie Skewers aka Grilled Vegetable Kabobs are the easiest way to eat a rainbow of delicious veggies during summer. The perfect side dish for your weekend bbq or grill party.
Crunchy, healthy, and completely addictive. This Sunflower Crunch Kale and Cabbage Salad has it ALL going on!! Dig in! You're going to love this colorful salad!
One of my favorite under-30-minute meals is veggie fajitas. Loaded with mushrooms, asparagus, red bell peppers, and onions, they bring some freshness to a cookout.
Creamy, old fashioned potato salad is the perfect side dish to serve at potlucks and summer barbecues.
Deviled Egg Potato Salad is a combination of two family favorites – deviled eggs and potato salad. This salad has a little heat and plenty of bite without a vinegary taste.
Warm Grilled Potato Salad with Lemon and Oregano. A tasty, warm grilled potato salad with plenty of bright fresh flavours in the dressing and finished with some crumbled feta cheese.
This creamy vegan potato salad with cashew mayo will be your go-to potluck recipe! Light and crunchy, it's perfect for healthy meal prep and easily customizable. Ready in 15 minutes, our flavorful and herby potato salad is easy to make while taking this classic dish to the next level. Enjoy at home with your family or bring to a picnic or party!
Chicken BBQ Recipes
Of course, we can never forget the tried and true amazing-ness of grilled chicken. These kebobs, tacos, and bone in delectables are sure to get your mouth watering in time for spring and summer grilling!!
This Beer Can Chicken recipe is easy to put on the grill and let the beer can do its magic resulting in a flavourful dish.
This easy Shredded BBQ Chicken recipe is simply made in a Ninja Foodi. And in under 30 minutes, from start to finish! It can easily be adapted to any pressure cooker.
This easy Beer Can Chicken Recipe guarantees moist meat that falls off the bone and crispy, ultra flavorful skin. It's our go-to recipe for a grilled whole chicken!
Fire up the grill for Grilled Chili Spiced Chicken With Cilantro Lime Gremolata. Perfectly seasoned grilled chicken breasts are topped with a cilantro lime herb mixture and finished with a drizzle of fresh lime juice for a dinner filled with summer flavor.
Grilling season is in full swing and these simple Lime Chili Chicken Skewers are the perfect main course for any backyard BBQ or tailgate party.
When it comes to summer and cooking, for us it's all about flavor and easel, which is where these Grilled Naan Chicken Salad Wraps with Cherry Salsa come in!
Live up your BBQ feast with these Lemon-Oregano Chicken Kabobs. Add all your favorite veggies and get eating!
Delicious chicken tikka made in the oven with boneless chicken and an easy homemade tikka marinade. Learn the tricks to keep the tikka skewers moist and juicy for a long time. These can your favorite summer skewer recipe.
This BBQ Beer Can Chicken (also known as beer butt chicken) with Molasses Beer BBQ sauce is moist and juicy, making it the perfect Father's Day dinner. It's also Weight Watchers friendly!
These Grilled Chicken Kabobs, with zucchini, cherry tomatoes, mushrooms and apples are marinated in a zingy maple cider marinade for a unique flavor! They are only 3 Weight Watcher Freestyle Smart Points!
Grilled chicken tenders ready in under 30 minutes! Use our "secret ingredient" for the best grilled chicken strips to serve with salads, wraps or just dip in your fave sauce.
This Asian style Grilled Chicken Teriyaki Kabobs recipe is perfect for the sunshine of spring and summer. The skewers are loaded with chicken, peppers, onion, mango and drizzled with homemade teriyaki sauce!
Perfectly grilled delicious Cilantro Lime Chicken, goes so well with rice or salsa or even corn on the cob!
This Grilled Chicken Spiedini Recipe with Lemon Butter Sauce is perfect to grill all summer long! Plus, this crispy chicken spiedini is super simple and ready fast!
These chicken satay kebabs with peanut butter coconut sauce are ready to impress! They're keto-friendly and can be made on the grill or use the oven instructions.
Cornell Chicken BBQ…The unofficial food of the great News York star fair and part of the Empire State's identity!
Curry and apple sauce might sound like an unusual mix, but they played so well in the making of this Grilled Curry Chicken Dinner.
Learn the basics of how to grill chicken breast on a gas grill. Guaranteed tender and moist grilled chicken breast, every time.
When it comes to Dry Rub Chicken Wings, my recipe will make you look like a Grilling Superstar at your next get together or family dinner! They are easy to make and oh so delicious!
Chicken is marinated in bourbon & maple syrup, then grilled as kebabs with fresh peaches for a deliciously different summer meal.
A simple marinade makes this Mediterranean inspired grilled chicken super flavorful and juicy, perfect on its own or wrapped in a warm pita!
Fruit Grill Recipes
Let's never forget the sweet stuff…from ice cream to grilled fruit salad, there are tons of ways to add some healthy, natural sweet to your barbecue meal. You will love these options…
With cream cheese and fresh fruit on top of a homemade graham cracker crust, this no-bake fruit pizza recipe makes a perfect dessert for summer BBQs!
Ultimate grilled Pineapple.slices with cinnamon sugar glaze.Best works as side of rice or even as dessert with dollop of ice cream.
Mojito Fruit Salad: This fruit salad recipe has summer written all over it, with cubes of juicy watermelon and sweet strawberries and blueberries. With a nod to the mojito, the fruit is tossed with a sweet mint and lime mixture. Rum is optional!
Grilled peaches are ULTRA-DELICIOUS summer dessert. Sweet juicy caramelized peaches with smoky flavors from the grill, topped with smooth indulgent vanilla ice cream. Aren't you excited as much as I am!
This grilled pineapple with caramel toffee crunch ice cream is the perfect simple summer dessert. Everyone loves it, you can make it in about 10 minutes, and it cooks on the grill so you don't have to heat up the house!
This Grilled Peaches with Honey Whipped Mascarpone is decadent, delicious, and a beautiful Summer dessert!
Lamb + Beef Barbecue Recipes
Tender lamb and tasty beef are always party favorites when its time to barbecue. These grill options are fantastic. So many options to choose from or you can try them all!
This healthy Grilled Steak Salad with Feta and Clamato Dressing is a lighter copycat version Moxie's Steak Salad but it's Weight Watchers friendly at only 7 smart points! It's the perfect grilled recipe for Father's Day!
Looking for a delicious option for grilling? How about a yummy old flame beer chicken. You will love grilling this!
This Juicy Lucy Burger Recipe is an easy beef burger recipe that's stuffed with cheese and grilled to perfection. You'll love this iconic Minnesota burger!
Best bbq ribs recipe and how to make them as tender as possible. You won't want to miss this one!!
Smoked Brisket is the holy grail of all grilled meats. This recipe includes a sweet brown sugar and garlic rub that creates a delicious crust for tender and juicy brisket.
Filled with plenty of juicy sausage and flavorful veggies, these Keto Sausage, Pepper and Cauliflower Foil Packets are the perfect meal for at home or out in the wild. They can be grilled or baked in the oven.
Grilled Beef & Bacon Burgers are perfect for a summer BBQ – they're super easy which leaves more time for relaxing and enjoying the sun!
South Africans are know for their 'braai' / bbq for a reason. Here is one example why. Curried Lamb Chops are marinated first, grilled and served with apricots – a classic combo!
Grilled Skirt Steak with Cocoa Spice Rub, flavored with a sweet and spicy dry rub, will be a hit at dinner tonight. Our Cocoa Spice Rub adds the perfect balance of sweet and savory flavors to this grilled steak recipe.
Learn how to make a Budweiser Grilled Jalapeno Bacon Cheeseburger that's big and juicy and topped with jalapeno peppers and bacon! No more boring burgers!
Strips of seasoned, grilled flank steak and sautéed red peppers & onions are layered inside warm corn tortillas and topped with the bright, fresh flavor of Pico de Gallo.
Lamb Tikka Kebobs: With only a few minutes of prep you can whip up these delicious lamb steaks marinated in yogurt and spices for your summer barbecue, leaving you more time to enjoy the sunshine.
These minted lamb burgers taste delicious and are quick and easy to make, perfect for a quick dinner or a summer barbecue.
Sauces for Summer Barbecuing
Here are some delicious options for topping off those grilled meats and vegetables. Let's get saucy!
This honey bbq sauce recipe is perfect for chicken, burgers, ribs, pulled pork, and so much more. It is slightly tangy and sweetened with honey instead of processed sugar!
Looking for a delicious mustard sauce? Try this recipe and you won't be disappointed!
My recipe for keto salsa is our family's recipe for Guatamalen chirmol. It's one I am confident you will make often because it's not only delicious, it's also easy to customize. Once you try homemade salsa I promise you'll never want the bottled stuff again.
Homemade Bourbon BBQ Sauce is an easy homemade bbq sauce recipe that's sweet and smoky with no refined sugar and big bourbon flavor!
Here are some helpful links for Barbecuing this Summer:
Conclusion for the Best Summer Barbecue Recipes:
You can't go wrong with these amazing and super delicious barbecue recipes for spring and summer. From the traditional to the adventurous…these recipes are sure to be crowd pleasers. You won't want to miss these grilling recipes!
If you love these ideas, please pin this image to your Recipes Pinterest Board:
Related posts for Barbecue Recipes for Summer:
Thank you for reading our Summer BBQ recipes!