Mexican Party Food for a Fiesta Party!
Delicious Mexican Food is a great way to make any day better. This is especially true if you are throwing a fiesta! Whether you are gearing up for Cinco de Mayo, planning a big party or just think today sounds like a Taco Tuesday…these Mexican party food recipes and ideas are an amazing way to get your taste buds dancing a tango!
I might have an obsession with all things tacos. As far as I'm concerned every meal is made better with chilis and jalapeños. Mexican food should have it's own level on the food pyramid. It's simply the best!
Throwing a FIESTA THEMED PARTY?
☑️ This
Fiesta Time Tableware
is the perfect set to get your party planning headed in the right direction!
If you are a Mexican food lover like me…today is your lucky day. We have compiled a list of some truly AMAZING recipes. We have everything from pico de gallo to Mexican mac and cheese (yes…you read that right!)
Ready to start planning your menu?
Food for a Mexican Party
Planning a fiesta is one part bright colors, ten parts delicious food. Regardless of your occasion…you want the BEST food for your Mexican themed party.
Tacos can jazz up any event from the Cinco de Mayo fiesta you know you want to plan to the fiesta food truck party you want to plan for your next birthday!
These recipes are fantastic enough to serve to a crowd and simple enough to make for dinner tonight…do it…you won't be sorry.
Promise!
Recipes for Mexican Appetizers + Side Dishes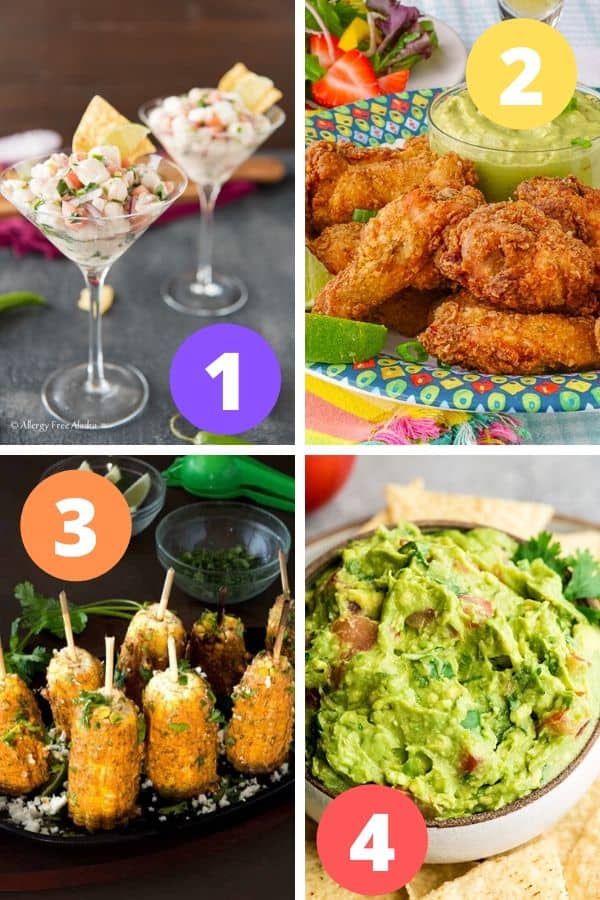 Delicious shrimp bites. Pair with guacamole and crunchy tortilla chips for the most delicious appetizer. These are a crowd favorite and will go quickly.
Grilled sweet corn is a summer staple, right? Kick it up a notch with my Grilled Mexican Street Corn (Elote)… After your corn is grilled, slather it with a zesty, creamy mixture of plain Greek yogurt, mayonnaise, cilantro, ancho, garlic, lime, and of course, cotija and more cilantro.
This Halibut Ceviche is super popular with all of our friends. It's tart, yet salty and spicy. Perfect for eating with tortilla chips, plantain chips, or sliced cucumbers.
Salsa Verde Pork Taquitos – A quick and easy appetizer perfect for a party! Flavorful salsa verde pork and cheese inside of corn tortillas deep-fried until golden brown.
This quick & easy guacamole recipe is made with a handful of healthy ingredients and is ready in 5 minutes!
Mexican egg cups are a delicious, gluten free brunch treat, made with fluffy eggs, salsa, cheese and spices, baked inside of corn tortillas.
Mexican Chorizo Breakfast Casserole is full of mexican flavors and a great party casserole recipe for crowds and entertaining. It can be made the night before without sacrificing any of the flavors.
Taco Wings with Spicy Guacamole Dip. The perfect wings for Cinco De Mayo, Super Bowl or for any weekend get together with friends.
If you love Mexican street corn (and who doesn't), it's time to think outside the husk with this Mexican Street Corn Risotto.
Taco Tuesday just got an upgrade! These Lime Marinated Mexican Pork Tenderloin Tacos don't take much longer to make than a standard ground beef taco, but the flavor is far superior.
Instant Pot Dairy-Free Sour Cream Chicken Enchilada Meatballs give you all the flavor of Tex-Mex sour cream chicken enchiladas without sacrificing nutrition! This dairy-free Instant Pot chicken recipe is Whole, paleo, and keto, full of veggies, and is great for meal prep or guests!
A light and fluffy chorizo and eggs Mexican Breakfast Casserole layered with tortillas, queso, pico de gallo, salsa verde and flavor!
A little spicy and a little smokey, this Super Simple Salsa Verde Chicken is a fast and easy weeknight staple. With less than 5 minutes of prep time involved, this nourishing, healthy, Whole30/Paleo recipe can be customized with tons of fun and flavorful toppings!
Instant Pot Charro Beans are a great side or even a full meal with cornbread on the side.
Spanish Rice is an excellent side dish for just about any meal and so much tastier than boxed, and it comes together with just a few ingredients and minimal effort. If you're looking for something new to spice up your ordinary dinner routine, then our Quick and Easy and Way Better than Restaurant Spanish Rice is just what you need.
Easy Instant Pot Black Beans recipe for restaurant-style black beans! These creamy & delicious black beans are a perfect side for tacos, enchiladas, burritos, or any Cal-Mex or Tex-Mex inspired meal.
This super easy and healthy Mexican Beans and Rice dish comes together so quickly! It is gluten free, vegan, and bursting with flavor!
This Mexican Street Corn Salad recipe is a healthy, simple take on elote, the delicious Mexican street vendor version of corn on the cob!
Mexican Street Corn in a Cup is an easy, creamy, spicy and addictive side dish! Use Greek yogurt to make it healthy!
Carne Asada Fries. Crispy fries, smothered in melted shredded cheese and topped with creamy guacamole, sour cream, pico de gallo, and diced Carne Asada.
This easy Mexican Coleslaw is all of your favourite Mexican flavours mixed into a healthier and lighter coleslaw. Shredded cabbage, carrots and onion in a creamy yoghurt based dressing with cumin, chilli and paprika. Add it to tacos, burgers, salads and sandwiches.
If you're looking for something new and vibrant with full of flavors to spice up your ordinary meal routine or if you want to give something nutritious in your kids lunch-box, then my Quick and Easy Way Mexican Green Rice aka Arroz Verde is just what you need!
Quick, easy, flavorful, filling and cheesy Instant Pot Enchilada Rice gets done in less than 30 minutes. Perfect for a busy weeknight meal or to feed a crowd on a budget!
Good old Spanish comfort food made in a single pot – even the rice gets cooked right in the pot! This Spanish Rice recipe is made with ground beef for a main dish meal, ready in less than 30 minutes!
Recipes for Mexican Main Dishes
Here is a step by step guide and video to make delicious Mexican Chile Rellenos – deep fried chile peppers stuffed with cheese, and served with a flavorful red sauce. So good!
This delicious salsa verde chicken has a little extra nutrition from added veggies! It's made in the slow cooker for easy prep and clean up.
Huevos Ranchero is a quick and easy Mexican breakfast that's very customizable! Add spicy homemade salsa and refried beans for a complete Mexican morning feast.
This Mexican Lasagna is made with salsa and lasagna noodles to spice up your normal tacos. It's cheesy and it's delicious.
Homemade chalupas with a light airy shell and delicious fillings. Taste just like the Taco Bell chalupa- if not better!
A new and festive twist for fish tacos. Grilled. Salmon Tacos with a Mango Salsa.
This Slow Cooker Sweet Pork Taco recipe is definitely a crowd-pleaser! These tacos are bursting with flavor. The sweet pork, creamy avocado, vinegary pickled onions, and tangy feta make the perfect bite if you ask me.
The BEST healthy Vegetarian Quesadillas for lunch, dinner or an appetizer. Filled with black beans, sweet potato, avocado and cheese you wont even miss the meat!
This easy chicken enchilada recipe makes getting a healthier dinner on the table for your family a breeze! It's freezer friendly so double up and freeze another pan to enjoy later!!
Grilled Steak Fajitas. Tender juicy steak loaded with flavor, topped with crisp peppers and onions and all the fajita fixin's.
Juicy flank steak marinated in citrus and spices and grilled to perfection. Don't wait for "Taco Tuesday" for the best grilled Carne Asada Recipe you've ever had!
Vegan Mexican Pizza loaded with all of the toppings is healthier (and more delicious!) than its fast food cousin.
These Picadillo Tacos recipe (Tacos de Picadillo) are crispy ground beef and potato tacos that are easy to make and feed a crowd.
Brisket Tacos are my favorite for any day of the week! Smoky brisket loaded up with my favorite Tex-Mex toppings is over the top amazing! Kick Taco Tuesday up a notch with leftover brisket!
Barbacoa beef tacos are slow cooked with chipotle peppers and other spices and topped with fresh onions, tomatoes, and cilantro.
Delicious Carne Asada Tacos! A great interactive way to feed a crowd!
Instant Pot Carnitas! An easy dump and start pressure cooker recipe for this juicy, tender and flavorful Mexican pulled pork.
Chorizo Walking Tacos.These walking tacos are great for an on-the-go dinner, quick lunch or an easy snack. The ingredients go right into the chip bags!
Chicken Tostadas topped with flavorful shredded chipotle chicken, sliced avocados, cilantro, lettuce and a wedge of lime. 20 minutes only and so delicious!
A sope shell made with masa flour, filled with one of two healthy fillings, and topped with a simple mango salsa and avocado… Mexican Sopes 2 Ways is a perfect antojito (street food) for a party appetizer or a casual main dish!
For a delicious home-cooked dinner that will warm you up from head to toe, look no further than this Mexican chili pie. It's easy to make, hearty, and kid-approved!
These insanely delicious loaded homemade nachos are the perfect way to enjoy the big game, please party guests or add fun to a family meal! Teamed up with some fresh tomato salsa and easy guacamole – you are onto a guaranteed sell out hit my friend!
These easy shrimp tacos with homemade slaw are on the table in about 20 minutes and are so fresh and tasty!
Guacamole Chicken Melts provide almost instant gratification they're ready so quickly! This low-carb recipe takes about 20 minutes to make, uses one pan and is guaranteed to be a favorite of guac lovers!
Authentic cheese enchiladas aren't that difficult and the results are delicious!
These Authentic Slow Cooker Crispy Pork Carnitas are not only healthier than your typical carnitas, they are gluten-free! If you love pulled pork, you'll love carnitas (the Mexican version of Pulled Pork)! Loaded with grilled pineapple, red onion and cilantro, are a spicy, fresh and delicious! This Pork Carnitas recipe is healthy, make-at-home festival food at its finest! 11 Weight Watchers Freestyle Smart points per serving.
Fajita Bowl. A complete Mexican meal made in 30 minutes that the entire family will love. It is perfect to celebrate 5 de Mayo or other festive occasions.
This one pot Mexican mac and cheese comes together in 25 minutes with just 8 REAL ingredients. Ditch the blue box in favor of this easy, vegetarian weeknight dinner that your family will love!
https://thewanderlustkitchen.com/grilled-citrus-marinated-mexican-chicken/
Mouthwatering Shrimp Tacos! Tender, salt and pepper crusted shrimp are piled into lightly charred corn tortillas, topped with a crunchy cabbage and radish slaw and drizzled with creamy spicy shrimp taco sauce. Festive party fare and easy enough for a weeknight!
Pulled Pork Tamales with Corn Salsa. Hello yumm, this easy pulled pork dish turns a Mexican staple into a masterpiece.
These baked chicken fajitas are so easy and quick to throw together, that they'll quickly become on your regular dinner rotation. They're healthy, full of flavor, low carb, paleo, low fat and whole30 compliant.
Mexican Stuffed Peppers with Quinoa and Black Beans is a fun stuffed pepper recipe you will love!
Chipotle corn salsa, fresh and zesty tomato Pico de Gallo, crunchy tacos complete with mouth-watering tempeh taco meat come together and create the BEST vegan tempeh tacos you'll ever have. These tacos boom with the smoky flavor of chipotle peppers, sweet roasted corn, tangy tomato salsa and savory vegan taco meat that will leave you craving more!
Ready to make some super flavorful Instant Pot Chicken Fajitas? Making Chicken Fajitas in the Instant Pot takes no time at all and can be a healthy dinner option..}}
These Easy Chicken Tacos are a fool proof way to serve delicious tacos on short notice!
These authentically delicious Yucatan-style pulled pork tacos are perfect for the adventurous eater! Packed with a sweet, acidic, earthy taste, that when combined with the traditional pickled red onions and habanero salsa, makes for a unique experience for your taste buds!
Easy and flavorful Zesty Mexican Stuffed Peppers.
These slow-cooker burrito bowls are the perfect weeknight dinner that prevents a trip to your local fast food chain! Cheaper and easier, they're also just as delicious!
Vegan Enchilada Rice is quick, healthy, easy and delicious dinner recipe. Bursting with your favorite Mexican flavors, this bowl will become your favorite wholesome meal prep.
These Stuffed Poblano Peppers are a great vegetarian dish! Flavorful and healthy, everyone will love them!
Mexican Drinks +Desserts
Mexican Fried Ice Cream, who couldn't love that? Made with a crunchy, sweet, buttery outer layer and a sweet, creamy, cinnamon, ice cream center…. It has become one of our favorite ice cream treats!
Fried Peach Hand Pies are sinfully delicious! Anything made with flaky pastry filled with tequila-spiked peaches then deep fried and coated with spiced sugar has to be good.
These indulgent Mexican Chocolate Pots de Creme are totally vegan! They're made with coconut cream, cacao and warm Mexican spices.
Mezcalita. Sweet, sour and citrus meet in a delicious drink.
This frozen strawberry mango margarita is thick, refreshing and not too sweet! So delicious!
Horchata de Arroz is a popular & refreshing Mexican drink made with ground rice, milk and cinnamon. The perfect drink for every meal!
Enjoy this Mexican Mule drink as you fiesta the night away!
Learn how to make blood orange margaritas at home with fresh blood oranges (or bottled juice), limes, raw honey, and 100% agave silver tequila. This drink recipe looks beautiful (the color is gorgeous), goes down easy, and uses simple ingredients that are easy to find.
With peach schnapps and pineapple juice, this Mexican Sunset will start your evening off right!
Mexican Mojito. Classic recipe that will bring a little lime to your day!
Mexican Soups
A decadent soup that features fresh, grilled corn, Mexican Street Corn Soup is the famous street food in soup form.
This easy vegan Mexican Bean Soup is a hearty bowl full of flavour. It's rammed with beans and veggies, and is deliciously spiced and warming. The best thing is you can make this recipe in just 15 minutes!
Instant Pot Mexican Beef Stew recipe is unlike *typical* beef stews. This paleo, keto, and Whole30 Instant Pot main dish is bursting with classic, smokey Tex-Mex flavor and can be served with a variety of nourishing toppings for a hearty and healthy meal!
When it comes to Mexican confort, this dish is it! Menudo is a yummy and comforting stew that is delicious in every way.
Authentic Chicken Tortilla Soup recipe! This easy to make tortilla soup is made with a handful of ingredients that you already have in your kitchen! I based this recipe on my favorite NYC Mexican restaurant – now I can make it healthy at home!
This vegan chili is so easy to make, requires very simple ingredients, cheap, and delicious! Make this on cold winter days to warm yourself up.
This Slow Cooker Mexican Chili Recipe is delicious and the perfect family main course.
This Instant Pot Chicken Tortilla Soup is loaded with spicy flavors and tender shredded chicken. It's ready in under 30 minutes and tastes great as leftovers the next day.
Mexican Salsas, Sauces + Dips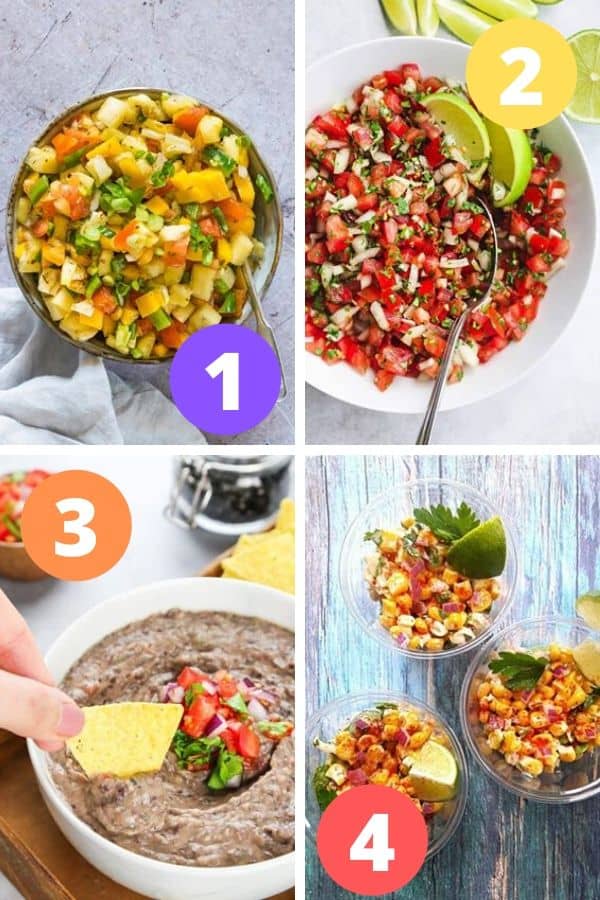 This Chimichurri Sauce recipe is the ultimate Mexican marinade or condiment. Great on grilled steak, chicken, or vegetables. And so easy to make!
This is the ultimate cheese dip recipe. It is just like the cheese dip that the Mexican restaurants serve! It's the one we all cannot get enough of
This delicious cheesy Chile Con Queso dip, made without velveeta and with authentic roasted New Mexican green chiles, is easy, delicious and goes perfectly with tortilla chips
This easy Jalapeno Sauce is one of those sauces that you want to put on everything. It's not for the faint-hearted, as it has a serious kick to it. But, if you are serious about your chilli sauces, then you should try this homemade version. Dip tortilla chips in it, or drizzle it over tacos – this sauce has so many uses.
Everyone needs some guacamole on their table! Homemade and delicious, it's the perfect side or topping for our meal!
This delicious salsa is made by first giving tomatoes, onions and jalapenos a slight char on a cast iron skillet. This adds great flavor and makes an unbelievable salsa.
Homemade Salsa made with fresh tomatoes, onions and jalapeños and garlic. The perfect batch for entertaining or for canning to enjoy all year long. The most flavorful and delicious homemade salsa we have ever tried.
Healthy pea guacamole is a delicious low-fat guacamole recipe packed with nutrients from sweet peas, lime juice, avocado, and other clean ingredients.
Mango salsa is a spicy, sweet and tangy salsa made with ripe mangoes, red bell pepper, onions and spices.
This Homemade Salsa Recipe is ready in 5 minutes and is the best restaurant-style salsa! https://joyfoodsunshine.com/easy-homemade-salsa-recipe/
A perfect summer appetizer or light dinner, this Classic Fish Ceviche Recipe is made with cubes of fresh snapper and halibut cooked in lime juice and mixed with shallots, chili peppers, bell pepper, and fresh cilantro. Serve with chips, fresh tortillas, avocado, or plantain, and enjoy with friends and family all summer long!
Mexican Layered Dip. This is a perfect appetizer dip to serve to a crowd. It's easy to make ahead of time and is filled beans, guacamole, salsa, cheese and more.
This mango pineapple salsa is packed with sweet mangoes, fresh pineapple, and juicy tomatoes. The lime and oregano balance the sweetness of the fruit to make this a crave-worthy snack, colorful appetizer, and totally delectable Mexican treat.}}
Succulent sweet corn smothered in a spicy, creamy dressing and topped with vibrant, spicy and tangy flavors! Utterly butterly delicious !! Easy Crowd Pleaser Recipe.
This healthy Mexican Street Corn Zucchini Dip is going to be your new favorite dip! Grab some chips, your friends, and dig in to this veggie filled, cheesy dip!
Pico de gallo is a classic Mexican chunky salsa that's used to top fajitas, burritos, tacos, tostadas, enchiladas, and chimichangas. Made with very simple ingredients, this healthy, low carb and low-calorie salsa adds a great flavor boost to any meal.
This Baked Chicken Enchilada Dip is super cheesy and the perfect dip for any party or holiday! This easy appetizer is ready in about 40 minutes and freezer friendly!
Easy black bean dip is so quick to make and it's also good for you! Just throw all of the ingredients in a food processor or a blender, blitz and that's your black bean dip ready for you! Serve with tortilla chips, corn chips or even toasted pita bread and enjoy! Ready in just 5 minutes.
Mexican Party Tableware
Here are some great options for serving all this yummy food for your fiesta:
Let's Fiesta Tableware from Oriental Trading
Taco Party Tableware from Oriental Trading


Mexican Fiesta Tableware from Oriental Trading
Conclusion for Food for Mexican Party:
Planning a party for Cinco de Mayo or even just a random Tuesday is simple with delicious and unique Mexican food recipes. These fantastic dishes are perfection for serving to guests or even just expanding your dinner time options.
Here are some helpful links for serving Mexican party food:
If you love these food ideas, please pin this image to your food or party Pinterest board:
Related posts for Mexican party food:
Colorful Fiesta Party Ideas
Thank you for reading our food for a Mexican party ideas!