Ideas for Unicorn Desserts that are Magical!
Welcome to the enchanted world of rainbows and unicorns! When it comes to baking for a unicorn birthday party, these stunning unicorn cake ideas, cookies and delicious desserts will make you wish every day was unicorn day! If you want a fun and magical way to celebrate a birthday…make a wish and check out these unicorn desserts!
Unicorns are simply the cutest. They are happy and magical. I'll admit I'm a sucker for a pastel unicorn too. There is just something so wonderful about the shimmery, glittery goodness of a unicorn. My little girls have been suckers for a good unicorn ever since Rarity landed in Equestria!
Oh the memories!
Throwing a UNICORN THEMED PARTY?
☑️ This
Unicorn Party Kit
is the perfect set to get your party planning headed in the right direction!
The best part about fun unicorns? They really do appeal to girls of all ages. You can dress a baby in a unicorn dress and get immediate oohs and aahs. you can also style a fun unicorn themed party for a bunch of twelve year old girls and not be called basic (which is a big deal when dealing with pre-teens!)

Unicorn Party Food Ideas
If you are styling an amazing unicorn party, be sure to check out these amazing unicorn party ideas!
But decorations are only part of the equation for a successful party. You also need some unbelievably adorable unicorn party food to make your party truly a hit. From fun and easy unicorn bark to fancy cookies, these unicorn birthday party food ideas are the perfect recipe for a magical party! I promise you'll love these unicorn cake ideas!
Ready to check out all the deliciousness?
Unicorn Desserts
Firstly, let's look at some unique desserts that are perfect for showcasing your adorable party theme:
Unicorn Bark from The Decorated Cookie
How fun and simple is this bark. These are my favorite kind of party desserts…the kind you can make at home even if you aren't a super experienced or overly confidant baker!
Unicorn Rice Krispies Pops from Tiny Bitez
Chocolate covered Rice Krispies Treats are always a win. These unicorn themed goodies are absolutely to die for. Not to mention, how clever is the stick in the horn? I know, right?!
Unicorn Cream Cheese Mints from Finding Zest
Want a super simple and fun little treat. Make some little unicorn mints for party favors or to accent your dessert table.
Unicorn Marshmallow Pops from The Decorated Cookie
Ok…marshmallows are just magical little yummy bites of awesomeness. Why not turn those magical little bites into unicorns and double the fun?
Unicorn Bark from Mom's Koop
Here is another simple and adorable unicorn bark option. This bark is particularly great becuase you can have your kids help you whip it up!
Unicorn Sundaes from Cutefetti
Unicorn themed sundaes, anyone? Gorgeous colors and sprinkles for the win!
Unicorn Cake Batter Fudge from California Unpublished
Hello, delicious. Sometimes finding a themed food is as easy as embracing the colors and not just the shape. This cake batter fudge is so good, you'll want to make it everyday!
Rainbow Unicorn Dessert Cups from Finding Zest
So, did you know adding a horn to pretty much any dessert turns ordinary into unicorn? Bonus points if it is rainbow colored too!
Unicorn Cookies + Cupcakes
Those were some adorable non-traditional dessert options. Ready to talk about the tried and true birthday party staples? Of course, we need some beautiful unicorn cupcakes and unicorn themed cookies to compliment your party and excited your guests!
Unicorn Sugar Cookies from Lenaya Sugar Studio
These little pastel cookies are so adorable! I want to eat one immediately!
Unicorn Cookie Cutters from 3D Cookie Cutter Shop
If you love to bake and decorated your own cookies, you can't go wrong with these super, duper cute cookie cutters. I'm already dreaming of all the fun cookies to make!
Unicorn Cookies from Cousin Cookies
These adorable unicorn faces and pretty rainbows are just perfection for a unicorn themed party! I especially love the frosting hair on top!
Rainbow Unicorn Cupcakes from The Farmgirl Gabs
If you can make fondant ears and a horn…you can turn any cupcake into a unicorn themed cupcake. Check out this awesome turorial to learn how simple making these beauties can be!
Unicorn Cupcake Toppers from Tiny Bitez
Sometimes you just want to grab some simple store bought cupcakes (or whip up a quick batch at home) and place some fun and festive fondant cupcake toppers in the frosting for a perfectly themed, no fuss approach!
Unicorn Cupcakes from Whisky n Sunshine
Here is another adorable and super colorful unicorn cupcake option you can make at home!
Unicorn Cake Ideas
Alright…now its time to for the pièce de résistance of unicorn parties….the epic cake! This is definitely the the place to splurge if you want a fantastic dessert table!
Another amazing option for a cake is to make a simple layer cake and dress it up with fun unicorn cake decorations.
Let's talk cake!
Unicorn Rainbow Layer Cake from Family Spice
Isn't this cake gorgeous. It's one of my favorite unicorn cake ideas because it's fabulously homemade and have rainbow layer inside!
Rainbow Unicorn Cake with Twinkie Filling from Let's Eat Cake
Sometimes simple and delicious is the way to go. This cake is sure to excite your party guests and taste like a unicorn dream!
Unicorn Cake Pops from Tiny Bitez
Want easy to serve delicious cake pops? These absolutely stunning unicorns are the perfect cake idea for a grazing table style set-up!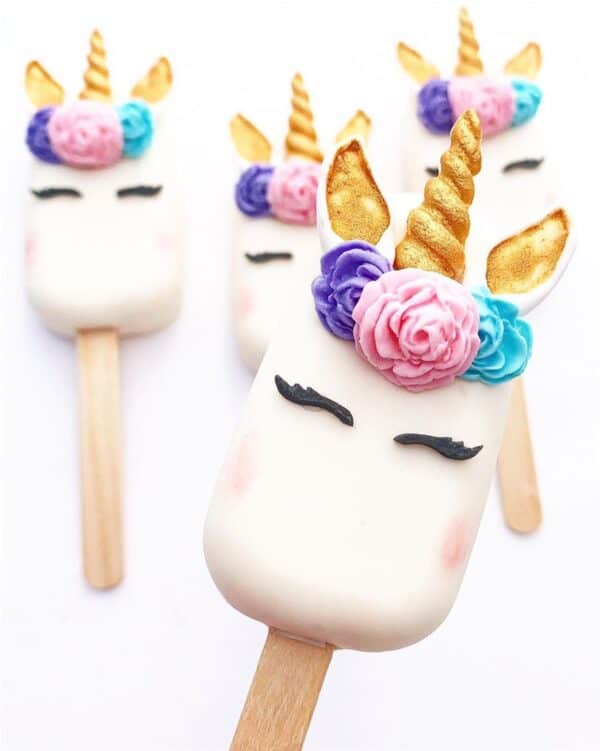 Rainbow Unicorn Cake from Fisher Price
Simple, yet adorable. This unicorn cake idea gives enough color and sweetness to accent any party spread!
Unicorn Cake Topper from Happy Color Party
This unicorn cake topper set helps you turn a simple homemade cake into a unicorn work of art! If fondant scares you…you have to give this a try!
Unicorn Cake Topper from Cake by Design
This mischievous little unicorn cake topper is great for putting a little humor into your unicorn party. She's sweet and ready to accent any cake!
Unicorn Party Supplies Tableware
Are you feeling inspired to whip up some of these gorgeous unicorn treats? Serve them in style with some adorable and themed unicorn tableware. Take the guesswork out of matching your party decor with these adorable sets of plates, napkins and more!
Check out the options below:
Magical Unicorn Tableware from Target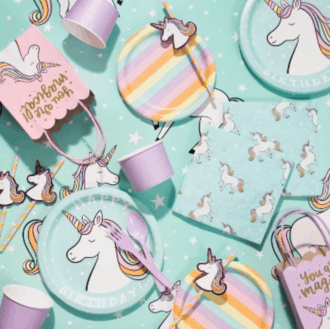 Unicorn Party Supplies + Tableware from Party City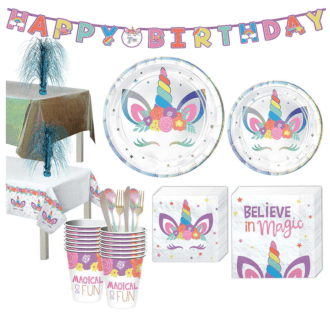 Sparkling Unicorn Tableware from Party City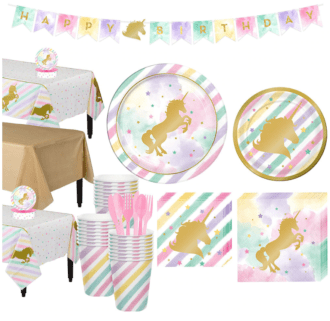 Magical Unicorn Decorations + Tableware from Party City
Here are some helpful links for throwing a Unicorn Party:
Conclusion for Unicorn Party Food:
Wondering how to style a unicorn party and what food to focus on? Well these unicorn cakes and desserts will blow your mind. These food options for a unicorn themed event are everything you need to create an amazing party experience.
If you love these Party desserts, please pin this image to your Birthday Pinterest Board:
Related posts for Unicorn Cakes + Desserts:
Thank you for reading our Unicorn Desserts and Food Ideas!