How to make Bubble Guppies cookies at home with your kids
If you are looking for a fun activity to complete with your kids…why not whip up some Mr. Grouper inspired Bubble Guppies cookies and watch Bubble Guppies: The Great Guppy Games!* together as a family! These cookies are also awesome as a birthday party treat!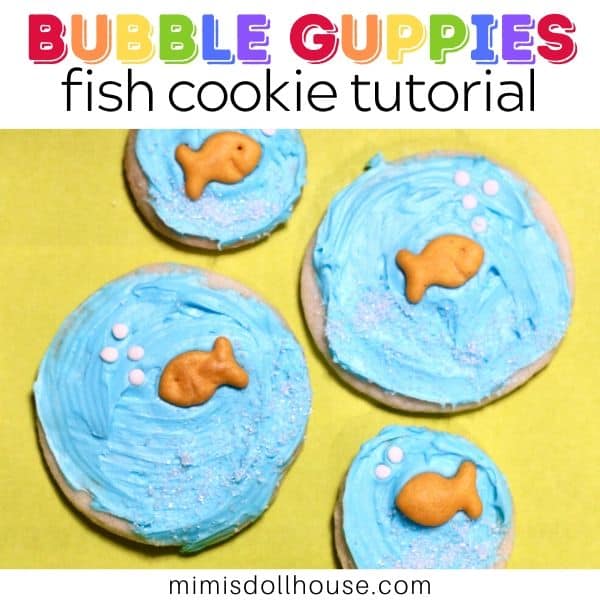 Bubble, bubble, bubble, guppies, guppies, guppies! Do you have a little one who LOVES Bubble Guppies? What better way to watch their favorite show than with some delicious fish cookies inspired by the super amazing Mr. Grouper?
Throwing a BUBBLE GUPPIES THEMED PARTY?
We recently whipped up these fun cookies, which my kids pretty much decorated all on their own! Baking together and then watching Bubble Guppies with my kids was a great way to spend an afternoon.
In particular, my three year old loved watching his favorite guppies explore summer camp and tackle ballet.
If you have a little one who love Bubble Guppies, you should definitely checkout this title!
The
Bubble
Guppies
are swimming back onto DVD for a fin-tastic collection in
Bubble

Guppies

: The Great

Guppy

Games!
Arriving on DVD May 12, 2020, preschoolers can dive into lots of fun and games with their favorite
Guppies
.
Bubble

Guppies

: The Great

Guppy

Games!
episodes:
The Summer Camp Games!
The Super Ballet Bowl!
The Elephant Trunk-A-Dunk!
Puddleball!
The Glitter Games!
Bubble

Guppies

: The Great

Guppy

Games!
synopsis:
Get ready to dive into five swim-sational episodes packed with fun-filled sports and games as the
Bubble
Guppies
take part in the Summer Camp Games, the Super Ballet Bowl, the royally awesome Glitter Games, and more!
How to enjoy Bubble Guppies with your kids
Baking up some delicious Bubble Guppies cookies with your kids is a great way to enjoy watching Bubble Guppies. Not only will they get a kick out of decorating these simple cookies, but then you have yummy treats to eat while you watch.
Talk to your kids about the different things they are learning and seeing in the episode as you watch!
Ideas for a Bubble Guppies party
Another great Bubble Guppies idea is to throw a party! Check out this Bubble Guppies birthday party for inspiration and ideas.
Bubble Guppies Cookies Tutorial: STEP by STEP
Alright…let's start baking!
Materials:
White Frosting (any kind)
Plain Sugar Cookies (You can use any recipe, or even store bought round cookies. I used my no-fail, easy to use Sugar Cookie Recipe.)
Step 1:
Firstly, prep your sugar cookie dough. I recommend using my basic cut out sugar recipe, but you can use whatever recipe you prefer, as long as they don't spread a lot when baking.
Also, feel free to save time and buy round sugar cookies from the store.
Liberally, flour the surface and the rolling pin. Roll out dough until it about ¼ inch thick. Using the round cookie cutter, cut the cookies and place on parchment covered cookie sheets.
Bake per recipe. Allow cookies to completely cool prior to decorating.
Step 2:
Using blue food coloring, color the frosting. Cover the cookies with a thin layer of frosting. Use a knife or the back of a spoon to make the frosting smooth.
Step 3:
Cover the bottom of the cookie with sanding sugar. Place goldfish cracker and sugar pearls onto cookies as desired.
Your cookies are done and ready to enjoy! Easy peasy!
Looking for more ideas for Bubble Guppies parties?
Looking for an educational activity for your little Bubble Guppies fan?
The Bubble Guppies are here to help make learning a splashing success with these fun Alphabet Tracing Pages! "Bubble Guppies: The Great Guppy Games!" is available now on DVD!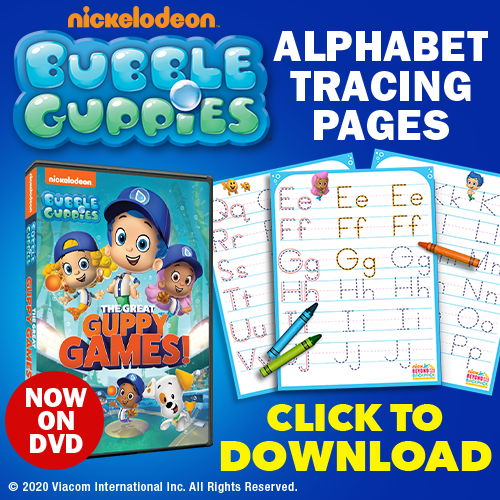 Coordinating Bubble Guppies Party Supplies
If you are planning a party…don't forget the fun and coordinating decor!
Bubble Guppies Balloon Kit
Here are some helpful links for planning a Bubble Guppies party:
Conclusion for Easy Bubble Guppies cookies:
There are tons of ways to enjoy watching Bubble Guppies: The Great Guppy Games! One way is by baking fun, kid-friendly fish cookies with your kids. These Mr. Grouper inspired cookies are perfect for a Bubble Guppies celebration.
If you love these cookies, please pin this image to your birthday Pinterest board:
Related posts for Bubble Guppies treats:
Thank you for reading my Bubble Guppies review and cookies recipe!
*This is a sponsored post. Mimi's Dollhouse may have been compensated for this post, but rest assured…all thoughts and opinions are totally honest and totally my own:)*