How to Plan a Frog Themed Party!
If you have a little one who loves all things frog, you are going to LOVE this party theme. Fun frog birthday party ideas that are simple and budget-friendly is a great way to celebrate a birthday. With bright greens and blues…we know you will love these ideas!
Hip hop on over for a fun birthday party with these adorable little green frogs. This adorable party was styled by Sarina at Joy in the Commonplace using our Frog Birthday Party Printables (available at the bottom of this post) and some super cute party supplies from Paper Eskimo.
Ready to check out this awesome party?
Frog Party Ideas
Planning a frog party is the perfect fit for a spring or summertime party. It's also great for kids, like this sweet birthday girl, who LOVE frogs. Using bright colors and simple party supplies helps to create a memorable party without having to spend a ton of money.
You can keep this party theme simple, or dress it up with tons of frog themed games and decorations.
A great starting point for a frog themed party would be some simple green party decorations. These will help give you some pops of colors and fill in white spaces.
If you mix those green decorations in with the frog printables (link toward bottom of post), you will have a fun and simple frog party that is easy to plan.
Frog Birthday Party Theme
Frogs are cute and playful and make a great centerpiece for a toddler or smaller child's party. They are also gender neutral which helps when you party guest are both boys and girls. Not dealing with complaining about princess and pink is definitely a win-win!
Frog themes are also great if you plan to focus on either the most loved ad iconic frog…Kermit the Frog or the classic story of the Princess and the Frog.
For more Kermit inspired ideas, check out these Muppet Party Ideas and simple Kermit the Frog Oreo Pops.
For more Princess related ideas, check out this Disney-inspired Princess Party.
Frog Decorations
The decorations for this party were simple and sweet. For the main table backdrop, she used apple green streamers. Streamers are inexpensive and great for giving texture and color to large spaces.
For added fun, you can sew crepe paper streamers to make a fun, flowy backdrop. Check out this easy tutorial for sewing streamers.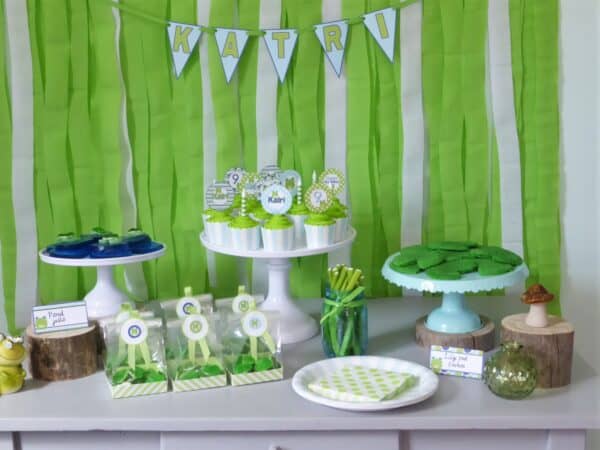 On the dessert table, a mixture of simple white and light blue serving dishes and cake stands were used to add color that mixed well with the green and the colors from the printables package.
Here are some modern white cake stands that can be used to compliment both this party and many other fun party themes. This gorgeous blue cake stand is also perfect for this party theme.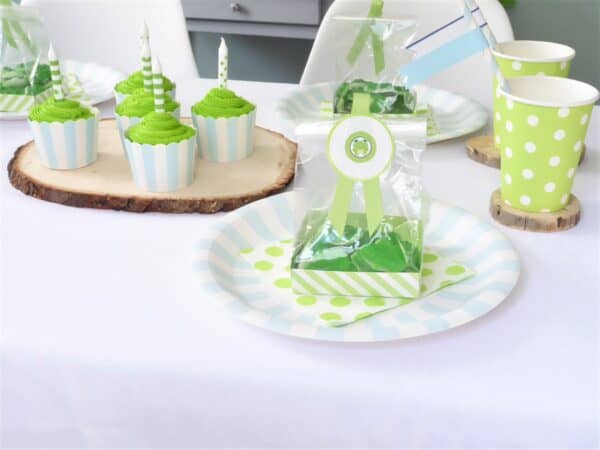 These fun plates and napkins are perfect for accenting this party theme and dressing up your treats in a themed fashion.
Grabbing some wood pieces from a local craft store (or your back yard if you are lucky enough to have wood to grab!) is a fun way to bring a natural feel into the party design.
Frog Food Ideas
Getting creative with your frog themed food is simple and easy. Taking ordinary party food and dressing it up with a frog spin is the best way to sty on budget and still plan an amazing frog birthday.
Check out these awesome frog themed goodies…
Pond Jello
Swing over to Joy in the Commonplace to grab the recipe for how Sarina turned regular jello into little ponds of froggy fun. By adding simple green candies and candy frogs…ordinary becomes adorably on theme.
These would definitely be a hit with little kiddos. Jello is always a winner!!
Lily Pad Cookies
Simple sugar cookies can be transformed into amazing green lily pads. To make lily pad shaped cookies, roll and cut your dough with a circle cookie cutter and then cut out a small piece (like cutting a pie) with a knife prior to baking.
You can make these cookies with any cookie mix or recipe. Here is my go-to sugar cookie recipe. It can be easily adapted to green with green gel food coloring.
Frog themed Cupcakes
Cupcakes are one of the easiest and most popular birthday food options. One of the greatest things about cupcakes is they don't have to be crazy fancy to be totally on theme.
You can start by buying or baking cupcakes in any flavor.
Decorate those cupcakes with bright green frosting. Add fun striped candles or the cupcake toppers from the printable package to give them a little extra froggy flair.
You can also use fun cupcake liners to display the cupcakes and add an extra pop of color. Aren't they fun??
Frog Party Supplies
The simplest way to decorate for a frog birthday party is to utilize simple green and also blue decor for a bright, kid friendly swamp feel. Throw in some printables and you have a simple and fun party theme.
In addition to decorations, we have some ideas for party favors and tableware you will love…
Frog Party Favors
Dressing up party favors in green cellophane bags is also a great way to send home candy or trinkets with your guests.
For these fun little favors, it is as simple as filling the bags with candy frogs. Cute, themed and delicious!
Frog Party Tableware
You can also use simple light blue or green table ware sets to serve food. Mixing and matching patterns like these from Paper Eskimo is also a fun way to set up your cute party table. This table set up is classic and perfect for the frog party theme.
Frog Printables
Of course, the centerpiece of this party design is the fun Frog Party Printables. Printables are a super easy way to have a unique and personalized party!
You can grab the Frog Brithday printables here: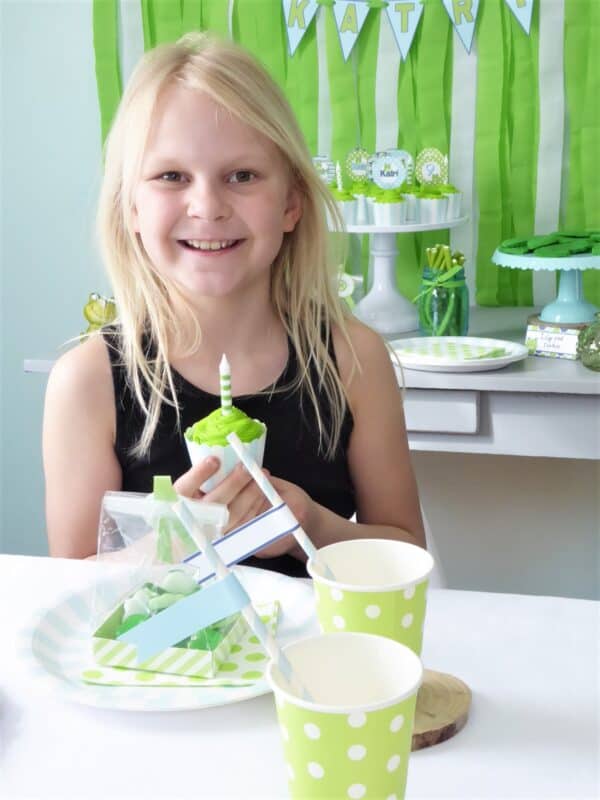 Happy Birthday, Katri!
Here are some helpful links for throwing a Frog Party:


Conclusion for POST TITLE:
If you are looking for a unique party theme for your little one for spring or summer, consider the frog party theme. This adorable party is simple and budget friendly. Get inspired with these fun ideas!
If you love these ideas, please pin this image to your birthday Pinterest Board:
Related posts for Frog Happy Birthday Ideas:
Thank you for reading our fun frog birthday ideas!