Pink Themed Party Food and Decor
Pink Party: Pinkaliciously Perfect Pink Party Ideas. I'm sharing some pretty pink party ideas today for your pretty pink parties. Be sure to check out all of our Pink Party Ideas.
So what's better for a sweet little girly girl then a pretty, pretty pink party? Pink is so perfect and girly. It's my happy color.
My little girls know the key to making mommy smile is a pink starburst or picture with their pink crayons. Love me some pink!
Whether your party is pink themed or just girly with some pink thrown in…using pink in fun and creative ways will sweeten the day.
Pink Party Ideas
Today I'm sharing some awesome ideas for a pretty in pink party…
Pink Popcorn from Cravings of a Lunatic
Doesn't this look yummy, yummy, yummy? I think so! It looks like the perfect combination of sugary sweet and salty!

Raspberry Meringue Sandwiches from Baking a Moment
These. Are. Gorgeous. Seriously, gorgeous. I love how the beautiful rosettes sandwich the cookies too…it's like switching up your oreos and putting the yummy center on the outside. Yep…that'd be awesome!

Tissue Rosette Kissing Balls from the Idea Room
One of my favorite things to do for parties is taking something simple and inexpensive (like roll of streamers!!!) and making them beautiful!!! These balls are perfection for a pretty party on a budget. Perfection.

Pink Rainbow Cake from Call Me Cupcake
Can you say perfect? This cake is PERFECT. I love the ombre pink inside and the shabby chic outside. Yep, perfect…and I really, really want a piece like, now!!

There are so many fantastic way to incorporate decorations into your fabulously pink party.
Fun Pink Birthday Party
In addition to these gorgeous ideas, I'm sharing a sweet pink party styled by Samantha at Five Heart Home Be sure to check out all our girl party ideas and inspiration.
Little girls. Sugar and spice and everything nice. Ribbons and lace. And of course….all things pink.
When Samantha from Five Heart Home asked me to design some printables for her little sweethearts first birthday, she had one request….PINK!
I immediately fell in love with the idea of an all pink party. Sometimes the simple and straightforward approach is so fresh and of course sugary sweet.
I love all the gorgeous ideas she had in this party and of course, it helps that her little sweetie pie is an absolute doll!! Adorable.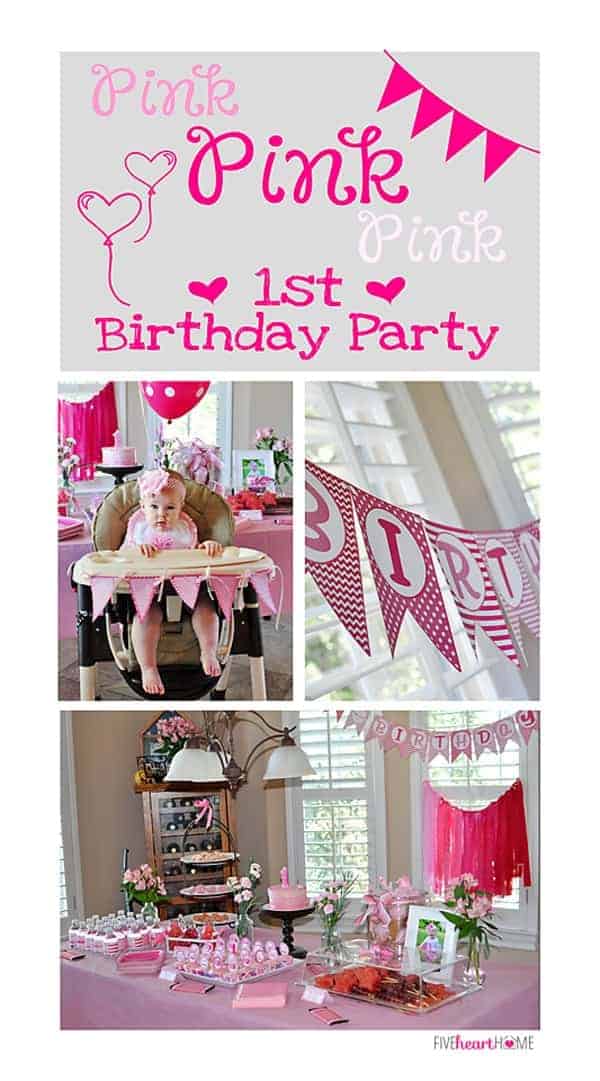 Having little girls, myself, I am a huge fan of pink and frilly. I think this party is completely precious. I love the attention to detail and the different shades of pink throughout!
I love this cute way to display the 12 month banner…and check out this adorable ombre applesauce cake. Other pink food included fresh strawberry cupcakes and coconut macaroons.
She also served pink cotton candy in ice cream cones. Super cute idea, right??? Love it!!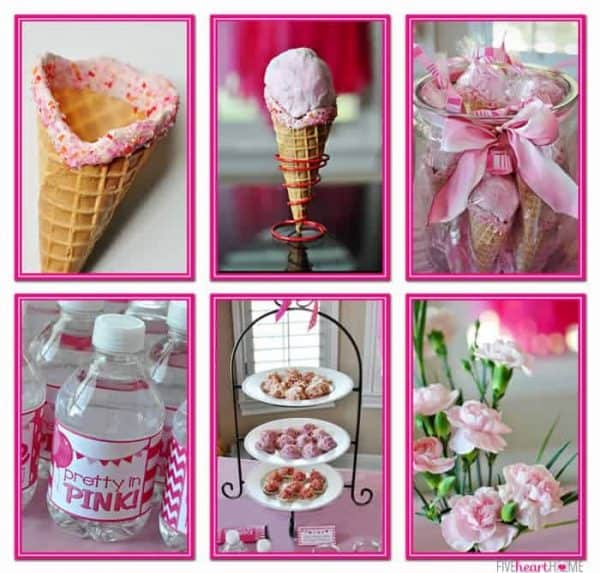 What an adorably fun pink party! Thanks for sharing your special day with us!!
Here are some helpful links for throwing a pink party:
Wanna throw a pink party?
The Printable Pretty in Pink Package is available for purchase in my shop:
If you love these party ideas, please pin this image to your birthday Pinterest board:
RELATED POSTS FOR Pink BIRTHDAY IDEAS:
THANK YOU FOR READING pink party decorations and food ideas!