Party Q&A: Printables, Budget & Invitations.  More questions from our Party Q&A series. Be sure to check out our party tutorials and party inspiration!
Question #1: "Are Printables Hard to Use?  I am not very crafty and worry I can't do them." Ashlee J.
Yes!  Printables are very easy to use.  I think often times people get intimidated by the idea of printables because you see an amazing party and think "I could never do that!"  Bottom line with printables…the possibilities are endless.  You can make a small spread with only the food and some printables and its adorable.  You can make a large spread with tons or custom ideas and its adorable.  Either way, printables can help you have an awesomely awesome party!
Printables are easy to print at home and easy to cut out. Check out our how to… series for detailed instructions. They can be taped or glued to just about anything and they are very versatile.  Wanna practice printing and cutting or see what printables are like?  Download one of our free holiday printable packages and give it a shot!!
Question #2: "I want to throw a great party, but I have a limited budget.  Do you have any suggestions for cutting corners, but still having an awesome party?" Desiray Q.
Absolutely. There are lots of ways to throw amazing parties and stay on a budget.  One way is to throw your party at a local park, your backyard or in your home.  Not paying for a location can save a lot of money.This small spread was done at a local park and is still one of my favorites!!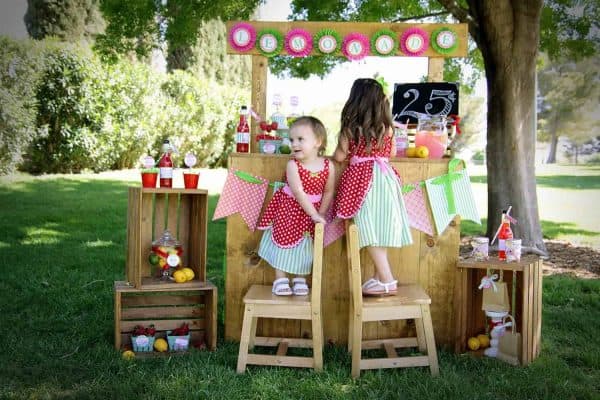 Making the food yourself (even if you aren't particularly skilled at baking) or getting cupcakes/cakes made at your local grocery store.  This cake below came from the Walmart bakery for under $10.  Dressed up it looks quite fancy!
I will also be sharing some budget breakdowns on some of my parties coming soon!!
Question #3: "When should I send out invitations?" Tiffani S.
I always recommend that you give your guests a minimum of 3 weeks notice for a party, but you do not need to send them out more than 6 weeks in advance.  If you are inside the 3 weeks timeframe and concerned about mailing invitations, you can always use your JPEG invitation file as an emailed "e-vite".  They load into an email just like a photo, still show off your adorable child and info and save time and money with printing and mailing.
Do you have questions you would like to ask Holly?  Send an email to [email protected] with your question to be included in a future Party Q&A Post. Please include "Party Q&A" in the email subject line.
Be sure to check out our party tutorials and party inspiration!