Blaze Cookies, Cakes and More!
Looking for some delicious treats for your Blaze inspired birthday party? These Blaze Cookies, Cake and adorable treats are not just perfect for a party, but also for talking about the Blaze and the Monster Machines: Dino Derby DVD you can grab to play at your party!
In addition to sharing about this adorable DVD option and how much my kiddos love it, I'm also sharing some dino-tastic Blaze dessert ideas you can DIY!
Throwing a BLAZE THEMED PARTY?
☑️ This
Blaze Party Kit
is the perfect set to get your party planning headed in the right direction!
Ready to see what all the monster truck fuss is about?
Blaze & the Monster Machines: Dino Derby Review
Join the Monster Machines as they compete in the Dino Derby, attend a dinosaur parade, ride the Dino Coaster, and more!
Dino Derby
Dino Parade
Dino Coaster
Dino Dash
Rev up and roar your engines! Blaze and Zeg team up to compete in the Dino Derby! Next, Blaze and Zeg use chain reactions to save their prehistoric pals and bust through obstacles to ride the amazing Dino Coaster. Then Blaze and AJ must save Zeg. Your kids will be on the edge of their seats for these Dino-might episodes!
My four old has loved every second and has watched this DVD a half dozen times already since we got our copy. Grab yours today!
Blaze Desserts
Alright…now let's talk about the desserts! You can't go wrong with a monster truck themed party for a boy or girl who loves Blaze and loves getting their tires dirty.
Blaze Rice Krispies from Kara's Party Ideas
These adorable rice krispies traffic signs are a great option for a blaze party treat.
Blaze Healthy Snacks from Nickelodeon Parents
Here are some healthy snack treats for the checkered flag win!
Blaze Tire Donuts from Bake It
Adorable donut monster truck wheels…perfection!
Blaze Cookies
How about some amazing cookies? These adorable cookies are perfect for a Blaze themed birthday:
Blaze Cookies from Cookie Bug
How gorgeous are these Blaze themed cookies. So perfect!
Blaze Cookies from Monarch Baking
These are probably my favorite of the whole batch. Such detail! So amazing!
Blaze Cookies from Kiddie Confections
Love, love, love these cookies. Cute little Blazes that are perfect to snatch up for a party treat!
Blaze Cookies from Mama Bird
So the truck faces are fantastic. Love this idea so, so much. These would be pretty easy to copy with fondant too if you aren't good at the royal icing. Just saying.
Blaze Cookies from The Cookie Bar
These black, white and red cookies are divine. Love the checkered flag.
Blaze Cookies from Kara's Party Ideas
Fondant cookie pops are a great treat AND a great cake topper. So clever.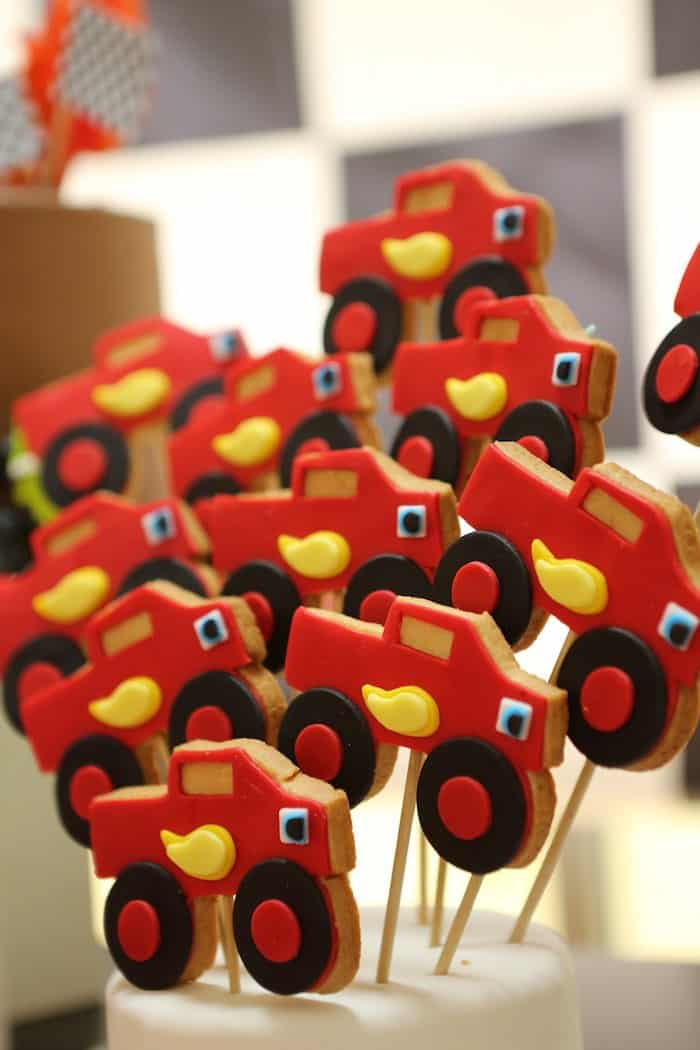 Blaze Cakes
Of course, you can't plan a Blaze party without a glorious cake or some delicious cupcakes. Check out these options:
Blaze Cake from Delectable Cakes
Wow…this cake is amazing. So freaking fantastic.
Blaze Cupcakes from Pinterest
Here are some easy DIY wheel cupcakes. I'm confident your kiddos will LOVE these.
Monster Truck Cake from Baking with Blondie
Here is a simple cake for a simple party treat. Add oreo crumbs and toys for a win.
Monster Truck Cake Pops from HWTM
Love these amazing cake pops! What a great way to bake for a party.
Blaze Cake from Cake Central
Little fondant characters make great cake toppers too. This little Blaze and driver are an adorable addition to the cake top!
Blaze Cake from Ashlie Getz
Of course…this fun cake with combo toy and decorated layers is so good. Love this idea.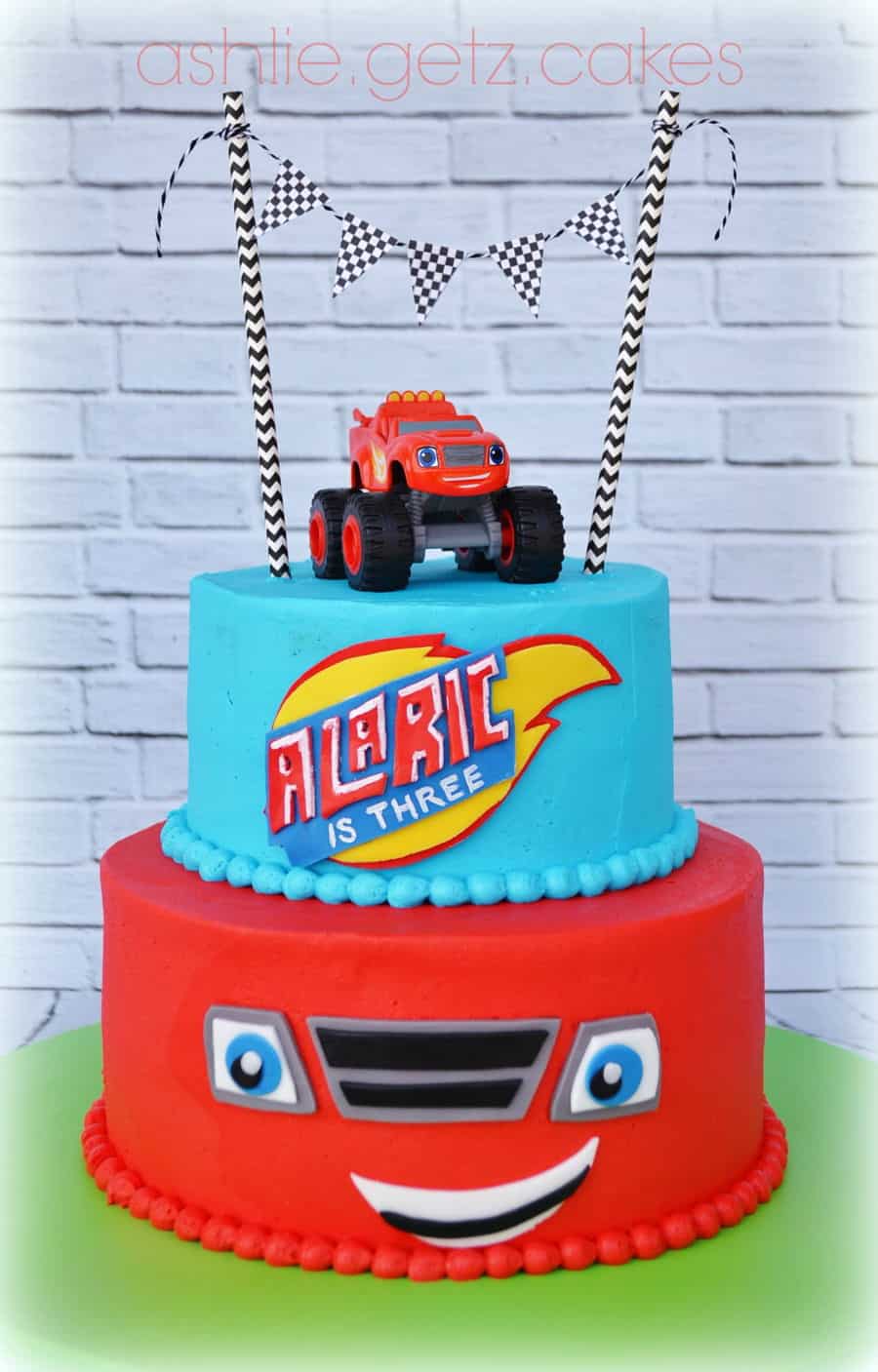 Blaze + the Monster Machines Tableware
Tableware is a great way to keep your party on theme, and also on budget. Here are some killer Blaze themed party ware items…
Monster Truck Tableware from Oriental Trading

Blaze Decor Set from Amazon
Here are some helpful links for planning a Blaze and the Monster Machines party:
Conclusion for Blaze Birthday Food Ideas:
If you have a kiddo who loves Blaze, you will love these easy to DIY and oh so cute Blaze party treats. Check out all the fun options and get the race started!
If you love these ideas, please pin this image to your birthday Pinterest Board: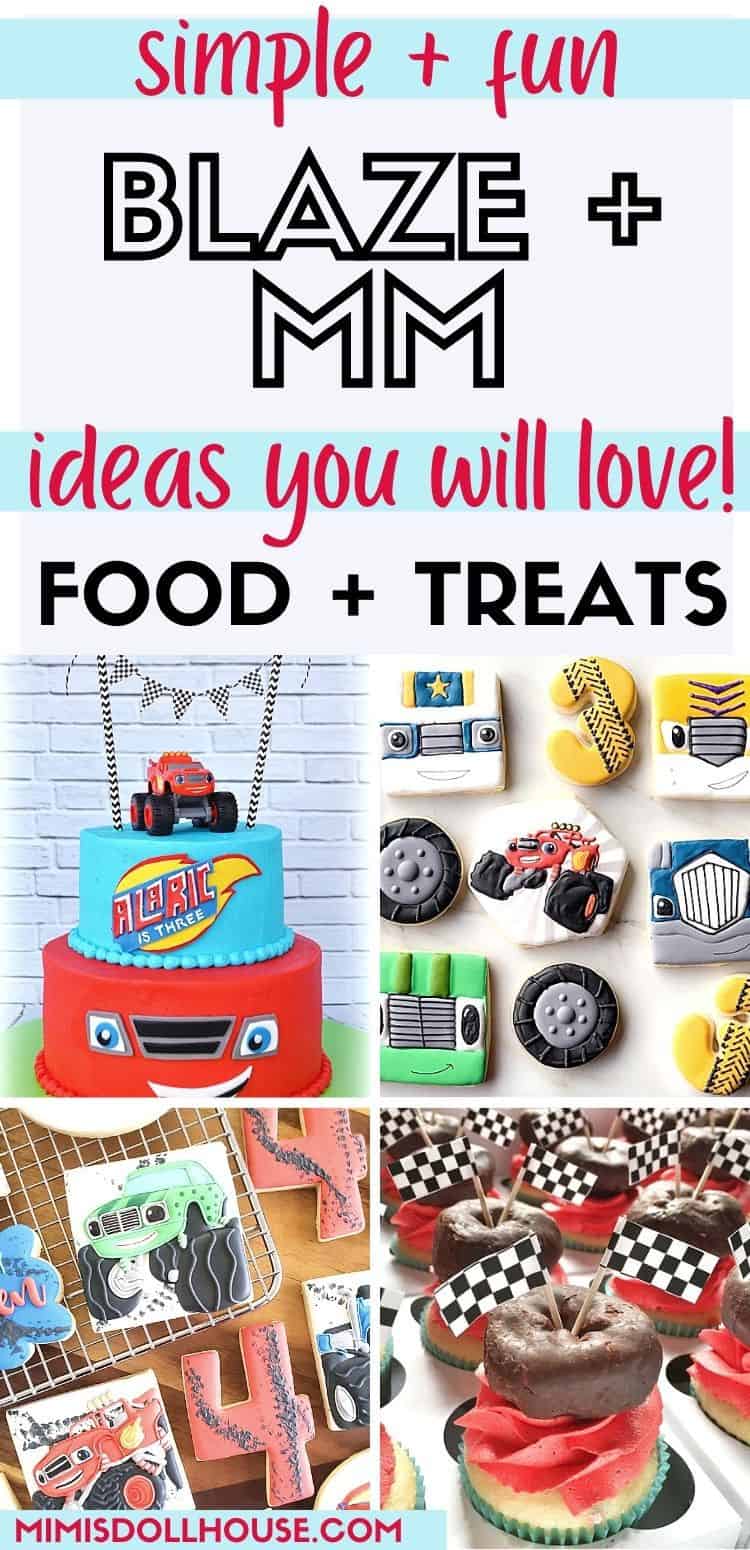 Related posts for Blaze Dessert Party Ideas for Kids:
Thank you for reading my Blaze Cookies and Cakes ideas!