Awesome Valentine Box Ideas for your kids!
Looking for a fun and clever mailbox ideas for your child's classroom valentine exchange? These Valentine Mailbox Ideas are so much fun and a great way to showcase your kiddos unique personality!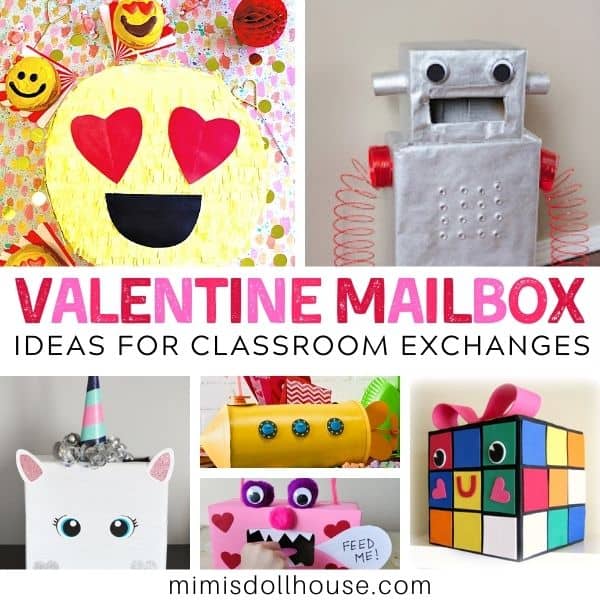 Valentine's Day at school is definitely one of the most fun days of the whole year. Passing around valentines, playing all the valentine themed games…it's a blast.
One of the best parts of the valentine exchange is creating and displaying your very own valentine box.
Don't have time to make a Valentine Box?
☑️ Don't worry if you don't have time to make a mailbox…you can always grab one from
Target
!
If you are looking for some fantastic ideas to help you figure out the best mailbox theme for your kiddos very own box…we have a list of the coolest, cleverist, DIY Valentine Mailboxes around! Ready to check them out?
DIY Valentine's Box
Here are some AMAZING Valentine Mailbox options for you to explore with your kids! Have fun crafting!!
Emoji Box from Brite and Bubbly
Love emojis? This Piñata Valentine Box is a brilliant idea. Simple and adorable.
Unicorn Box from Artsy Fartsy Mama
What little girl wouldn't want a unicorn? This is cute and simple and oh so fun.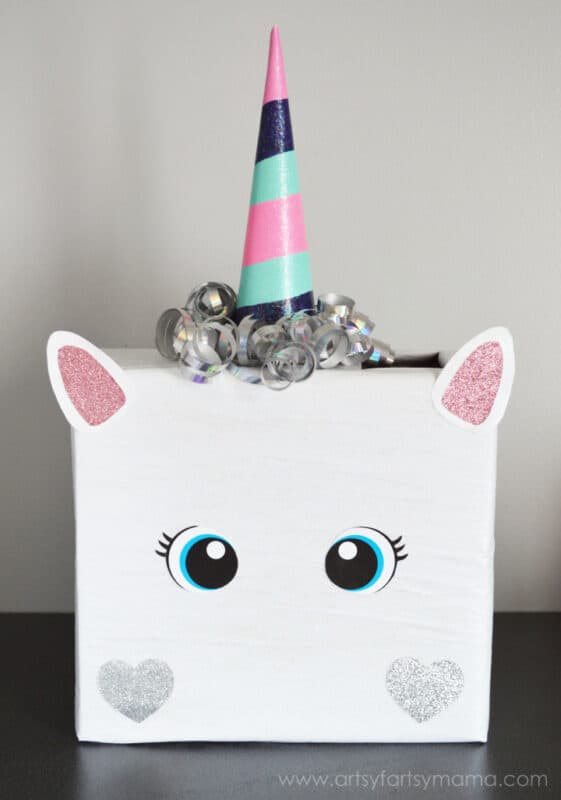 Shark Box from Invitations Only
Dun, dun, dun, dun, dun, dun…This wide mouthed shark is a jaws-some Valentine mailbox idea.
Rubik's Cube Box from Peppermint Plum
This one is definitely cute and clever. If your kiddo loves trying to solve the Rubik's cube…turn his obsession into a great Valentine box.
Perry the Platypus Box from Birthday Blueprint
Hey, Where's Perry? Snag that cute platypus and get him ready to receive some valentines asap!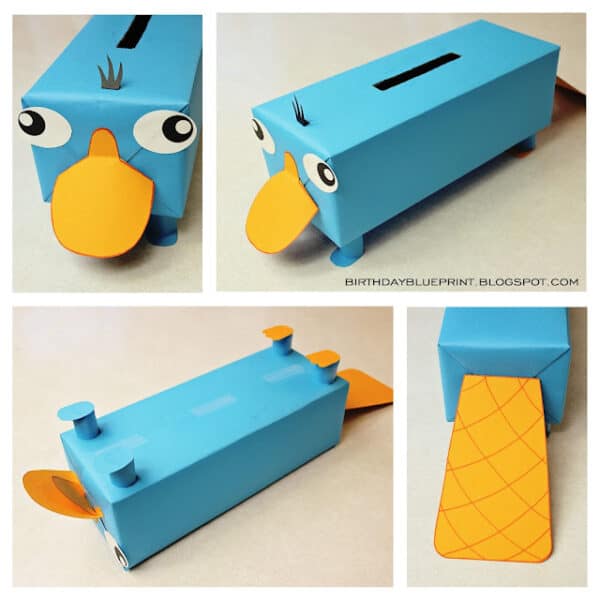 Batman Box from Sweet Paper Trail
Do you love Batman? Here is a sweeeet Batman box for your superhero lover!
Bee Box from Life with Fingerprints
Check out this amazing bumblebee mailbox for valentines. Isn't it cute?
Frog Prince Box from Morena's Corner
Here is a super cute option using a milk carton. This just proves that you don't need a box to make an AMAZING mailbox!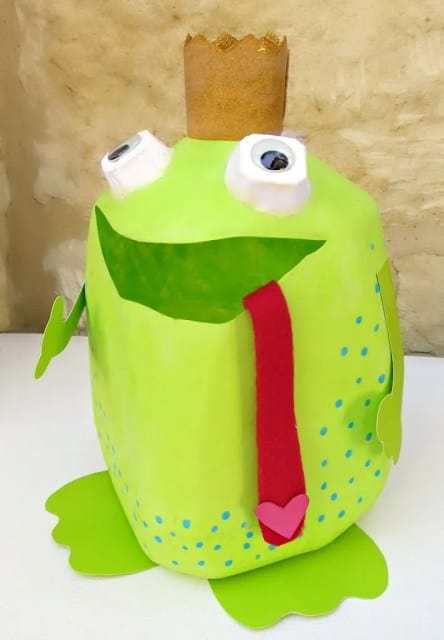 Don't have time to print Valentines?
☑️ Don't worry if you don't have time to make or print valentines…you can always grab some from
Target
!
More Valentine Box Ideas for the Classroom
Looking for more ideas? Here are some more of our favorite options:
Superman Box from Frogs and Snails and Puppydog Tails
Here is another SUPER superhero option. Cape and all…this Superman box is great.
Yellow Submarine Box from Plaid
This might be my personal favorite. If you love the Beatles…you will love this Yellow Submarine mailbox.
Monster Box from Giggles Galore
Aaargh…monsters on the loose. Here is an adorable monster box that can really stand out!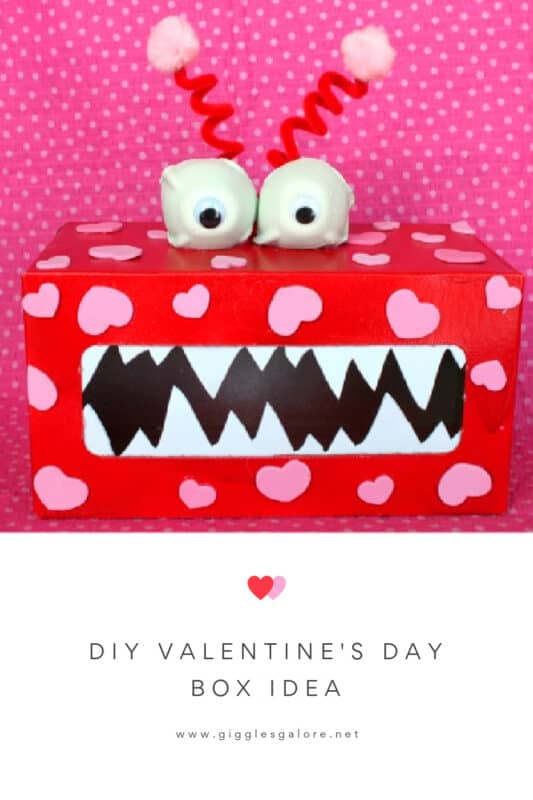 Mailbox Box from Little Red Window
This is literally the Valentine MAILBOX. How clever is this option?
Train Box from Disney Family Blog
Choo..choo…all aboard this adorable mailbox option for Valentine's Day.
Ruffle Cake Box from Craft that Party
Turn your love for baking into a love for making Valentine's Boxes that look like cakes. Simple and fun. This one is a winner.
Valentine Robot Box from B-Inspired Mama
Here is a girly robot idea. You'll love this one and so will your STEM loving girls!
Wolverine Box from Paige's Party Ideas
Clearly one of the coolest superheroes deserves his own box. How fun is this one?
Robot Box from Mommy Lessons 101
If you have got slinkies…you've got the tools for a fun robot themed box. Aren't the slinky arms the best?
Valentine MailBoxes your kids will love
Ok…one more fun batch of fantabulous Valentine's Boxes…
Camper Box from Suzy's Sitcom
Love camping, or even glamping…here is a GREAT Valentine Box idea. So cute!
Seahawks Football Themed Box from The Contemplative Creative
Celebrate your favorite team with a fun football field box. Adorable!
iPod Box from Mommy Lessons 101
Capture the cuteness of a phone or an iPod with this clever tutorial. Love it!
Basketball Hoop Box from It's All About Ty
Gotta great jump shot? Show it off with this super cool Valentines Mailbox.
Frog Box from A to Z and J
Simple and cute for the win with this adorable Frog box. Perfect for preschool too!
Darth Vader Box from Foster Forever
So…clearly the greatest bad guy EVER is the way to go! So much fun!!
Mini Trash Can Valentine's Box from U-Create
This is a cute and super simple idea. If you have limited time…this is a great option!
Logo Mini Fig Head Box from Birthday Blueprint
Turn a red vines container into a lego mini fig head…genius!
Little Pig Box from Giggles Galore
Here is a cute little piggie you can make from a detergent bottle. ADORABLE!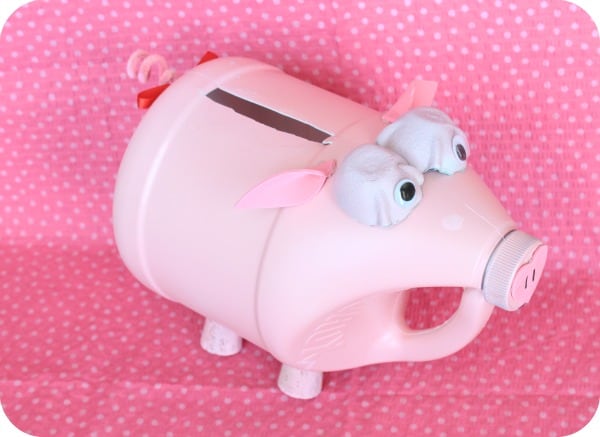 Bee Valentine's Box from Mom Endeavors
Bee Mine takes on a whole new meaning with this fun box. Simple and cute! It's all the buzzzzz!
Paper Plate Heart Box from Pre-K Pages
Here is a simple option that is perfect for preschooler. It's a quick and adorable DIY option.
Monster Box from I Heart Crafty Things
Want another adorable monster option? This one is oh, so cute!!!
Puppy Mailbox from Mom to 2 Posh Lil Divas
This one is barking adorable. Check out the cute puppy dog option. So much fun!
Here are some helpful links for valentine mailboxes:
Conclusion for Valentine Mailboxes for Kids:
These amazing ideas are just exactly what you need to create a great Valentine's Day Mailbox for your little one on Valentine's Day. You will love these ideas!
If you love these ideas, please pin this image to your Valentine Pinterest Board:
Related posts for TITLE KEY PHRASE:
Thank you for reading our Valentine Mailbox Ideas for Valentine Exchange!