22 Ideas for a Spook-tacluar Nightmare Before Christmas Party Desserts
Looking for some amazing ideas for a Nightmare Before Christmas themed party? These ideas are great for a baby shower or birthday party. They are even perfect for a Jack Skellington themed Halloween party. The possibilities are endless. Check out all the fun ideas and delicious treats…you won't be spooked by these easy, adorable ideas!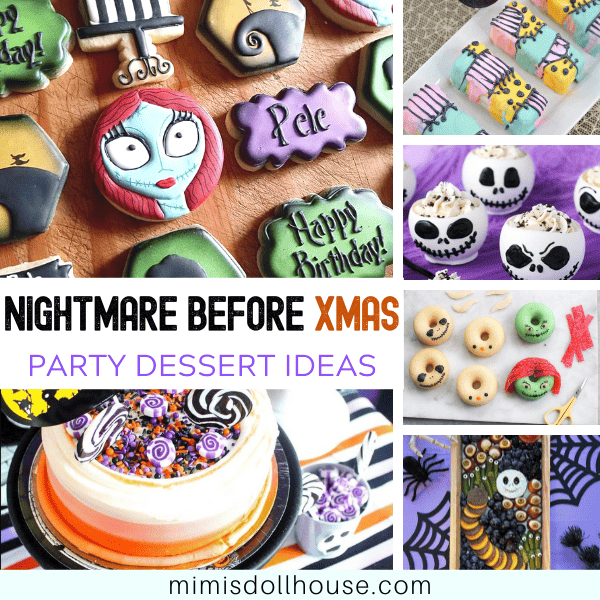 This is Halloween…This is Halloween…
Throwing a NIGHTMARE BEFORE CHRISTMAS PARTY?
Whether you are putting together a holiday party or party for a baby shower or birthday, these fun desserts and delcious treats are sure to get you in the Halloween..err…Christmas…err…whatever mood. You will LOVE these unique themed party ideas and recipes.
RELATED: 20+ Nightmare Before Christmas Party Ideas
Jack Skellington Dessert Ideas
Let's start this party off right with some fun desserts. Of course, everyone loves cookies and cakes…but here are a few ideas that are "less traditional" desserts. I mean…wouldn't that be the Jack Skellington way?! Check out these awesome ideas…
Sally's Candy Bars from Dine Dream Discover
These adorable little candy bars are a great way to bring a pop of color into your dessert table with a little stitched up Sally twist!
Jack Skellington Chocolate Bowls from Hungry Happenings
Adorable and unigue…thees chocolate bowls are as delicious as they are adorable. And perfectly on theme!
Nightmare Before Christmas Donuts from Disney Family
Ok…for real…who DOESN'T love cute little themed donuts? These are perfect and easy to recreate. So. Much. Fun.
Nightmare Before Christmas Cakes
Looking for some traditional Nightmare Before Christmas cakes and cupcakes? These ideas are sugar to get both your creative juices and your tastes buds going! Beautiful, themed and fantastic. Check them out…
Colorful Nightmare Before Christmas Cake from Fun 365
These fun candy covered cake is perfect for a Sally lover. If you want to highlight the Queen of Screams…why not give this cake a try?
Black and White Jack Skellington Cake from The Cookie Writer
Simple, black and white layer cake for the win. This is a gorgeous cake with a halloween flair would be the perfect center to any dessert table.
Fondant Cupcake Toppers from Hot Mama's Cake Toppers
Simple and adorable…fondant cupcake toppers are great for topping cookies, cupcakes or even adding a little flair to your cake decor. These are adorable and perfectly themed. A great addition to any Jack Skellington party.
DIY Jack Skellington Cake from Bombshell Bling
Want a fun DIY Cake you can make on your own? Fun colored layers and a cute design. This is a win-win. You won't be sorry you whipped up this one!
Jack Skellington Cupcakes from Women's Day
These hun cupcakes are as easy as marshmallows and icing. These are a fun easy to DIY option for your Nightmare Party!
Jack Skellington Fondant Cupcake Toppers from Hobby Hooks
Oh the faces of Jack Skellington. Whether you like your pumpkin king mad or surprised…these fondant toppers are just what the Wanna-be Santa Clause ordered. Perfect for adding a touch of halloween festive-ness to your cookies or cupcakes or whatever!
Nightmare Before Christmas Little People Cake Toppers from Amazon
These little people double as a toy and a cake topper. Cute and easy to pop on top of any custom or store bought cake…you won't be sad you got these little cuties!
Nightmare Before Christmas Cookies
Who doesn't love a great cookie? These Happy Halloween (read Christmas) cookies will be the perfect piece to complete your halloween take-over. From custom made to DIY…we have amazing options for you!
I made these simple and delicious Jack Skellington oreos for my little ones…I know you will love adding them to your party spread. This is a super easy DIY…but worth it! Great on sticks as pops as well!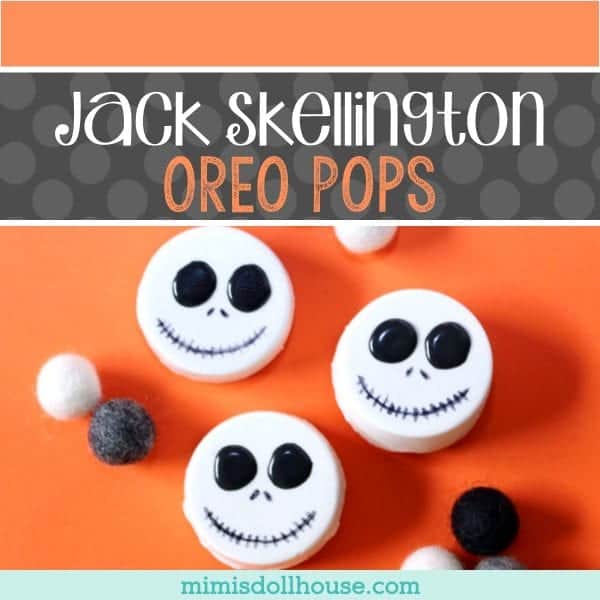 Nightmare Cookies from Kitty Biscuits Bakery
Ok…these are simply gorgeous. They might be my favorite. So detailed and amazing. These would definitely be an amazing addition to your party spread.
DIY Jack Skellington Cookies from Suz Daily
Simple and DIY. This is how I like my cookies!!! The best part about making these yourself is they are perfectly customizable. You can make any face or expression you want!
Nightmare Before Christmas Cookies from Shari's Cookies
Here is another gorgeous option for buying some professional custom cookies. The details are superb.
Nightmare Before Christmas Cookies from Texas Tasty Treats
Don't you just love that little zero? He sure is a character. These cookies are sure to make your Nightmare party a hit!
Jack Skellington Cookies from Lores Sweets Shop
The Closeup Sally face on these cookie options is fantastic. Fun and unique. I love the bright colors and details. Amazing and worth the investment.
Jack Skellington Food Ideas
Finally, we have some Nightmare Food options that aren't your regular treats. You will love these playful and themed options for completing your perfect party.
Oogie Boogie's Brew from Pixie Dust and Posies
Here is a great drink option for a halloween bash, oogie boogie style. Green. Frothy. Why not?
Jack Skellington Dip from Hungry Happenings
Are you all for the savory? I know I am. Here's a Jack Skellington dip for all you salt lovers. Gotta balance those sweets out somehow, right?
Jack Skellington Candied Apples from Laura's Little Party
Candied apples for the win…these are BEAUTIFUL. Delicious. Clever. These are a wonderful party treat to complete your spread.
Nightmare Before Christmas Charcuterie Board from Pixie Dust and Posies
Who says charcuterie boards can't be spooky? This Jack Skellington themed board is the perfect way to complete your food table for a Nightmare Before Xmas party! Those pepperoni roses!!!
Purple NBC Drink from Fun 365
Looking for a beautiful drink option. Simple purple koolaid can get a spooky upgrade with the right decorations! Your guests will LOVE this.
Man Eating Wreath Veggie Tray from Pixie Dust and Posies
Healthy and scary. Yep. Love this idea. Perfect for finishing off the healthy side of your party table. Veggie trays never looked so creepy!
Jack Skellington Party Tableware
Here are some cute and simple table ware options for decorating your party Nightmare style. Grab these are save both time AND money. Winning combination! Just like Jack and Sally!
Nightmare Before Christmas Tableware from Oriental Trading
Nightmare Before Christmas Tableware from Amazon
Jack and Sally Tableware
from
Amazon
Jack Skellington Tableware
from
Amazon
Conclusion for Nightmare Before Christmas Halloween Cookies & Cakes:
If you are looking for some delicious treats for a Nightmare Before Xmas themed party? These Jack Skellington Cakes and Cookies and so much more are the perfect way to feed your creppiest guests for your spooktacular party! Whether you are all about the Halloween or the Christmas, these ideas are just what the Pumpkin King needs to impress his guests.
If you love these ideas, please pin this image to your Halloween Pinterest Board:
Related posts for Jack Skellington Dessert Ideas:
Thank you for reading our Jack Skellington Halloween Dessert Ideas