How to make Octopus Cookies with Royal Icing
Nothing says adorable under the sea party like some fun Octopus cookies! These sweet little sea creature sugar cookies are sure to be a hit at your next birthday party or summer get together. Want to learn to make them? I got you, girl!
Making fun ocean themed sugar cookies is a great way to jazz up an under the sea themed party or a pool party. These sugar cookies are so easy to make and so much fun. I'm sure you will love them!!
Throwing an UNDER THE SEA THEMED PARTY?
☑️ This Under the Sea Party Kit is the perfect set to get your party planning headed in the right direction!
They are the perfect cookies to match any color scheme too. They can be made in ANY color. So versatile. One of the other super cool things about these cookies is they are made with a pineapple cookie cutter. How is that for being an unconventional way to use a cookie cutter?
How to use Octopus Sugar Cookies
These cookies are perfect for accenting an ocean themed party. If you are planning an under the sea birthday party…you can definitely whip up some of these adorable cookies for your party.
These can be displayed on a plain white plate or with little blue sixlets underneath them for dimension. So many possibilities!
Ideas for an Under the Sea party
If you are looking for more ideas on how to plan an under the sea party, check out this awesome post full of ocean themed party ideas!
Also, this party displays some super cute octopus treats, you can grab some inspiration here! Also, check out this tutorial for making jellyfish cookies!
Octopus Cookie Tutorial: STEP by STEP
Alright…let's look at how to make these cute octopus cookies at home. I promise they are super simple and delicious!
Materials:
Step 1:
First off…you need to pick your favorite sugar cookie recipe and prep the dough. For this step, I like to add a little extra flour right before I start cutting the cookies so they do not stick to the cutting surface.
Also I will liberally flour the surface where I am cutting the cookies. Sometimes I add a little extra flour as I'm going just to keep things nice and easy to use.
Once your dough is ready to start cutting, roll it out to about ¼ inch thick. Don't be afraid of making thick cookies. Thicker cookies tend to bake better, decorate easier and taste super delicious.
Preheat oven according to the recipe. Line cookie sheets with parchment paper. Cut the dough using the pineapple cookie cutter. Bake the cookies according to the desired recipe.
Allow to cool completely before decorating. I usually like to bake them the day before I decorate.
Step 2:
Prepare royal icing. You can use whatever color you want for the icing. You can add the gel food coloring to the icing until you have the desired color.
Remember to separate your icing into separate containers to mix with coloring and set aside sealed until you are ready to use them.
Add small amounts of water to each container and mix until you get the frosting to the desired consistency. You will want the icing to be fill consistency (honey-like) icing.
Fill piping bags with royal icing.
Step 3:
Turning the pineapples upside down, you will outline the main body of the octopus with icing. Then fill in the body shape. Use a toothpick or fork prong to flatten out any imperfections in the icing.
Gently place two large candy eyes into the body section while the icing is drying. Allow to somewhat harden before continuing to fill the "legs".
Next, Outline the middle "leg" of the octopus. Fill in with icing and smooth out imperfections. Allow to somewhat harden before outlining and filling in the outside legs.
By letting them harden a little in between, you get more defined legs than if you were to fill in altogether.
Step 4:
Once the icing is fully hardened, use the edible marker to draw smile lines onto the faces underneath the eyes. Easy peasy and ready to enjoy!
Looking for more ideas for an Ocean Themed Party?
These super cute octopus cookies would go perfectly with some adorable Jellyfish cookies, don't you think? Learn how to make these Jellyfish cookies with an easy tutorial.
Coordinating Under the Sea Party Supplies
If you are throwing an under the sea party, a great way to set your party off right is by getting some adorable under the sea decorations and tableware. I am in LOVE with this design from Meri Meri. The metallic sharks are fantastic and those cute little fish napkins!!! Adorbs!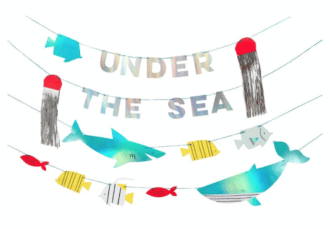 This set from Oriental Trading is also super adorable for an under the sea themed party. The fish shaped plates are soooo adorable!

Under the Sea Printables
You can grab these fun and easy to use printables from my shop:
Here are some helpful links for planning an under the sea party:
Conclusion for DIY Octopus Cookies:
These super easy octopus cookies are perfect for a birthday party in the summer. They are super simple to make and oh so cute! You will love making these cute little sea creature cookies.
If you love this tutorial, please pin this image to your birthday Pinterest board:
Related posts for making Octopus shaped Cookies:
Thank you for reading my Royal iced Octopus Cookies!