Fun Pre-teen Spa Day party ideas
Bright colors and some fun relaxing spa day activities are a great combination for a tween girl birthday she won't soon forget. From rainbow inspired bright colors to easy to recreate desserts, we have all the ideas you need to turn a simple party into a spa extravaganza she will LOVE!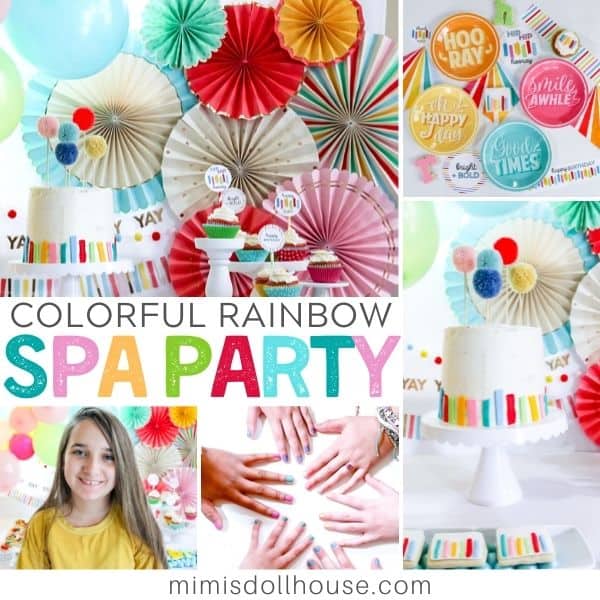 Who says you can't throw an amazing themed party for your tween girl? Sure she might think everything you do is lame and you might be "literally the worst" right up until the party starts, but she is sure to love getting pampered with her friends and you will love those cute photo ops!
Throwing a RAINBOW THEMED PARTY?
☑️ This
Rainbow Party Kit
is the perfect set to get your party planning headed in the right direction!
Honestly, a spa party is a great theme for a tween. It has all the trappings of being grown up and special and it can be as inexpensive or as over the top as you choose to make it!
Let's break down this colorful spa day birthday party and talk about all the fun options!
Colorful Tween Party Ideas
When it comes to planning a party for a tween, color is definitely in! Bright, bold, loud…these are the colors. So when it came time for this fun spa day party, we wanted a bold rainbow feel, without it being straight up in your face rainbow.
You can dress up any party theme with some bright colors. If your tween loves bowling or wants a pool party, those themes would fit great with a colorful bunch of party decorations.
One of the funny little quirks of pre-teens, or at least MY pre-teen, was that she didn't want the party theme to be "too obvious".
She wanted a spa party. She wanted the mani/pedis and the fun face masks and makeup. She wanted the sleepover. She just didn't want the party decor and food to be spa themed.
This of course made this party planning mama heart hurt just a little. Gone are the days of full blown princess themed parties with highly detailed treats matching each of her favorite princesses and party games with cute little signs.
Nope. She wanted something fun….and then also the spa stuff. So we compromised with the bright, colorful decorations (that of course she loved) and planning the spa day activities to coordinate with the bright colors.
All in all…it was a blast!
RELATED: Colorful DIY Rainbow Desserts
Spa Day Party Theme
A spa party is actually a really fun party to plan. It makes a great sleepover, because you have plenty of time to do all the fun pampering things.
Of course, it doesn't hurt that pre-teens in pjs with face masks make ADORABLE photos. Even if she BEGS you not to post any pictures online.
Planning out the party was simple and the array of colors really made the pulling together of all the elements a snap. Mixing in fun and playful party decor with the colorful printables I whipped up for this party was perfect.
By the way…if you want these fun printables, you can grab them at the bottom of this post.
I also left a ton of extra balloons blown up around the room. Even in all their "super cool" 12 year old status, they had a blast having a balloon fight and batting them around as they did all their "hanging out."
The party food was also a blast to make since I was able to play with all the colors. The cookies that spelled out my birthday girl's name was my personal favorite.
How to Plan a Spa Day Party
So let's talk about the process of setting up a spa day party.
Like I mentioned before, this theme can really be as expensive or inexpensive as you make it. Doing all the mani/pedis and makeovers on our own is a completely viable option. So, also, is taking your girls to a day spa and letting the pros have a go at it!
I have even seen successful spa parties where the girls have done the manicures and makeovers on each other.
We opted for the DIY version and it was a ton of fun. I had one of my fabulous mama friends (who also happens to be AMAZING at make overs to come stay the night with us and we dolled up the girls on our own.
It was so much fun and we got to spend time with each of the sweet girls who came one on one.
Spa Day Party Station Rotations
The easiest way to set up a spa party, is to have stations. This allows every girl to be actively participating in the party activities and not sitting around bored and waiting for their turn. Maybe its the teacher in me….but I love rotations. They just work!
Mani/Pedi Station
The first station we set up was the mani/pedi station. Here, two girls could be done at once. The first girl would start by soaking her feet in the at home foot spa. While she was soaking her feet and enjoying the bubbles, the second girl was getting her manicure.

Once the manicure was done, I would switch the do the pedicure for the second girl. To speed up the process and make sure everyone had want they needed, I had little gift bags for each girl that included there mani/pedi supplies.
For details on what was included in the favor bags, check out the spa day favor ideas further down.
Makeover Station
The second station was the makeover station. The girls had their makeup done and looked BEAUTIFUL. We bought some specific makeup for the girls, but also used an assortment of our own makeup as well. It doesn't hurt that I have some amazing samples and products from ipsy hanging around my makeup drawer!
I loved seeing the girls all dolled up and looking so grown up with their fancy makeup!
Facial Station
We also had a facial station where the girls could relax with some fun face masks and cucumbers on their eyes. They loved how silly they looked in their facemasks, too.

Spa Day Favor Bags
The favor bags were probably my favorite detail of the whole party. For the bags themselves, I used simple white gift bags. I attached the printable thank you tags with a little washi tape and tied a sugar cookie with each girl's initial on the outside.
Within the bag were all the items they would need for the actual spa party and then a few extra pamper pieces they could take home. I made each bag color matching because it was fun and helped keep items straight as to who they belonged to if they were taken out of the bag.
Here are the specific items from this favor bag:
Spa Day Photo Ideas
When you have all these fun make overs going on…some of the cutest pictures will definitely be the girls in their various stages of make over. Be sure to take photos with their masks on, having their nails painted, getting their makeup done and of course…with their finished make up look!
Colorful Rainbow Party Decorations
The decorations for this fun party were super easy to put together.
For the welcome wreath, I used different colors and textures of ribbon and wrapped it around a foam wreath. I used hot glue to secure the ribbon.
I then used a low heat hot glue gun to balloons to the wreath along with the printable welcome sign. It was super easy and very festive.
The dessert table backdrop was fairly simple. I used these adorable paper fans on one side and a balloon garland on the other. in between the two colorful decorations, I strung a few garlands that coordinated with the fans. So colorful and fun!
The cupcake toppers were a combination of paper printable toppers on colorful paper straws and fondant toppers. They were super cute. I also had the cupcakes in colorful cupcake wrappers to give them some extra color!
I also used simple printable labels for the food for small pops of color. We served fun strawberry cupcakes, mini fruit pizzas, sugar cookies and a rainbow layer cake!
The cookies were displayed on white platters full of gum balls for texture and color. This gives so much depth of color to the design!
RELATED: Mini Sugar Cookie Fruit Pizza Recipe
Colorful Party Supplies
This party was made so much cuter with the fun printables and bright party supplies. I made the printables specifically to match these party supplies, so it was all tied in perfectly.
Coordinating Rainbow Party Supplies
Serving up fun Rainbow treats is made so much easier with some adorable coordinating tableware! These treats were even made to match these fun options!
Happy Day Partyware from Oriental Trading

Hip Hip Hooray Partyware from Oriental Trading
Rainbow Plates from Amazon
Hip Hip Hooray Plates
from
Shop Sweet Lulu
Shop This Party
If you would like to shop the party featured in this post, here are the direct links for purchase:
Hip Hip Hooray Rainbow Printables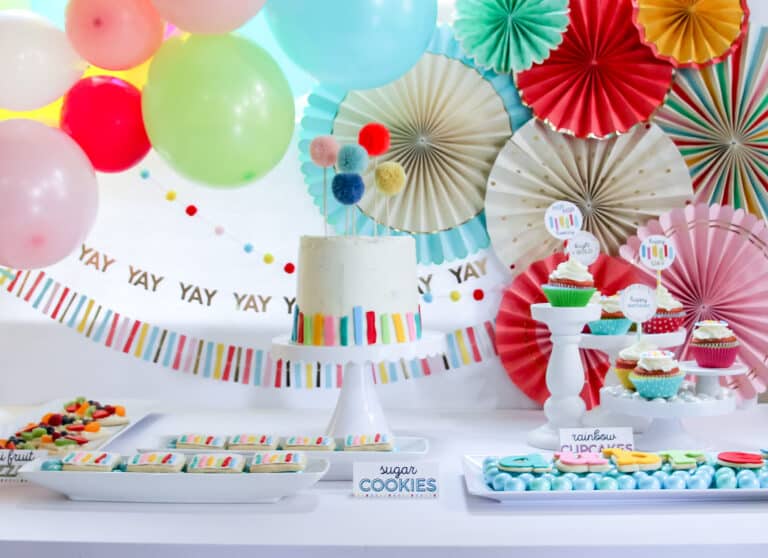 For this fun rainbow party, I used these simple and colorful printables. With bright white and a rainbow feel, these are so much fun and perfect for a big kid birthday bash:
Here are some helpful links for planning a rainbow themed party:
Conclusion for Colorful Tween Spa Day Party Ideas:
If you love color and have a tween girl who wants a spa day party…this party idea is for you. With fun printables, bright colored party ware, and amazing tween approved activities, these ideas will help turn your average birthday into a day to remember.
If you love these cookies, please pin this image to your birthday Pinterest board:
Related posts for Rainbow Spa Day Party ideas for Tweens:
Thank you for reading my Rainbow Party ideas for a Tween Spa Day!