Beetlejuice Cookies, Cakes and Party Food
Looking for some deliciously devious and down right disgusting Beetlejuice party treats and food ideas? From Beetlejuice Cakes to Beetlejuice Cocktails…we have all the most fabulous and grotesque ideas for a tricky undead fiend of a birthday party or Halloween party.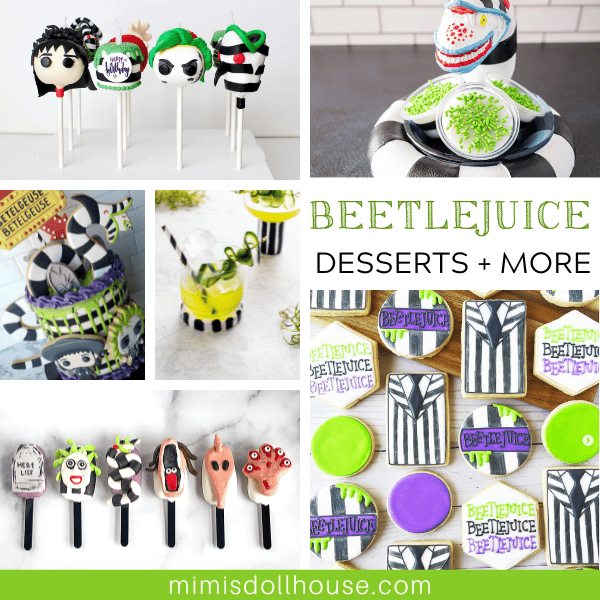 Beetlejuice. Beetljuice. Beetlejuice. Yep…let's start this party off right!
Throwing a BEETLEJUICE PARTY?
☑️ This
Beetlejuice Party Kit
is the perfect set to get your party planning headed in the right direction!
If you love this super creepy, super dead, super campy party theme…you are sure to love these dessert ideas. Perfect for the playful and nostaglic in us all!
RELATED: 25+ Creepy Cool Beetlejuice Party Ideas
Beetlejuice Food Ideas
To style a fabulously creepy Beetlejuice themed party you definitely need some amazing themed food ideas. Before we get into all the yummy desserts…let's talk about some savory options. Not all party food has to be cake after all!
Haunted Shrimp Cocktail Breadsticks from Inspiring Magical Memories
If you aren't excited about the haunted shrimp cocktail…are you even a fan? These cute haunted shrimp breadsticks are a great savory party treat! This is a nice spin on a normal shrimp cocktail.
Eyeball Appetizers from Chickpea Meatball
Delicious eyeballs anyone? These are clever and perfect for popping in your mouth like Adam pops them our of his head…right?

Beetlejuice Drinks
If you are styling a party for grownups…then whipping up a Beetlejuice themed cocktail is a must. Here are some to DIE for recipes to try…
Beetlejuice Cocktails from Craft and Cocktails
The cucumber garnish might be my favorite thing ever! Beautiful and tasty!
Beetlejuice Juice from Bewitching Guide to Halloween
Yummy…green…and perfectly served. Here is a great way to put the JUICE in your Beetlejuice.
Beetlejuice Cocktail from Bread Booze Bacon
Here is another super tasty cocktail option. Why not try them all?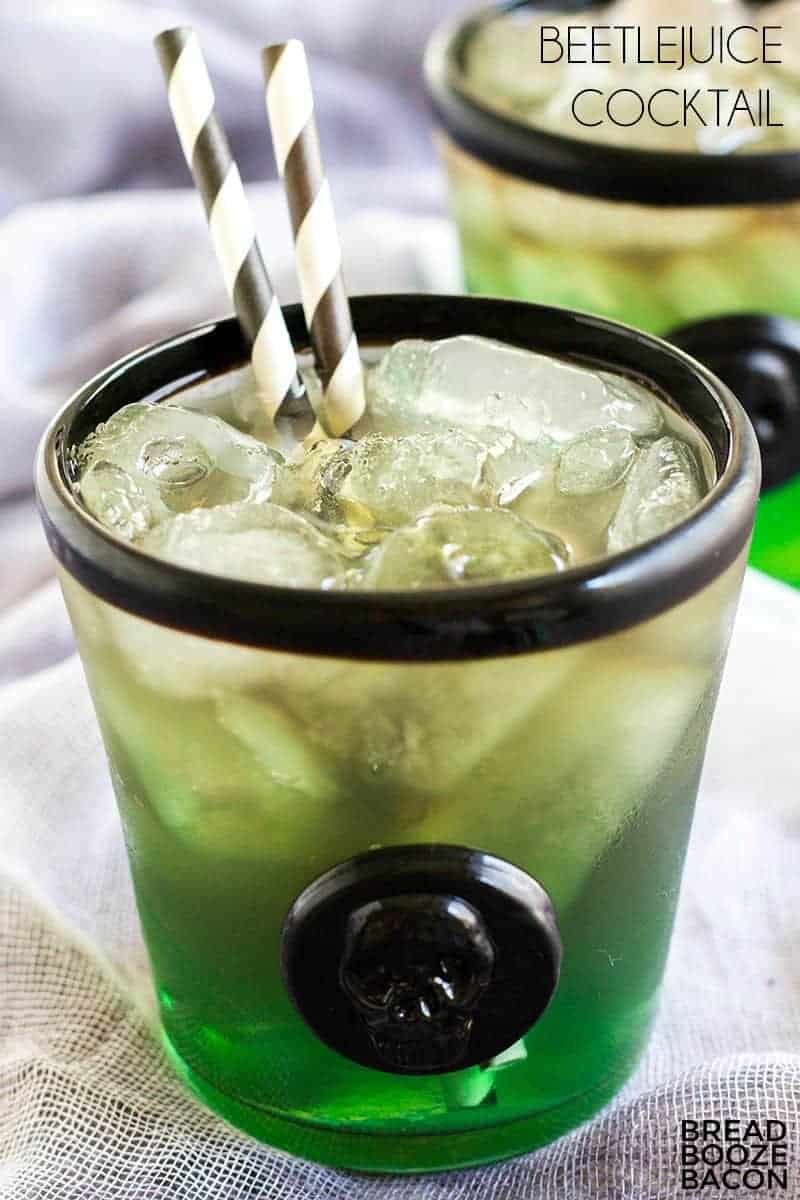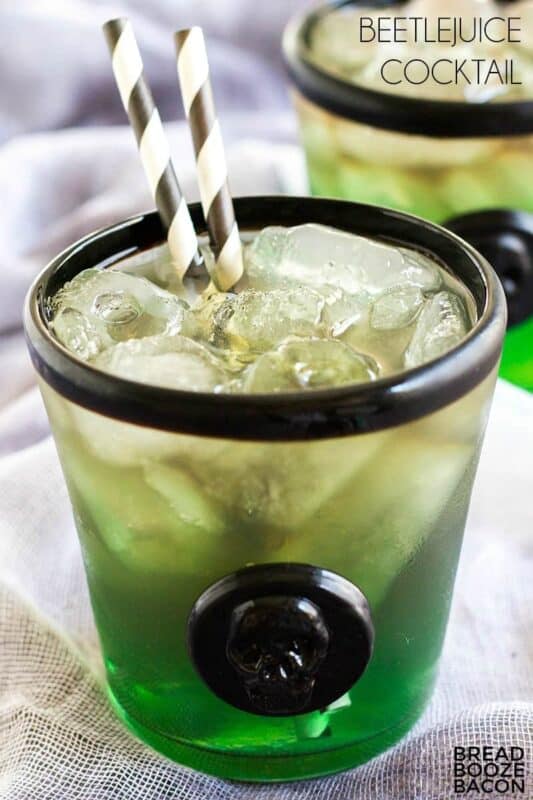 Beetlejuice Cakes
Alright…let's get into the sweets. A beautifully themed cake is a great way to showcase your theme and really bring out the devilishly delicious side of your party.
Beetlejuice Cake from Eat the Dead
This cake is topped with a bat carousel and features the iconic sandworm. Love it.
Beetlejuice Cake from Popcorn Reviews
This cake is simple and eay to recreate. If you aren't a master cake decorator…a simple and on point cake is definitely the way to go.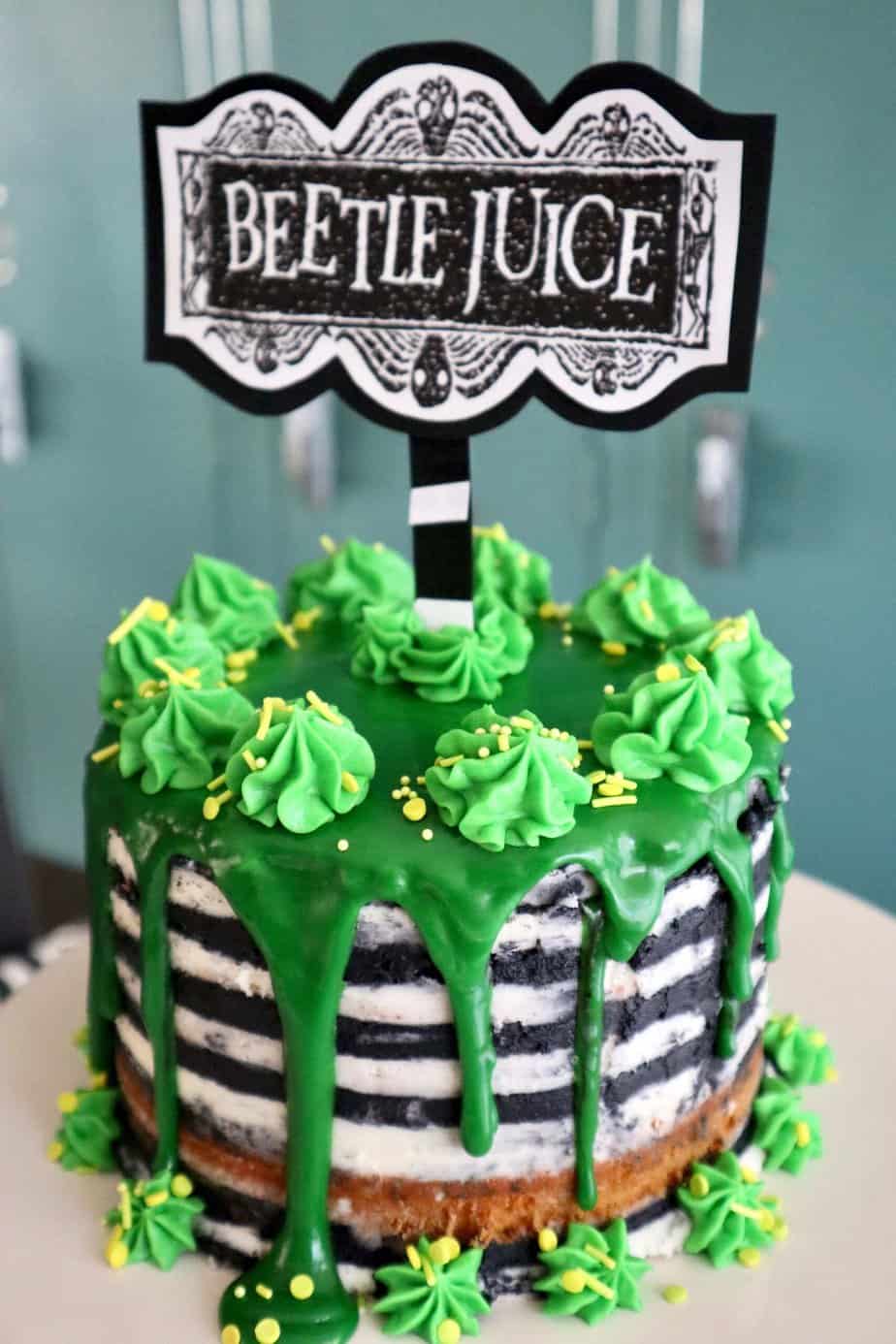 Beetlejuice Cake from Cherry Girl Bake Shop
The detail in this topsy turvy cake is to DIE for.
Beetlejuice Suit Cake from Susie Makes Cakes
Another simple fondant decorated cake for the win. There is no doubt this cake belongs to Beetlejuice himself…without all the royal icing stress!
Beetlejuice Layer Cake from Paper Street Parlour
Using cookies to top and decorate a cake is also another great way to really get the design right. Love this giant sandworm cookie on this cake!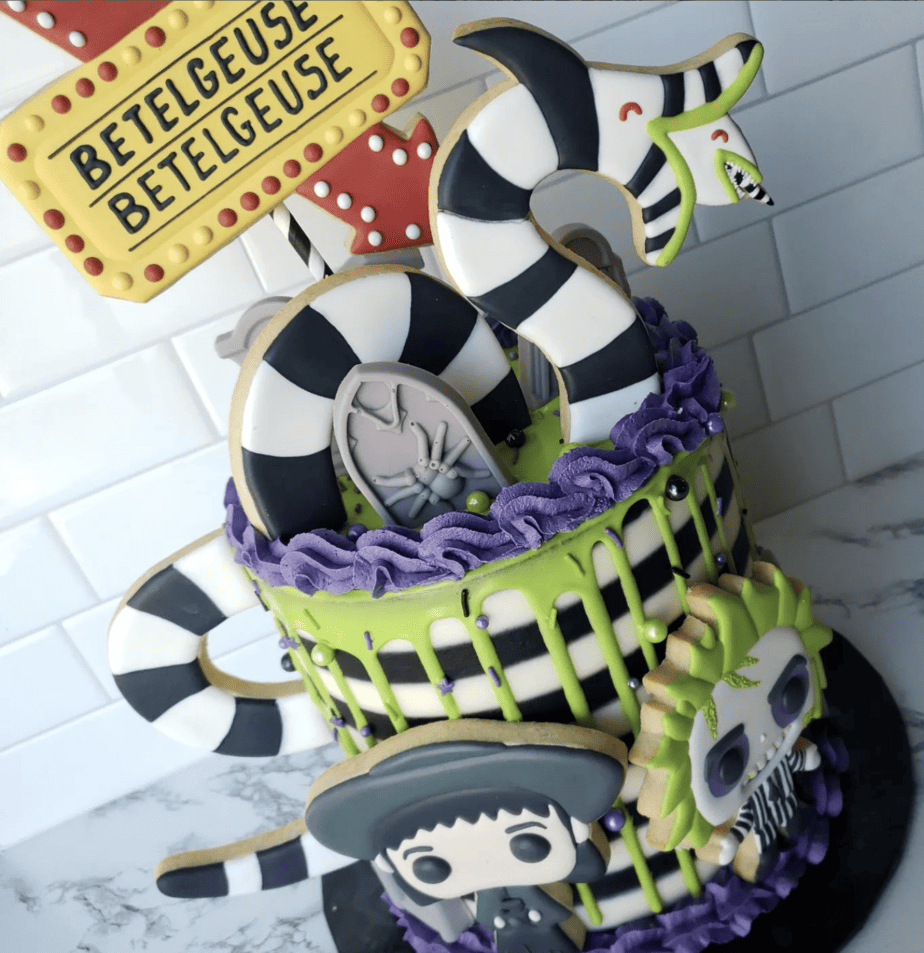 Beetlejuice Cookies
Along with a gruesome cake…you definitely need some perfectly planned sugar cookies. Here are some of the best Beetlejuice cookies EVER.
Beetlejuice Cookies from Royally Yours Cookies
It's Showtime…the details on these cookies…so so good!
Bride Cookie Fingers from Pretty Cake Machine
Here is a fun twist on traditional sugar cookies. Almond nails and fondant rings. Yep.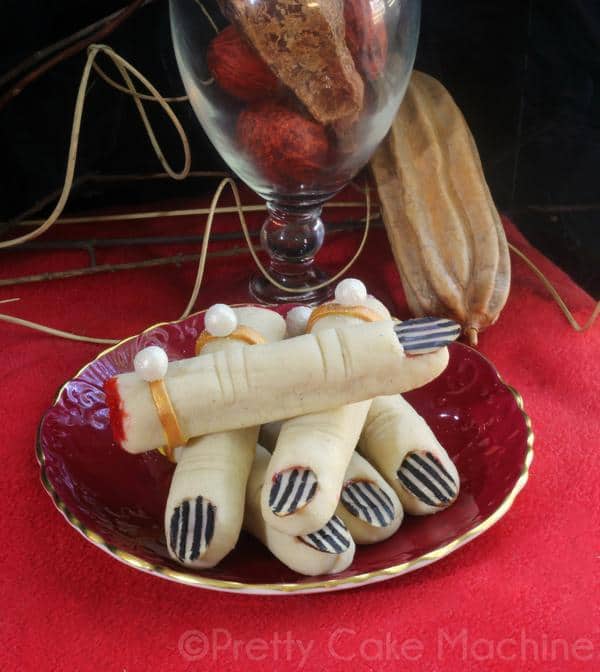 Beetlejuice Cookies from Fooditarian
Beetlejuice suit and tie wins again. These are great and simple, yet oh so good.
Sandworm Cookies from Inspiring Magical Memories
Here is a great sandworm cookie DIY. If you want a treat you can make yourself…this is definitely a good one.
Beetlejuice Face Cookies from Not Quite Nigella
Beetlejuice face cookies are creepy and exciting all at the same time, right? These come with a fun tutorial…give them a go!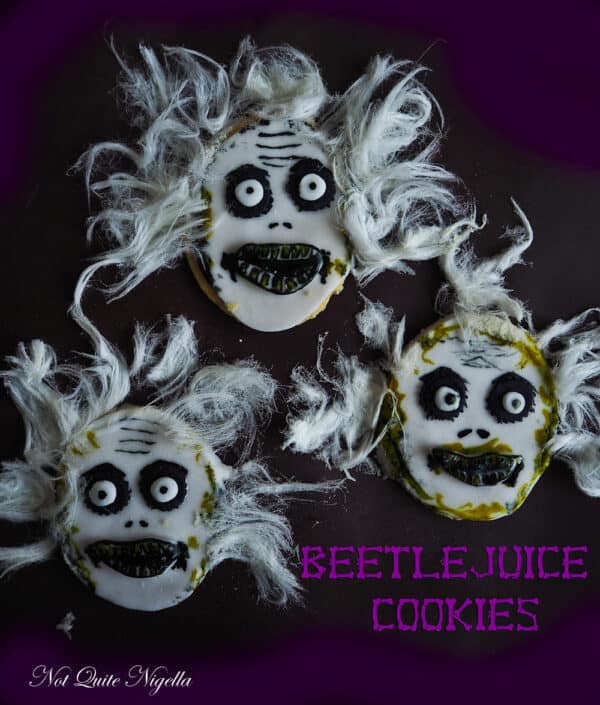 Beetlejuice Cookies from Bubbas Cookie Cupboard
Here are some more deliciously creative beetlejuice cookies…I love the Lydia face.

Beetlejuice Desserts
Of course, there are plenty of dessert options that are NOT cookies and cakes. Let's take a look at some additional amazingly dreary options.
Fondant Cupcake Toppers from Pop Em On Toppers
Fondant toppers are always a win. they can be put on simple cupcakes, of cookies. They can also be used on cake or as decorations to bring any dessert on theme.
Easy Beetlejuice Truffles from All Roads Lead to the Kitchen
These are cute and simple to make. You definitely need some Beetlejuice truffles. Definitely.
Beetlejuice Jello Shots from Simplistically Living
Sandworm Jello Shots anyone? Easy. Beautiful. Yep…these are a MUST serve. Must.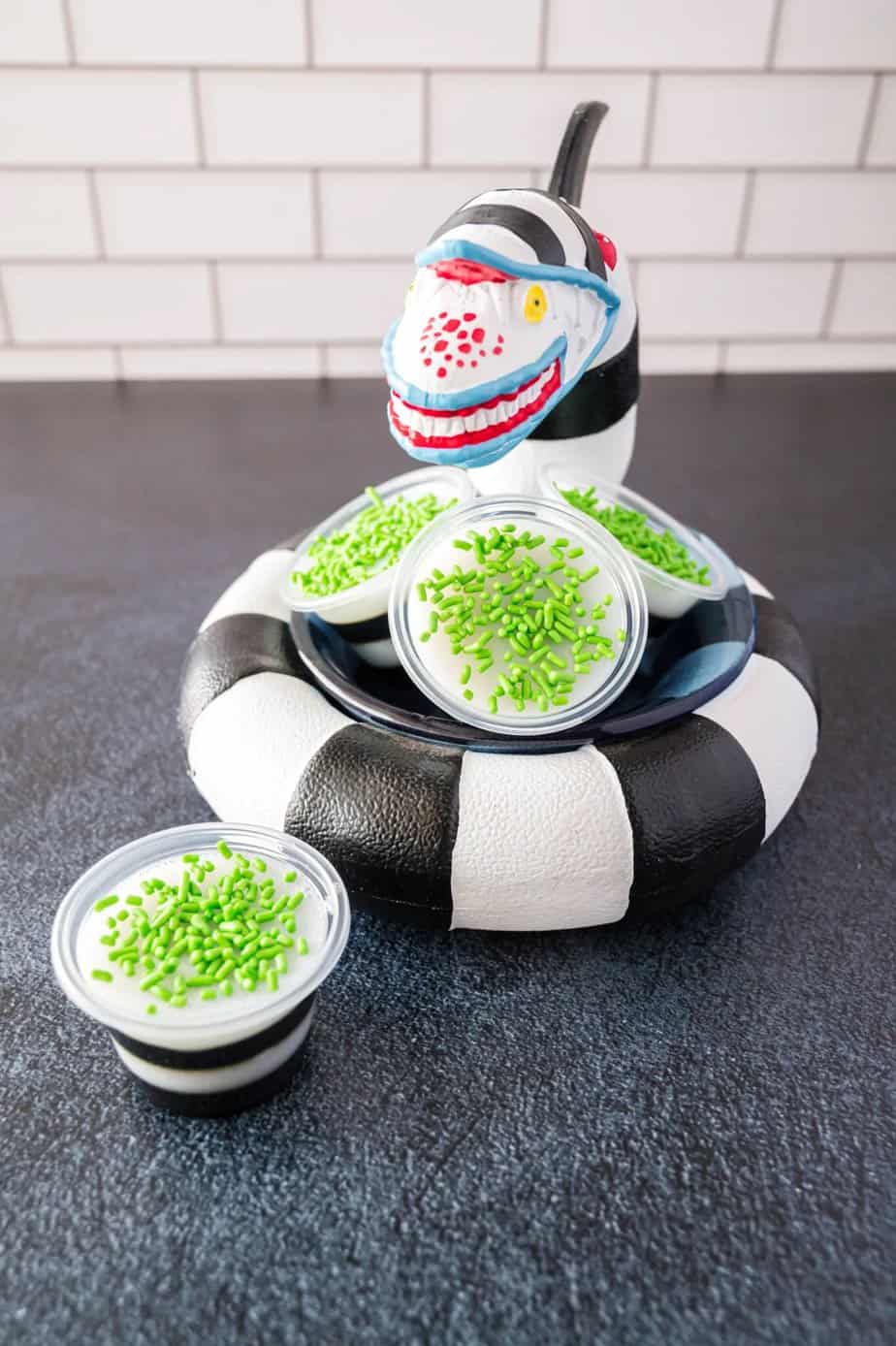 Beetlejuice Cake Pops from Cake Pop LA
These are beautiful. They look delicious and they are almost too cute to be creepy. LOVE THEM.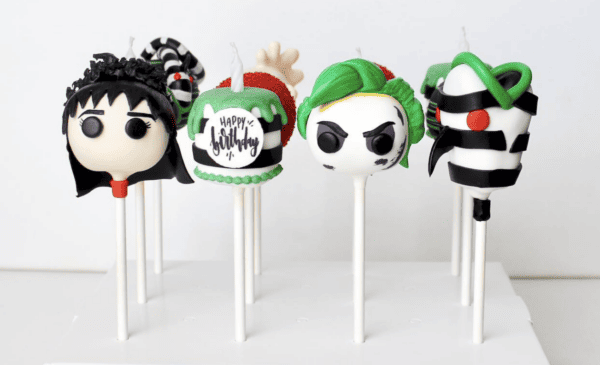 Beetlejuice Burial Site Treat from Chickpea Meatball
Here's a simple and yummy treat option. Burial Site anyone? Equipped with worms!
Beetlejuice Cake Pops from Cake Jawn
And last but CERTAINLY not least…these cake pops are some of the best things I've seen. So details and so perfectly scary. LOVE IT.

Beetlejuice Party Tableware
One of the best ways to serve up delicious party food for a themed party is themed tableware. This helps to bring the theme all together and also is easy on the budget. Here are some fabulous Beetlejuice themed party plates, napkins and more…
Beetlejuice Tableware from Amazon
Beetlejuice Tableware
from
Amazon
Black and White Striped Tableware from Amazon
Gothic Black Tableware
from
Amazon
Conclusion for Beetlejuice Dessert Ideas:
Whew. If you aren't excited about a Beetlejuice theme by NOW…then I don't know what to tell you. These adorable and creepy Beetljuice cakes and cookies and other party food ideas are perfect for celebrating the living and the dead. Whether you are planning a birthday or a Halloween party…these food ideas are sure to set your party in the right direction.
If you love these ideas, please pin this image to your Halloween Pinterest Board:
Related posts for Beetlejuice Cookies and Food Ideas:
Thank you for reading our Beetlejuice Halloween Food Ideas!