Gruesome Beetlejuice Themed Party Ideas for Adults
Looking to celebrate a Night for the Living? If you love the idea of a Beetlejuice Party, you will love these party decorations and ideas for a Halloween dinner party. These Beetlejuice Party Ideas are exactly what you need to go from ordinary party to over the top event! Check out all the details and inspiration…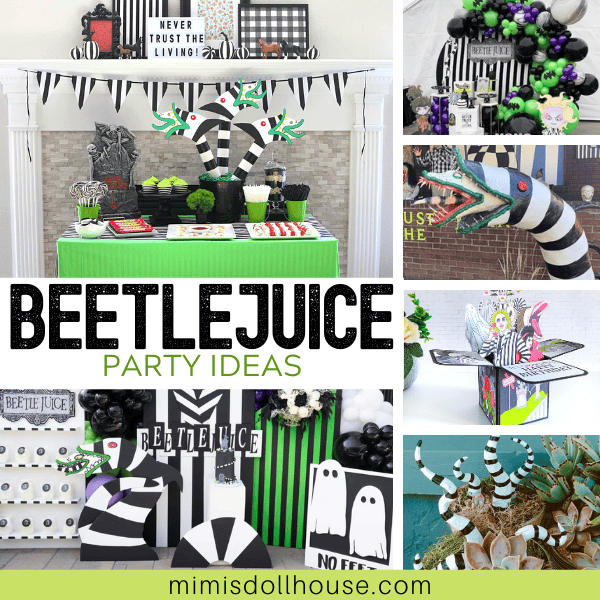 Black and White and plenty of green dreams are surely spinning through your head as you are thinking about a gruesomely perfect Beetlejuice party.
Throwing a BEETLEJUICE PARTY?
☑️ This
Beetlejuice Party Kit
is the perfect set to get your party planning headed in the right direction!
Whether you are wanting a swanky Beetlejuice dinner party or a campy Beetlejuice Halloween bash…we have all the decor ideas to get your ming reeling with creativity and excitement. Check it out…
RELATED: Grotesquely Delicious Beetlejuice Cakes, Cookies & Food Ideas
Beetlejuice Party Ideas
The first thing you need to decide in creating a horrifically magical Beetlejuice party is what style of party YOU are throwing. Here are some adorable and grotesque ideas to get your creative "juices" flowing…
Beetlejuice Party Table from Catch My Party
This simple spread is adorable and fun. If you want simple…this is a great option.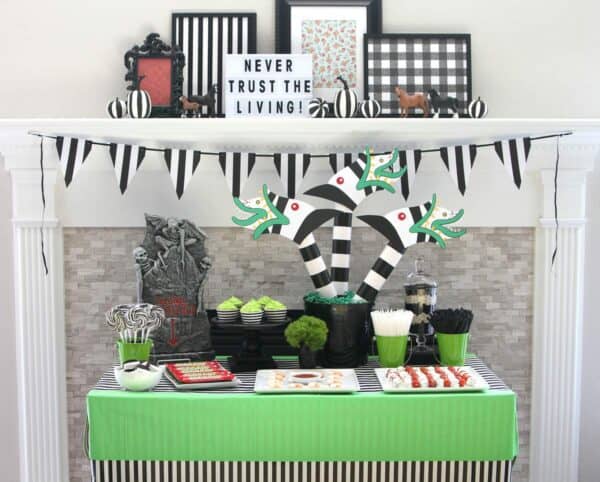 Beetlejuice Baby Shower Decor from XO Events and Pastries
If you are looking for a LOUDER option…This bunch of balloons and cutouts is fabulous.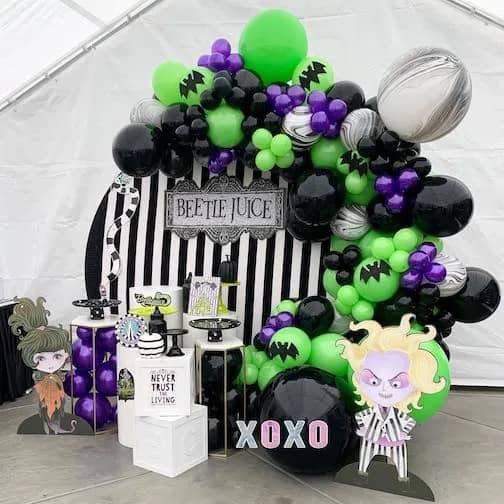 Beetlejuice Dessert Table from Creepy Kingdom
Here is a more swanky option. The black candles are a nice touch. Classy Beetlejuice…classy.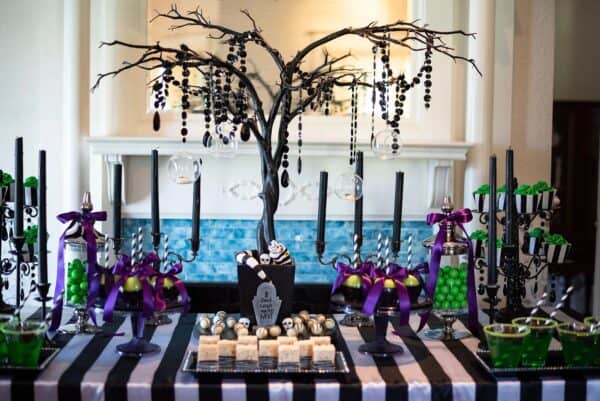 Beetlejuice Place Setting from Saffron Ave.
This upscale dinner party spread is BEAUTIFUL. The details in this party are to DIE for. If you want posh Beetlejuice…you must check out the details in this party.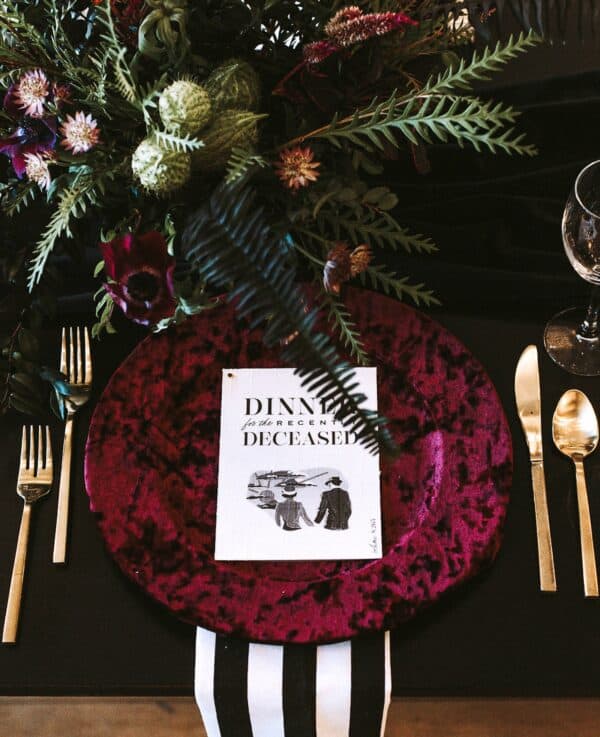 Beetlejuice Dinner Table from Libbie Summers
This fun dinner party spread has handmade dead heads to creepy out your dinner guests.
Beetlejuice Backdrop from Catch My Party
Here is another fun backdrop with plenty of tacky colors and patterns. If you want to be over the top…this is a great way to go.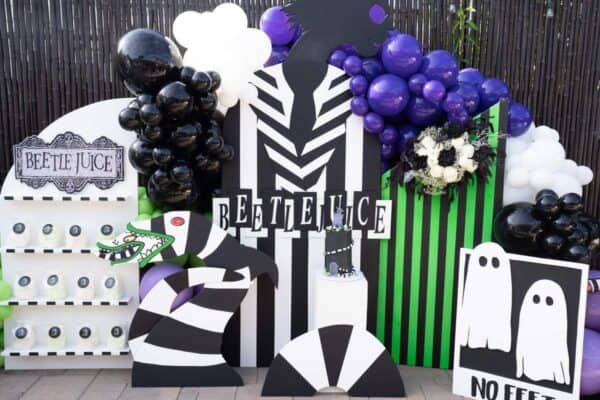 Beetlejuice Party Costumes
Of course, if you are gonna go all out with Beetlejuice party, costumes are a MUST. Here are some fun homemade and also store bought options. You can't go wrong dressing up!
Beetlejuice Family Costumes from This Vivacious Life
This family photo is absolutely fantastic. So many details! This is absolutely the best!!!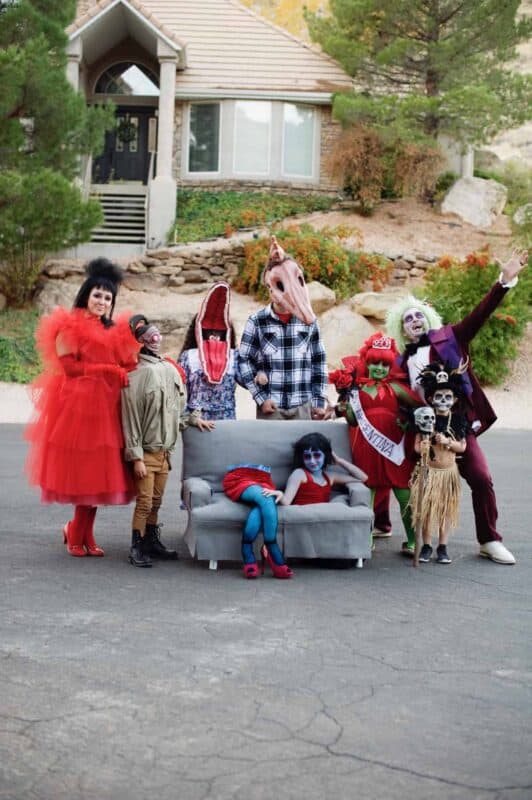 Red Bride Costume from Oriental Trading
Wanna dress up like Lydia? Here is a great Red Bride Costume…perfect for Halloween or for a dinner party.
Beetlejuice Costume from Oriental Trading
Come on…someone HAS to BE Beetlejuice, right? Of course. Here is a great Beetlejuice costume you can score to dress up like the man himself.
Barbara Mask from Amazon
Yep…creepy and cool.
Adam Mask from Amazon
Always a favorite…this one is great.
Kid's Beetlejuice
from
Amazon
You can even get the kids involved. Here is an awesome Beetlejuice costume for kids!
Beetlejuice Party Decorations
Once you have settled on your overall feel for your Beetlejuice party, you can grab or make some of these awesome ideas for completing the Beetlejuice feel. These little details will help to take your party from ordinary to EXTRAORDINARY.
Beetlejuice Tiered Tray from Wicked Works Bazaar
Here are some simple decorations that can be incorporated into any party table or spread.
Beetlejuice Garland from Material Gods
This fun garland features all your favorite Beetlejuice characters. So cute!
Giant Sandworm Decorations from Muchkins Planet
Giant sandworm anyone? Of course…right. So adorable and creepy.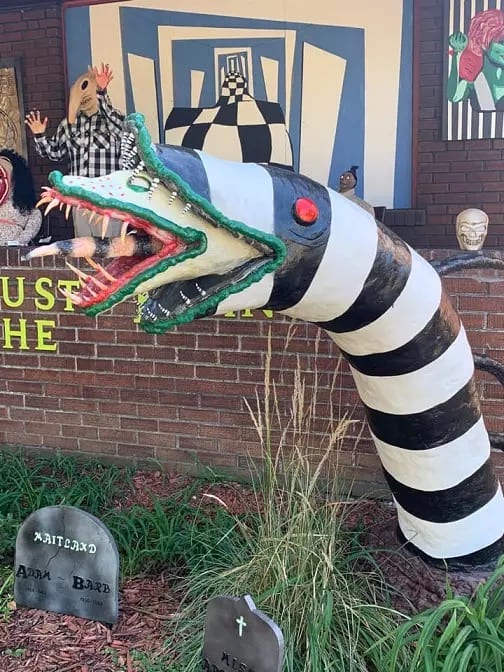 Beetlejuice Decorations Kit from Amazon
Here is a great budget friendly decor package to help get your decor started.
Beetlejuice Plant from Pinterest
Little Sandworm plants would be great for table tops or place settings.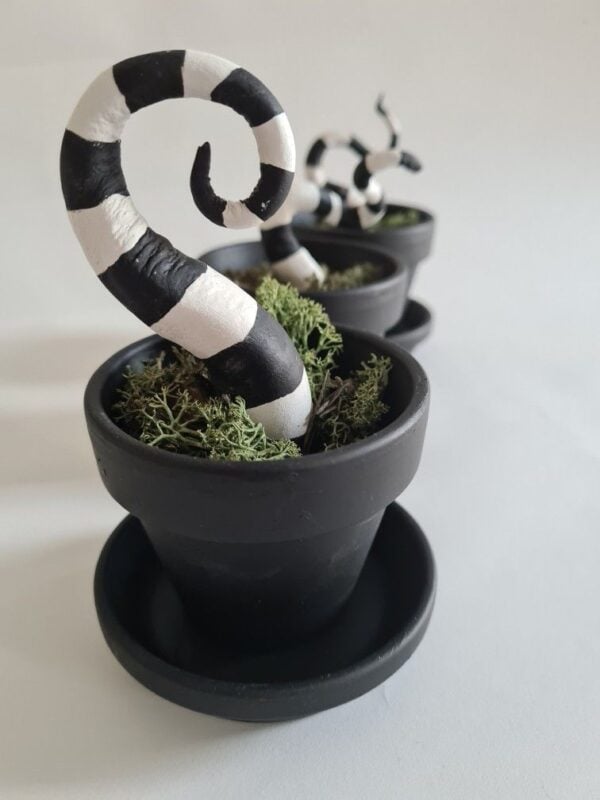 Beetlejuice Large Plant from Apartment Therapy
Upgrade your plant sandworms to giant sandworms in giant plants…why not?
Beetlejuice Party Supplies
Here are some additional supplies to help make your Beetlejuice magic come to life…
Beetlejuice Photo Prop from Creativ Chick Shop
I love this photo op option. Why not paint a fun photo background for your guests to photograph themselves?
Inflatable Sandworm from Oriental Trading
Here is an inflatable Sandworm option great for a yard or wherever you need him!
Beetlejuice Straws from Celebration Bee
Beetlejuice straws are cute and fun for a drink or two. These would be great for any kiddos at your Beetlejuice party as well.
Beetlejuice Balloon Garland from House of Party Co
This perfectly colored balloon garland is PERFECT for a Beetlejuice party. Incorporate these glorious balloons into your party in many different ways.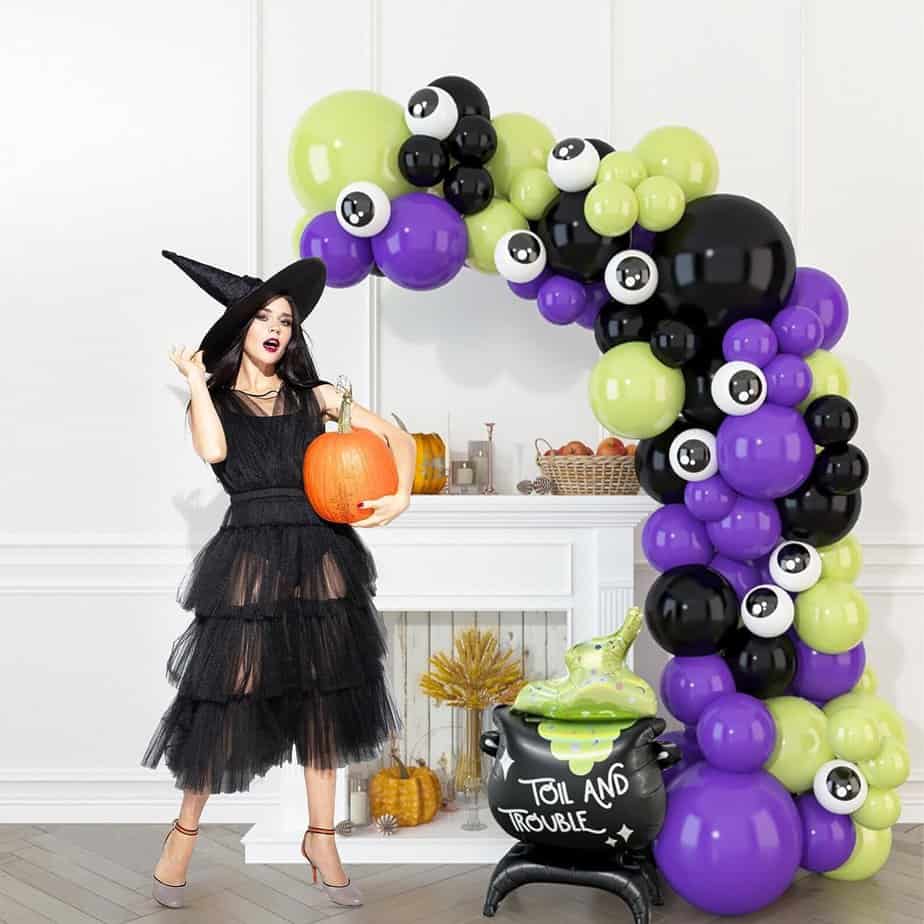 Beetlejuice Tabletop Decor from The Salty Peach
This tabletop decor would be perfect for incorporating into your party design and dessert tables.
Beetlejuice Printables from The Aloha Hut
It's the details that matter. Creating some authentic Beetlejuice items for your party…perfect way to take your party to a whole different level.
Black and Lime Balloons from Amazon
Here is another balloon garland option. Budget friendly and a great pop of color.
Pop Up Card from Say it With Love
This unique card is perfect for celebrating your favorite Beetlejuice fan on their special day.
Stuffed Sandworm from Amazon
Who says Sandworms can't be cute and cuddly? Here is a stuffed sandworm that can decorate your party AND help keep you wamr at night.
Beetlejuice Party Tableware
One of the best ways to serve up delicious party food for a themed party is themed tableware. This helps to bring the theme all together and also is easy on the budget. Here are some fabulous Beetlejuice themed party plates, napkins and more…
Beetlejuice Tableware from Amazon
Beetlejuice Tableware
from
Amazon
Black and White Striped Tableware from Amazon
Gothic Black Tableware
from
Amazon
Conclusion for Beetlejuice Party Ideas:
All these Beetlejuice party ideas are perfect for a true Beetlejuice fan. From classy to grotesque…you will love these party ideas. Cehck out all the details and then have a blast making the MOST amazing Beetlejuice party EVER!
If you love these ideas, please pin this image to your Halloween Pinterest Board: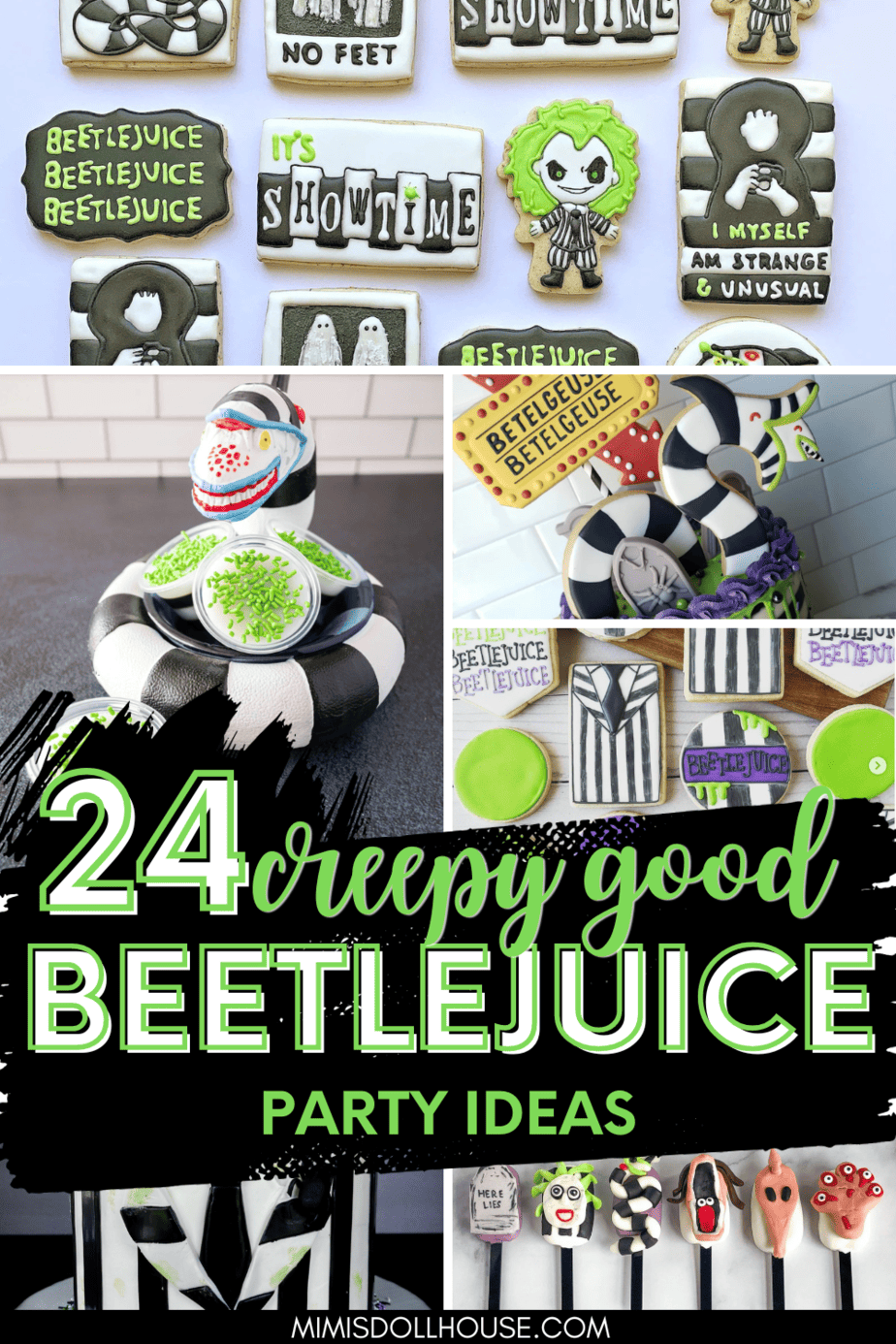 Related posts for Beetlejuice Halloween Party Ideas:
Thank you for reading our Beetlejuice Halloween Party Ideas!