Delicious Wednesday Cakes, Cookies and Spooky Food Ideas
If you are dying to set up a dystopian hellscape party with the finest Wednesday Addams themed party ideas…this post is for you. From devastatingly delicious treats to pathetically on point cookies, you cannot go wrong with these Wednesday party cookies, cakes and dessert ideas. Shockingly perfect in every way.
Does the thought of a gothic extravaganza make you depressed or invigorated? With a theme like Wednesday, either response is acceptable.
Throwing a WEDNESDAY ADDAMS PARTY?
☑️ This
Wednesday Party Kit
is the perfect set to get your party planning headed in the right direction!
From the disdainfully glam to the dreadfully styled…this post is full of delicious, clever and oh so spooky party food ideas to excited even the least likely to smile in your bunch.
RELATED: 24 Teen Approved Wednesday Party Ideas
Wednesday Addams Food Ideas
Nothing says a party like super yummy food, right? Food for a party can be not only nutritious and delicious, but also a great place to showcase your creativity and your theme. Here are some devastatingly dreary food ideas perfect for a black and drab Wednesday Addams party…
Spooky Appetizers from Geeks Who Eat
Deviled egg eye balls, little sausage fingers and spider mini pizzas…ummm yes please! Get some savory into your party mix with these Halloween themed treats…Wednesday would surely approve! Here are some more Halloween treats that can fit the Wednesday birthday party vibe.
Wednesday Cakes
The birthday party cake (or just Halloween cake if you AREN'T celebrating your very un-happy birthday) is often the centerpiece of the party table. Who doesn't hate a beautiful and gothically drab cake? Check out these options…
All Black Velvet Cake Recipe from Sugar and Sparrow
This cake is perfection. With a tutorial and recipe…impress even your most gloomy of guests by whipping up a stripd layer black velet masterpiece. If this doesn't just scream Wednesday Addams…then what does?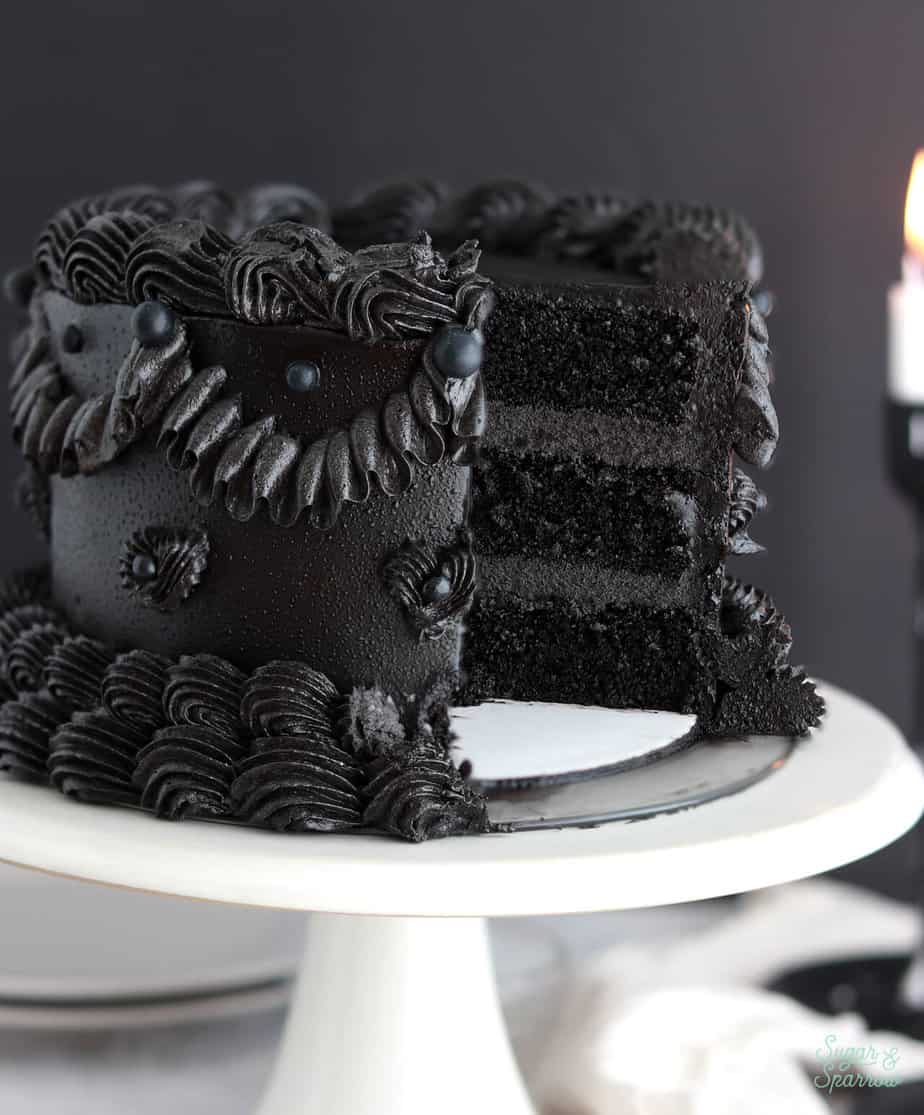 Wednesday and Thing Cake from Cakes Decor
Don't forget that loyal and creepy little sidekick THING. This Wednesday inspired cake features everyone's favorite five fingered friend!
Wednesday Birthday Cake from Chickabug
Simple cute and full of fondant…this balck and white cake is great for a younger Wednesday fan.
Wednesday Addams Cake from Cakes Decor
Check out the BEAUTIFUL fondant work on this Gothically gorgeous cake. And the Stained glass too…perfection.
Wednesday Stained Glass Cake from Dmytrii Puga
This cake is truly a masterpiece. Every detail is absolutely perfection. From the black flowers to the stained glass. Dreadfully dramatic!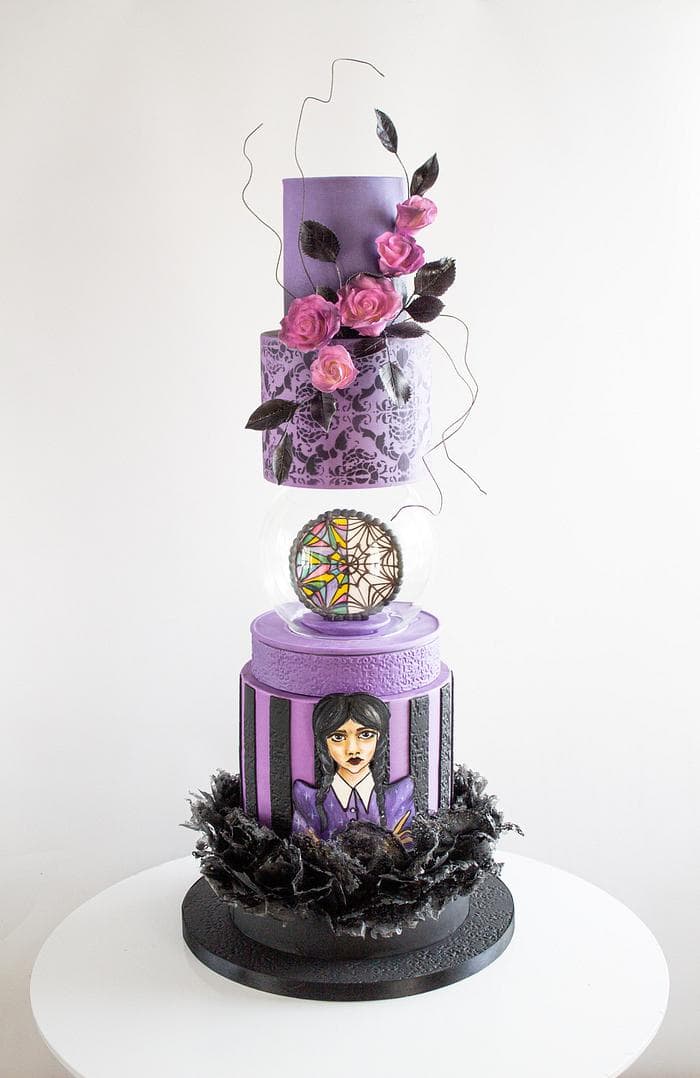 Edible Cake Topper from Delight Taste
Need a quick and easy DIY? Grab this edible cake topper and add it to any homemade or store bought cake for an instant Wednesday cake you will love!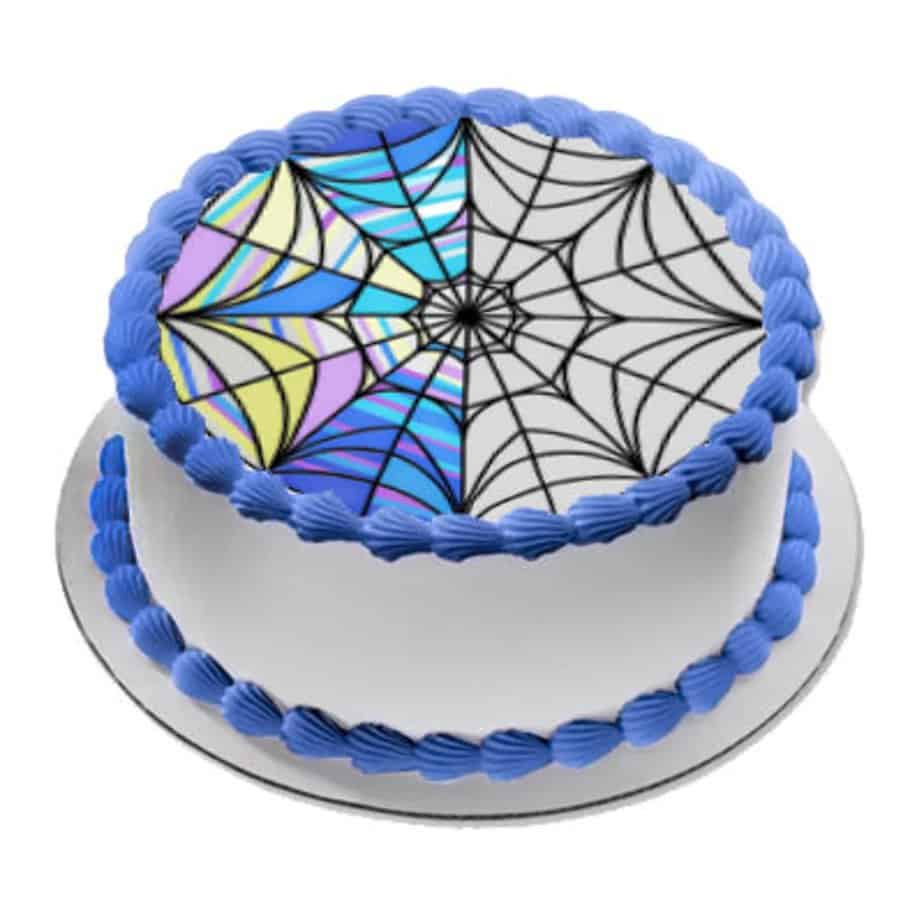 Wednesday Cookies
Custom sugar cookies are often an easy and extraordianry way to really bring the beauty and the theme into your food. From options to recreate to option you can buy…we have the best and most unhappy birthday cookie options you can dare to imagine.
Wednesday Cookies from Millie's Bakeshop
Birthday yes. Happy never. These cookies are perfectly GORGEOUS.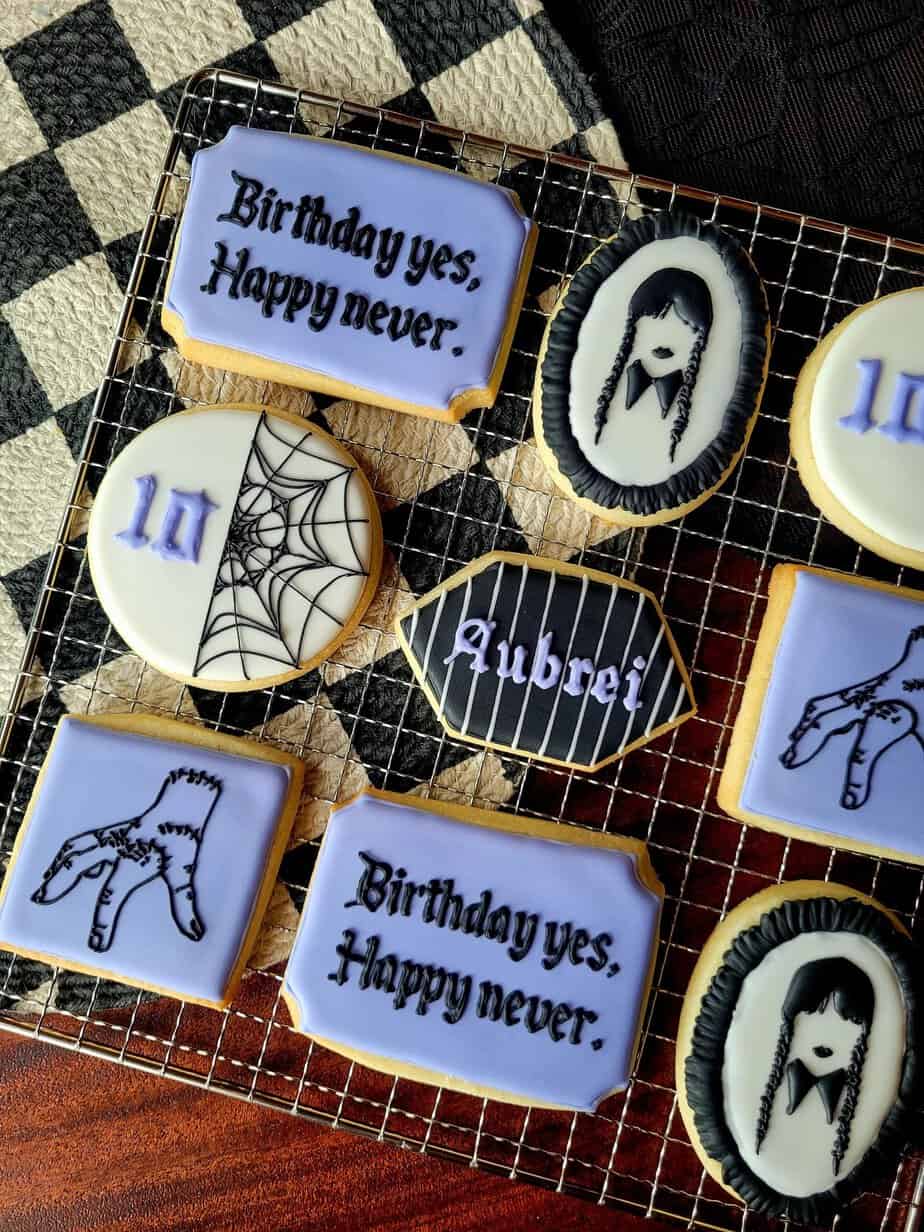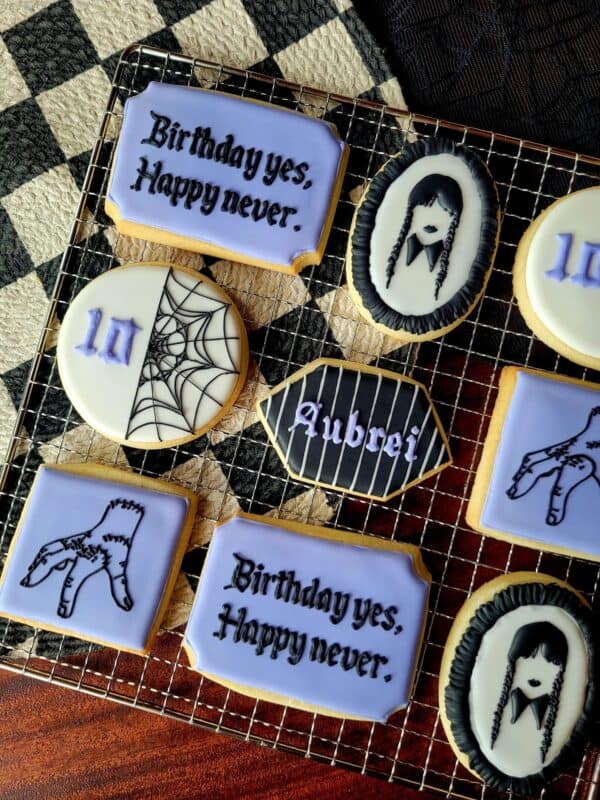 Wednesday Heart Cookies from Baketini
Simple and on point. Sometimes the subtle route is the best one. These heart shaped label cookies really scream Wednesday Addams, don't they?
Wednesday Cookies from Smalltown Sweet Shop
These gloriously drab cookies have some subtle 3D fondant happening. Beautiful and so detailed and intricate. Hard to hate…even for Wednesday.
Wednesday Headshot Cookies from Sugar Cookie Store
Here are some fun Wednesday headshot cookies. These are a great way to pull the theme into the dessert table.
Wednesday Addams Cookies from LB Cookie Designs
Check out the detail on these cookies. So much variety…it's hard to choose a favorite…that is if we were inclined to like ANYTHING, right?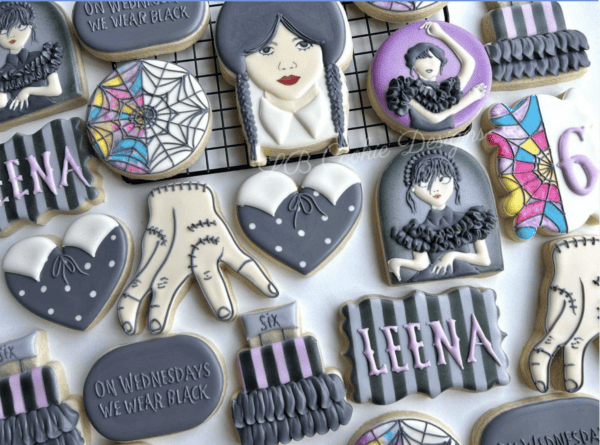 Wednesday Cookies from Baketini
Black, white and fang-tastic. From the dress to the stained glass…you can't go wrong with these beauties.
Wednesday Cookies from Maria Imelda
Here is another fun option for a younger Wednesday fan. I love the little girl feel of these cookies. And of course…there is Thing!
Wednesday Cookies from Wake and Bake
These cookies might be my favorite of the bunch. I love the detail and the colors. Perfect for a Wednesday themed dessert table.
Wednesday Addams Cookies from Sugar Top Cookies
These cookies definitely play up the stained glass a little more too. So many options…love, love, love.

Wednesday Desserts
So now that you have your cake and cookies squared away…let's take a look at some other party treats and desserts to complete your party spread…
Wednesday themed party treats from eHow
Stained glass cookies, Black braid cupcakes and Thing suckers? Oh my. So many easy to recreate options!
Wednesday Cupcakes from Dila Rakul
These beautiful cupcakes are amazing for a Wednesday themed party.
Thing Cupcake Toppers from Print 3 Design
Grab some thing cupcake toppers and turn simple homemade or store bought cupcakes into a statement. These are perfect for all the sticky fingered party guests!
Wednesday Party Tableware
One of the easiest ways to set up a themed party is with awesome themed tableware. This is simple, budget friendly and often one of the most talked about details. Serve your perfectly planned treats right with these awesome options…
Nevermore themed plates, napkins and cups from My Mind's Eye
Doomsday Tableware from Daydream Society
Wednesday Tableware from Amazon
Conclusion for a Teen Wednesday Addams Party:
There is nothing drab and boring about these Wednesday Cookies, Cakes and Food options. Whether you are styling a Halloween party or the perfectly unhappy birthday…you will HATE all these amazing ideas for turning an ordinary party into a themed party, Wednesday Addams style.
If you love these ideas, please pin this image to your Halloween Pinterest Board:
Related posts for a Wednesday themed birthday party:
Thank you for reading our Wednesday party ideas for a birthday or holiday party.