Dreadfully Perfect Ideas for a Wednesday themed party
Want the perfect party idea for a teen? How about a haunting Halloween party theme? These Wednesday Addams party ideas are a great way to spook up your party plans! From black roses to black lace…these gothic party plans are sure to excite the teen girls in your life (and maybe the little ones too).
Wednesday Addams is all the rage. With the new Netflix show…this unpopular, death obsessed, unpleasant girl has become the it girl of the gothic scene.
Throwing a WEDNESDAY ADDAMS PARTY?
☑️ This
Wednesday Party Kit
is the perfect set to get your party planning headed in the right direction!
If you are styling a Wednesday themed party for Halloween or for a unhappy birthday party…these decorations, supplies and costume ideas are exactly what you need to get your gothic juices flowing.
RELATED: 20+ Wednesday Cookies, Cakes and Food Ideas
Wednesday Addams Party Ideas
Let's talk party ideas. These fun ideas are a great place to start with the Wednesday party plans. Check out all the disturbing details.
Wednesday Sleepover from Catch My Party
What teen girl doesn't love a sleepover? Here is a fabulous idea for a sleepover Wednesday Addams style!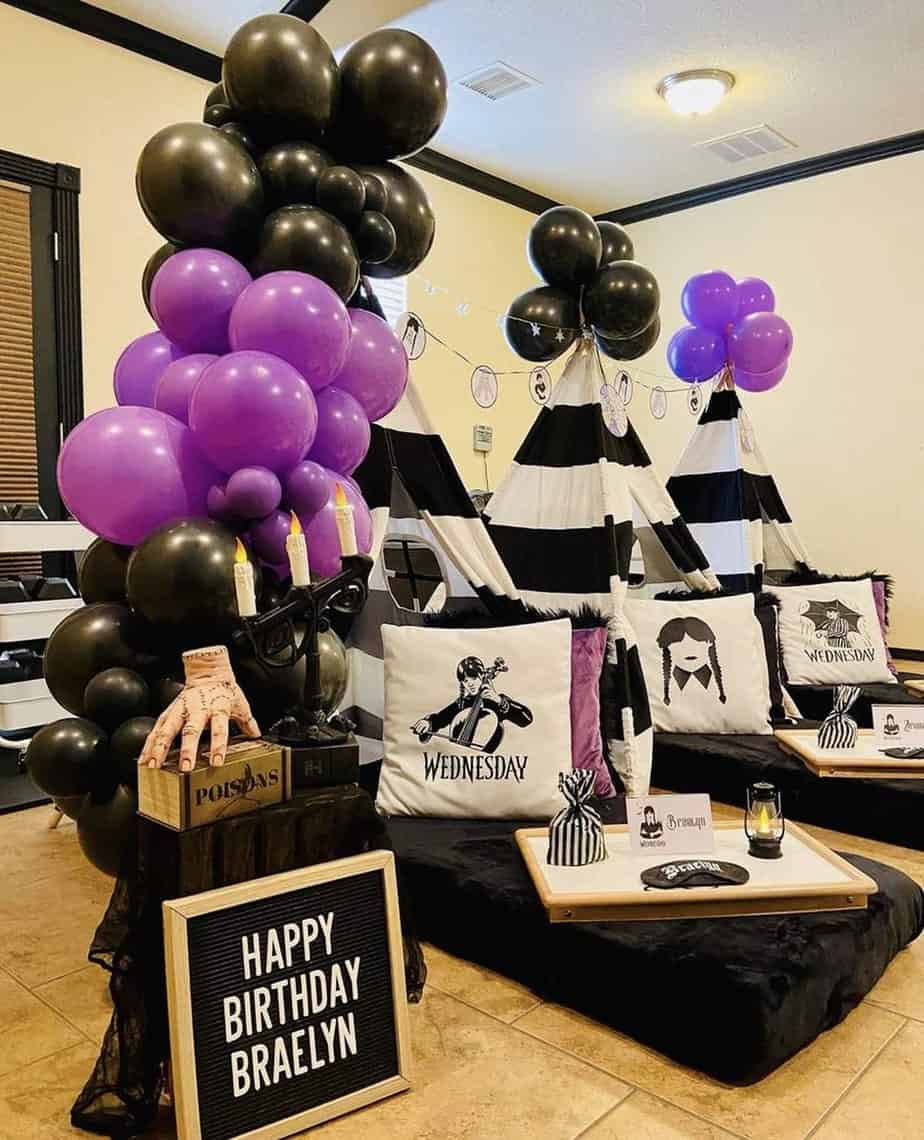 Black and White Vintage Wednesday Addams Party from Fern & Maple
Bust out all the vintage, gothic and black and white glam with some amazing ideas like this black and white party.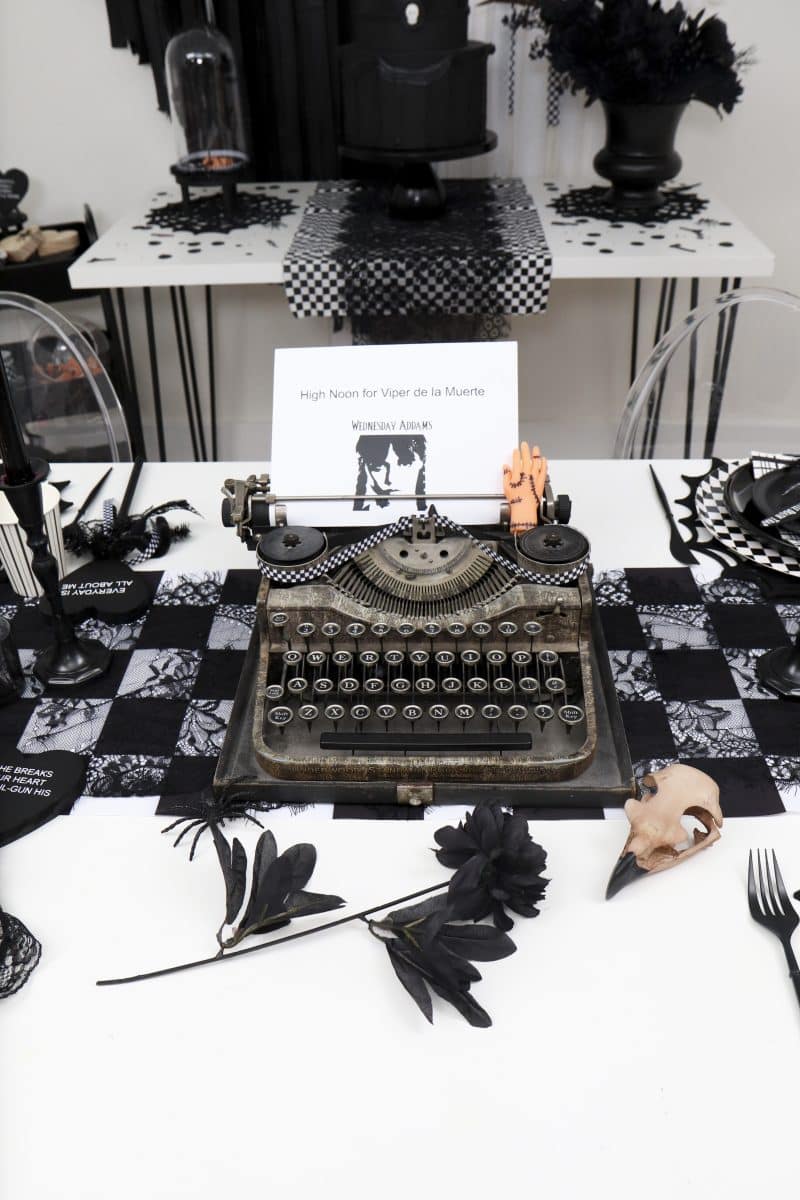 Outdoor Wednesday Party from BNB Events
This unbelievable set-up is to die for…literally. Wednesday would be willing to help you out with that!
Wednesday Party Decorations
Once you decide on the style of your party…you will need some details and little decoration additions to make your party the most gruesome event possible. Here are some great options…
Thing Hand from LynnKut
Every Wednesday Addams needs a Five Fingered Friend…grab a thing for photo ops, table props…the possibilities are ENDLESS.
Wednesday Addams Table Setting from Kara's Party Ideas
Here is a great idea for place settings for a Wednesday dinner. Also…check out Thing loitering in the background!
Spiderweb Party Decor from Amazon
These gothic spiderweb tablecloths and covering are perfect and budget friendly accents for a gothicly gorgeous Wednesday party.
Wednesday Stained Glass Balloon Decor from Major Gates
Celebrate the fun and totally different friendship with this beautiful stained glass backdrop.
Wednesday Stained Glass Tablescape with free printables from Mommy of a Princess
Here is another stained glass themed backdrop idea. Also along with this idea…you can find some fun and festive free printables for a Wednesday party theme. Who doesn't love FREE PRINTABLES?
Black Flowers from Amazon
Black flowers are an absolute necessity for for a gothic themed party. If you are going to style a party to make Wednesday proud…black flowers are JUST the beginning!
Wednesday Party Supplies
Here are some more party supplies ideas to plan the perfect Wednesday party. It's the little details that make a huge difference from a simple party to a DREADFULLY AMAZING party.
Free Wednesday Cupcake Toppers from The Aloha Hut
These simple cupcake toppers are a great little touch for your dessert table. They can also be printed and put on favor bags or your cake or where ever you need a little touch of extra!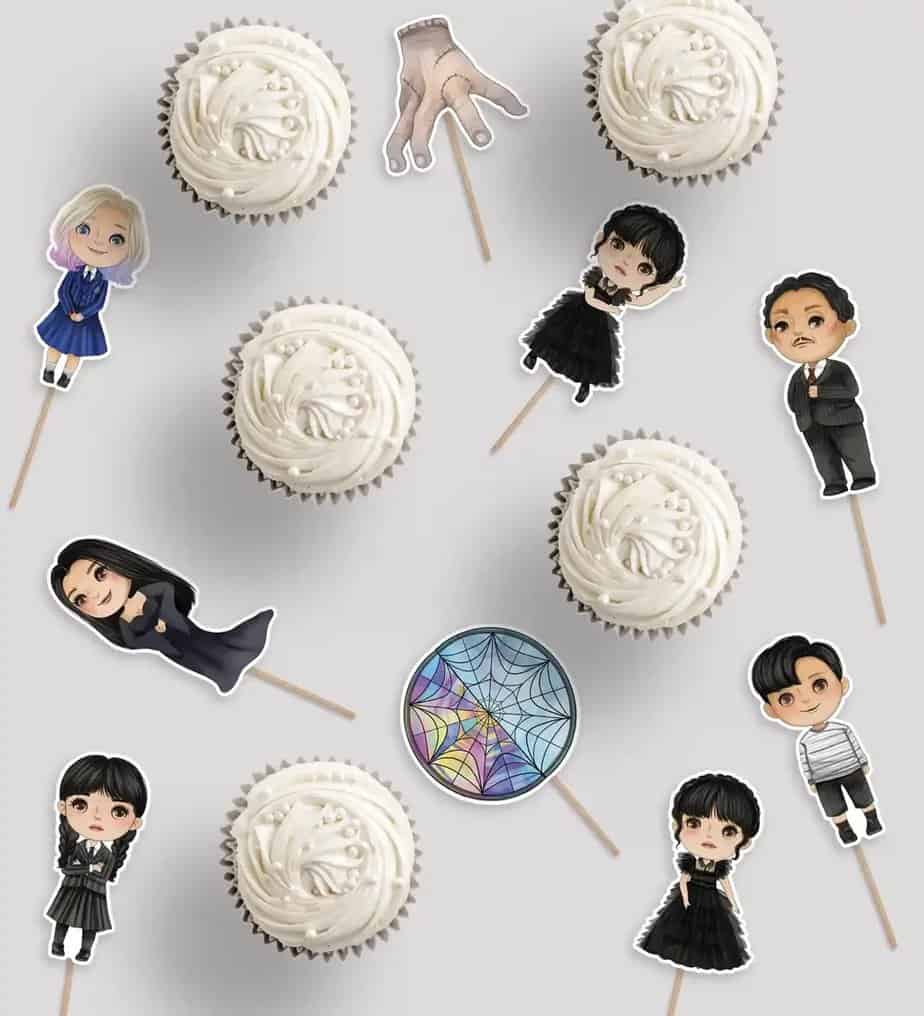 Editable Wednesday Party Invite from Marley's Boutique
We all know the first impression your guests have of your party is the invite. Send out a custom and adorable invite to get the excitement started. Printable and Editable invites are the way to go!!!
Black Flameless Candles from Amazon
Black candles are a great addition to turn a black party into a classy gothic dream party. These are perfect details.
Black Paper Chandelier from Meri Meri
This fun paper chandelier is is a great detail for hanging over a dinner table. Simple, budget friendly and gothicly great.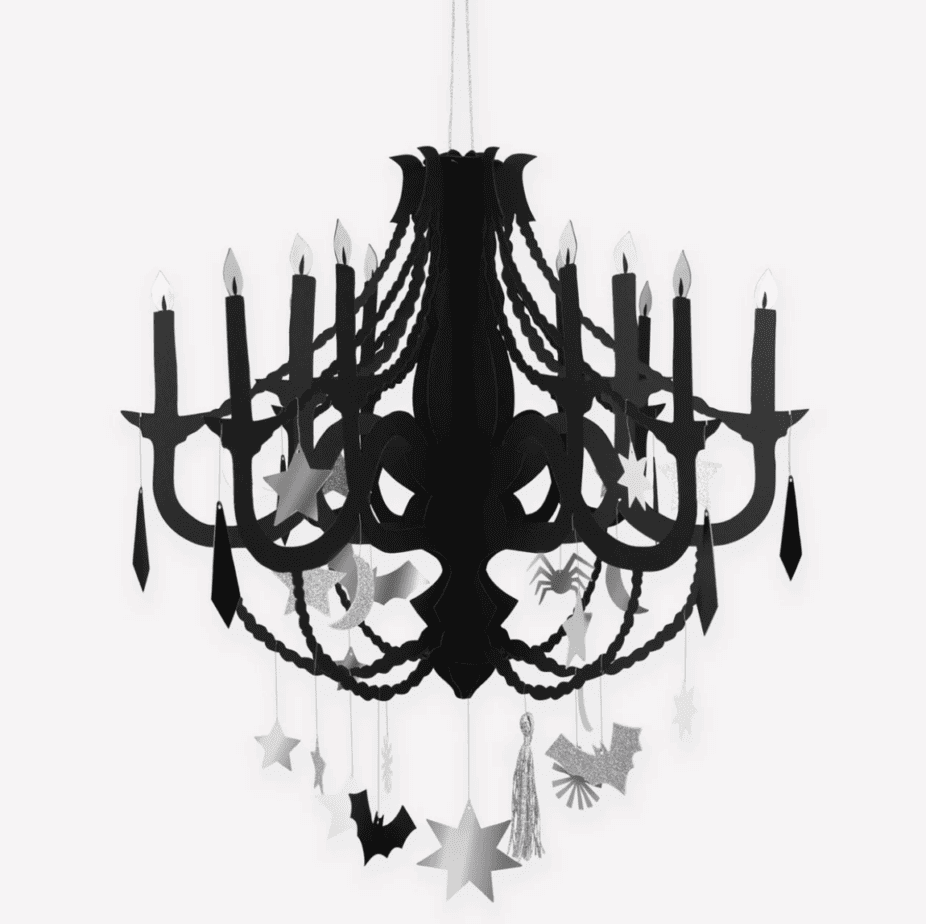 Black and White Striped Balloons from Amazon
Here are some fun balloons to add a little black and white stripes into the Wednesday party mix.
Wednesday Piñata from Piñatas by Lina
Want an easy Wednesday themed party activity? Here is a fun Wednesday piñata you can fill with all sorts of treats and goodies. Don't forget to sneak in some creepy spiders!
Printable Wednesday Photo Props from Surprise Inc
Don't miss out on these fun printable photo props for a great time with a camera and a photo booth. This is a MUST HAVE activity for a tween or teen party. Selfies are a must!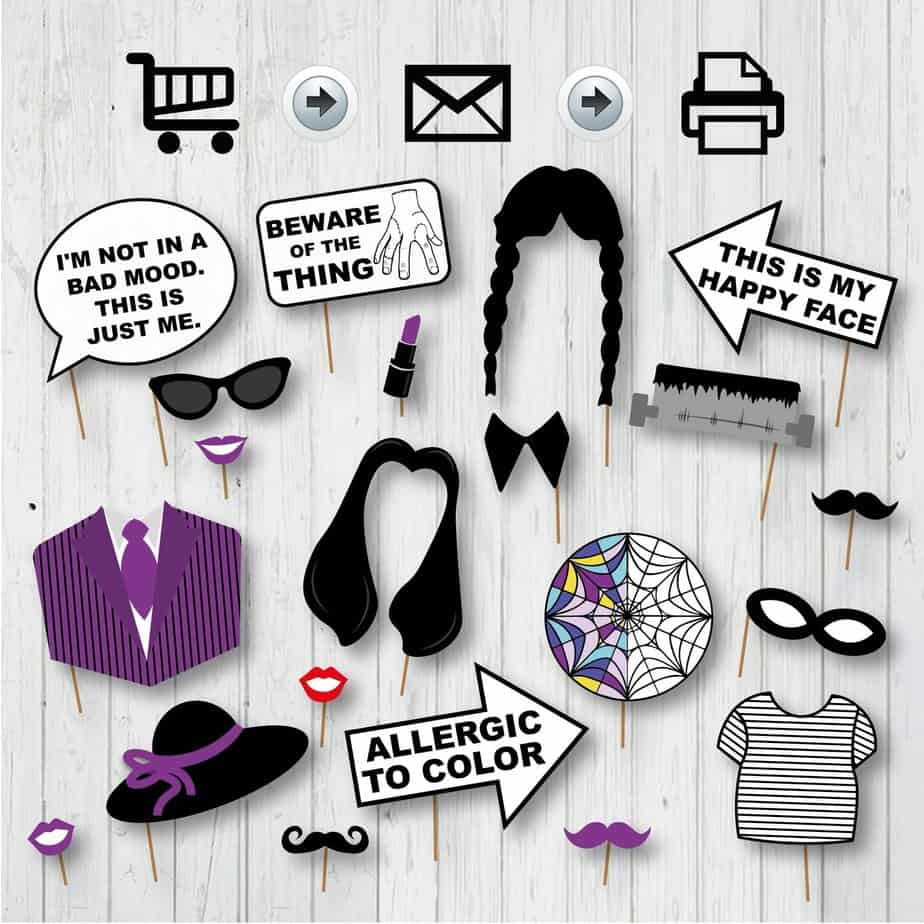 Printable Wednesday Party Decorations from Digitally Party Prints
This package is a great way to add little pops of awesomeness to your party. This is a great way to bring the theme into different elements of the party.
Purple and Black Balloons from Amazon
Purple and Black balloons are definitely a great way to decorate for a Wednesday party.
Wednesday Costumes and Cosplay
If your gothic princess wants a Wednesday party…you definitely need to get her a Wednesday themed dress. Here are some AMAZING options.
Wednesday Ballgown Cosplay Outfit from Bitty Bundles of Joy
Wednesday Addams Cosplay Outfit from OLO
Wednesday Teen Ballgown Costume from Hola Princess
Wednesday Party Tableware
One of the easiest ways to set up a themed party is with awesome themed tableware. This is simple, budget friendly and often one of the most talked about details. Serve your perfectly planned treats right with these awesome options…
Nevermore themed plates, napkins and cups from My Mind's Eye
Doomsday Tableware from Daydream Society
Wednesday Tableware from Amazon
Conclusion for a teen Wednesday Addams Party:
Whew…these were some amazing Wednesday party ideas. If you are styling a teen party for Halloween or a birthday…this theme is definitely a winner! You won't be scared with these ideas!
If you love these ideas, please pin this image to your Halloween Pinterest Board:
Related posts for a Wednesday themed birthday party:
Thank you for reading our Wednesday party ideas for a birthday or holiday party.