Stranger Things Desserts for a Halloween Party
Ready for some totally tubular Stranger Things party food and dessert ideas? From upside down cakes to Christmas light cupcakes…we have all the best ideas to get your party planning off the the right track. And of course…don't forget plenty of waffles. Eleven would be proud!
Ok Mouthbreathers…it's time to get out your 20 sided dice and conger up an adventure of a party. Bring your best demogorgon and your adventuring party and let's roll for initiative.
Throwing a STRANGER THINGS PARTY?
Whether you love Stranger Things for the geeky 80s nostalgia or for the creepy creepy upside down…these party ideas are absolutely perfection.
RELATED: Stranger Things Party Ideas that Don't Lie
Stranger Things Food Ideas
Let's start this conversation off right with some delicious food ideas. Themed food is one of the best and most clever ways to keep your theme running through the WHOLE party. Check these ideas out…
Demogorgon Meatloaf from The Starving Chef
Why not serve up some savory meatloaf…demogorgan style? Who wouldn't want a monster meatloaf from the upside down?
Waffle Bar from Food Network
Well Eleven would definitely be proud of this waffle bar idea. Can't have a stranger things party with out the Eggos!
Waffle Bar Flavors from Fun 365
Here is another fun waffle themed food idea. Instead of building your own…this allows you to pre-build out those yummy waffles.

Stranger Things Party Drinks
Ready for some yummy yummy drink idea? Cocktails and D&D? What could be better?
Maple Cocktail from Food Fanatic
This maple themed cocktail is perfectly garnished with mini waffles. This is a definite winner!!!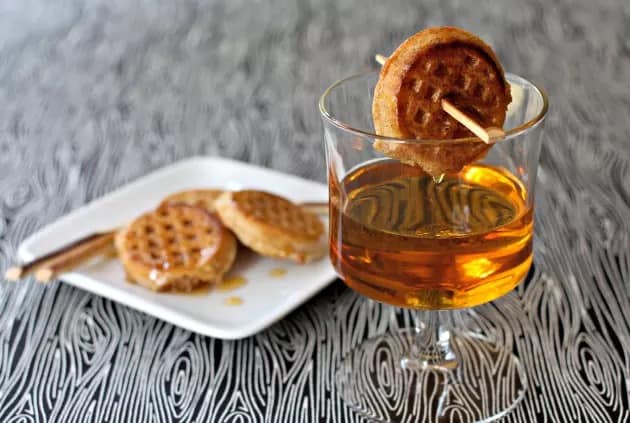 Upside Down Daiquiri from Thrillist
This daiquiri is perfect for the upside down! Celebrate the defeat of the Demogorgan with a deliciously dark cocktail.
Stranger Things Cookies
Alright..now its time to talk all things cookies. From homemade to super amazing custom cookies…we have got the best options around…
Stranger Things Cookies from Daniella's Desserts
Waffles, and Christmas lights and bike riders, oh my…
Stranger Things Cookies from Lauren Ash Cookies
The roller skate cookie is adorable..so is Dustin's favorite trucker hat!
Waffle Cookies from Nancy Mae's Sweets
Simple and to the point. Sometimes that is the best option!
Stranger Things Cookies from Harmony Sweet Treats
Friends don't lie about these amazing cookies.
Stranger Things Cookies from Cookies on Loop
Hello Eddie! The cassette tape cookie is my favorite. Well…maybe the 20 sided Die.
Stranger Things Cookies from Basic White Batch
Here is another awesome option for Stranger Things inspo.
Stranger Things Cakes
Don't forget the cake to go along with those amazing cookies. Here are some perfect options for a Stranger Things birthday party.
Stranger Things Cake from Sarah Fortune
Here is a great cake topper idea for a awesome cake.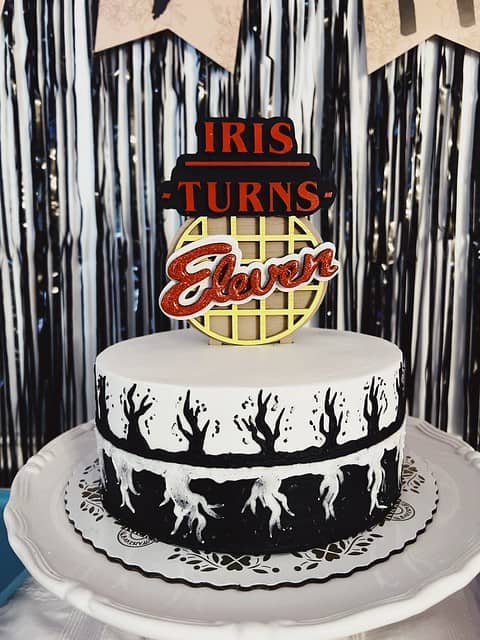 Stranger Things Cake from Rosie Bakes
Simple and perfectly on theme. I love this option.
Stranger Things Cake from Tornadough Allie
Little waffles on a cake. I mean…come on…who wouldn't want that? With the M&M's and the black icing. This is a great DIY. You could even buy a plain white cake from a bakery and make this one at home pretty simple.
Edible Cake Topper from The Toppery
Here is another DIY cake option. Fun and simple.
Stranger Things Cupcakes
Here are all the things for great cupcakes…let's discuss.
Stranger Things Cupcakes from Imgur
Here is an assortment of Stranger Things themed topper ideas for cupcakes. Simple and fun.
Christmas Lights Cupcakes from Baked Bree
Christmas light cupcakes for the win. Easy and adorable. A perfect DIY.
Waffle Cupcakes from Tattooed Martha
Here is another really easy way to take store bought cupcakes and make them themed. Just add mini Eggos and you are GOLDEN.
Printable Cupcake Toppers from Vix Venture
Printable toppers are also a super fun and easy way to top a cupcake…or a stack of mini waffles!!
Stranger Things Dessert Ideas
Finally…we have some dessert assortments to add into your table. Who says you have to stick with only cookies and cupcakes?
Eggo Whoopie Pies from A Love Letter to Food
Little Eggo whoppie pies? What a great idea. Easy and ready to go!
Stranger Things Rice Krispies from Detroit Cake Pops
Chocolate covered Rice Krispies are always a hit…especially when they are perfectly on theme!
Stranger Things Cake Pops from 2 Bakin Mamas
Cake pops anyone? Delicious and ready to party!
Stranger Things Cake Pops from Shanys Sweets
Don't forget that creepy Demogorgan. He makes some mean cake pops too!
Stranger Things Party Tableware
The easiest way serve all the glorious party treats you make and buy is with some themed party ware. This is budget friendly and keeps the design flowing through every part of your party. Definitely a must buy!!! Here are some totally awesome options that won't leave you in the upside down.
Stranger Things Partyware from Oriental Trading
Alphabet Plates from Daydream Society
Upside Down Tableware from Amazon
Stranger Things Tableware
from
Amazon
Conclusion for Stranger Things Cakes, Cookies and Food Ideas:
Well if you are craving delicious treats after reading these Stranger Things themed ideas…then you are clearly not ready to party like it's 1982. From cakes to cookies to meatloaf…you will not go wrong with these Stranger Things Cakes, Cookies and Party Food ideas!
If you love these ideas, please pin this image to your Halloween Pinterest Board:
Related posts for Stranger Things Halloween Party Food:
Thank you for reading our Stranger Things Dessert Ideas for an Adult Party!