Ideas for a Festive Christmas with Christmas Tree inspired ideas.
Christmas: Christmas Tree Desserts and Christmas Tree Crafts. Nothing says Merry Christmas like delicious Christmas tree desserts and crafts!! Brighten up your home or party with some fun and funky Christmas Trees.
Looking for traditional Christmas desserts? Be sure to check out our snowman treats, grinch party ideas and gingerbread birthday party ideas!
So, as usual, I'm behind on Christmas decorating this year. Really behind….like I kinda haven't done it yet. I know, I know, for a crafty mom, I kinda suck right now. December has already been a crazy whirlwind in my house.
Between my daughter's 3rd birthday party and all the holiday commitments…every time I have a free moment to decorate, I just want to pass out. But I am doing it this weekend come what may! This house is getting Christmas-afied!
Some of my favorite Christmas decorations are those that take a good old standard and jazz it up with a little funk. So today I am sharing some cute, fun, funky and clever Christmas Tree Ideas.
What says Christmas decor more than some tannenbaum action?
Here are some of my favorite Christmas tree themed crafts and Christmas tree themed desserts. I know you are going to love these!!
Christmas Tree Desserts
Christmas Tree Cupcakes from Your Cup of Cake
If you are looking for a simple, yet utterly adorable Christmas Cupcake…this one is hard to beat. It's cute and easy to make.
Christmas Tree Cookies from Holly Fox
These are some of my favorite Christmas cookies EVER. They are perfectly decorated and simply beautiful.
Christmas Tree Cake from Country Living
Here is a simple, modern yet absolutely breathtaking Christmas cake. These trees are perfect….not to mention completely edible. I'm in love!!!
Christmas Tree Fudge from Dream a Little Bigger
Here is a fantastic idea for Christmas fudge using a Christmas tree cookie cutter…so cute!!
Christmas Tree Meringues from Crumbs & Corkscrews
These are adorable and might be my favorite of the season. I love the color and they look delicious!
Christmas Tree Rice Krispies Treats from Crayons and Cravings
This is a fun twist on simple Rice Krispies Treats and your kids (and adult guests) are sure to love them!!
Frosted Tree Cookies from Wholefully
I love yummy and festive decorated cookies. These are perfect and would be fun to make with your kids!!
Christmas Tree Cupcakes from Lydia Bakes
Here is another amazing Christmas tree cupcake idea. I love the sprinkle ornaments!!
Christmas Tree Oreo Pops from It's Always Autumn
Oreo pop Christmas Trees anyone? These are fun and simple. Love it!!!
Christmas Tree Waffles from Best Ideas for Kids
Talk about the perfect Christmas Breakfast. Let's make some Christmas Tree Waffles!!! Adorable!
Christmas Tree Rice Krispie Treats by Positively Splendid
These are yummy and adorable and super kid friendly. Which, let's face it, are the best Christmas crafts, right?? Love them!!
Christmas Tree Crafts
Mini Christmas Trees from House Beautiful
If you love wrapping your presents with creativity and style…try making these adorable mini Christmas Tree gift boxes.
Paper Christmas Trees from Martha Stewart
This is a fun and inexpensive Christmas display. It's perfect for a mantle or a Christmas tabletop.
Tissue Paper Christmas Tree from from Curbly
If your space is too tight for a tree or you need to do some major decor for a party, make an amazing Christmas tree on your wall with tissue paper! Super duper cute and a great use of space!!
Modern Wood Christmas Trees from Inspired by Charm
These wooden Christmas trees are modern and clean and I love everything about them!!! So cute!!!
Straw Christmas Trees from Simple as That Blog
Here is an easy Christmas tree craft that is perfect for your kids!!! I love this easy straw Christmas craft.
Ribbon Christmas Trees from Fireflies and Mudpies
If you are like me, then you have tons of scrap ribbon laying about. Why not put it to good use by making a cute Christmas tree ornament? Loving this!!
Modern Wood Tabletop Tree from Curbly
This cute table top Christmas tree reminds me of the game Jenga! But seriously…this is a super fun craft that is perfect for a Christmas party or table centerpiece.
Ornament Christmas Tree by Better Homes and Gardens
My favorite pat of this is how sleek and modern it looks. Gorgeous.
Petal Tree by Crate Paper
This fun and easy tutorial makes a beautiful tree. Bonus, you can do it in any color scheme you wish!!! (That's ALWAYS important to me)
Ruffle Tree by Tatertots and Jello
This is shabby chic and I love every bit of it. This one is definitely a keeper….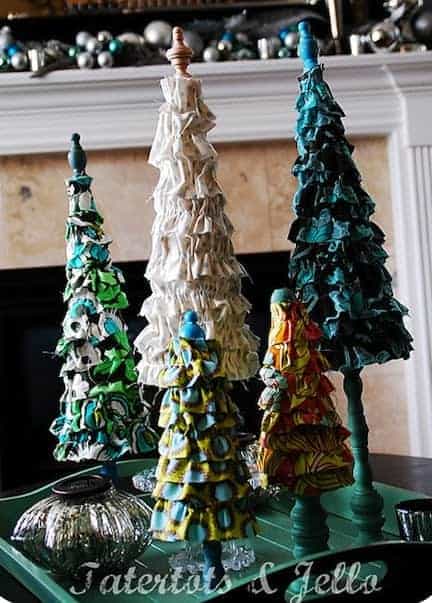 Looking for traditional Christmas desserts? Be sure to check out our snowman treats, grinch party ideas and gingerbread birthday party ideas!
Here are helpful links for decorating with Christmas trees:
If you love these ideas, please pin this image to your Christmas Pinterest board:
RELATED POSTS FOR CHRISTMAS Tree PARTY IDEAS:
Thank you for reading our Christmas Tree inspired decorations and desserts!