Christmas: Christmas Clothes Ideas for Kids.  Need some kids' Christmas clothes ideas? Nothing says Merry Christmas like an adorable little Christmas t-shirt.  Today I am sharing some of my favorites. Looking for Christmas picture ideas?  Be sure to check out our FREE Christmas printables, candy cane party ideas, and reindeer party ideas.
Ok…so I am a sucker for cute kid's clothes.  Especially around holiday time.  Sparkles, buttons, cute little faces.  Yep…I'm a sucker!!  I'll admit, I have spend far more than a reasonable amount of time internet shopping for cute Christmas t-shirts for my babies.  I might have an addiction…admitting it is the first step, right??  It's just so fun to dress the little ones up in super cute and super festive little outfits.  I'm also completely into the custom sewn shirts with different fun fabric pieces.  Yep…it's definitely a problem!!
There are just so many adorable ideas for dressing your kids for the season.  I love the clever t-shirts and the adorable first Christmas outfits.  All good things.  I feel like I want to dress my kids for Christmas ALL. YEAR. LONG.
Today, I am sharing some of the cutest ones I've found….check it out.
Fun Christmas Shirts
Stashing through the Snow T-shirt from Etsy
So, seriously cute…right??  I love the idea of pairing this cute little shirt with the scarf and gloves too.  Soooo….cute!!  It's perfect for a little guy with a big personality!!

Here is another super cute shirt that features the beloved mustache…but this time on Jolly Old Saint Nick.  Love it!!  Now if I can only find those little mustache pj pants!!!
I'm definitely feeling this one this year.  I think my 9 year old needs this shirt!
This is cute and fashionable.  I love how the name is the reindeer face.  This would make a great family shit as well for holiday photos!!!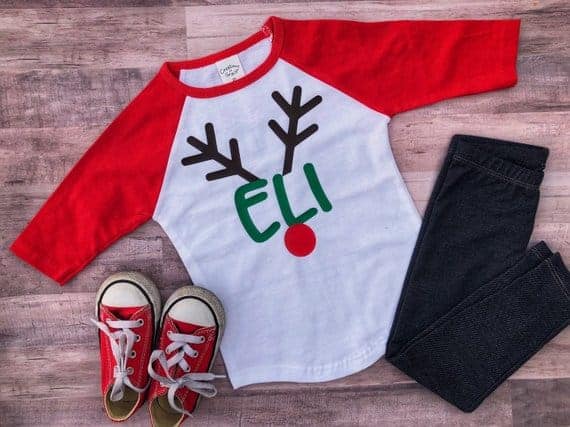 Sleigh Squad Sweatshirts from No Bull
Grab these fun sweatshirts for your #holidaysquad!   These would be great for team photos or grade level parties.  So many ideas!!!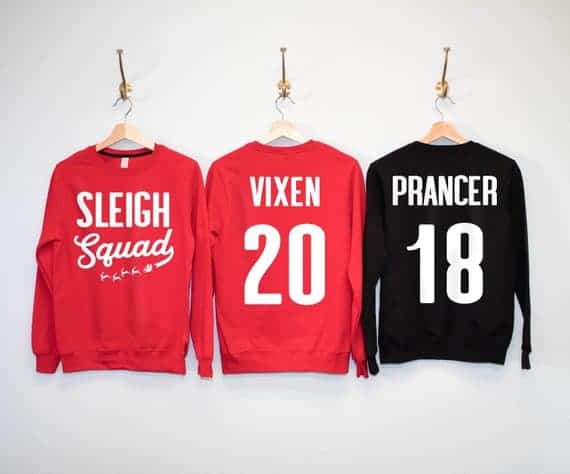 This is my dream job…I'll taste those cookies Santa!  Sign me up!!
Better Not Pout Shirt from Rivet
My little mister is definitely going to be rocking this shirt with his award winning pout!!!
Glitter Reindeer Shirt and Sweater Skirt from It's Always Autumn
Here's a fun tutorial for making a super duper cute little outfit.  What is better than glitter and a sweater.  Cute, cute.
This one is so cute, yet so simple.  I love it.  I love the button eyes too.  So cute!!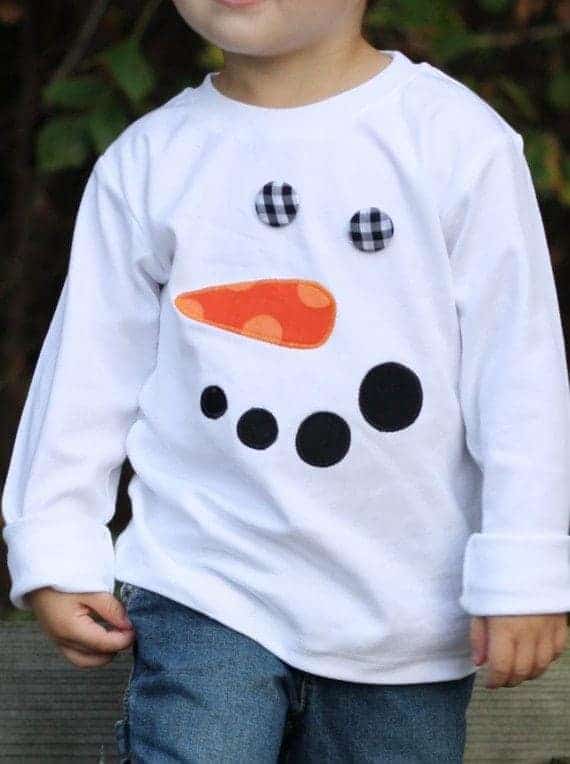 First Christmas Outfits
Here is a precious reindeer name onesie option for baby's first Christmas.
I don't know about you…but I love a cute Santa hat on a baby.  This Santa costume for babies option is so adorable.
First Christmas Outfit from Tiny T's
Here is a simple and modern First Christmas T-shirt that is perfect for family photos or picking out that first tree.
Buffalo Plaid 1st Christmas Outfit from Romari for Kids
Need an adorable photo for pictures with Santa?  This is perfect for a pretty little princess' first Christmas!!!
Baby's First Christmas Outfit from Liv & Co.
Here's a fun little outfit to dress your little Christmas Elf. If you have a Christmas Baby…this outfit is even more perfect!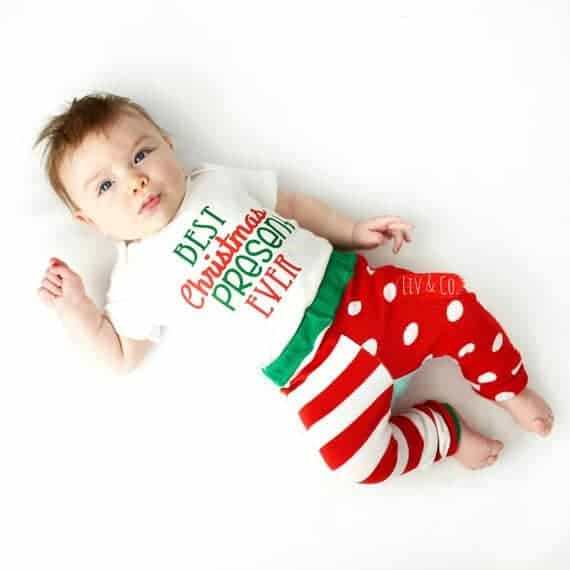 Sparkly First Christmas Outfit from Bebe Sucre
Here is another adorable option for dressing baby for Santa photos.  Get your princess dressed up in holiday style!!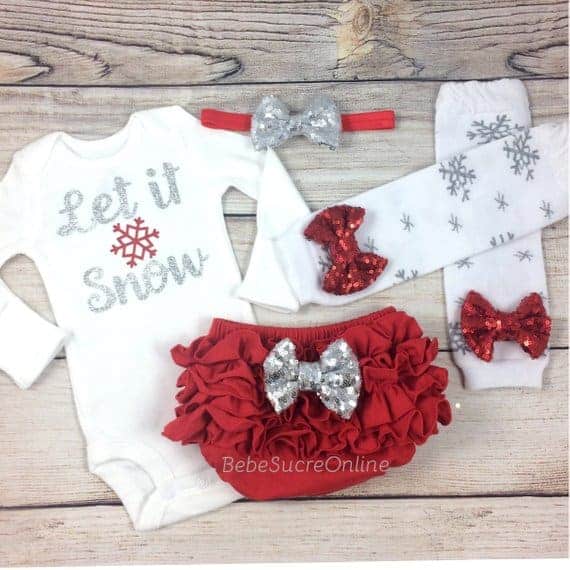 Looking for Christmas picture ideas?  Be sure to check out our FREE Christmas printables, candy cane party ideas, and reindeer party ideas.
Do you love these Christmas Outfit options?  Please pin this image to your Christmas Pinterest boards!
Wanna throw a Christmas Party?
Our Printable Christmas Party Collection is available for purchase in our shop: