Christmas: Peppermint Recipes & Candy Cane Party Ideas.  If the idea of a Peppermint Mocha makes your day or your love peppermint recipes all Christmas season…this is your post!!  Looking for traditional Christmas desserts?  Be sure to check out our snowman treats, grinch party ideas and gingerbread birthday party ideas!
Have you ever walked down the candy cane aisle at the grocery store?  I did this today.  In the midst of my normal, chaotic food shopping trip, my daughter and I took a little stroll down the candy cane aisle…and I had some thoughts…
Thought #1:  When did candy canes become an item that gets its own AISLE?  I mean canned fruit/canned vegetables and soup share an aisle, but there is an entire aisle dedicated to candy canes (albeit only during the Christmas season)
Thought #2: I can't get over the variety of flavors and brands…it seems every candy brand has their own candy canes…not that I can blame them…really, I wouldn't mind getting in on that:)
Thought #3: I don't recall ever actually giving my 2 year old a candy cane…yet somehow she new exactly what they were and what flavor she wanted.
Thought #4: Pink is apparently now also a flavor.
Anyway…. Standing in the aisle amongst massive amounts of candy canes,I started thinking about the crafting possibilities, much to the annoyance of the man walking down the aisle behind me, who didn't feel the need to mask his impatience (seriously, dude, go around!!).  There are so many things you can do with candy canes….especially when using my FREE Peppermint Chalkboard/ Candy Cane Party Printables (wink, wink…nudge, nudge)
Peppermint is such an amazing flavor.  I have put together a list of my favorite Peppermint Recipes and Candy Cane Treats…check it out!!
Peppermint Recipes
Peppermint Red Velvet Cake Roll from The Kitchn
I love holiday rolls.  If you are loving a pumpkin roll for Thanksgiving…then you will definitely love this Peppermint Roll for Christmas. It's gorgeous and yummy!!
Oreos and Peppermint seem like a match made in heaven to me…maybe that's why I LOVE mint cookies and cream iced cream.  This peppermint bark is delicious and super festive!!
Peppermint Crinkle Cookies from Joyfully Mad 
Crinkle cookies are a holiday favorite…especially with some yummy peppermint!!
White Chocolate Peppermint Cookies from Foodtastic Mom 
Let's bust out the white chocolate and enjoy some super yummy white chocolate peppermint cookies this Christmas.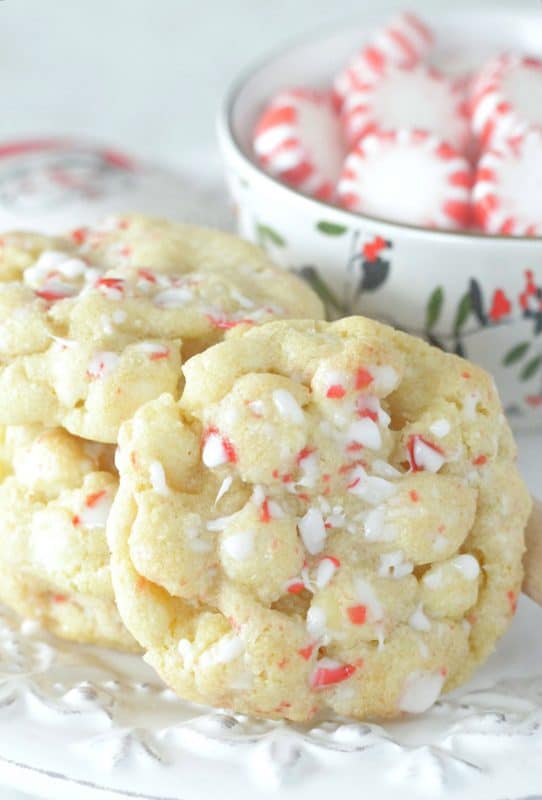 Want a fun and delicious way to jazz up your popcorn this holiday season…it's definitely going to be this Peppermint flavored Popcorn.  Yummy!!
Here's a simple twist on an old classic (if you want to make the classic, the Peanut Butter Blossom recipe is easy too!)
Here is another wonderful Peppermint Cookie recipe.  Who needs simple sugar cookies when you can have those cookies with a holiday twist!
Did someone say Peppermint mousse?  Yes, please!  These look soooooo delicious!
Fudge is definitely a holiday favorite in my house.  Peppermint fudge is perfection!!
Peppermint Meltaway Cookies from Cooking Classy 
If you love meltaway cookies…then these peppermint meltaway cookies are just what the holiday doctor ordered.  Aren't they delicious!!!
I think these are a treat that should be made over and over again!  There is nothing more scrumptious than a peppermint Oreo truffle!!!
Peppermint Snowball Cookies from Mom on Timeout 
Nothing says winter and holidays like a peppermint snowball cookie!  These are delicious.
Puppy chow is something my husband and kids love…we usually make it with peanut butter, but switching up to peppermint…I think I'm in love!!
So take a look and then go spend some time in the candy cane aisle:)
Looking for traditional Christmas desserts?  Be sure to check out our snowman treats, grinch party ideas and gingerbread birthday party ideas!
Here are some helpful links for serving Peppermint Desserts:
Do you love these peppermint recipes?  Pin this image to your holiday Pinterest board: