Downloadable Printables for Christmas Parties
Ok…so I am totally OBSESSED with Chalkboards!!! In August I created this Back to School Chalkboard for my daughter's first day of Preschool and fell in love with using chalkboards in decor!!!
When I started playing around with Christmas designs, I found myself continually gravitating back to chalkboards. I kept trying to include Chalkboards in all my designs!!
It was clear to me there was only one thing to do…
Create a Christmas Party design full of Chalkboards! I know, right:)
I mixed in some of my FAVORITE fonts and some awesome candy canes prints to give it that vintage holiday look. I paired the red and white stripes with some aqua stripes and polka dots for a little pizzazz… I also included enough wintery, non-Christmas elements that it is still completely usable for the non-Christmas crowd.
The best part about this printable set, it's FREE:) Yep, totally FREE!!
Download the Peppermint Chalkboard FREE Christmas Party Printables
Now you might be saying to yourself right now:
Self, I don't know how to customize these printables!! All the writing areas are charcoal, chalk board colored. How can I use the invite and the labels??
Easy Peasy, since it wouldn't really look "chalkboard-y" if I put big white squares all over it to write on, we have to think outside the box a little bit with this one.
White or silver sharpies, paint pens!! (Fine tipped preferable like this Sharpie Paint Markers white extra fine
or this Elmer's Painters Opaque Paint Marker, Fine Tip, White
) Personally, I would opt for the sharpie as it gives a little more control than the paint pen, but both work great!!!
So whether you are chalkboard obsessed, or just love FREE printables, I hope you enjoy my Peppermint Chalkboard/ Candy Cane Party package!!
P.S. As always….I LOVE to see pictures of what you do with them!!!
Free Religious Christmas Printables
Finally…the day after Thanksgiving is here so I can get away with playing Christmas music in the house without my husband complaining!!! (He did actually let me put it on yesterday while I was cooking Thanksgiving Dinner, but I had to pout a little to get it.)
I can start putting up the Christmas decorations today too…I seriously think I wait all year long for this day. I LOVE Christmas time. It is my absolute favorite holiday. I love everything about Christmas time. Smells. Sounds. Lights. Trees. I can even get excited about waiting in line to see Santa:)
Since introducing my Christmas Cards in the shop, I have been getting A LOT of feedback about the "religious themed" cards. It seems that even though the norm in advertising these days is "happy holidays", there are still a great number of us out there that not only need a little Christmas, but want to focus on the meaning behind Christmas and not just Old Saint Nick.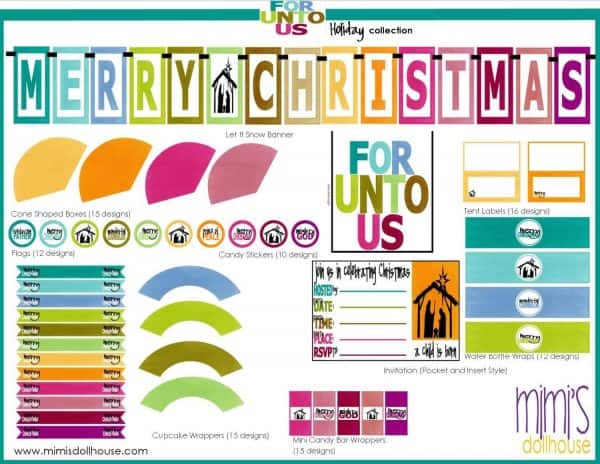 I've always been more of a Santa, reindeer Christmas gal. I really have never gotten excited about religious Christmas decorations.
I think the biggest reason being…they all look the same!! Gold leaf, crimson, calligraphy. Something my grandmother would choose. I'm more of a quirky decorator.
This is how the "For Unto Us" collection was born…(no pun intended).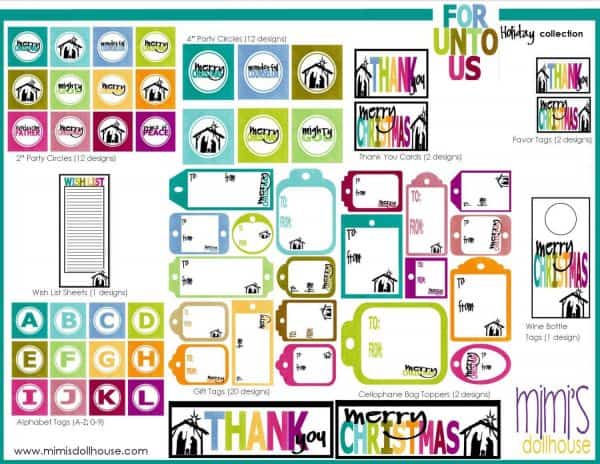 This Christmas Decorations line is a mix of bright colors, black silhouettes, and modern style while still embracing the traditional Nativity. I think it makes a nice compromise between the old and the new…and my grandmother agrees:) Download the free printables here.

I'm ready for Christmas….now if I can only get it to start snowing…
Free Happy Birthday Jesus Printables

Christmas: Free Happy Birthday Jesus Printables. If you would like to throw a Happy Birthday Jesus party…we have some free printables for you! Looking for traditional Christmas desserts? Be sure to check out our snowman desserts, Santa treats, grinch party ideas and gingerbread birthday party ideas!
Lately, we have been teaching my daughter about the calendar and dates for special events. With her little sister's birthday party a few weeks ago, like any 3 year old, she immediately started talking about her own birthday party (which is in June).
We went through the whole list of holidays and family members who have birthdays before hers. This conversation has happened SEVERAL times.
During one of our lists of birthdays we explained Christmas as being "Jesus' birthday". Being the adorable little detail oriented, OCD princess that she is…Christmas is now Jesus' Birthday Party!
So of course, being the party mama that I am…we are throwing a birthday party for Jesus. I made some cute little cupcake toppers and wrappers and a birthday banner for Jesus. I figured it was a fun and easy way to focus back on the real meaning of Christmas.
Aubrey insisted that Jesus would want yellow for his birthday decorations.
Why? I'm not sure, but she was pretty insistent.
You can download the Happy Birthday Jesus Printables for FREE in both bright colors (with Aubrey's yellow) and traditional Christmas red and green.
Banner-Happy Birthday Jesus-Bright
Banner-Happy Birthday Jesus-Traditional
Cupcake Wrapper-Happy Birthday Jesus-Traditional
Cupcake Wrapper-Happy Birthday Jesus-Bright
2 inch party circles-Happy Birthday Jesus-Traditional
2 inch party circles-Happy Birthday Jesus-Bright
If you want to save these printables for later, pin this image to your Christmas Pinterest board: