Bee Party Decorations + Ideas for a Birthday or Baby Shower!
Buzz-worthy Bee Party Ideas. Throwing a Bee Birthday Party or Mom to Bee Baby Shower? I have some fun Bumblebee ideas to share with you today! Celebrate your sweet as honey loved one with a fun little bee themed party! Ready to party like a bumblebee?
Ok so is it totally weird that I think pretend bees are super adorable and cute, but real bees completely freak me out? Probably!!
Despite the real life ick factor…bee parties are one of the cutest things EVER. There are so many fun play on words with "BEE" too. I love all the fun ideas and those little snuggly looking bumblebees are just too, too cute!
Throwing a BEE THEMED PARTY?
☑️ This
Bee Party Kit
is the perfect set to get your party planning headed in the right direction!
Happy BEE day…Mom to BEE…What will it BEE? And well, I'm a sucker for some good word play:)
Bee Party Ideas
There are so many amazing ways to use a cute little bumblebee in a party theme. Whether you are focusing on honey treats, black and yellow stripes or beautiful honeycomb, we have some amazing ideas you will LOVE.
If you are looking for some Bee Birthday Ideas? We have those inside the hive!!!
Bee Baby Shower
One fun focus for a bee-day party is a baby shower. There are many play on words like "Mama-to-Bee" and "What will our little HONEY BEE?" that can make for a fantastic party theme and a fun start for beautiful decorations.
This party ware set from Amazon is perfect for a bee themed gender reveal party:
Bee Party Decorations
Ready to check out some of the absolute best Bee decor ideas?
Bee Day Party Backdrop from Scarlett Events
This beautiful backdrop is absolutely amazing. From the custom backdrop to the gorgeous balloon garland…it's perfection!
Bee Backdrop Kit from Risa Design
This super clever backdrop kit is easy to assemble and makes an adorable honeycomb backdrop for a sweet little bee day!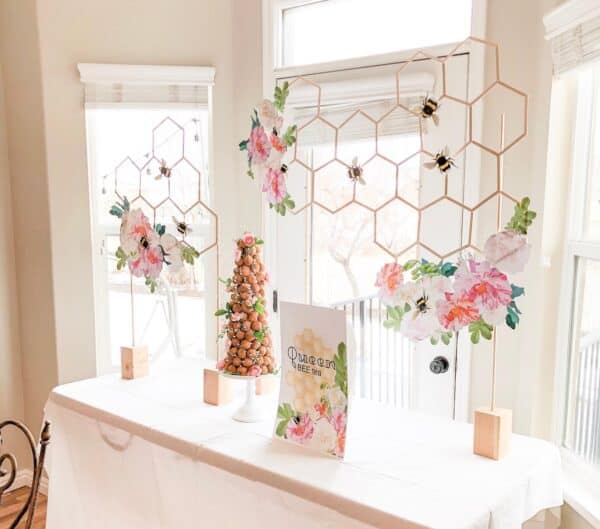 Winnie the Pooh Honey Bee Baby Shower from Hostess with the Mostess
This is a fun twist on a traditional bee theme. Why not celebrate a mama to be, with everyone's favorite honey loving bear?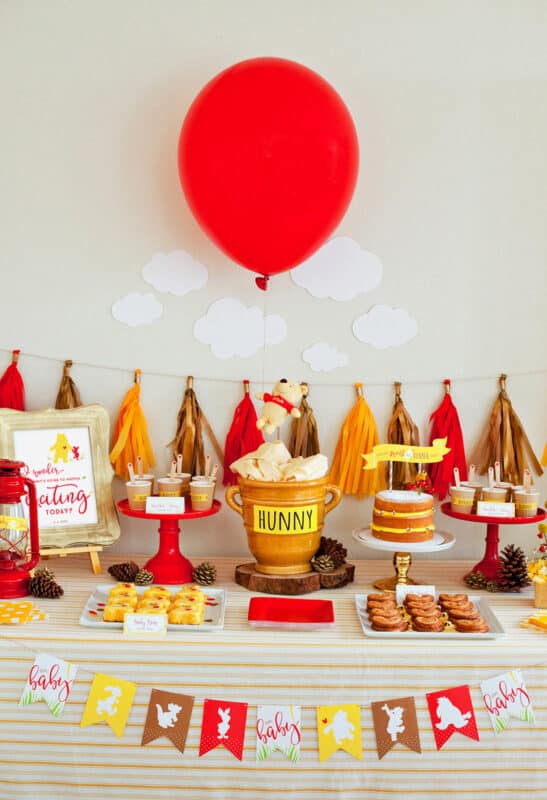 Queen Bee Birthday from Kara's Party Ideas
This fun geometric honeycomb design is modern and beautiful! I love the bright yellows and oranges!
Want to throw a Bee-themed Party? The Printable Bee Party Package is available in my shop:
Bee Party Supplies
Here are some fun crafts and bee themed supplies to enhance your amazing bee themed party:
Bee Cupcake Toppers from Penny's Craft Studio
Here are some simple three dimensional cupcake toppers. Add them to simple homemade or store bough cupcakes for a sweet treat!
Bee Hive Piñata from Events by Social Graces
Wanna amp up your party with a Super great DIY idea…this Bee Hive Piñata is the way to go. Genius…seriously!
Bee Favor Boxes from Funsta Crafts
Another fun bee cutout design for favor boxes. These are great for sending home fun honey scented soaps or honey candies!
Bee Balloons by Festiva
Another simple and adorable DIY Bee Idea…simple balloons and a black sharpie and we are in business. LOVE it!

Bee Cake Topper from Birch Bar and Co.
This wooden cut out cake topper is beautiful. It would be perfect atop a little one's birthday or smash cake,
Bee Food Ideas
Umm..delicious bee themed treats and honey flavored ideas for a perfect bee theme!
Honeycomb Sugar Cookies from A Beautiful Mess
These simple and delicious cookies would be perfect for a honeycomb styled party! I love the soft colors of the cookies.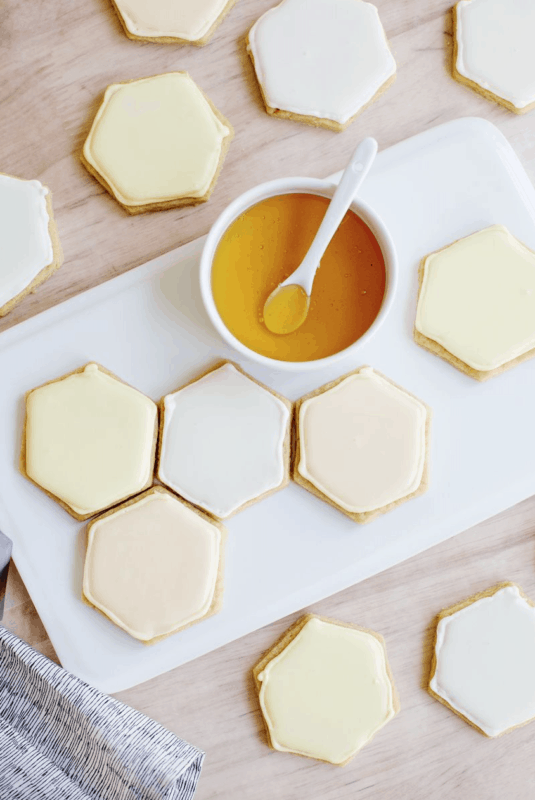 Royal Iced Bee Themed Sugar Cookies from Royally Iced Sweets
These cookies are absolutely to die for. The details are amazing and they are perfectly themed. In. LOVE.
Bee Hive Donuts from A Girl Inspired
Here is a simple and absolutely GENIUS idea for a sweet treat. The little fondant bumblebees on the outside are my favorite detail. Perfection!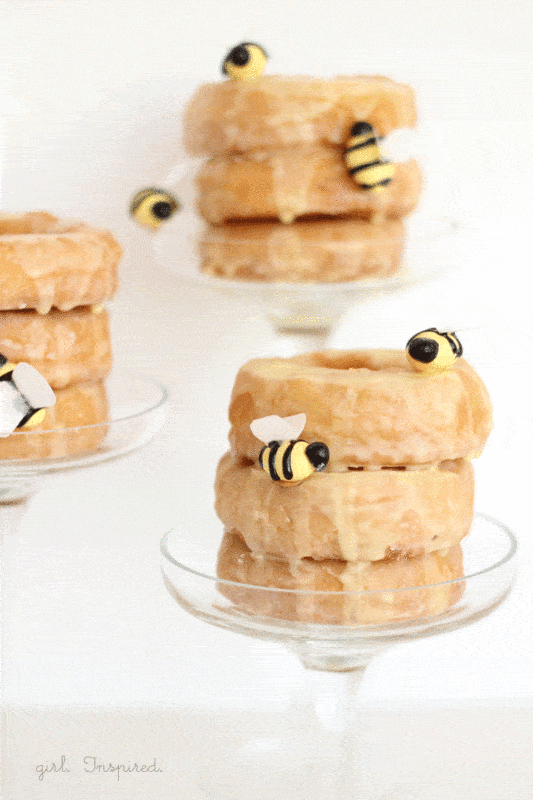 Honey Bear Bottled Lemonade from Make Life Lovely
This is a cute little way to serve some sweet lemonade. It's perfectly styled to be on point, but also a clever little treat. Bonus…this will help prevent little spills too!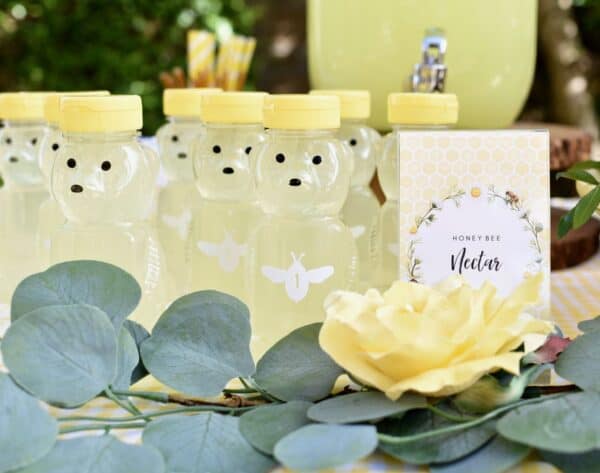 Bee and Sunflower Cookies from Megan's Bake Shop
Another amazing cookie design. These are so pretty…I almost don't want to eat them!
Bee Marshmallow Pops from Sugar Plum Creations
Yeah…these are basically awesome. The best part too, is that they seem relatively easy to replicate. Adorable!!

Bee Cookies by Sugarbelle
So if you haven't figured out by now that I am a MAJOR Sugarbelle fan, ummm…I am! Her tutorials are crazy good and so easy! Aren't these little cookies just the best???
Lemon Slice Honeycomb by Parties by KLM
I love creative ways to display simple foods…this is hands down one of my favorites ever. This is so simple and clever it almost seems too good to be true.
Plus, bonus…it doesn't require kitchen skills which is awesome if baking makes you break out in hives (ok…I had too, it was just too easy!)
Bee Party Tableware
Looking for that perfect Bee Themed Tableware to accent your party and serve all those delicious foods?
This set from Oriental Trading is perfection for a sweet bumblebee party: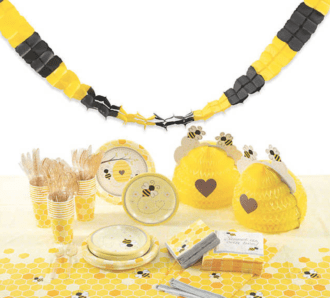 Want to shop this party design? Here are some helpful links to go straight to your favorite items!
If you love these party ideas, please pin this image to your birthday or baby shower Pinterest Board:
Conclusion for Bee-Day Party:
These amazing Bee Party ideas are perfect for a birthday or baby shower theme! Get ready to enjoy some delicious honey flavored treats and style some fantastic yellow balloons for a great time! We know you will love all these adorable ideas!
Here are some helpful links for throwing a Bee Birthday Party:
Related posts for Bee Party Decorations + Ideas:
Thank you for reading our Bee-Day ideas!