How to style a Golden Girls Party
If you are looking for the perfect party theme for a grown-up girl party…Check out this fun and simple Golden Girls party! This theme is perfect for a milestone birthday or even just to celebrate friendship.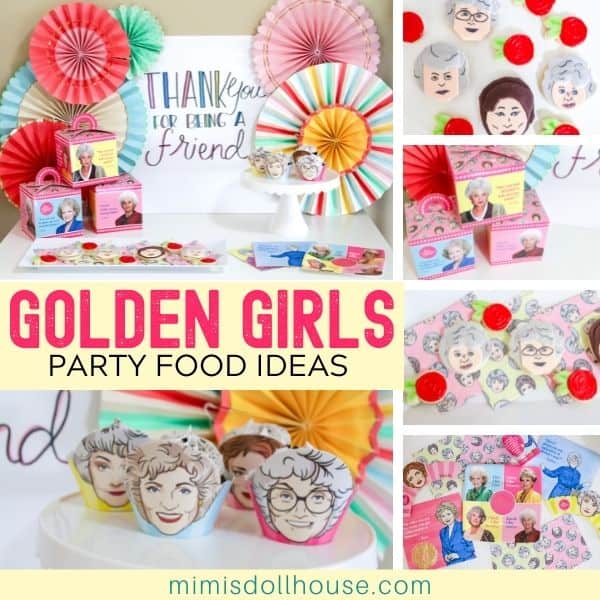 Who doesn't love Blanche, Dorothy, Sophia and Rose? These fun loving ladies with big personalities are so perfect for celebrating friendship! Everyone has a favorite Golden Girl. Mine is Blanche! They are so unique and the humor of their witty banter is timeless. It reminds me of this one time back in St. Olaf….
Golden Girls Party Ideas
This party was super simple to set up. With some fun colorful party fans and some simple white serving trays, I used this fabulous Golden Girls Party Decorations package and had a fun get together for my best girls!
With adorable cupcake wrappers, treat boxes, water bottle labels and more…this was such a fun party to plan. The decorations and tableware made it super easy!
For the backdrop, along with the paper fans, I made a really simple sign on foam board that said "Thank you for being a friend". It was a great and super budget friendly way to set up a party!
Golden Girls Party Theme
The Golden Girls are famous for their individual and super unique personalities. Let's look at the fun, specific items for each lovely lady…
First up…Rose. Rose, the simple, sweet and always clueless lady from St. Olaf. Aren't these napkins adorable?? I also made some simple Rose cookies just for this fun loving lady.
I also whipped up some adorable Golden Girl face cookies. Check out the tutorial to learn how to make these yourself!
Next, we have Sophia. The sharp and witty mama with just enough patience to not kill you without getting involved. She's full of stories from Sicily and lots of hilarious wisdom!
Oh Blanche…the beautiful and sweetly vain lady with the style that is timeless and attracts ALL the attention.
And last, but not least…Dorothy. She's smart and sarcastic. She's always quick to retort and knows her mind!
Golden Girls Party Decorations
These party decorations are colorful and tons of fun. Honestly its the perfect set for a milestone birthday (like turning 30!) or a retirement party! Get the gang all together and celebrate in style.
These favor boxes are definitely one of the best parts of the package too. So fun!
The cupcake wrappers make simple grocery store cupcakes instant party hits. How stinking cute are these?
And of course…all the plates, cups and napkins featuring all your favorite quotes!
Golden Girls Party Supplies
Here are some great party options for throwing a Golden Girls party…
Using this package makes throwing a Golden Girls party simple and instantly fabulous!
Golden Girls Photo Props
Pin the Glasses on Sophia Game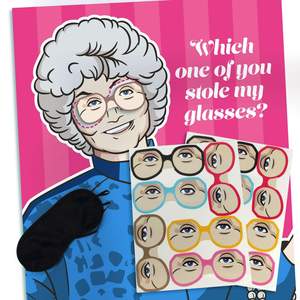 Free Golden Girls Activity Sheets
Golden Girls Party Tableware
Looking for some fabulous Golden Girls tableware? This makes styling a party simple!
Here are some helpful links for throwing a Golden Girls themed party:
Conclusion for Golden Girls Birthday:
Planning a Golden Girls is a fun way to celebrate you favorite lady. With bright colors and fun quotes, these lovely ladies will brighten up any party. The Golden Girls party package makes setting up this party a snap. You will LOVE this party!
If you love these ideas, please pin this image to your Birthday Pinterest Board: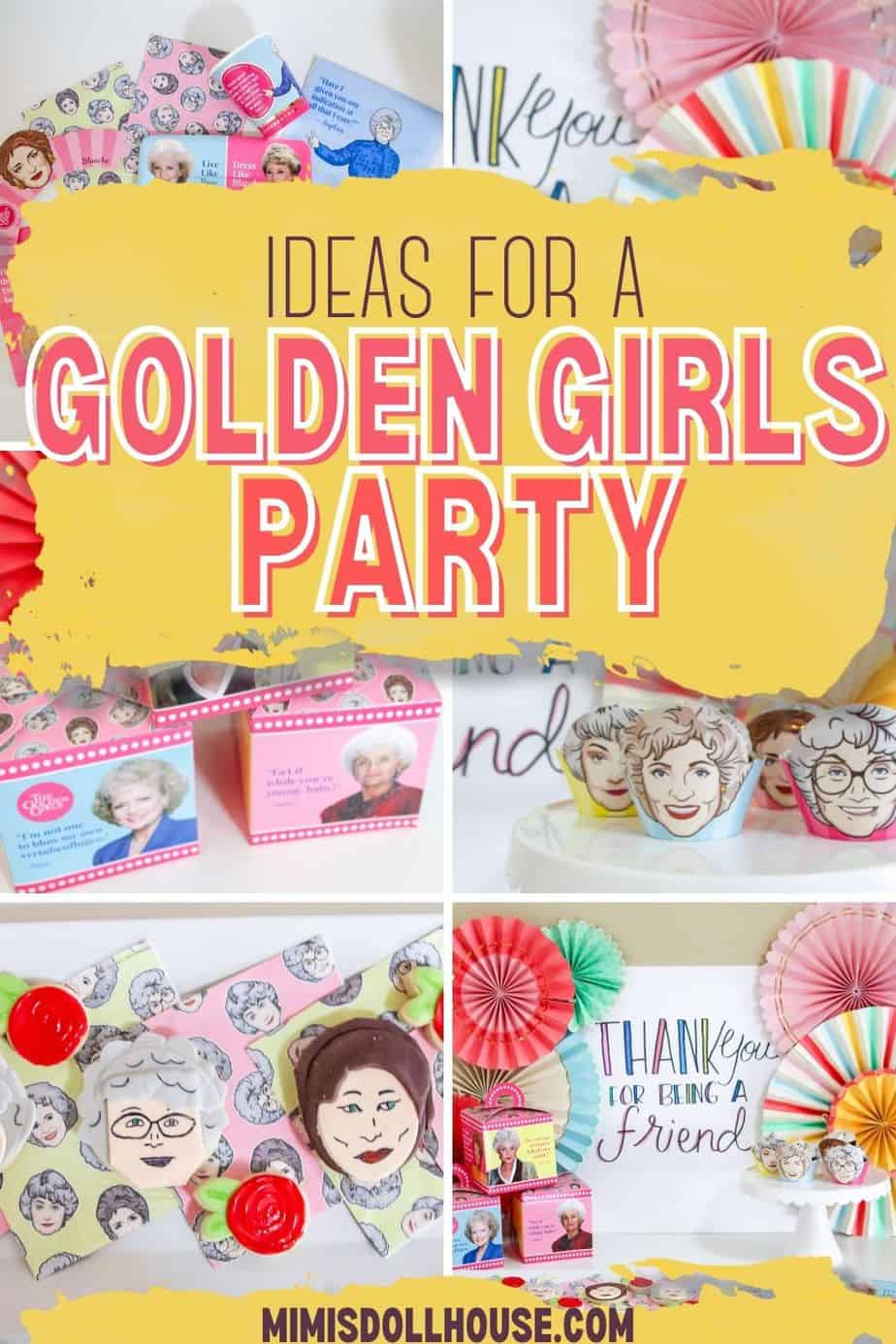 Related posts for Golden Girls Ideas:
Thank you for reading my Golden Girls Birthday Party Ideas.