How to make Rose Sugar Cookies
If you love cute little yummy cookies and want a simple way to jazz them up, cute little rose cookies can't be beat. They are easy delicious and perfect for a spring party, first birthday or baby shower. Yummy, simple cookies like these can't be beat!
I'm super excited to share these sweet little rose cookies with you today. Recently, I styled a Golden Girls party for my best gals (details below) and I made these fun little mini rose cookies in honor of , well Rose!
They were crazy easy to make and just the right bite sized treat. I know they would be a hit for any girly or springtime party you have planned!
How to use Rose Cookies
These cookies are super versatile and can pretty much be used and displayed in so many different ways. You can place them on a simple white plate, like I did. You can also fill up over sized mason jars with them for some easy on-the-go type cookies.
They also make great party favors in little baggies. Just place one or two into a bag and tie with some ribbon. Easy peasy.
Ideas for a Golden Girls party
These sweet little cookies were made for my recent Golden Girls party. They were the perfect little addition to such a fun theme for grown up girls!
If you love the Golden Girls, make sure you check out this awesome tableware from Prime Party! It's seriously so, so good!
Rose Cookie Tutorial: STEP by STEP
Alright, let's take a look at how to make these fun little cookies.
Materials:
Step 1:
For the sugar cookie base, you can honestly use any recipe. However, I highly recommend my basic cut out sugar recipe. It is super great for keeping it's shape and tastes delicious. Once you choose a recipe, you can start by prepping the dough.
You will want to use a pretty liberal amount of flour on the surface you are cutting and even a little extra in the dough itself.
Roll out dough until it about ¼ inch thick. Using the rose shaped cookie cutter, cut the cookies and place on parchment covered cookie sheets. Bake according to the recipe.
Allow cookies to completely cool prior to decorating. I typically like to bake the cookies the day before so they are nice a cool for decorating.
Step 2:
Start with the green fondant. Roll it out to 1/8 inch thick. Using the same rose shaped cookie cutter you used for the cookies, cut out the leaves for each cookie.
I will use the cookie cutter and then come back with the round side and trim off the "flower" portion. Then I will reincorporate that fondant back into the green to roll out for more cookies if needed.
Set aside to start drying out an hardening.
Step 3:
Next, roll out the red fondant the same way. Cut out one rose per cookie, again by using the round side to cut off the leaves.
Set aside to start drying out an hardening.
Step 4:
Once the fondant is hardened, use a little bit of frosting to adhere the fondant to the sugar cookies. With the Gel icing, make leaf marks on the green and the Swirly Rose pattern on the Red. Easy peasy and ready to enjoy!
Looking for more ideas for a Golden Girls Party?
Don't forget the check out the fun Golden Girls party these cute little roses were made for! Along wiht the tutorial for Golden Girl cookies as well!
Coordinating Golden Girls Party Supplies
Also check out the adorable Golden Girls party supplies and options to make your party legit!
Golden Girls Photo Props
Pin the Glasses on Sophia Game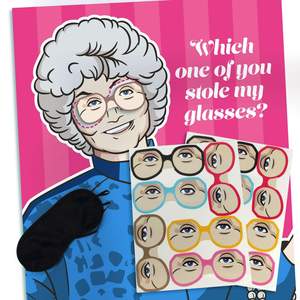 Free Golden Girls Activity Sheets
Here are some helpful links for Golden Girls Party:
Conclusion for Rose Cookies DIY:
These adorable and super simple rose cookies are a great way to jazz up any spring time, girly or Golden Girls party. Not only are they really, really easy to make, but they are delicious. I know you will love making these fun little cookies!
If you love these cookies, please pin this image to your birthday Pinterest board:
Related posts for Simple Rose Cookies:
Thank you for reading my rose cookies tutorial!