Kitchen Bridal Shower: Love in the Kitchen. Looking to cook up some Love for the Bride to Be? How about a fun kitchen bridal shower. Be sure to check out our other Bridal Shower Inspiration as well.
Wedding showers….you either love them or you hate them. I think most of the people who dread the Bridal shower invitation are really dreading the cheesy, cheesy games. Whether it's a baby shower or a bridal shower, every one seems to have some variation of the clothes pin game (you know the one where you can't say "wedding" or "bride" or something or you have to give away your clothes pin…good times). That game is basically a requirement of any good shower….you know you love it deep down:)
Today, I am sharing photos of the Kitchen Bridal Shower I threw for my (now) sister-in-law. Planning her shower was fun for me. Terri isn't a girly girl. Despite all my attempts at lace and pink frilly, it's just not her. I knew I wanted her shower to reflect that element of her personality, so decision numero uno was definitely the green/blue color scheme. I was playing around with theme ideas when it struck me…if I'm gonna spend money on all these decorations and what-not…why not make them all gifts, things she can use in her home. And hence, the kitchen bridal shower. One of the things you will notice through out the party is that the serving dishes, centerpieces, etc…they are all items from the kitchen. So the shower was literally full of gifts:)
All of the decorations incorporated different kitchen items, utensils, bowls and more. I used different kitchen items (cutting boards, spoon rests) as the table decorations and serving utensils. To capture the bride-to-be's simple style, I kept the lines clean and the table simple. I made large paper flowers for the backdrop. All of the vases had fresh flowers, serving spoons, spatulas, etc and limes in the water for added color.

We served sugar cookies from Sunshine Bakes, blueberry lemonade cupcakes and strawberry shortcake cupcakes with fondant toppers from Edible Details, Vanilla Buttercream Pushpops, Key Lime and White Chocolate Butterscotch Fudge from Jewel of the Lion, frosted sugar cookies, shrimp cocktail, mini sandwiches, veggies and dip, sprite, flavored water, and blueberry lemonade.
The ladies who attended the shower were encouraged to bring easy recipes for two to help build Terri's recipe book and many of the decorations were kitchen gifts that she was able to take home.
By the way…we totally did play the clothes pin game:) of course, we did.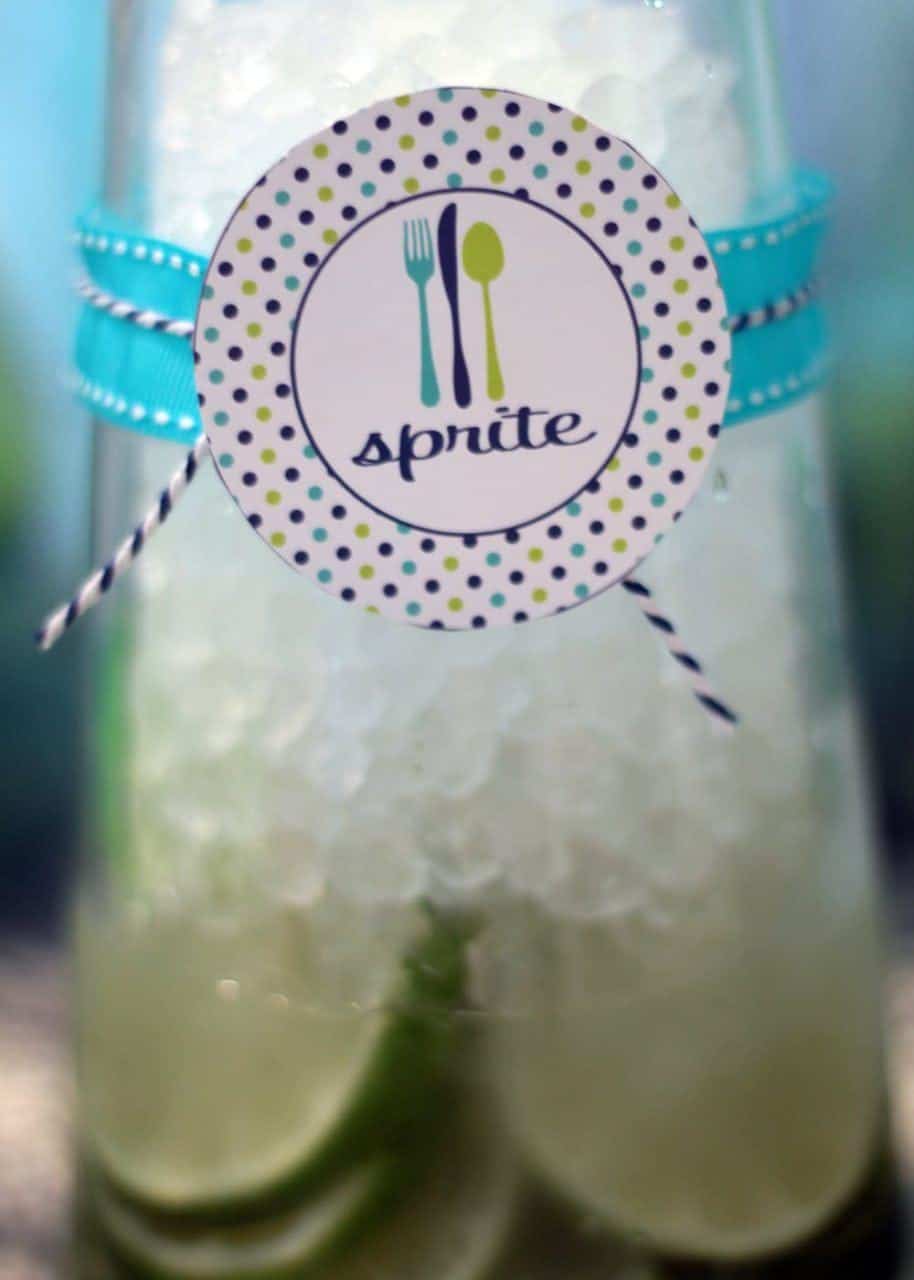 Here are some helpful links for throwing a kitchen themed party:


Looking for more bridal shower ideas? Check out this Beatles wedding dinner and this vintage wedding.
Vendors:
Printable Designs,Party Styling and Food: Mimi's Dollhouse
Photography: Rachel K Photography

Fondant Toppers: Edible Details
Sugar Cookies: Sunshine Bakes
Cupcakes: Cupcakery
Fudge: Jewel of the Lion
Want to throw a Kitchen Bridal Shower?
The Printable Kitchen Bridal Shower Collection is available in my shop in two color schemes.