Looking for birthday party ideas for boys? Whether your little dude is into classic themes like trains or dump trucks or pop-culture themes like Star Wars or Minecraft, we have party printables and party ideas for your little man!! Check out the birthday party ideas for boys below and don't forget to swing my the shop for printable birthday decorations.
How to Plan a Boss Baby Birthday Party! Boss Baby has taken the world by storm! If your kiddo love Boss Baby, then not only do you need to check out this new DVD, The Boss Baby: Family Business*, but we have some fantastic Boss Baby Birthday ideas to share with...
read more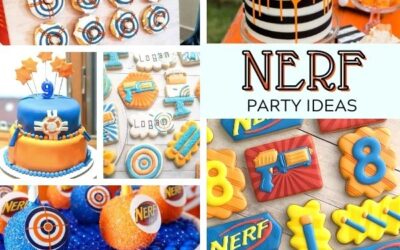 Nerf Party Desserts + Food Ideas Delicious and super cute themed party treats are perfect for a Nerf birthday party. These Nerf party food ideas will excite your guests and be a blast to bake. Let's check out all blue and orange goodies and food options!...
read more
How to plan a Nerf themed party If you are looking for a great party theme for your older child or tween, a Nerf party is right on target. With fun competitive games and super easy to DIY decorations and Nerf party supplies, you can plan a Nerf themed birthday...
read more
How to make puppy cookies for your party If the thought of adorable puppy sugar cookies makes your tongue wag...you will love these fun and simple puppy dog treats. Follow this simple tutorial to learn how to make adorable puppy cookies for your next birthday....
read more
Creative Lego Themed Birthday Party You are going to love these ideas for a Lego Party! As if Legos weren't cool enough, transforming those fun little building blocks into an un-BUILD-lievable birthday party, just might be the coolest thing ever! From Lego themed...
read more
Adorable Puppy Themed Birthday Party A great party theme can definitely make your whole party and this Bark-day Party proves that is true! If you are looking for some fantastic puppy party ideas for your human or canine babies....you will definitely want to...
read more
How to make Pikachu Cookies for a Pokemon Party! One of the cutest of all the Pokemon is definitely Pikachu. These Pikachu sugar cookies capture all the adorableness of that iconic little Pokemon and are perfect for a Pokemon birthday party. Want to learn...
read more
How to make Pokemon Cupcakes Are you looking for a simple and adorable Pokemon party recipe? These Poke Ball Cupcakes are sure to be a hit! Using this simple to follow tutorial, you will be baking cute Pokemon themed cupcakes in a snap! Do you have a kiddo...
read more
Ideas for a Pokemon Birthday Party Looking for some fun Pokemon party ideas? From the bright colors to the fun creatures, Pokemon parties can be an absolute blast! If you are looking for a fun party idea for your tween or older child...Pokemon is a great option. ...
read more
Ideas for planning a Blippi Party Looking for a fun party theme for your little one? If he loves Blippi...he will love this orange and blue party theme full of Blippi themed decorations and ideas! From giant orange glasses to balloons galore, these Blippi...
read more