Looking for birthday party ideas for girls? Whether your little sweetheart is into girly themes like princesses and fairies or pop-culture themes like Strawberry Shortcake and Star Wars, we have party printables and party ideas for your little girl!! Check out the birthday party ideas for girls below and don't forget to swing my the shop for printable birthday decorations.
Alice in Wonderland Decorations for a Wonderland Tea Party Birthday Curiouser and curiouser.  If the idea of an Alice in Wonderland tea party makes you smile bigger than a Cheshire cat, this gorgeous vintage style Alice in Wonderland birthday party is going to...
read more
Disney Junior: Vampirina Cookies.  Throwing a Vampirina Party or just want to celebrate your little Ghoul  with some cute Vampirina cookies?  This easy DIY Vampirina cookies tutorial is for you.  I'm sharing this tutorial to celebrate the release of  Vampirina: Ghoul...
read more
Woodlands Dessert Ideas: Fox Cookies, Bear Cakes and More! Woodlands desserts and goodies are the icing on the cake of a good Woodlands party. I'm sharing fun ideas for Woodland desserts today. Looking for Fall Party Trends?  Check out this Thanksgiving party, these...
read more
Bubbles Birthday Party: Bright and Bubbly Birthday.  Nothing says happy birthday quite like a bubble party.  Check out this adorable bubble birthday party and all the bright and bubbly details.  Be sure to also check out this bubble party and this bubbly and three...
read more
Donut Birthday Party: It's Doughnut Time!  Want a fun birthday party idea that your kids are going to go nuts over? Throw a donut birthday party. It's easy and fun and delicious! Looking for donut party ideas?  Be sure to also check out our wild one party...
read more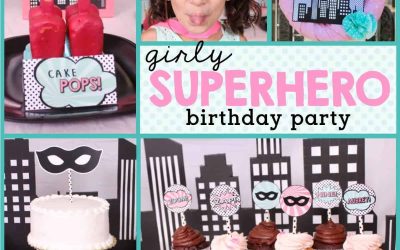 Superhero Party: Aubrey's Girly Superhero Birthday Party.  Do you have a girl who LOVES superheroes?  Celebrate her birthday superhero style.  Today I'm sharing my daughter's 9th girly superhero birthday party!! Looking for Superhero Party dessert ideas?  Be sure to...
read more
DIY Flamingo Party: This season's hottest Flamingle Party Ideas.  Want the perfect theme for summer? Let's flamingle with a fantastic flamingo party!  Today I'm sharing some amazing DIY flamingo decorations and ideas for a flamingle party.  Looking for flamingo...
read more
Flamingo Birthday Cakes and Flamingo Baby Shower Desserts.  Want to throw the hottest party of the season? Style your next baby shower or birthday party flamingo style with these cute flamingo birthday cake ideas and flamingo baby shower desserts.  Looking...
read more
Boho Chic Party: Aubrey's Girly Tribal Birthday.  Looking for a way to celebrate a boho loving babe? Love glitter and aztec feathers?  Well, then today is your day as we are sharing a beautiful and feminine boho chic party with lots of girly tribal goodness!  Be sure...
read more
Sunshine Party: 10 You Are My Sunshine Parties you will LOVE. Sunshine and bright colors make for the perfect springtime birthday party.  Today I'm sharing some simply adorable Sunshine Birthday Parties. Be sure to check out all of our Sunshine Party Ideas and...
read more