Football Party Ideas for a Super Bowl or Birthday
Whether you are throwing a Super Bowl Party, a tailgate party or a football themed birthday party, we have some awesome football party ideas for you! Get ready for the big game with some awesome football party treats and football party decorations.
Are you ready for the Super Bowl this weekend? We are hosting a Super Bowl party at my house this year, so of course my mind is a buzz with party ideas. Personally, I'm a little bummed about this year's Super Bowl.
Pretty much dislike BOTH teams playing…but since I love me a good party, we are gonna throw one anyway and cheer for the commercials!
Football parties are some of my favorite. It never ceases to amaze me how many creative ways there are to make something ordinary look like a football or a field.
And seriously, its just plain fun to do so. Another thing that I LOVE, LOVE, LOVE about throwing a football themed party is the food. Tailgate menus are awesome.
I'm a sucker for greasy sports bar style food. Come on, I'm an American…it's kinda my job to love nachos and chili dogs, right?
So here are some of my favorite football party ideas…hope you enjoy:)
Super Bowl Party Desserts and Super Bowl Party Food Ideas
Football Cupcakes from B-inspired Mama
These adorable yard line cupcakes look yummy and would definitely be a hit for your Super Bowl party or football birthday!
Quarterback Sack from We Heart Parties
How clever are these little football party treat bags. With this clever name, you can put pretty much anything in these Quarterback Sacks!!
Chocolate Chip Cookie Dough Footballs from Life Love and Sugar
How delicious and adorable are these little football treats? Cookie Dough for the win!!
Football Ice Cream Sandwiches from Celebration Shoppe
Want a fun way to take a simple party treat and make it awesome? These football ice cream sandwiches are just what your Super Bowl party needs!!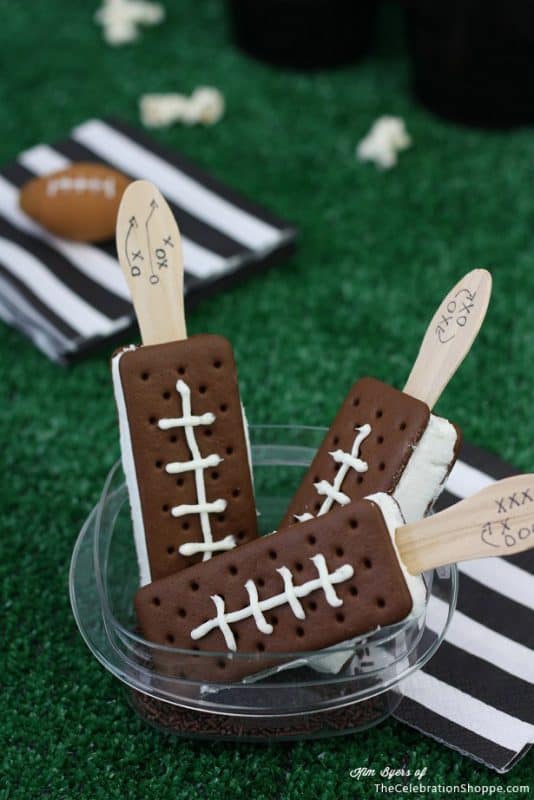 Cheesecake Football Shooters from First Year Blog
Did someone say cheesecake? These are such great treats for a football party or a Super Bowl food idea!
Nutter Butter Refs from The Girl Who Ate Everything
Love them or hate them, the refs are an important part of the game! Make these cute little treats and you can literally bite off their heads when the calls don't go your way. Beats screaming at the tv, right!!
Chocolate Dipped Strawberry Footballs from Sweet Dreams and Sugar Highs
Simple and delicious. These football strawberries are too, too cute!!
Super Bowl Party Decorations and Super Bowl Party Games
Don't just serve up some amazing football treats for your Super Bowl party…get your decoration on too!
Super Bowl Balloon Backdrop from Little Miss Party Planner
Here is a simple and adorable balloon backdrop for your party table!
Super Bowl Photo Booth Props from Sports Mom Survival Guide
Have some Super Bowl party fun with these cute football party photo props…
Football Mason Jars from Mason Jar Crafts Love
These painted mason jars might be the cutest thing ever. Love this idea for a football party.
Football Party from Itsy Belle
I love this idea for a football party backdrop. So simple and so adorable.
Super Bowl Bingo from Play Party Plan
This is a great ideas for those fun Super Bowl commercials. Get a game going while you wait for the game!!!
Football Pennants by Chica and Jo
These are not only cute, but easy peasy. What a great touch!
Football Mason Jars by Flamingo Toes
I LOVE THESE. Simple and yet oh so clever. Any dark drink would work as well…even my Dr. Pepper 10 obsession!!
Football Field Table from A Night Owl Blog
Seriously…the field table is hands down my favorite idea for a football party. It's clever, its easy and its practical…LOVE it. This tutorial helps break it down easy for you. All good things.

Football Coaster from Stitched by Crystal
So confession time…one of my biggest pet peeves is when I'm having a party and people leave their glasses on my furniture and don't use a coaster.
I try to have them all about, but inevitably…I get a ring on one of my tables! Problems of the OCD! So these easy and inexpensive DIY football coasters are like a dream come through for a girl like me!!!

Football Poms from Pinterest
I love these cute football poms. They would be fabulous over a dessert table or cascading the sides of the big screen! These can be easily made using brown tissue poms!!
Football Bunting from My Cup Runneth Over
This adorable football bunting has a nice vintage-y flair to it. So fun and so easy. It would be the perfect addition to a little pigskin party!

Wall Football by Family Fun
Keep the kiddos (or the grown-ups acting like kiddos) entertained with this fun Wall Football game!
Field Table Cover by Hello My Sweet
For the over-acheivers amoungst us…this field tabletop is AWESOME! I love the detail in the painting and the tutorial is easy to follow!
Football Party ware and Supplies
Here are some great options for setting up a Football party:
Football Tableware from Target
Football Piñata from Target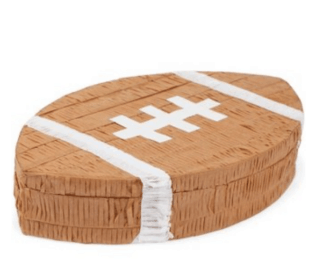 Football Favor Bags from Target
Football Partyware from Oriental Trading
Game On Party Ware from Oriental Trading
Well, regardless of who is playing in the big game, there's always a reason to decorate. Hope you enjoyed these ideas. Be sure to check out these football desserts, soccer party ideas and this fun sports themed birthday party.
If you love these ideas, please pin this image to your football Pinterest board:
Here are some helpful links for throwing a Super Bowl Party:
Wanna throw a football party?
The Printable Football Collection is available in my shop:
Conclusion of Football Party Ideas:
These awesome football party ideas are perfect for a boys birthday or a super bowl party. Whether you are going all out or have just a few football items to theme…you will love these party ideas!
RELATED POSTS FOR Football Party Ideas:
Thank you for reading our Football Birthday ideas!