PJ Masks Party Ideas for a Crime Fighting Birthday!
Into the night to save the day with some super hero level party ideas! If you are planning a PJ Masks birthday party, we have all the best and most creative party ideas for you!
From fun decorations and delicious foods, these three heroes are front and center for this party inspiration.
My three year old is OBSESSED with PJ Masks. He knows all the words to their theme song and runs to and fro in our house saying "Super Cat Speed", crouching like Gecko or using his Owlet wind to try to expel his annoying big sister from the room.
Throwing a PJ MASKS THEMED PARTY?
☑️ This
PJ Masks Party Kit
is the perfect set to get your party planning headed in the right direction!
If you have an equally adorable little fan who loves this crime fighting trio…why not celebrate their love with a fun and fantastic PJ Masks birthday party? Ready for some crazy awesome ideas?
PJ Masks Party Ideas
Nighttime might be the right time to fight crime, but anytime is the right time to plan a PJ Masks themed birthday party! With adorable and lovable characters like these, it's no wonder PJ Masks is one of the most popular party options for little ones!
A great tip for setting up a party is to find ways to focus different elements of the party on different characteristics or symbols of the characters.
Simple green, blue and red decor or even PJ Masks decor can be a great place to start and then sprinkling in some details that really make the characters come to life.
PJ Masks Party Decorations
Getting started planning a party is simple with the right decorations ideas. These ideas are sure to inspire your creativity. Start by thinking about your child. Do they have a favorite? If yes, focus your main decor around that favorite character!
PJ Masks Party Table on Kara's Party Ideas
Here is a fun dessert table that uses solid colored cups and treats to focus on each character.
PJ Masks Birthday Table from Fun365
This party table is super terrific. It uses simple PJ Masks tableware and items to decorate. You can find the items from this party here.
PJ Masks Birthday with Free Printables from The Suburban Mom
If you want to not include so much of the characters themselves, this party is PJ Masks inspired and includes some free printables.
PJ Masks Dessert Table on Kara's Party Ideas
Here is another great way to focus the table on individual characters. Dressing up simple foods with character stickers or images is fun and budget friendly.
PJ Masks Desserts
Creative desserts are definitely the best part of any party. You can create so many hero-worthy treats that your little party guests will love! Here are some great ideas to get you into the baking mood…
PJ Masks Rice Krispies Treats from Big Bears Wife
Turn simple rice Krispies Treats into absolutely fantastic Catboy, Owlet and Gecko treats! Delicious and cute!
Romeo's Lab from Moms and Munchkins
Want a simple way to focus some love on the villains, here is a budget friendly way to highlight Romeo!
PJ Masks Cakes + Cupcakes
Cakes and cupcakes are definitely the focus of most birthday party food tables. Here are some truly unforgettable options for dishing up some sugary fun!
PJ Masks Layer Cake from My Kids Lick the Bowl
Everything about this cake just screams perfection. Simple plastic figures on top turn a gorgeous layer cake into a festive option for a birthday!
PJ Masks Cake on Kara's Party Ideas
Another option for using PJ Masks figures you wither buy or might even already have on hand is by adding them to a night-scape cake covered with yummy fondant!
PJ Masks Cake and Cupcakes from Hot Mama's Cakes
Why not go all out on a birthday cake with an adorable PJ Masks cake like this? I also love the matching mask cupcakes. Too cute!
Gecko Cake Tutorial from Boston Mamas
Here is an easy to follow tutorial for making a Gecko face cake. Yummy and fun!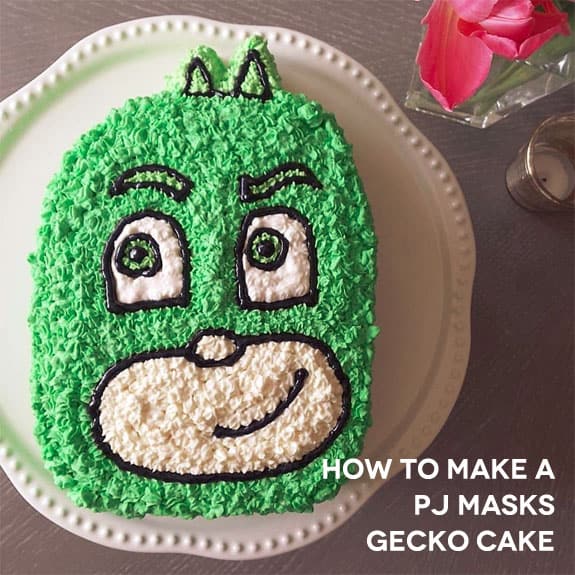 PJ Masks Birthday Cake from Cakes Decor
Fondant faces and lightening bolts for the win with this adorable PJ Masks cake.
PJ Masks Cookies
Cookies are a great party splurge. You can have custom made decorated sugar cookies for your party that will impress your guests and compliment your theme! You can also make theme on your own if you are handy with the royal icing!
PJ Masks Cookies from Maddie's Cookies Co
Hello, adorable. The details on these gorgeous PJ Masks cookies is to perfect!
Pj Masks Cookies from Cookie Deaux
Here are some fun PJ Mask face cookies that show off each characters personality!
PJ Masks Cookies from Leti's Confectionary
Why not mix in a little villain action with your cookies? So fun and so detailed!
PJ Masks Cookies from Short and Sweet Bakes
Classic silhouette characters for the win. These PJ mask birthday cookies are fun and yummy!
PJ Masks Party Supplies
Another great place to show off your party creativity is through party favors. Here are some options for sending your guests home with some fun!
PJ Masks Favor Bags from Viva Veltoro
These simple bags can be filled with anything. If you are a baker, send home delicious treats. If you have capes or masks for your party guests, they can be stored in these bags as well. Another popular option is filling them with PJ Mask themed favors.
Printable Masks from Life She Has
Here are some easy printable masks that can be given to guests to wear and keep you party budget friendly!

PJ Masks Party Tableware
A great idea for tying all your party stuff together is to use a party ware set. This helps save time so you aren't searching everywhere for matching items and also gives everything a cohesive themed feel.
PJ Masks Tableware from Amazon
PJ Masks Supplies from Oriental Trading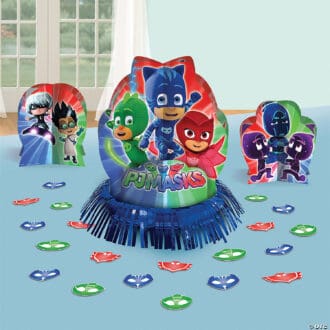 Here are some helpful links for planning a PJ Masks Party:
Conclusion for POST TITLE:
Planning a PJ Masks party is as easy as saving the day in your pajamas. Ok maybe as easy as ordering supplies in your pajamas! These awesome PJ Masks birthday party ideas are perfect for any little one who loves this crime fighting trio. Check out all the food and decor ideas and start planning your party!
If you love these ideas, please pin this image to your birthday Pinterest Board:
Related posts for PJ Mask Party Ideas:
Thank you for reading our PJ Mask Birthday Ideas!