Harry Potter Birthday Party Ideas for Muggles!
If you love Harry Potter, you will love these magical ideas for a Harry Potter party. These ideas are not for mere muggles, but are fantastic enough for even the most wizardly of the bunch.
No matter which house you represent, we know you will get inspired with these creative wizard-themed birthday decorations!
Wands at the ready…we have some seriously magical party ideas to discuss! From awesome decorations to simple games and activities, you can plan an EPIC Harry Potter party easier than you might think.
Throwing a HARRY POTTER THEMED PARTY?
There is a reason that Harry Potter is so adored by so many from tweens to adults. Whether you are celebrating the birthday of a Hermione loving 12 year old or a party for yourself, these ideas are absolutely perfect for any wizard in training.
Harry Potter Party Ideas
You don't have to attend Hogwarts to really show off your magic skills. Planning a Harry Potter party is fun like a trip to Diagon Ally! Fun ideas include picking your favorite house to feature, our dressing up your living room like a the Great Hall!
You can even have a sorting ceremony and divide your guests up into houses to compete for prizes! The magical ideas are endless.
Harry Potter Party Decorations
First…let's talk decorations. There are many absolutely amazing ways to decorate with a Harry Potter theme.
With each house having its own particular color scheme and mascot, it gives you so many colorful and fun options to work with.
Check it out…
Hogwarts Backdrop from Birthday in a Box
This awesome backdrop is made with simple solid colored tablecloths. Pretty awesome and budget friendly.
House Banner Backdrop on Kara's Party Ideas
Here is another fun take on the house colors for a backdrop. This could easily be done with paint or butcher paper. Adorable!

Great Hall Decorations from Chica and Jo
Hang some amazing lights and recreate the great hall. This is the perfect place to serve your party guests their food.

Harry Potter Table Settings from Birthday Express
Dress up some simple table ware with fun paper glasses and even a cute little Hedwig!

Platform 9 ¾ Entrance from Dimes are a Girl's Best Friend
This Platform 9 3/4 is the perfect entrance for your Harry Potter themed party! Who wouldn't want to walk through this barrier?

Floating Candles from The Sits Girls
Floating candles are a must for any hallway or great hall decortions!

House Banner Garland from Amy's Occasions
This fun garland highlights all the houses and would perfect for hanging on tables on even a photo booth!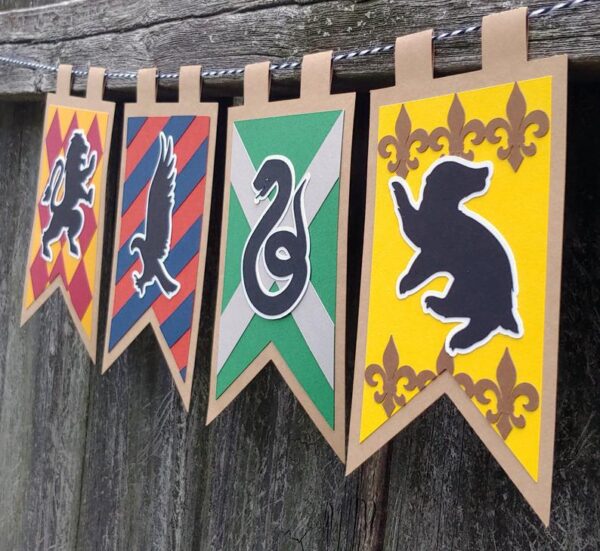 Harry Potter Party Supplies
Along with amazing decorations, you also need some magic inspired supplies. These items help to really bring it all together and turn ordinary into a Hogwarts worthy party adventure.
DIY Harry Potter Wands from Boxy Colonial
Surprise your guests with their very own wands. These DIY wands are adorable and each one is unique!
DIY Harry Potter Felt Ties from One Sweet Appetite
Once your partiers get broken up into their houses, let them dress up with some budget friendly felt ties!

Harry Potter Treat Bags from The Krafty Hooker
Here is a fantastic favor bag idea! These can be filled with items like wands and ties from the party, or with Harry Potter themed favors. These would also be great for sending home some themed cookies or treats!

Harry Potter Owl Invitations from One Creative Mommy
Here is a fun and simple idea for delivering invitations. Have an owl fly into your guests homes with their very own invitation to Hogwarts.

Harry Potter Birthday Invitation from Paca Party
Looking for a fun and personalized printable invitation option? Thee are adorable and would be a great way to set the tone of your party!

Harry Potter Balloon Kit from Party City
Fill party space with some Hogwarts themed balloons. These balloons are a great addition to your party decor!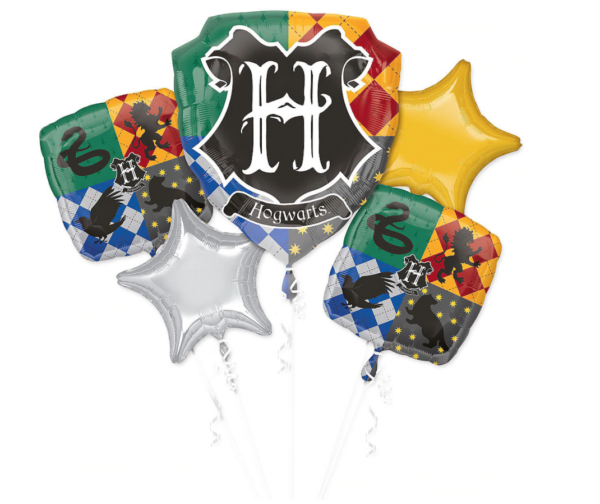 Harry Potter Games for a Party
Of course, you can't have a Harry potter themed party without some interactive games. Let your little witches and wizard practice their skills with some magical party games!
Printable Harry Potter Spell-book from Lemon Squeezy Home
This awesome printable will help them to find and practice all their favorite spells!

Backyard Quidditch Game from Chica and Jo
It isn't a trip to Hogwarts without some Quidditch. This game can be played in the yard or a park area for tons of fun.

Harry Potter Photo Booth from One Sweet Appetite
Celebrate your favorite Harry Potter moments with a fun photo booth. You can highlight everything from Sirius Black's wanted posters to the best of Dolores Umbridge's decrees.

Harry Potter Origami Sorting Hat Fortune Teller from Get Away Today
This quick and fun printable can make a great game of guessing which house each guest belongs in!

Herbology Class from My Poppet
Fun gardening tips can make for a great Herbology class game! Anyone want to pot Mandrakes?

Pin the Glasses on Harry Game from Geek Mom
Get in on the Harry Potter action with a simple Pin the Glasses on Harry Potter game!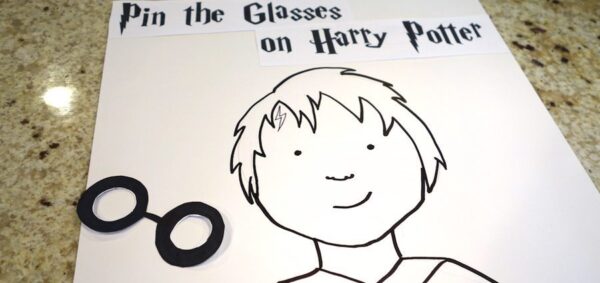 Harry Potter Party Tableware
Serving up your party food and bringing all the fun together can definitely be made easier with some Harry Potter themed Tableware. Grabbing a kit like this saves time and money!
Harry Potter Tableware from Party City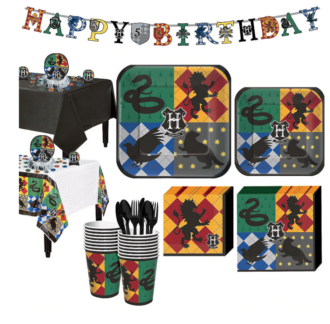 Here are some helpful links for planning a Harry Potter Party:
Conclusion for Harry Potter Birthday:
No need to stress about all the details of a Harry Potter birthday when you have these amazing ideas! From the house themed decorations to the fantastic games and activities…we have all the top wizarding options for a Harry Potter party to get your party planned right!
If you love these ideas, please pin this image to your birthday Pinterest Board: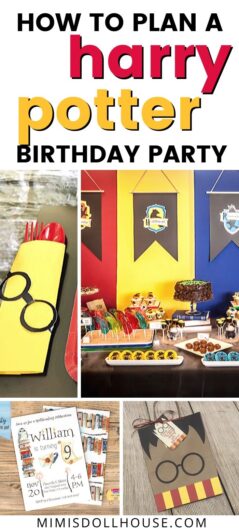 Related posts for Harry Potter Happy Birthday:
Thank you for reading our Harry Potter Party ideas!