Baseball Party Ideas and a baseball wreath!
This super cute and clever baseball party is full of fun ideas. Throwing a baseball party is easy and fun. Let's get creative with some clever baseball party ideas!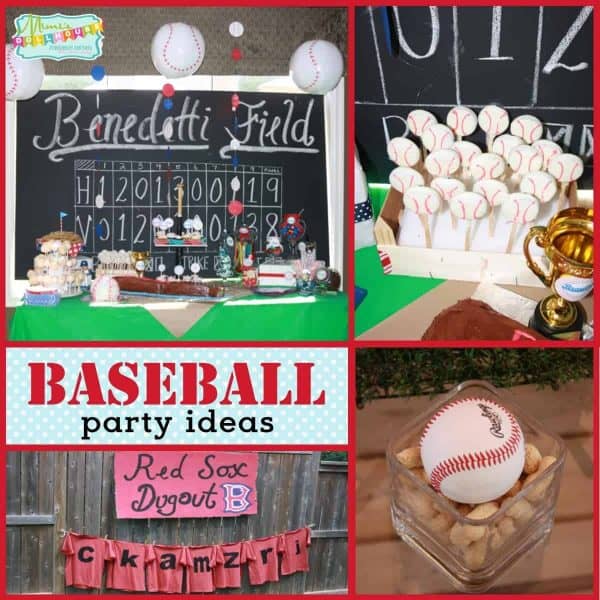 Baseball. America's past time. All-American sport. Oh, and a super awesome boy's birthday theme. What little boy wouldn't love a baseball birthday?
Throwing a BASEBALL THEMED PARTY?
☑️ This
Baseball Party Kit
is the perfect set to get your party planning headed in the right direction!
This fun party was styled by Jenn from Benedetti Buzz. She has so many amazing party ideas! I love getting the photos from her parties!
For this party, she set up tons of activity stations with lots of fun baseball themed games and activities for the kids to play. Check out the awesome details…
The boys played baseball in teams with these great t-shirts Jenn made for them. I love the giant initials!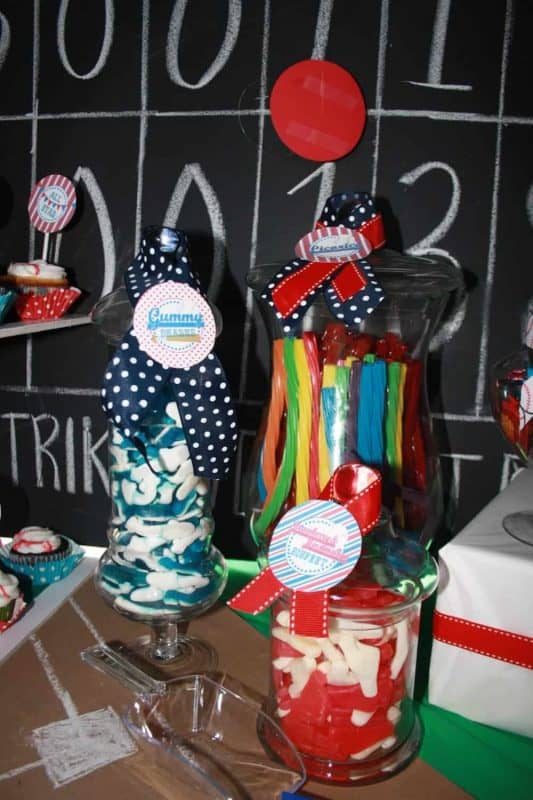 The chalkboard scoreboard backdrop is perfect! Such a great and simple idea.
How to make a Baseball Wreath
I wanted to create a unique way to welcome guests to my son's recent baseball birthday. For this birthday party, I thought a baseball wreath would look cool hanging on the door as guests arrived.
To start the wreath, I straightened out a metal coat hanger.
I wanted the wreath to have more of a vintage look, so I picked up some used baseballs. I used 11 baseballs for the wreath, which was a the perfect number for the length of the coat hanger and to make the wreath a nice circular shape.
The most labour intensive part of the project was drilling holes into the baseballs. For this part, I enlisted the help of my Dad. He had a vice that held the baseballs while we drilled holes through them.
We used a 1/8′ drill bit so that the coat hanger would fit nicely through the holes.
I painted a wooden letter white and then added some red stripes to make it look like a baseball. Next, I tied some fishing line around the 'B' so I could hang it in the middle of the wreath.
I added some blue and red ribbon to the top of the wreath to finish it off.
I love the way this wreath set the tone and welcomed guests to our backyard baseball party!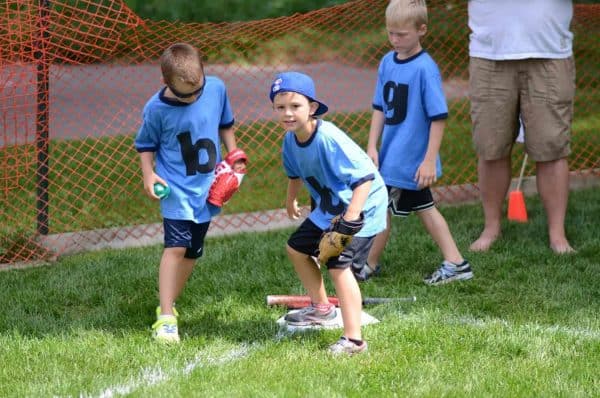 Happy Birthday Braylon! Looks like you had a blast.
Baseball Party Supplies
Setting up a baseball party can be made so much easier with the right tools. This adorable baseball tableware and decorations sets from Oriental Trading are perfect for pulling your theme all the way through your party!
Here are some helpful links for throwing a baseball party:
If you love this party, save this image to your birthday Pinterest board: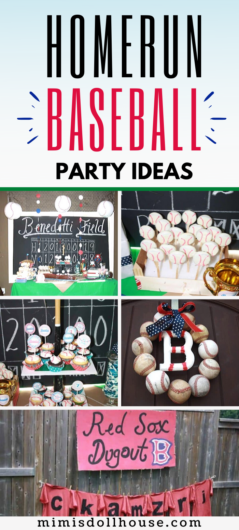 Baseball Printables
Wanna throw a Baseball Party?
The Printable Baseball Collection is available for purchase in my shop:
RELATED POSTS FOR Baseball THEMED IDEAS:
THANK YOU FOR READING OUR Baseball IDEAS!